Flight delays, cancellations continue as storm rolls on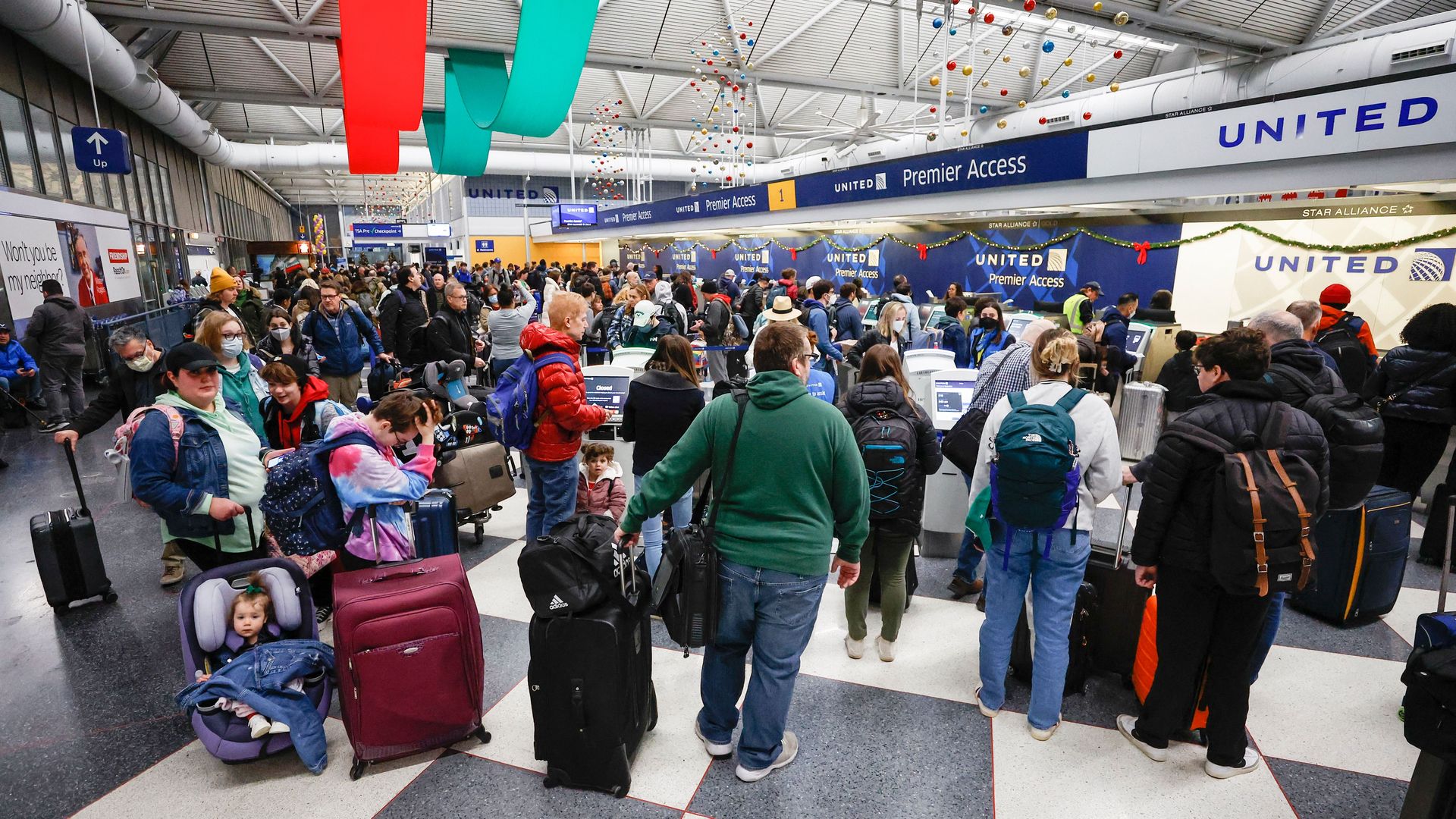 Flight delays and cancellations continue to wreak havoc on thousands of travelers' plans as a major winter storm unleashes wicked weather across the U.S.
The latest: As of 4pm ET Saturday, FlightAware reported at least 6,180 delays and 2,675 cancellations for flights within or into the country, just hours ahead of the Christmas holiday.
There were at least 6,915 delays and 4,780 cancellations for flights within or into the country on Friday, per FlightAware.
FlightAware reported at least 9,431 delays and 2,430 cancellations for flights into, within and out of the country on Thursday.
Details: Airports in Detroit, Minneapolis/St. Paul and Atlanta were among the airports leading the way in cancellations and delays in the United States.
Major hubs, including Denver and Chicago, faced extreme weather during the week, resulting in a heavy amount of cancellations and delays, too.
Yes, but: Major companies like United Airlines, American Airlines and Delta Air Lines have waivers available for changing your flight amid the weather.
Be smart: Read the fine print before rebooking, as airlines have specific airports and eligibility requirements for receiving fee waivers.
Zoom out: Severe winter weather has also caused Amtrak to cancel several trains, mainly through the Midwest and Northeast, through Dec. 25.
"Customers with reservations on trains that are being modified will typically be accommodated on trains with similar departure times or another day," Amtrak said.
Threat level: The Arctic outbreak, which is sparking a rapidly intensifying bomb cyclone over the Midwest, at its peak, put as many as 300 million people across the U.S. under weather alerts.
The storm is bringing frigid temperatures, howling winds and blizzard conditions to wide swaths of the Lower 48.
What they're saying: "I don't know if your bosses will let you, but if you have travel plans, leave now," Biden told reporters Thursday. "It's not a joke."
Biden said he told his own staff to "leave now" ahead of the weekend.
"They can talk to me on the phone," he said. "It's not life and death, but it will be if they don't get out. They may not get out."
Editor's note: This story was updated with Biden's remarks and new figures on the number of flight delays and cancellations.
More from Axios:
These airlines have travel waivers ahead of major winter storm
Arctic blast and intense winter holiday storm to slam U.S.
Major winter storm threatens to upend holiday travel
Arctic blast to bring bitterly cold temperatures to Colorado
Go deeper