Updated Apr 18, 2022 -

World
Zelensky: Russian forces want to "wipe out" Mariupol and other cities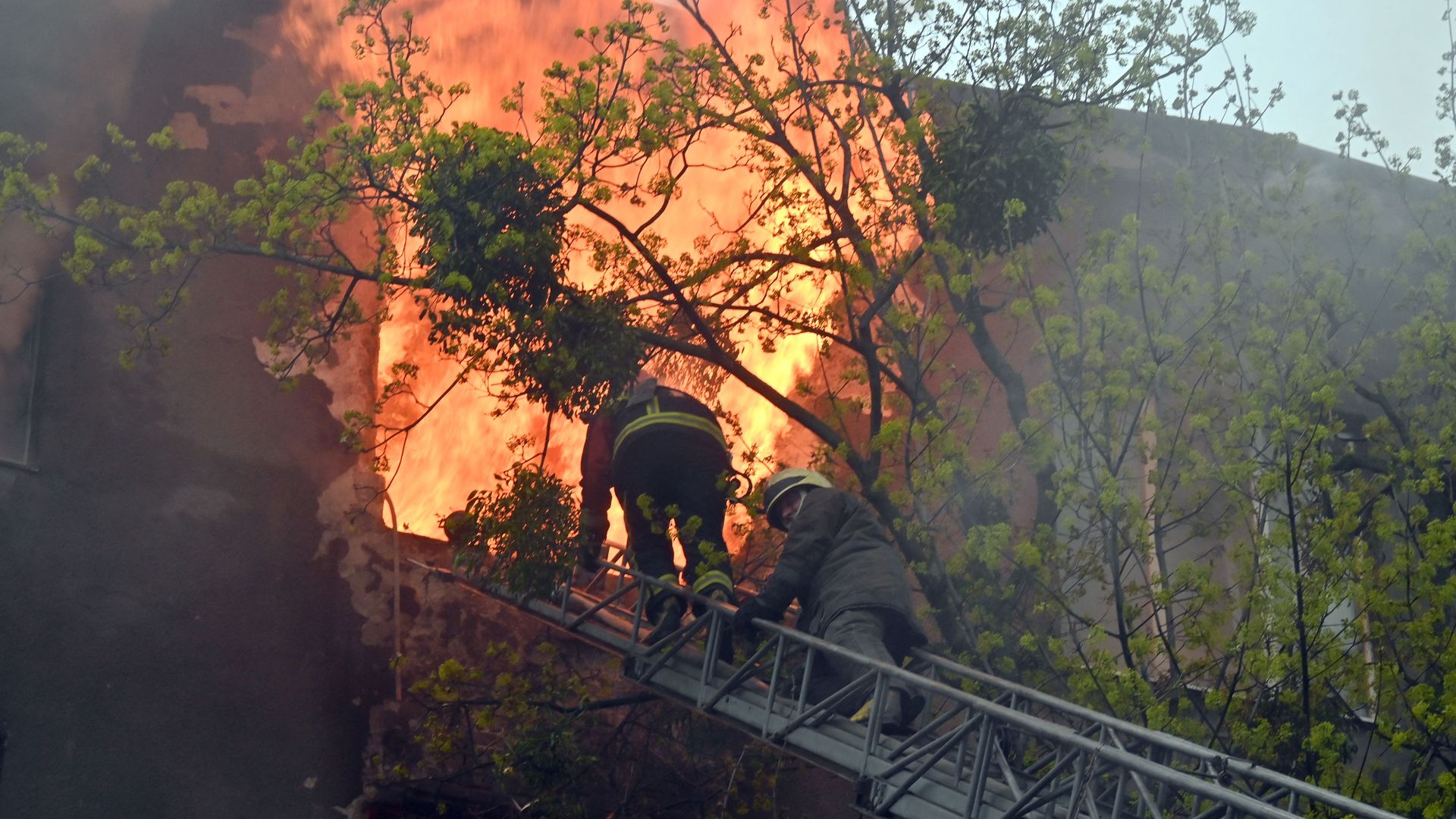 Ukrainian President Volodymyr Zelensky said late Sunday that Russian troops "are destroying Mariupol" and "want to wipe out" cities in eastern Ukraine.
Driving the news: Moscow is pushing to take Mariupol while working to seize control of Donbas in the southeast in order to create a land corridor to Crimea, which it annexed from Ukraine in 2014.
Analysts expect Russian forces to capture Mariupol soon, per the Washington Post. The U.K. Defense Ministry said in an intelligence update Monday that Russian commanders "will be concerned by the time it is taking to subdue" the port city, which has been encircled and bombarded by Russia's military for weeks.
"Concerted Ukrainian resistance has severely tested Russian forces and diverted men and materiel, slowing Russia's advance elsewhere," the Defense Ministry said.
What they're saying: Zelensky said Russian troops want to "literally finish off and destroy Donbas," according to an English transcript of his Sunday night address posted to the president's website.
"Just as the Russian troops are destroying Mariupol, they want to wipe out other cities and communities in the Donetsk and Luhansk regions," he added.
In the northeastern city of Kharkiv, the regional prosecutor's office said on Telegram that it was investigating an airstrike that killed five people on Sunday.
Zelensky said 18 people had been killed and 106 others wounded by shelling in the city in the past four days.
"This is nothing but deliberate terror. mortars, artillery against ordinary residential neighborhoods, against ordinary civilians," Zelensky said.
Meanwhile, Ukrainian forces defied the Kremlin's demands to surrender Mariupol on Sunday.
Ukraine Prime Minister Denys Shmyhal denied Russian officials' claims that their forces had seized control of Mariupol's urban areas and that the only Ukrainian fighters left were at the Azovstal steel works.
Shmyhal told ABC's "This Week" some areas of Mariupol remained "under Ukrainian control" and "there is no whole control from [the] Russian side."
Zoom in: "The city still has not fallen," Shmyhal said in his interview with ABC's George Stephanopoulos. "There's still our military forces, our soldiers. So they will fight to the end."
Shmyhal said the surviving residents in Mariupol who've not evacuated face a "huge humanitarian catastrophe," with more than 100,000 civilians "suffering for more than 40 days" in the city.
"And they have no water, no food, no heat, no electricity. And we ask all of our partners to support and help to stop this humanitarian catastrophe in Mariupol," Shmyhal said, appealing for more humanitarian and military aid.
The big picture: While the International Criminal Court and Ukrainian prosecutors have opened investigations into allegations of war crimes in Ukraine, the Kremlin denies claims that its forces have committed atrocities.
Go deeper:
Editor's note: This article has been updated with comment from Zelensky, the Kharkiv prosecutor's office and the U.K. Defense Ministry, and with further context.
Go deeper