U.S.-China tensions spill into climate talks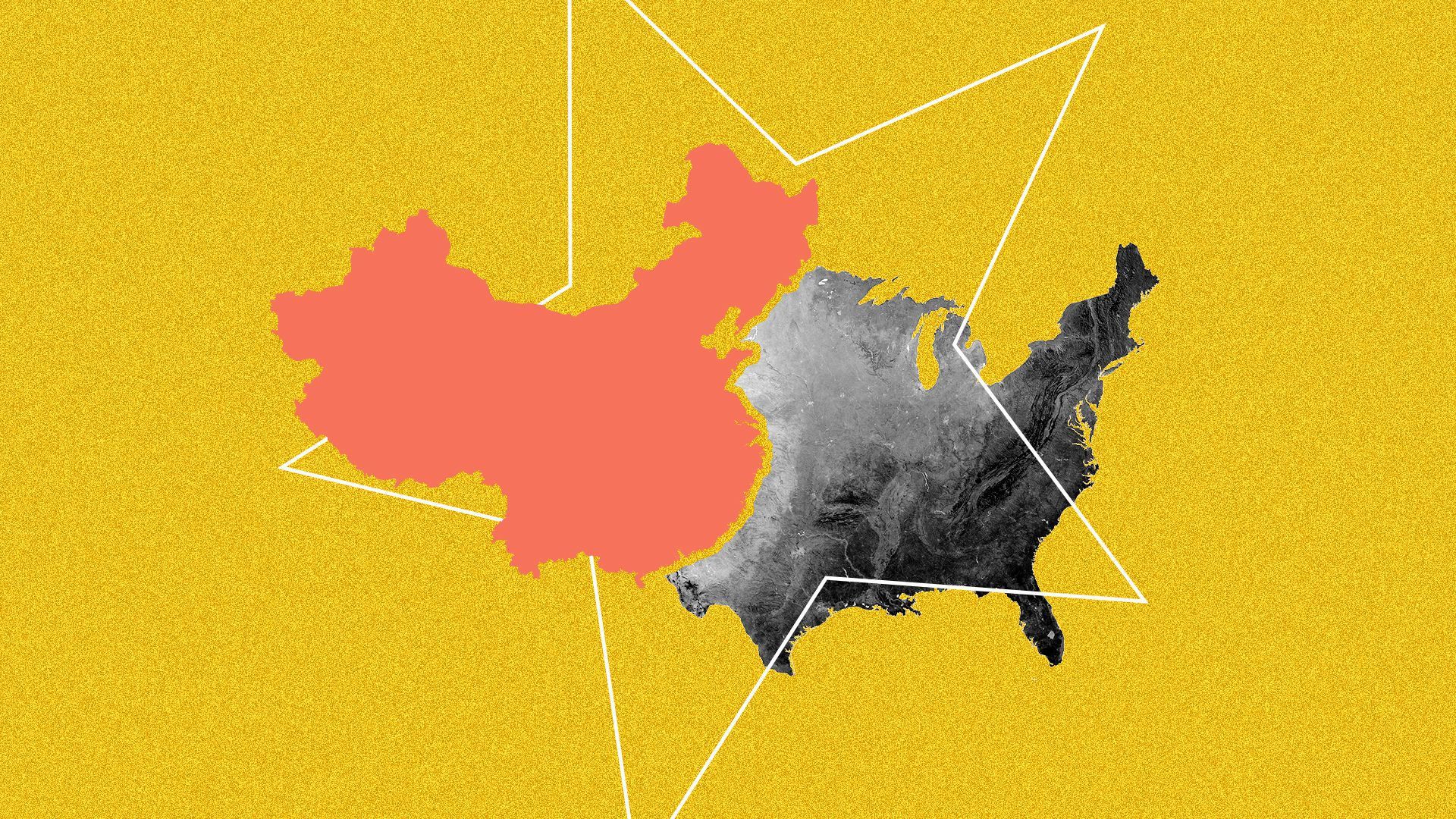 Chinese officials have used special climate envoy John Kerry's visit to warn the U.S. that mutual work on climate change can't be untethered from other tensions between the two powers.
Driving the news: "The Sino-U.S. climate change cooperation cannot be separated from the overall environment of Sino-U.S. relations," the country's foreign ministry said.
The comment is part of a wider state summary of Kerry's video chat with Foreign Minister Wang Yi.
The big picture: Kerry's meetings this week come at a time of deep geopolitical rifts between the U.S. and Chinese governments over trade, human rights abuses, intellectual property protection, security and more.
The Chinese government's posture shows Kerry's uphill climb to treat climate cooperation, as Kerry said in January, as a "critical standalone issue."
Why it matters: The Chinese government's comments signal the challenges to securing tangible new commitments.
China is by far the world's largest greenhouse gas emitter, and the U.S. is the second-largest, and the two countries' moves on climate will play a big role in how much the world does — or doesn't — constrain warming.
Kerry's second visit to China comes ahead of a critical United Nations climate summit in Scotland this fall, where countries are hoping to jointly make progress in transforming broad emissions commitments into more tangible steps.
China has previously pledged an emissions peak before 2030 and achieving carbon neutrality by 2060.
But the U.S. wants faster action from the world's largest coal consumer.
The other side: Kerry, on a call with reporters Thursday, acknowledged the tensions but called the talks with Chinese officials "constructive."
Kerry said the discussions focused on ways to implement the two nations' broadly worded joint statement of cooperation in April.
He said he made clear that he's prepared to pass on messages on other topics to the administration, but added he was there to focus on climate and "that's what we did."
"My response to them was, 'Hey, look climate is not ideological, it's not partisan, it's not a geo-strategic weapon or tool. ... It's a global, not bilateral, challenge," Kerry said.
What we're watching: Kerry said subsequent talks are are planned. Whether China makes any new commitments around coal — both its domestic construction of coal-fired power plants and financing them in other nations, which China is under pressure to end — will be key.
"I was very clear with each of the leaders I talked to that we felt very strongly that China still faces the challenge of coal and needs to work at the question of how we are going to deal with that in a sensible and appropriate way," Kerry said.
Go deeper: China warns U.S. climate co-operation at risk over political tension (Reuters)
Go deeper