Axios Generate
March 31, 2023
🍺 Hi Friday! Today's newsletter has a Smart Brevity count of 1,240 words, 4.5 minutes.
🎶 This week in 1987 the late genius Prince released the album "Sign o' the Times," which provides this week's final intro tune ...
1 big thing: Team Biden shows its cards on EV subsidies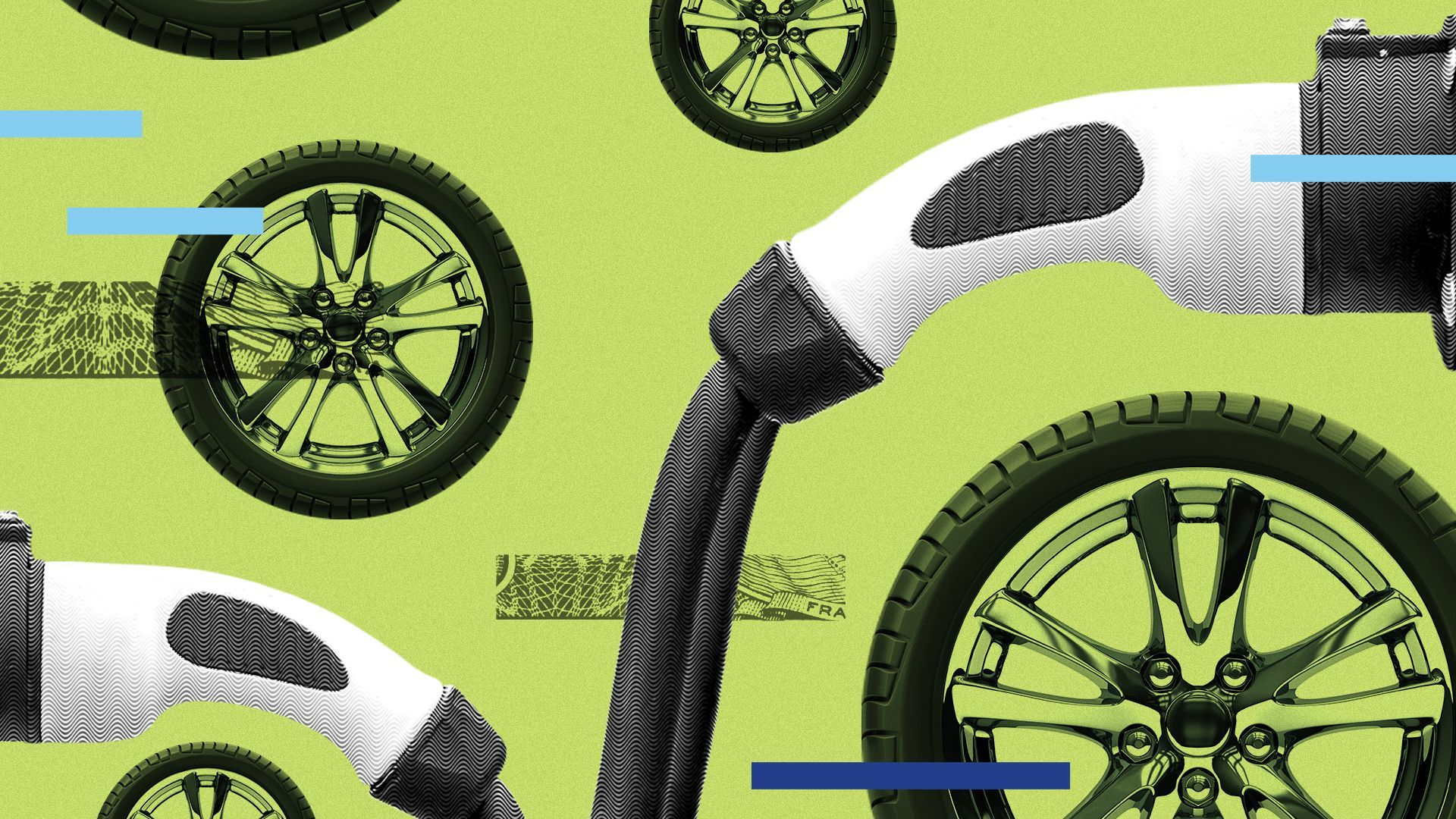 The White House is tempting fate with its plan to implement strict, intricate legal mandates on EV material sourcing, Axios' Jael Holzman and Ben report.
🗞️ Driving the news: The Treasury Department just released its long-awaited interpretation of those mandates in last year's big climate law.
The guidance "provides increased clarity and certainty to manufacturers," a senior Treasury Department official told reporters.
Why it matters: The rules will determine how many models meet complex eligibility requirements for consumer subsidies of up to $7,500 per vehicle.
Yes, but: Risks abound, including political blowback from lawmakers who say team Biden isn't doing enough to curb Chinese influence on the U.S. economy.
🏃🏽‍♀️ Catch up fast: The climate law set escalating percentages for battery components sourced from North America; minerals sourced or processed in the U.S. or from free-trade partners; or recycled in the U.S.
It also requires final vehicle assembly in North America and sets price limits — $80,000 for pickups and SUVs, $55,000 for sedans — on eligible vehicles.
Quick take: A few initial conclusions ...
⏩ Treasury is prioritizing EV deployment over industrial policy. The document provides leeway in several areas, including a definition of "free-trade deal" that will open doors to more global cooperation (i.e. imports).
🤫 They're still not done defining how battery parts and minerals linked to Chinese firms and individuals will be barred from qualifying vehicles for future years, despite a recent action on microchips indicating that might eventually happen.
Details on freezing out materials from a "foreign entity of concern" in eligible vehicles are TBD in a future regulatory process.
🤷🏼 Confusion remains certain. More info is always better. But combining the free-trade deal definition with question marks on China could create marketplace chaos where cars qualify, only to be disqualified later.
🤬 Get ready for attacks. West Virginia Senator Joe Manchin (D), who demanded the sourcing rules in exchange for his vote, says he may sue Treasury over how it's implementing the EV credit, arguing they're doing an end-run around the requirements.
The bottom line: Officials hope the subsidies — alongside manufacturing incentives and other pro-EV programs — will boost deployment and curb reliance on China, a dominant player in battery materials.
They acknowledge it initially cuts the number of vehicles eligible for credits in order to draw supply chains and manufacturing to the U.S.
"However, we believe these requirements will significantly increase the number of vehicles made and sold in the U.S. over the next decade," the Treasury official said.
🧮 Bonus: EVs by the numbers
Here's a few headline numbers to keep in mind as the federal tax credit rules arrive, Ben writes.
9.8%: EV's share of U.S. light-duty vehicle sales in December.
50%: President Biden's target for EVs in the U.S. sales mix by 2030.
80-ish: The number of EVs available in the U.S., per various analysts, but it's growing all the time.
25: The number of models eligible for federal purchase credits before the new requirements take effect, per BloombergNEF.
April 18: The date federal officials will post the list of EVs eligible for credits and at what level.
2. Community disaster relief combats federal failures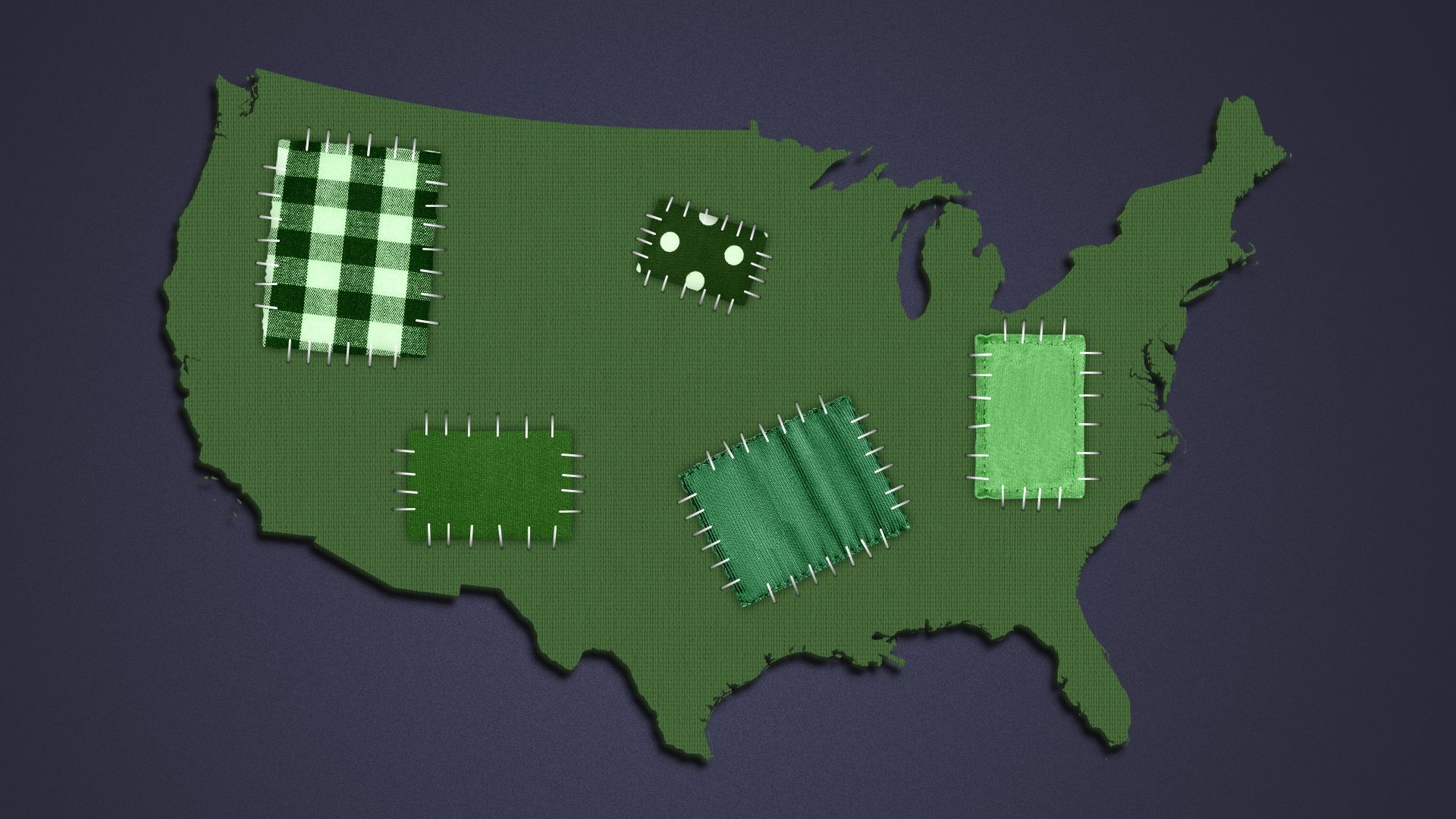 It's long been clear that uneven federal disaster recovery and relief efforts exacerbate racial and social divides, Axios' Ayurella Horn-Muller writes.
The big picture: From tracking disaster impacts on Black communities following a devastating tornado to providing food supplies to Latino farmers amid deadly wildfires, community-based organizations across the country are revising that narrative.
Driving the news: California's predominately Latino farmworkers are facing loss of homes and livelihoods, following back-to-back bomb cyclones.
Zoom out: At a federal level, the newly formed Black Resilience Network is advocating for more equitable disaster response and recovery.
They're doing that through co-hosting stakeholder's events with FEMA and DHS, as well as tracking the impacts, response and recovery process for disasters on Black communities — which they're piloting right now in Mississippi.
"It gets back to the idea of ... addressing inequities as we improve our climate and disaster resilience," says founder Atyia Martin.
Threat level: Climate change is producing an uptick in the frequency and intensity of disasters like hurricanes, floods, heatwaves and wildfires.
3. The new BP-Uber deal and more biz notes
🤝🏾 BP's expanding EV charging division and Uber this morning announced a "global mobility agreement" aimed at helping the ride-hailing company integrate more EVs into its operations, Ben writes.
Why it matters: The growth of ride-hailing creates risks of more driving and hence emissions, so electrifying the industry is important.
The big picture: It aims to expand drivers' access to fast-charging and other benefits at BP's charging and convenience sites in Europe, the U.S. and eventually other markets.
How it works: BP will offer Uber drivers "bespoke deals" and offers "tailored to each market," including charging incentives.
💰 Ford is investing in an Indonesian nickel processing project along with mining partners from that country and China, the automaker announced.
The intrigue: The FT calls the $4.5 billion plan Ford's "latest gamble" that "drawing China into its supply chain for electric vehicles will not backfire in Washington."
👀 "Shell is splitting up its renewables and low-carbon division as part of CEO Wael Sawan's shake-up to boost the energy giant's returns," Reuters reports.
4. Severe storm outbreak likely with high winds, tornadoes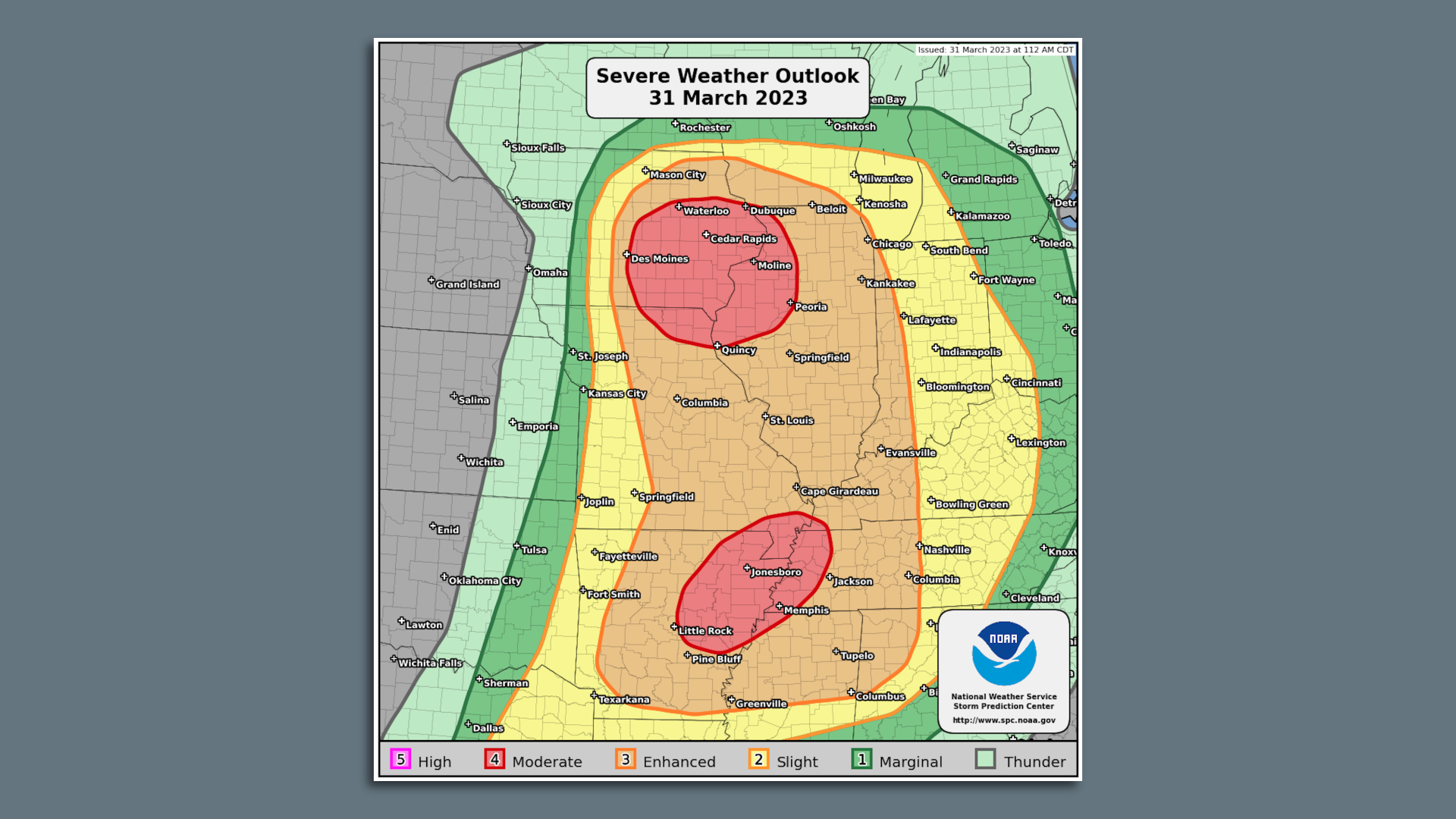 A widespread severe thunderstorm outbreak is forecast Friday into Friday night from Illinois south to parts of Mississippi. About 29 million people are in the top two storm risk categories, Andrew writes.
Threat level: The Storm Prediction Center (SPC) has identified two areas at "moderate risk" of severe weather, which is a level 4 out of 5 on its storm threat scale.
One is across parts of Iowa, Illinois and Missouri. Another extends from northeast Arkansas to western Kentucky.
These areas that have the highest odds of large hail, damaging winds and "several tornadoes (some strong and long-track)," per SPC.
The outbreak could knock out power to hundreds of thousands or more as gusts in thunderstorms combine with a larger area of damaging winds associated with a powerful storm moving into the Upper Midwest.
Context: Tornado outbreaks are an area of active investigation for climate scientists.
Studies have shown that some severe thunderstorm ingredients, such as humidity and atmospheric instability, are likely to increase with a warming climate.
5. Good news on wasted gas — with an asterisk
The amount of natural gas flared — that is, burned off — at oil and gas sites dropped 3% last year even as crude output grew, a World Bank analysis finds, Ben writes.
Why it matters: The drop is a welcome sign, but researchers warn the problem remains large and persistent despite the progress.
The practice wastes gas and adds to greenhouse gas emissions.
One wild stat: "If put to productive purposes, the amount of gas flared in 2022 could generate as much electricity as Sub-Saharan Africa currently produces in a year," a summary of the data notes.
How it works: The report tracks flaring at oil wells (which is the largest source), gas wells and liquefied natural gas plants.
CO2 accounts for most emissions from flaring, but the potent greenhouse gas methane is also released due to incomplete combustion.
Threat level: The "methane destruction efficiency" of flaring may be lower than once believed, the analysis warns.
😬 If the average flare is just 5% less efficient than once assumed, "the amount of methane released would be three times higher than currently estimated."
📬 Did a friend send you this newsletter? Welcome, please sign up.
🙏 Thanks to Lisa Hornung and Javier E. David for edits to today's edition.