Congress unveils bills to dismantle tech giants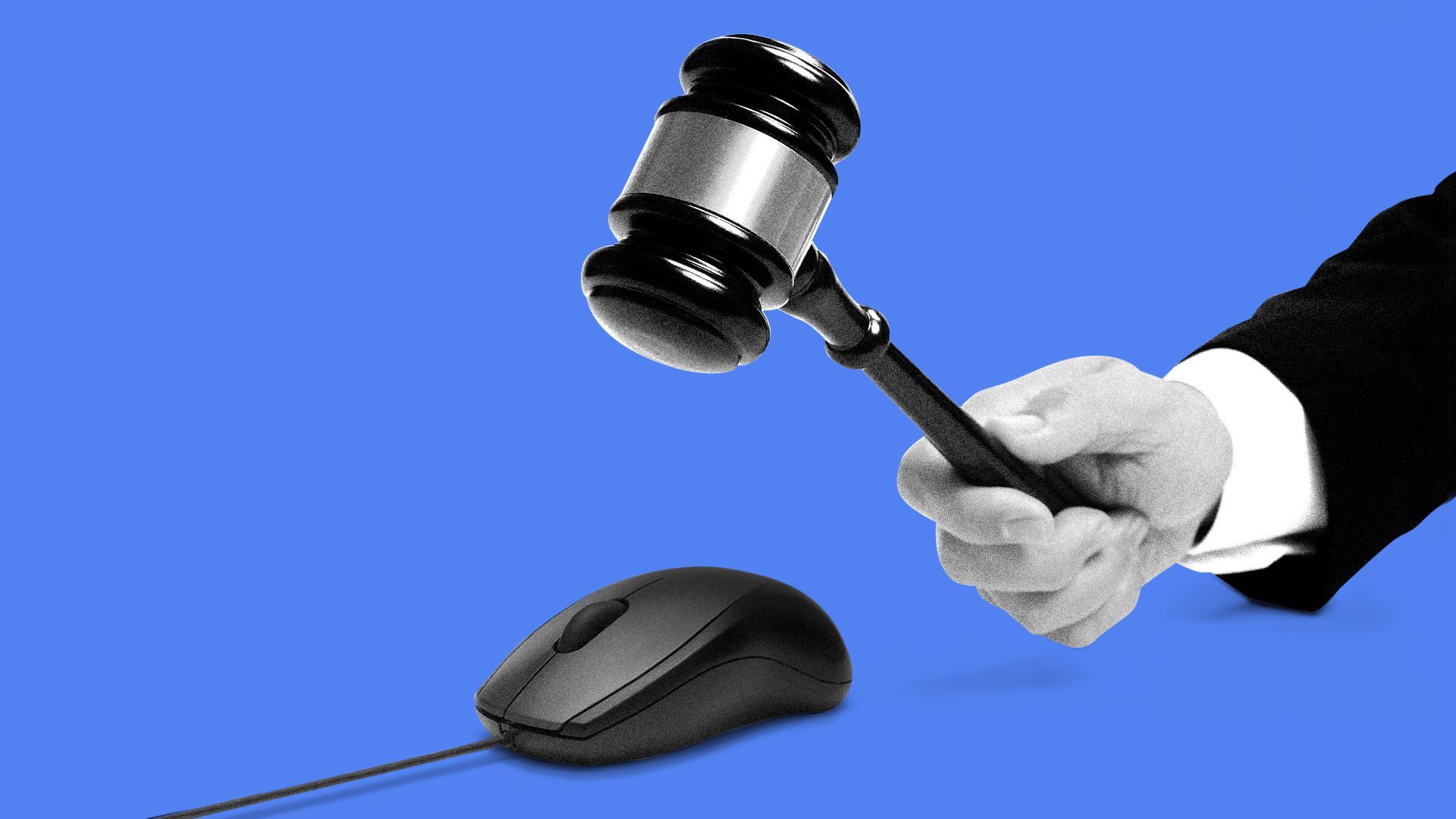 Lawmakers on Friday debuted bipartisan bills that could fundamentally change how Big Tech does business in the U.S.
Driving the news: If passed, the bills could force Apple to change how it runs its app store, break apart Amazon's control of its marketplace and halt Facebook and Google from buying smaller rivals in an effort to remake the online ecosystem.
Why it matters: The legislation is the latest attempt by the government to curb the power of tech giants.
Details: House lawmakers have sponsored five bipartisan bills that represent the culmination of a years-long inquiry into the power of Big Tech.
Democrats and Republicans don't agree on much, a Democratic aide said in a call with reporters, but there is widespread agreement about the need to tackle what lawmakers see as a competition crisis in the U.S. A Republican aide told reporters that Republicans agree the status quo isn't working.
What they're saying: A White House official tells Axios the administration will work with Congress as the process moves forward.
"The power of dominant big tech firms hurts small businesses and stifles the kind of innovation that makes America the world's leading economy. Each of these bills addresses an important problem and we're encouraged that there is strong bipartisan interest in tackling these issues."
1. The American Innovation and Choice Online Act, led by Democratic Rep. David Cicilline of Rhode Island, who helms the antitrust subcommittee, and Rep. Lance Gooden (R-Tex.), is meant to prevent dominant companies from unfairly disadvantaging rivals, such as preventing smaller companies from establishing their own prices for goods and services.
This bill, also supported by Rep. Ken Buck of Colorado, lead Republican on the House Judiciary Antitrust subcommittee, Rep. Jerry Nadler (D-NY) and Rep. Madison Cawthorn (R-NC) would make it difficult for Apple and Android to set prices and policies for their app stores that rivals have complained make them lose business and revenue.
It would also keep platforms like Amazon from advantaging their own products over those-party sellers.
2. The Platform Competition and Opportunity Act, led by Rep. Hakeem Jeffries (D-NY), bans major online players from buying competitive threats. The bill is also supported by Reps. Cicilline, Nadler, Buck, Cawthorn, Gooden along with Rep. Matt Gaetz (R-Fl).
Lawmakers are aiming to stop the practice of Big Tech giants buying up rivals they see to be nascent threats, a major topic of discussion when tech CEOs testified before the committee last summer.
Companies would have to show that deals won't hurt competition.
3. The Ending Platform Monopolies Act, led by Rep. Pramila Jayapal (D-Wash) and supported by Reps. Cicilline, Nadler, Gooden, Cawthorn and Buck, could break up Amazon by making it illegal for the company to both own the platform and offer competing services on it.
Google could also be forced to divest of YouTube, as lawmakers say a search engine could not own a video service that it has incentives to favor in its results under the terms of the bill.
4. The Augmenting Compatibility and Competition by Enabling Service Switching (ACCESS) Act, led by Rep. Mary Gay Scanlon (D-Pa), and supported Reps. Cicilline, Nadler, Buck, Cawthorn and Burgess Owens (R-UT) is meant to increase competition by forcing companies to give consumers the ability to switch data between platforms.
The data portability concept is similar to the requirement that wireless companies allow consumers to keep their phone number if they decide to switch providers.
5. The Merger Filing Fee Modernization Act, led by Rep. Joe Neguse (D-Co) and supported by Reps. Buck and Cawthorn along with Rep. Victoria Spartz (R-IN) and Rep. Chip Roy (R-Tex.), would give enforcement agencies more teeth and resources by requiring higher fees for mergers valued at $1 billion and more.
A companion bill from Sens. Amy Klobuchar (D-Minn) and Chuck Grassley (R-IA) just passed the Senate.
Go deeper:
Murdoch empire pushes Republicans to back tech antitrust bills
Lawmakers ready antitrust bills to take on Big Tech
New tech antitrust hurdle: GOP divisions
What the Big Tech hearings really accomplished
House Judiciary's tech antitrust report urges sweeping legal changes
Editor's note: This story has been updated with more co-sponsors who signed onto the bills and a statement from the White House.
Go deeper