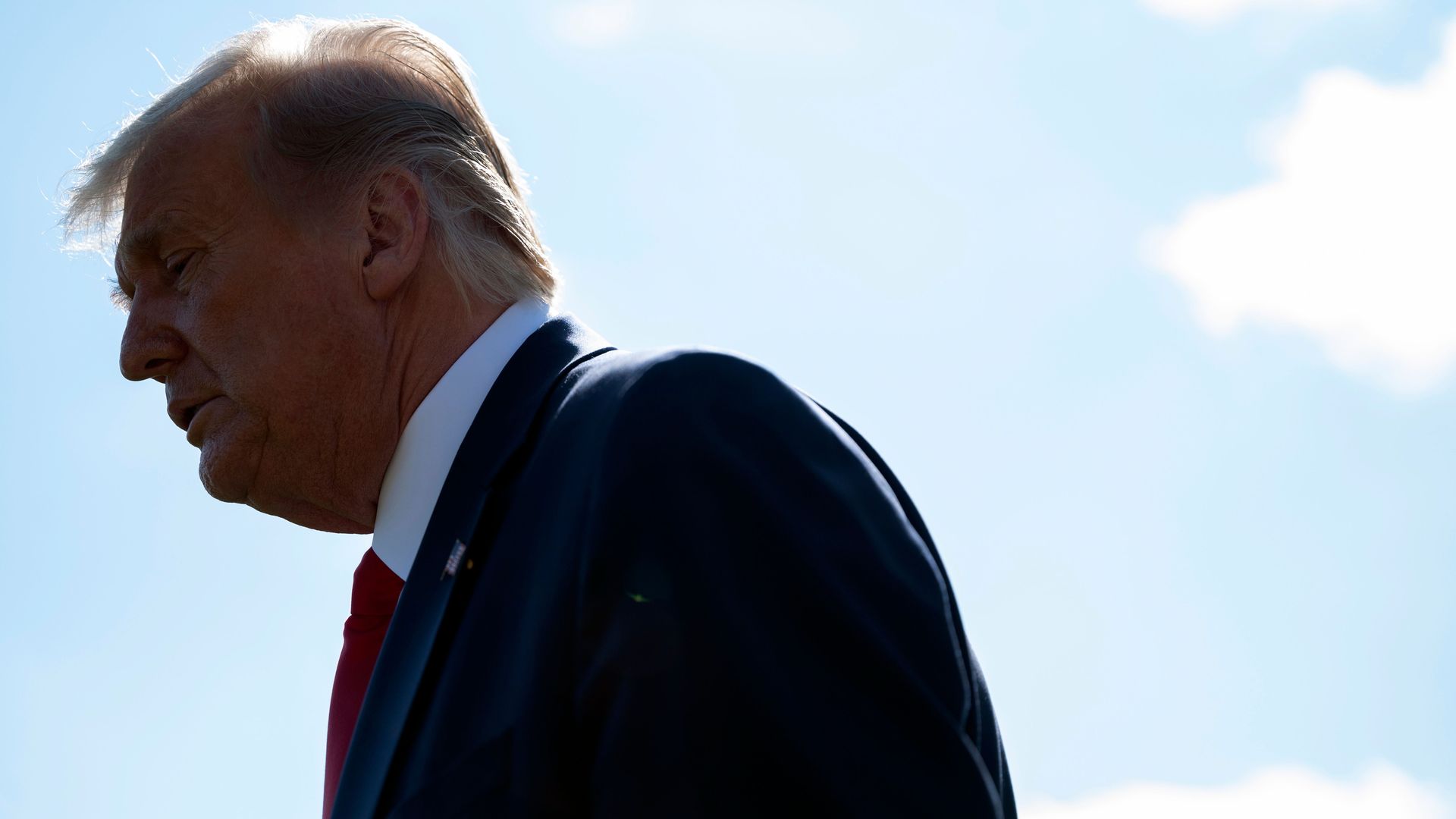 Over the last 29 days, President Trump has stared down a month of hell — a relentless barrage of reporting and developments that have seriously damaged his re-election hopes.
Why it matters: Polls already showed that Trump faced a difficult path to re-election before his middle-of-the-night revelation that he has coronavirus. And with just over a month until Election Day, there's no telling what the next 32 days could have in store for the president.
Sept. 3: The Atlantic's editor-in-chief Jeffrey Goldberg published a story alleging that Trump called American soldiers who died in war "losers" and suckers."
The story forced the president to go on camera to deny it: "To think that I would make statements negative to our military and our fallen heroes, when nobody's done what I've done ... It is a disgraceful situation by a magazine that's a terrible magazine — I don't read it."
But he still refused to say whether he regretted calling the late Sen. John McCain, who was once a prisoner of war, a "loser" in 2015, adding that the two "never got along."
Sept. 9: The first excerpts from Bob Woodward's book "Rage," based on more than a dozen on-the-record interviews with Trump, leak to the press — revealing that Trump said he intentionally downplayed the coronavirus threat in the pandemic's early days.
"It goes through the air. That's always tougher than the touch. You don't have to touch things. Right? But the air, you just breathe the air and that's how it's passed. And so that's a very tricky one. That's a very delicate one. It's also more deadly than even your strenuous flus," Trump told Woodward on Feb. 7.
Sept. 27: The New York Times published a bombshell report alleging that Trump only paid $750 in federal taxes in 2016 and 2017.
The report also said that the president has over $300 million in personal debt obligations coming due in the next four years.
And it alleged Trump "has reduced his tax bill with questionable measures, including a $72.9 million tax refund," which is now the subject of an IRS audit.
Sept. 28: Former Trump campaign manager Brad Parscale was hospitalized after his wife called police and said he was threatening to harm himself.
Parscale stepped away from the campaign entirely a few days later, saying he needed "to focus on my family and get help dealing with the overwhelming stress."
Sept. 29: Trump's bombastic, rowdy performance during the first presidential debate against Joe Biden was widely panned by critics — and his refusal to issue an outright condemnation of white supremacist groups, like the far-right Proud Boys, became the night's big story.
He also telegraphed with clarity that there's unlikely to be a clean outcome to the Nov. 3 election: "We might not know for months, because these ballots are going to be all over. ... It's a fraud and it's a shame. ... It's a rigged election."
Trump's performance was so disruptive that it forced the Commission on Presidential Debates to say that it plans to implement changes to rules for the remaining debates.
Oct. 1: CNN aired secretly recorded tapes of First Lady Melania Trump that featured her expressing frustration at criticism for not speaking out against the president's immigration policies and a distain for the traditional duties of her position.
"OK, and then I do it and I say that I'm working on Christmas and planning for the Christmas and they said, 'Oh, what about the children that they were separated?' Give me a f---ing break," she said in the tape recorded by her former friend Stephanie Winston Wolkoff.
Oct. 2: Trump, who had for months talked and acted like he was medically invincible, tweeted in the wee hours of the morning that he and First Lady Melania Trump had tested positive for coronavirus.
Stock futures plunged after Trump tweeted the news. Market watchers warned of a potentially deep selloff, with an unknown extent of the spread at the top of the American government.
Trump has pointedly flouted his own experts' advice about the coronavirus, and said at an Ohio rally just two weeks ago that it "affects virtually nobody" besides the elderly.
Go deeper