The major police reforms enacted since George Floyd's death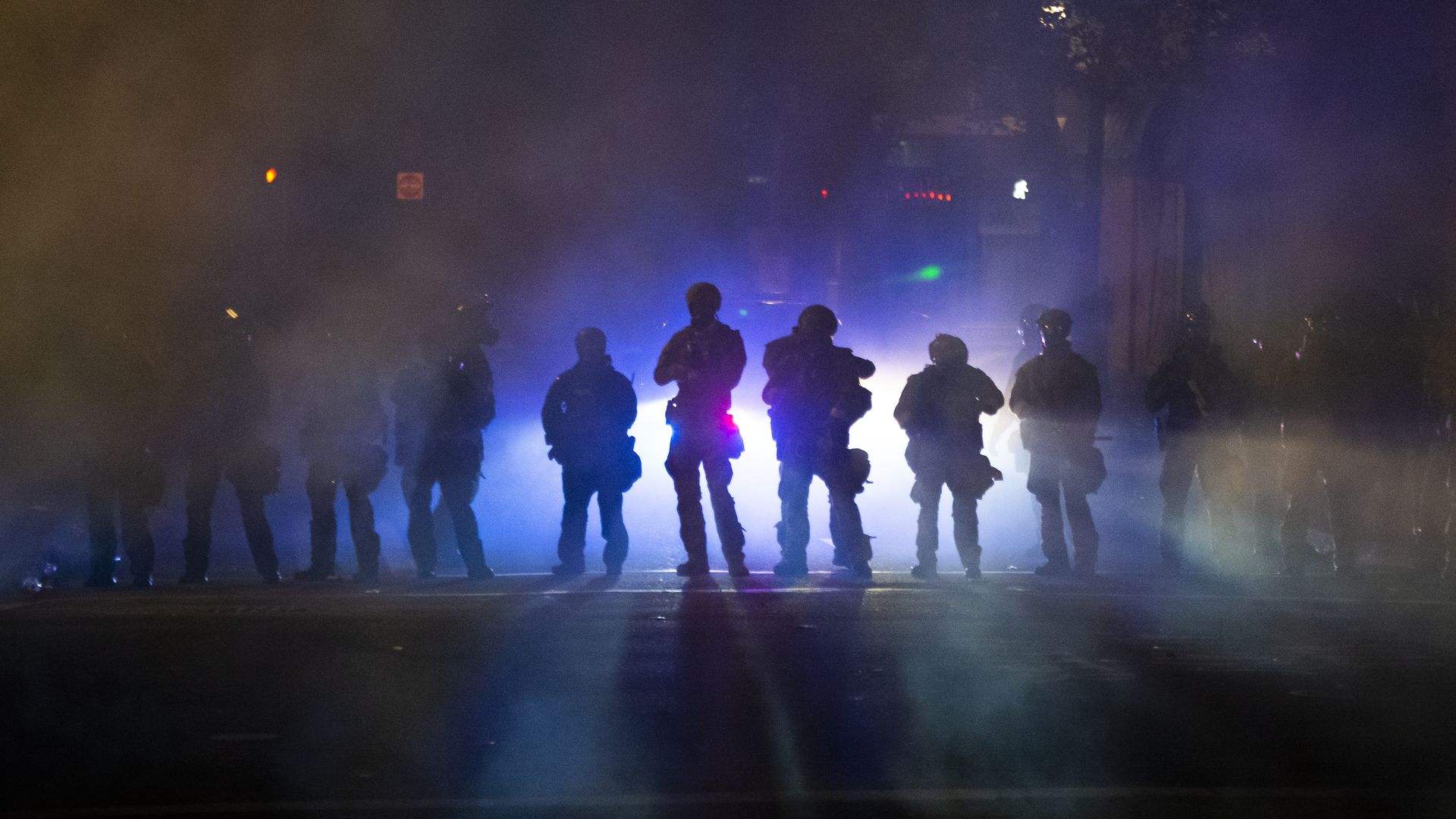 Nationwide Black Lives Matter protests sparked by George Floyd's killing have put new pressure on states and cities to scale back the force that officers can use on civilians.
Why it matters: Police reforms of this scale have not taken place since the inception of the Black Lives Matter movement in 2013, following George Zimmerman's acquittal for shooting Trayvon Martin, an unarmed Black teenager.
Bans on tear gas, chokeholds
California passed bills on Sept. 30 that ban the use of chokeholds and allow the state Department of Justice to investigate police shootings.
Minnesota's package of police accountability measures went into effect on Sept. 8, NPR reports, after Gov. Tim Walz (D) signed a ban on neck restraints and chokeholds into law July 23.

The Minnesota Police Accountability Act raises the threshold for what kind of force officers can use on civilians, per NPR.

Philadelphia Mayor Jim Kennedy (D) said on June 25 that the city's police commissioner had placed a moratorium on tear gas and "other non-lethal methods," in response to videos of corralled protesters being tear gassed.
The Seattle City Council banned tear gas and chokeholds by police on June 15, per the Seattle Times.

Seattle's Black Lives Matter chapter and the ACLU accused officers in a lawsuit of using chemical irritants on protesters one day after Mayor Jenny Durkan issued a 30-day ban.

Connecticut Gov. Ned Lamont (D) signed an executive order on June 15 to ban state police from using chokeholds and prohibiting the state's emergency services from buying military-grade equipment from the federal government.
New York Gov. Andrew Cuomo (D) signed legislation on June 12 banning chokeholds and repealing a decades-old law that sealed records of alleged officer misconduct from the public.
The Phoenix Police Department said on June 9 it wouldn't allow officers to use the "sleeper" hold, a few days after California Gov. Gavin Newsom (D) directed state police to do the same.
In Texas, the Austin City Council unanimously voted to limit police use of force and reduce the department's 2021 budget, the Texas Tribune reports.

The Austin City Council also moved to cut the police budget by $150 million.
Houston Mayor Sylvester Turner signed an order on June 10 to ban police use of neck restraints and chokeholds, "unless objectively necessary to prevent imminent serious bodily injury or death to the officer or others." He added officers couldn't kneel on a suspect's neck.
Dallas police officers were ordered by the city's police chief earlier this month to intervene if another officer uses excessive force, NPR reports.

Iowa passed a reform bill on June 11 specifying that chokeholds are only acceptable "when a person cannot be captured any other way" or if the officer "reasonably believes the person would use deadly force."
The Washington, D.C., Council passed on June 9 legislation banning officers from using rubber bullets or chemical irritants on peaceful protesters for 90 days, the Washington Post reports.
The Broward County, Florida, Sheriff's Office said it would ban officers from using chokeholds unless "deadly force is justified" and prohibit officers from shooting at moving vehicles unless their lives are threatened.
Colorado's General Assembly banned the carotid "sleeper hold" on June 13, the Denver Post reports.
Body cameras
Seattle's mayor said on June 8 she would order officers to turn on body cameras during protests.
Denver's police announced on June 7 that officers and SWAT units would turn on body cameras during "tactical operations," and officers need to report "if they intentionally point any firearm at a person."
Connecticut's Lamont issued an executive order requiring that troopers wear body cameras.
Houston's Turner directed officers on June 10 to wear body cameras while serving no-knock warrants.
Transparency
Georgia Gov. Bill Kemp (R) signed a bipartisan bill on June 23 requiring police officers to document when someone is subjected to a hate crime on the basis of race, sexual orientation, gender identity, disability, religion or national origin.
The New York City Council voted on June 18 to require the NYPD to disclose what forms of surveillance technology officers use, and to report what rules are in place to protect personal data collected by officers, CNET reports.
New York Police Commissioner Dermot Shea announced on June 15 the NYPD would disband its plainclothes anti-crime unit.
Finding new ways to police
No-knock warrants
Louisville, Kentucky's Metro Council unanimously voted on June 11 to ban "no-knock" search warrants.
Go deeper: More Black police officers, yet the killings persist
Go deeper