St. John's clergy: Trump used church as prop, Bible as symbol of division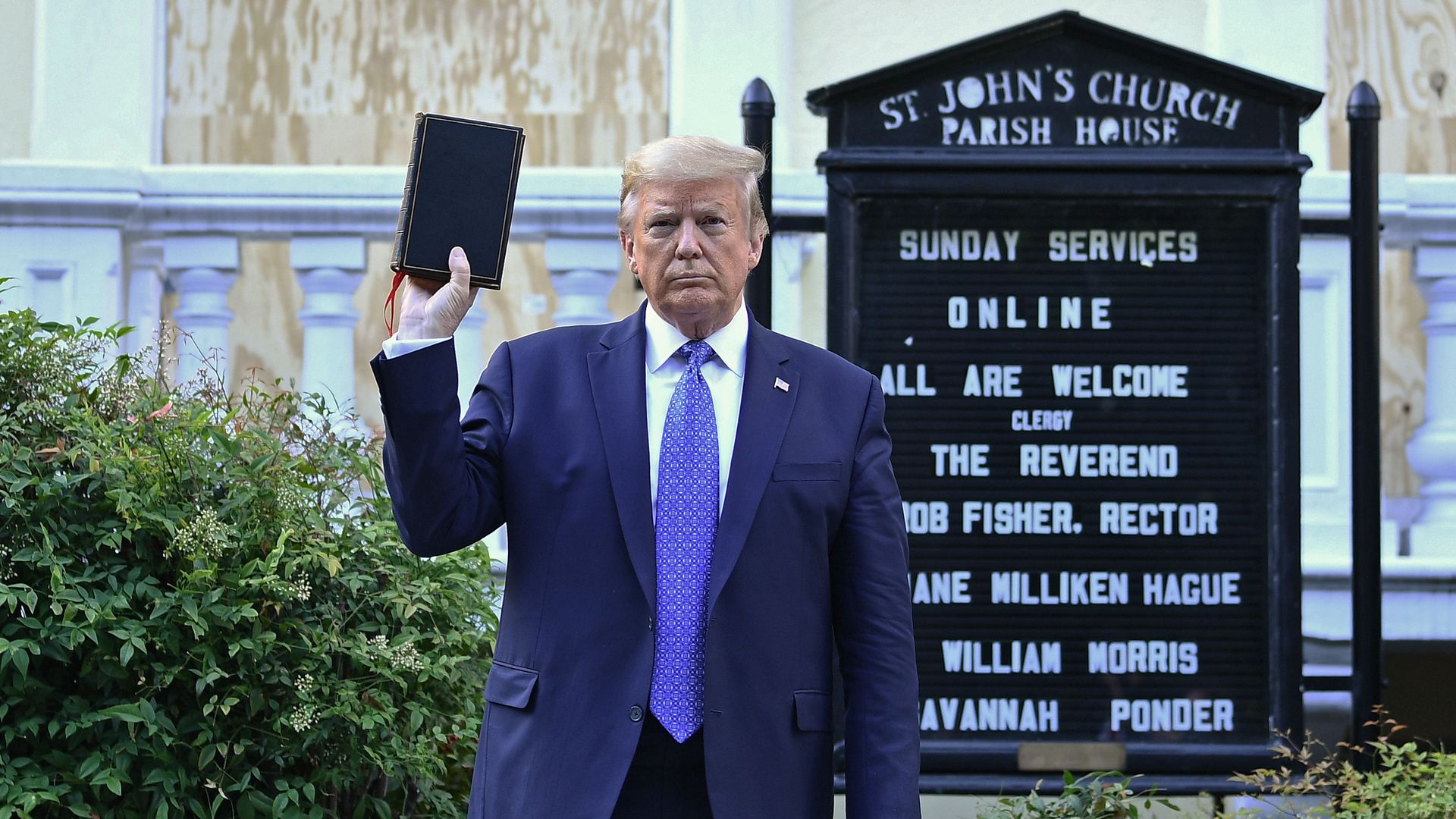 Current and former clergy of the historic St. John's Episcopal Church expressed furor and confusion over President Trump's visit on Monday, which he claimed was to honor the establishment after George Floyd protestors sparked a small fire on the property Sunday night.
The big picture: Park rangers and military police deployed tear gas and physical force to disperse peaceful protestors from Lafayette Square, which sits north of the White House across Pennsylvania Avenue, so Trump could walk to "pay respects" to the church. A former St. John's rector on the scene revealed in a Facebook post that she was left "coughing" from the tear gas.
Details: Rector Gini Gerbasi, who previously worked at St. John's on Lafayette Square and now works at the St. John's in nearby Georgetown, said she was helping the Black Lives Matter organizers, fellow clergy and others hand out water during the peaceful protest when the tear gas and rubber bullets were fired. "That man turned it into a BATTLE GROUND first, and a cheap political stunt second," she said of Trump.
"We were literally DRIVEN OFF of the St. John's, Lafayette Square patio with tear gas and concussion grenades and police in full riot gear," Gerbasi said. "We were pushed back 20 feet." She said she was OK but "shaken" by the ordeal.
What else they're saying: Mariann Budde, the Episcopal Bishop of Washington, D.C., told the Washington Post on Monday she was "not given even a courtesy call, that they would be clearing [the area] with tear gas so they could use one of our churches as a prop."
Trump held a Bible in his hand while standing outside the church for only a few minutes. Budde tweeted later that the president "used a Bible and a church of my diocese as a backdrop for a message antithetical to the teachings of Jesus and everything that our church stands for."
"To do so, he sanctioned the use of tear gas by police officers in riot gear to clear the church yard," she continued. "The President did not come to pray; he did not lament the death of George Floyd or acknowledge the collective agony of people of color in our nation. He did not attempt to heal or bring calm to our troubled land."
"The Bible teaches us to love God and our neighbor; that all people are beloved children of God; that we are to do justice and love kindness. The President used our sacred text as a symbol of division."
— Budde's tweet
The pastor of St. John's also told Fox News on Monday that he was unaware Trump was coming to the establishment, saying: "I feel like I'm in some alternative universe in a way."
National Episcopal clergy have joined in the outrage. Bishop of the Episcopal Diocese of Central Florida Greg Brewer tweeted: "I am shaken watching protestors in Lafayette Park gassed and cleared so that the President of the United States can do a photo ... This is blasphemy in real time."
Of note: St. John's, which is over 200 years old, is just steps away from the White House and is often referred to as the "church of the presidents."
Editor's note: This article has been updated with further comment from Budde and Gerbasi. It also corrects the location of Lafayette Square, which lies north of the White House across Pennsylvania Avenue.
Go deeper