The doctor vs. the White House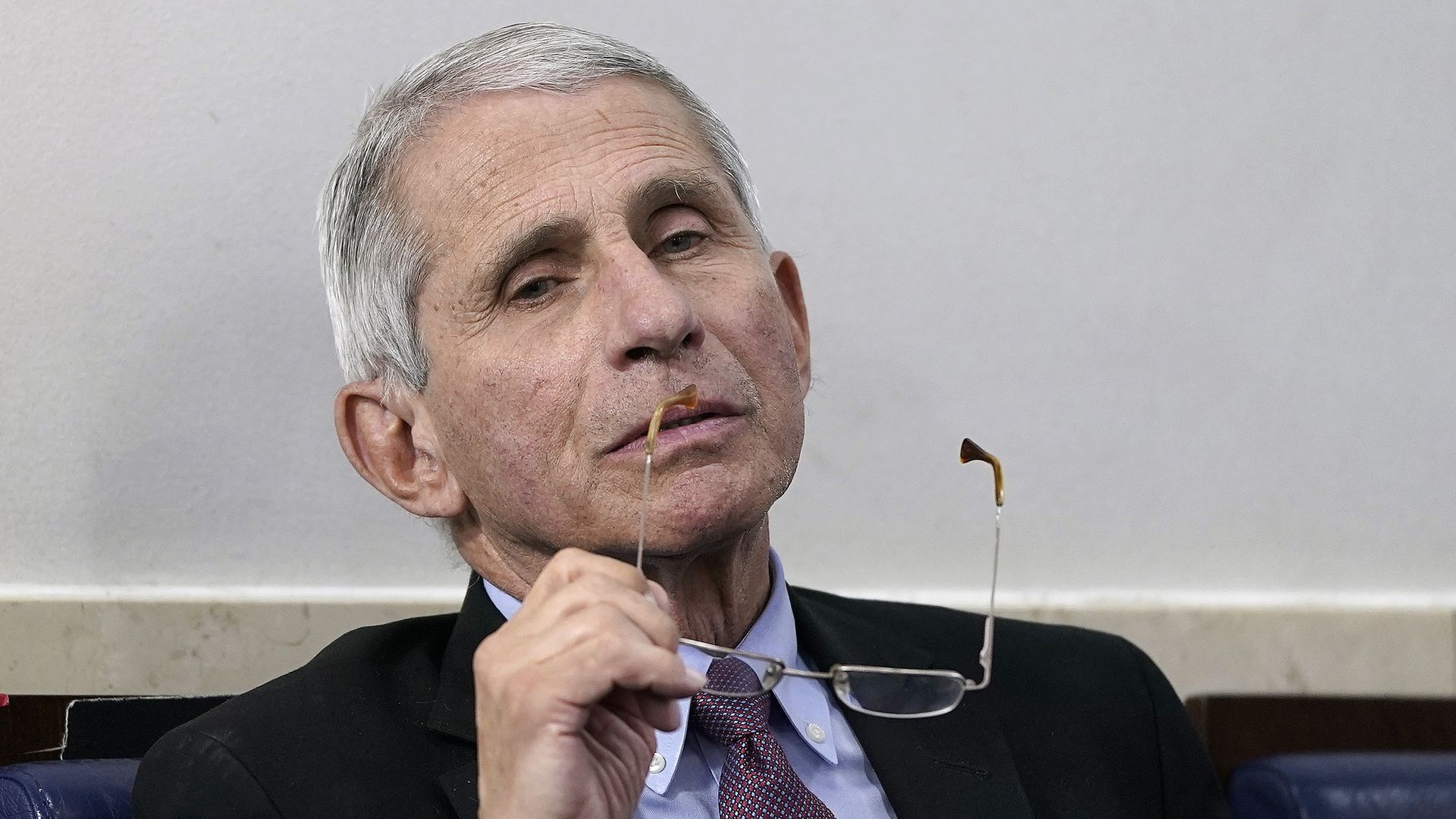 Dr. Anthony Fauci's goal for his testimony on the Hill today — to warn the country of the dangers of reopening too quickly — precisely undercuts what President Trump and the White House are trying to achieve this week.
The state of play: Trump and his team built its messaging this week around convincing Americans that they had enough testing and personal protective equipment to begin to safely return to work — and Trump has been publicly chiding blue-state governors for keeping their states closed longer than he'd like.
Fauci plans to tell a Senate hearing Tuesday Americans will face "needless suffering and death" if the U.S. prematurely reopens its economy during the novel coronavirus pandemic, the New York Times reports.
The NIAID director will testify via videoconference before the Senate Health, Education, Labor and Pensions Committee COVID-19 hearing on when it's safe to return to work and school.
What they're saying: "The major message that I wish to convey to the Senate HLP committee tomorrow is the danger of trying to open the country prematurely," Fauci wrote in an email to a Times reporter on Monday night.
"If we skip over the checkpoints in the guidelines to: 'Open America Again,' then we risk the danger of multiple outbreaks throughout the country," the top infectious diseases expert continued, in reference to the Trump administration's three-stage plan for states.
"This will not only result in needless suffering and death, but would actually set us back on our quest to return to normal."
Between the lines: So you have the stark spectacle of the nation's highest profile doctor and member of Trump's coronavirus task force addressing the nation without the president by his side.
A big part of the reason some Trump advisers pushed to end his daily briefings — besides the negative political fallout — was because they wanted the public to hear less from the doctors, and more from the economists and the business cheerleaders for reopening.
Today we see Fauci's messaging run headlong into the White House's.
Of note: This will be the key White House Coronavirus Task Force member's first congressional appearance since President Trump declared a national emergency over the outbreak in March.
Background: Fauci, CDC chief Robert Redfield and FDA Commissioner Stephen Hahn are testifying remotely while self-isolating — days after Vice President Mike Pence's press secretary Katie Miller and Trump's valet tested positive for COVID-19.
Senate Health Committee Chairman Lamar Alexander (R-Tenn.) is chairing the hearing remotely while in self-quarantine after a staff member tested positive.
Editor's note: This article has been updated with new details throughout.
Go deeper