Debate night: Candidates appeal to New Hampshire voters days before the primary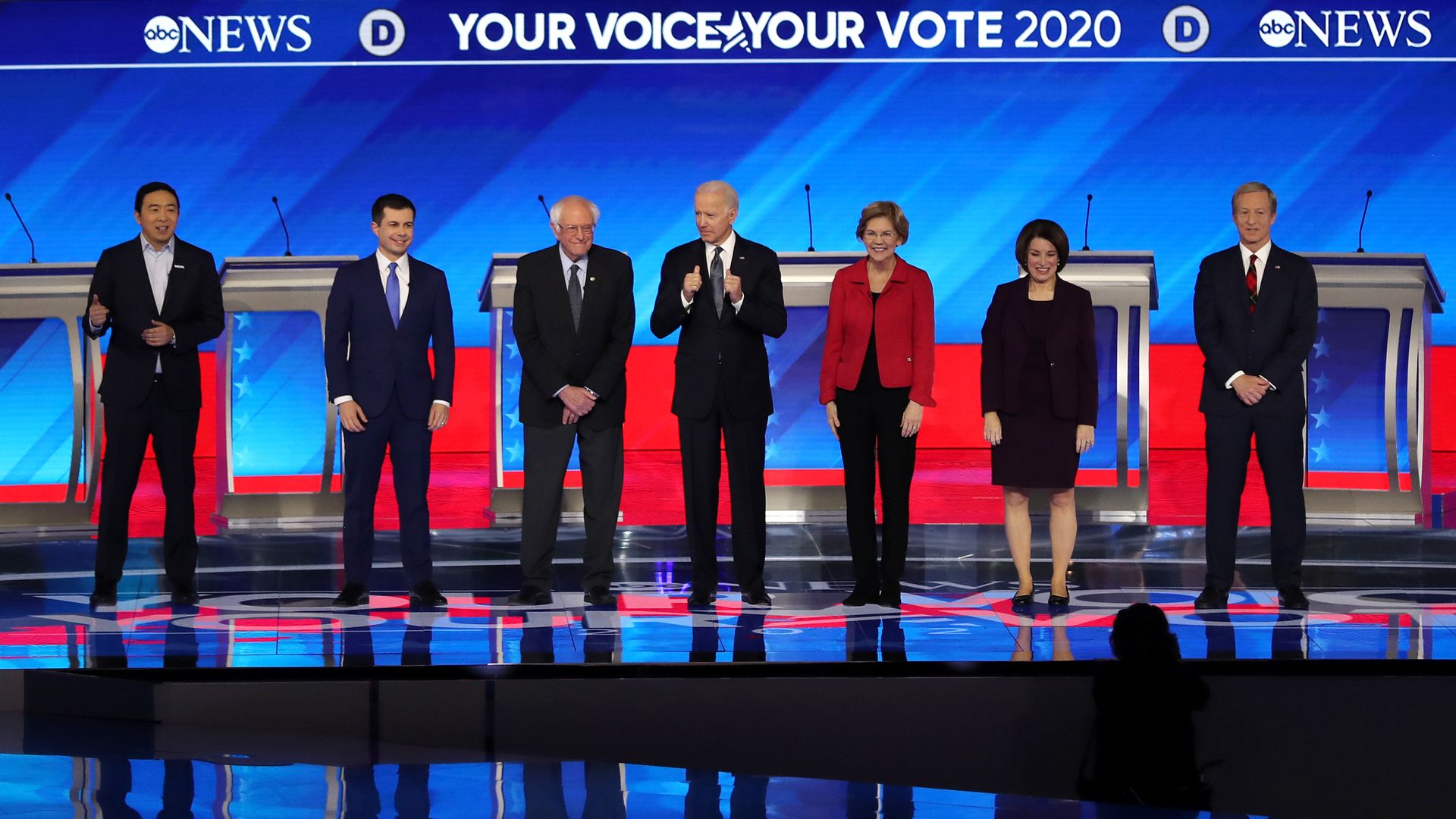 Seven 2020 candidates took the stage at St. Anselm College in Manchester, N.H., on Friday, to debate issues including race, health care, the economy, Ukraine and electability, as they jockey for voters' support days before the nation's first primary on Feb. 11.
Why it matters: After the turmoil and error-riddled results of the Iowa caucuses, Sen. Bernie Sanders and former Mayor Pete Buttigieg are trying to edge ahead of each other, while other candidates are hoping for breakthrough moments to gain voters' support.
Criminal justice and race
What they're saying: "Race has totally permeated our criminal justice system," Warren said. Most candidates expressed agreement that systematic racism permeates America and affects housing, education, employment, and other aspects of life. Warren criticized Democrats for only caring about the African American community during election time.
Buttigieg claimed he lowered drug arrests while mayor in South Bend, Ind. He said he "took a lot of heat for discussing systemic racism" with his police department — after a white police officer fatally shot a black man last year.
Klobuchar defended her history as a prosecutor in a drug court that "didn't want to see repeat customers."
Yang commented to Warren that "you can't regulate away racism" and touted his plan to give $1,000 to every American as a way to "put money directly into the hands of people of color." He said people of color are suffering economic disaster in the U.S.
Steyer said he supports reparations to African Americans and "anyone who thinks racism isn't a problem is not dealing with reality."
Biden said that politicians should "stop taking the black community for granted."
Sanders described American society as racist "from top to bottom," citing the war on drugs, private prisons, and educational and economic disparities.
Gun control
What they're saying: "People are sickened by the mass shootings that we have seen and the gun violence we have seen," Sanders said, as he and other candidates boasted that they would not be cowed by the NRA.
Warren said "shootings that occur in sidewalks and in playgrounds" are a problem alongside more publicized mass shootings, as well as suicide. She called for a ban on assault weapons.
The big picture: 2019's mass shootings in El Paso, Texas; Dayton, Ohio; Virginia Beach; and near Odessa, Texas, have pushed 2020 Democrats to take harder stances on gun control than in the last presidential election.
Foreign policy
What they're saying: Biden would keep a limited number of troops in the Middle East to contain ISIS. He emphasized his lack of support for nation-building in Afghanistan, which has "no possibility at all" of being made "a whole country." Biden added that "NATO is in fact going to crumble if we don't beat Trump."
Buttigieg said the next president will have to prevent war with Iran, undertake counter-terrorism, restore the credibility of the U.S. in the international community, address cybersecurity threats and "be ready for the future."
Warren said the U.S. "can't send troops to do work that can't be solved militarily" in the Middle East and that "it is time to stop this endless war in Afghanistan."
Sanders denounced the Trump administration killing Qasem Soleimani: "You can't go around saying, you're a bad guy, we're going to assassinate you."
Steyer said the U.S. has "abandoned diplomacy" and "we don't have allies." He denounced the U.S. military-industrial complex as a way to interact with the world, underlining climate change as "the biggest problem in the world," which "cannot be solved by guns and tanks and planes."
Catch up quick: Buttigieg and Steyer have said they would withdraw U.S. forces from Afghanistan by the end of their first year. Biden, Warren, Sanders, Yang and Klobuchar said they'd do it by the end of their first term, the Post reports.
Biden-Ukraine investigation
What they're saying: "To be the kind of president, to be the kind of human being, who would seek to turn someone against his own son, who would seek to weaponize a son against his own father, is an unbelievably dishonorable thing," Buttigieg said, in response to Republicans investigating "potential conflicts of interest posed by the business activities of Hunter Biden" in Ukraine.
Go deeper: What Joe and Hunter Biden actually did in Ukraine
Health care
What they're saying: "I think there's a better way," Buttigieg said, when asked to weigh-in on Sanders' Medicare for All plan. "How much is it gonna cost? Who's going to pay for it?" Biden demanded of Sanders' plan. Warren pivoted to prescription costs when asked about Medicare for All, and later in the debate.
Catch up quick: Only Sanders and Warren support Medicare for All, but all Democratic candidates support plans that allow Americans to keep private insurance unless they want to choose coverage from a public plan, per the Kaiser Family Foundation (KFF).
Abortion and reproductive health care
Candidates were asked about appointing Supreme Court judges that support Roe v. Wade.
What they're saying...: "I've lived in an America in which abortion is illegal. And rich women still got abortions," Warren said.
Sanders called for significant increases to federal funding for Planned Parenthood.
Biden, Warren, Klobuchar all called for legislation to protect a women's right to choose. "It's a woman's right to do that, period. If you want to call that a litmus test, it's a litmus test," Biden said.
Buttigieg, Sanders, Steyer, Warren and Yang believe there should be no restrictions on abortion at any point in a healthy pregnancy, per the Post, while Biden and Klobuchar would follow the Roe v. Wade viability standard —  allowing states to restrict abortion before 24 to 28 weeks of pregnancy if there is no "undue burden" on the woman.
Go deeper: Democrats like both Medicare for All and a public option
Go deeper