The daily highlights from Trump's Senate impeachment trial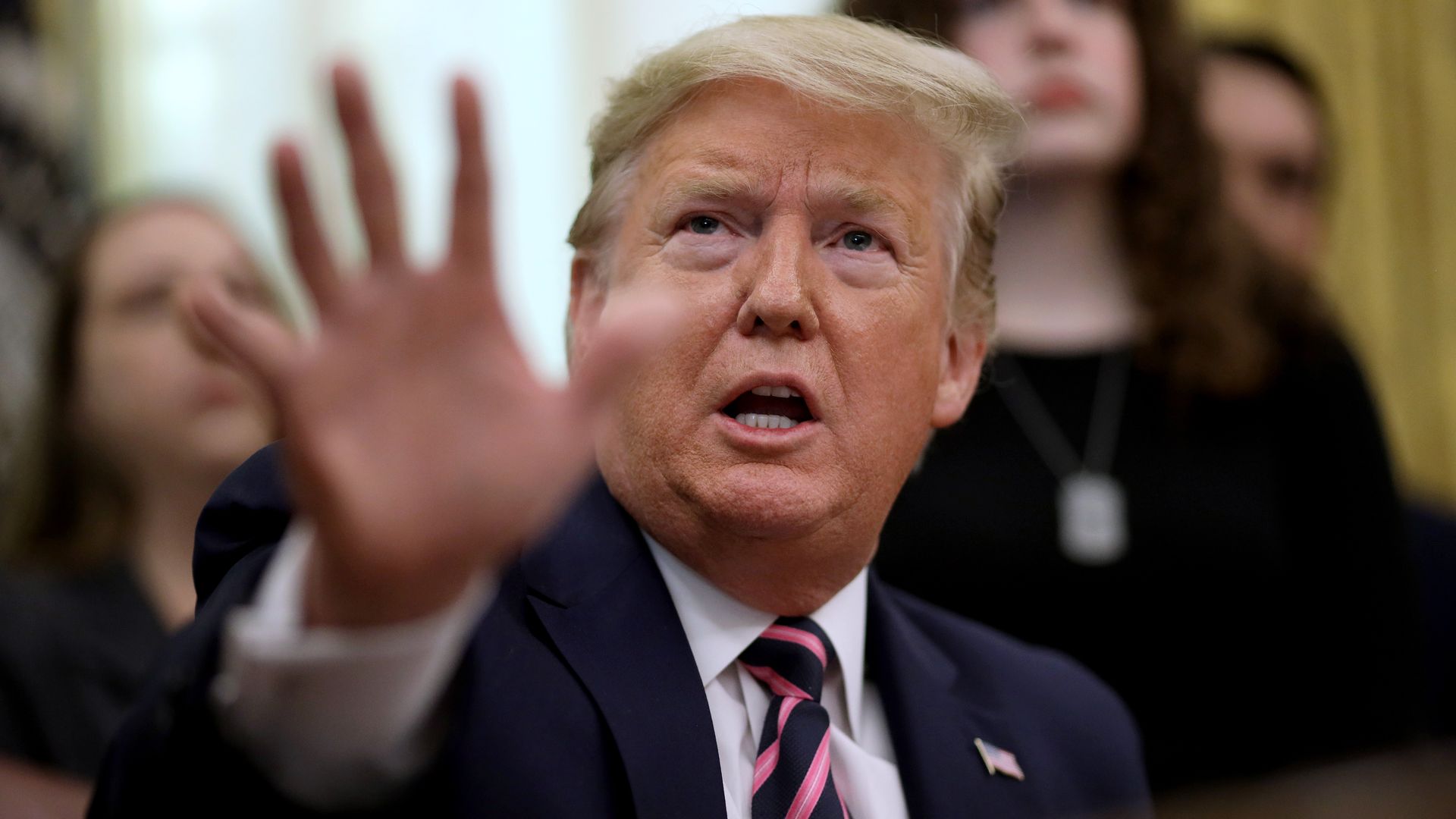 The Senate impeachment trial of President Trump is set to wrap up on Wednesday with a final on whether or not to remove him from office.
The big picture: Senate Majority Leader Mitch McConnell got the speedy, no-witness trial he wanted. Republicans officially have the votes to acquit Trump, according to a Politico analysis of public statements.
Daily recaps
Jan. 21, day 1: Senators approve rules of proceeding
The first day saw a series of procedural clashes over the rules at the heart of the proceeding on Tuesday.
Senators ultimately approved Senate Majority Leader's Mitch McConnell's proposed roadmap for the trial after a series of votes initiated by Democrats to include more witnesses and evidence failed along party lines.
Jan. 22, day 2: Democrats kick off their case
Lead House impeachment manager Rep. Adam Schiff (D-Calif.) opened the 24 hours of Democrats' opening arguments by walking through an extensive timeline of the actions by both Trump and other administration officials toward Ukraine.
Off the floor, Schiff and other top Democrats also shut down the idea of a witness swap that would see them allow members of the Biden family to testify as witnesses in exchange for testimony from Trump administration officials.
Jan. 23, day 3: Schiff argues that "the truth matters"
House impeachment manager Rep. Sylvia Garcia (D-Texas) attempted to debunk the Trump administration's position that the Biden family was engaged in corruption in Ukraine. She argued that "Trump didn't care about any of this until" Biden looked like a 2020 frontrunner.
In a clip that's sure to be played long after the trial ends, Schiff closed Democrats' second day of opening arguments by saying, "If you find him guilty, you must find that he should be removed. Because right matters, because right matters. And the truth matters. Otherwise, we are lost."
Jan. 24, day 4: Democrats close out their opening arguments
Rep. Adam Schiff (D-Calif.) anticipated attacks on him, other House managers, the Ukraine whistleblower, and the Bidens from Trump's team, which begins its defense of the president on Saturday. He appealed directly to GOP senators: "Real political courage does not come from disagreement with our opponents, but disagreeing with our friends and our own party."
Rep. Jerry Nadler (D-N.Y.) explained Democrats' big-picture fear underlining the second article of impeachment: If Trump and his officials can ignore congressional subpoenas, future presidents will be immune to oversight.
Jan. 25, day 5: White House lawyers begin their rebuttal
The two-hour Saturday session was a first look at Trump's defense as the president's team tried to poke holes in the House impeachment managers' case, rather than going after the Bidens.
Trump's defense team noted every bit of evidence they say the managers skipped, trying to cast doubt whenever it could on linking Trump's requests to investigate the Bidens to delaying military aide to Ukraine.
Jan. 27, day 6: Defense continues case despite Bolton furor
Trump's team largely shied away from Sunday's dramatic 11th-hour curveball via a leak from former national security adviser John Bolton's book. Trump attorney Alan Dershowitz, who closed out the night, was the only member of the president's team to namecheck Bolton.
Jan. 28, day 7: Trump's team closes its case
Republicans ended their three days of arguments lamenting the facts that form the basis of the trial — claiming they don't rise to the level of an impeachable offense — and accusing Democrats of pushing forward a plot to subvert the will of American voters and remove the president from office.
Despite presenting their opening arguments over three days, Trump's team didn't use even half of its available 24 hours.
Jan 29, day 8: Dershowitz's quid pro quo defense
Senators kicked off two days that allowed them to submit prewritten questions to Chief Justice John Roberts, who directed them to the House impeachment managers or Trump's legal team for a five-minute response.
Dershowitz responded to a question from Sen. Ted Cruz (R-Texas), who asked if it would even matter if there were a quid pro quo regarding Ukraine. Dershowitz argued that a quid pro quo can only exist in a purely corrupt form if it benefitted the president financially.
Jan. 3o, day 9: Lamar Alexander sets up speedy acquittal
As the question-and-answer session closed, the biggest news happened off the Senate floor, as Sen. Lamar Alexander (R-Tenn.) announced afterward that he'd oppose calling additional witnesses. With that key swing vote off the table for Democrats, it sets up the president for a speedy acquittal.
Jan. 31, day 10: Vote to call witnesses fails
The Senate voted Friday to move forward with Trump's impeachment trial without calling for additional witnesses or evidence, an expected result after two key Republicans decided to vote against it.
Feb. 3, day 11: Closing arguments
The four hours of closing arguments were more for show than meant to change any minds, as Trump is all but certain to be acquitted on Wednesday.
Feb. 4, day 12: Senators debate
A number of Republican senators called Trump's conduct toward Ukraine "inappropriate," but none said they will vote to acquit.
Feb. 5, day 13: Senate acquits Trump
As expected, Trump was acquitted on both articles of impeachment. But in a surprise 11th hour twist, Sen. Mitt Romney broke ranks and voted to convict the president for abuse of power — the only Republican to do so.
Go deeper:
Go deeper