Highlights from Alexander Vindman's and Jennifer Williams' impeachment testimonies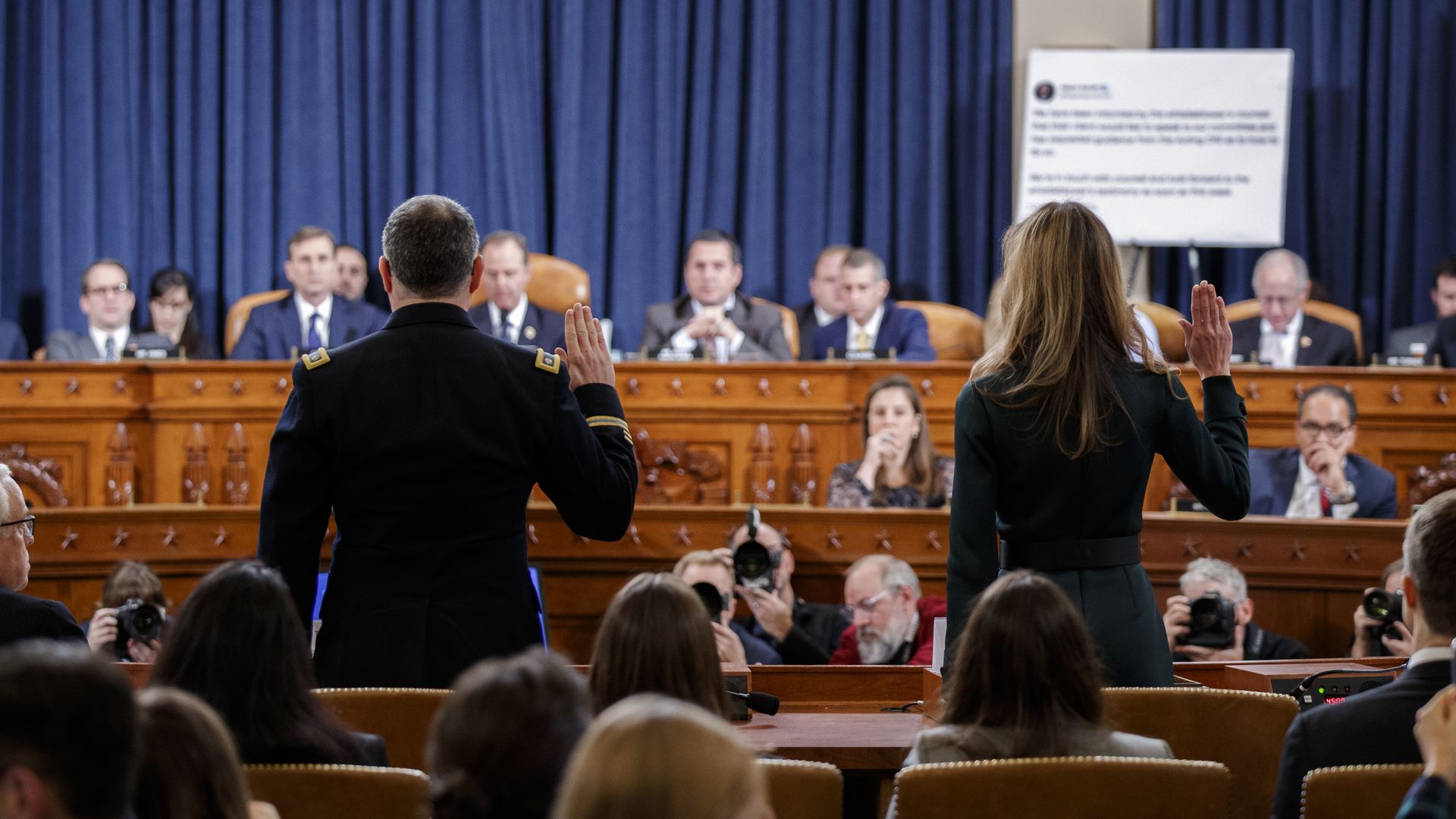 Lt. Col. Alexander Vindman, the National Security Council's top Ukraine expert, and Jennifer Williams, an aide to Vice President Pence, testified Tuesday morning as the House kicked off its second week of impeachment hearings.
Why it matters: The hearing was the first time the public heard directly from witnesses who listened to the July 25 call between President Trump and Ukrainian President Volodymyr Zelensky that lies at the heart of the impeachment inquiry.
The highlights:
Reflecting their closed-door testimonies, Vindman and Williams both used their opening statements to say that they found the July call to be "improper" and "unusual," respectively.
House Intelligence Committee Chairman Adam Schiff (D-Calif.) asked Williams about a Sept. 18 call between Pence and Zelensky. Williams said she was on the call, but her counsel said the call is classified and that she can't talk about it in an open setting.
Both Vindman and Williams testified that they are not aware of evidence suggesting misconduct by Joe Biden in Ukraine.
Vindman testified that two "substantive" phrases were omitted from the July 25 call, but that he did not believe there was anything nefarious about the omissions.
Vindman refused to answer a line of questioning from ranking member Rep. Devin Nunes (R-Calif.) regarding the officials with whom he discussed the July 25 call due to committee rules protecting the identity of the whistleblower.
GOP counsel Steve Castor asked Vindman at length about an offer to become Ukraine's defense minister, which he called "rather comical." Vindman has faced unsubstantiated cable news attacks questioning his loyalty to the U.S. because he was born in Ukraine.
Vindman and Williams, who have both been attacked by the president on Twitter, said they would not describe themselves as "Never Trumpers."
The other side: The White House's Twitter account tweeted a quote from former National Security Council official Tim Morrison's closed-door deposition stating that he had "concerns" about Vindman's judgment as Vindman was in the midst of his testimony.
What's next: The Vindman-Williams hearing isn't the only public hearing on Tuesday. Former special envoy to Ukraine Kurt Volker and Morrison are scheduled to begin their own hearing at 2:30 pm ET.
Watch:
Read:
The past hearings:
Go deeper:
Go deeper