NY officials: Major measles outbreak is over as countdown continues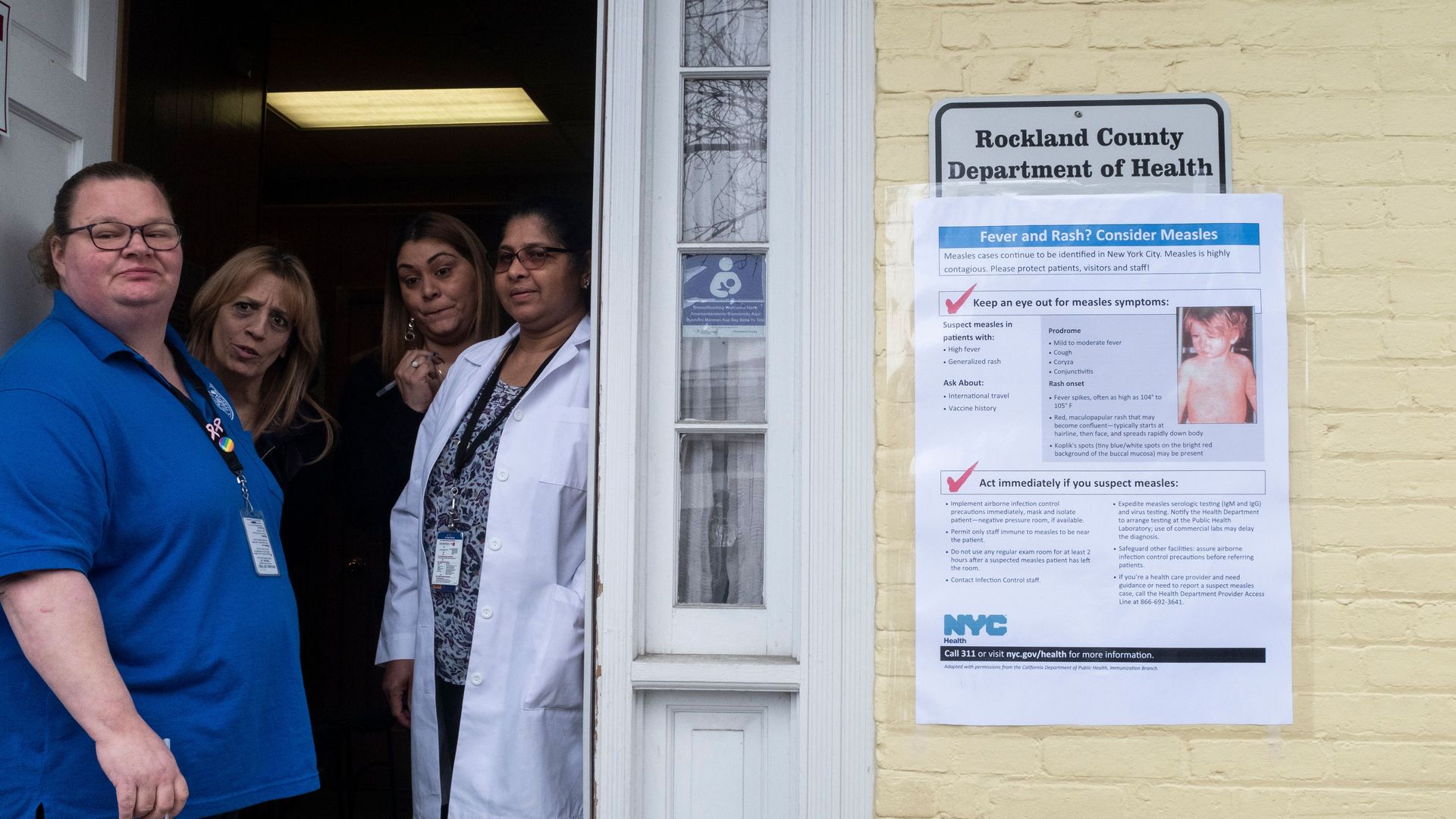 Health officials from Rockland County — the New York community that's been a focal point in the recent battle over measles due to its low vaccination rate — announced Wednesday that the outbreak there is over.
Why it matters: The latest measles outbreak in America is the largest since 1992, and public health officials have been concerned the U.S. could lose the "measles elimination status" it earned in 2000. But the U.S. may "scrape through just under the wire" and retain its status as long as no new cases are reported in New York state in September, a spokesperson for the Centers for Disease Control and Prevention tells Axios.
How it works: The World Health Organization and Pan American Health Organization automatically rescind a country's elimination status if there's been an outbreak in an area for 12 months.
As long as no new cases are reported in Orange County, New York, before the Oct. 1 deadline, the U.S. should be able to retain its status, a CDC spokesperson tells Axios. The county last reported a measles case Aug. 19, and there needs to be 42 days before the outbreak is considered over.
Per CDC, the outbreak was declared done in New York City on Sept. 3, in El Paso, Texas, on Sept. 12, and in Wyoming County, New York, on Sept. 19.
The CDC says 1,241 cases were confirmed in 31 states between Jan. 1 and Sept. 19.
The latest: Rockland County officials announced Wednesday that "measles is over" in the county.
The county imposed strict rules and fines and began an education campaign to address the problem. This included the requirement of 2 MMR vaccines for all staff and campers for summer camps in the county. There were no measles infections reported in those campers, county health commissioner Patricia Schnabel Ruppert said.
Ruppert said the high rate of unvaccinated people in the county was partially due to anti-vaxers who refused to participate, but added that the majority were those who were vaccine hesitant and trying to "create their own schedule."
"It's essential all children are vaccinated on time," Ruppert said.
The first measles case in Rockland was identified on Oct. 1, 2018, with the last rash onset from measles identified on Aug. 13.
But, but, but: Anthony Fauci, head of the National Institute of Allergy and Infectious Diseases, tells Axios the vaccination rate in the U.S. is roughly 91%–92% nationwide but needs to be 93%–95% to get the "herd immunization" to prevent an outbreak.
The main concern is in communities where there's 70%–80% immunization, he says, plus the continued, active anti-vaccination movement.
"Are we out of the woods? No. Because we still have gaps in our immunization rates, particularly in certain groups. It's dramatically decreased, but you know you are [definitely] out of the woods when you don't have any cases."
— Anthony Fauci
Go deeper:
Go deeper