The stark reality of the IPCC's 1.5-degree climate report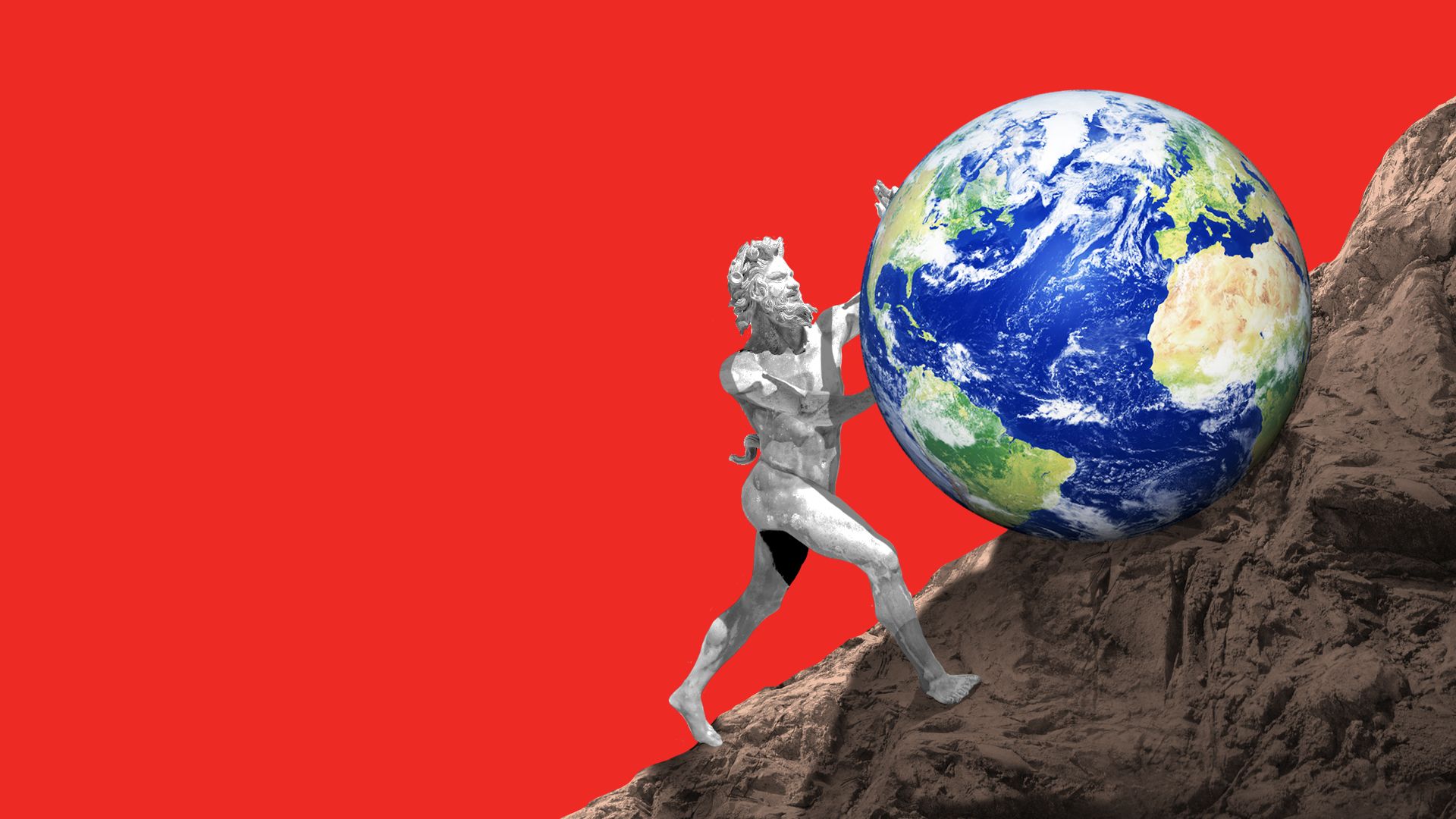 On Sunday evening eastern time, the UN Intergovernmental Panel on Climate Change is scheduled to release its special report on the risks and benefits of limiting global warming to 1.5°C, or 2.7°F, above preindustrial levels.
Why it matters: The report is expected to contain sobering findings about how difficult it will be to meet the 1.5-degree target, which is an aspirational goal contained in the Paris Agreement on Climate Change. Every country in the world — except the U.S. — intends to honor the 2015 agreement, and the report will help inform negotiators in the next round of climate talks, set for December.
By the numbers:
We are currently on track for global warming of between 2.7 to 3.7°C by 2100, according to Kelly Levin, a scientist with the nonpartisan World Resources Institute.
To meet the 1.5-degree target, we'd need to reach net zero emissions by mid-century, and negative emissions thereafter, using carbon removal technologies.
Emissions in 2030 would also need to be about 50% less than 2010 levels.
Yes, but: Current emissions projections show the world is on track to increase emissions through 2030.
Between the lines: Some climate scientists are making clear that the 1.5-degree target, which is seen as low-lying island nations' best hope for long-term survival, is effectively out of reach. For example, the report is expected to call for a scaling up of carbon removal technologies, such as direct air capture, in order to reach negative emissions as soon as possible.
That alone will be a heavy lift, since these technologies are currently in their infancy.
"Overall, the idea that we can limit warming to 1.5°C is so ridiculous that it doesn't seem to even merit thinking about it," said Andrew Dessler, a climate scientist at Texas A&M University.
"It is technically feasible for me to fly to the moon in the next 10 years, but it is clearly not feasible in a broader sense. With 1.5°C it is potentially feasible from a technical perspective, but unless the political, social and technical aspects of feasibility are aligned, it is not going to happen."
— Glen Peters, research director at the Center for International Climate Research in Norway
Tom Damassa, climate program director at Oxfam America, told Axios that even 1.5 degrees of warming will cause hardships for millions.
We're already seeing widespread changes due to the nearly 1-degree of warming experienced so far. "1.5 [degrees] was never going to be some sort of magical threshold. I hope what the report makes clear is there is no safe level of climate change," Damassa said.
Go deeper