Axios World
January 24, 2020
Hello and welcome to a special edition of Axios World from the World Economic Forum in Davos, Switzerland.
I haven't indulged in any champagne or caviar, but I have had some fascinating conversations and navigated some very icy sidewalks.
Heads up: My colleagues and I have a Deep Dive of our reporting from Davos coming
up on Saturday. Sign up for Axios AM to get it.
Was this email forwarded to you? Sign up.
1 big thing: An upbeat Davos in a world of crises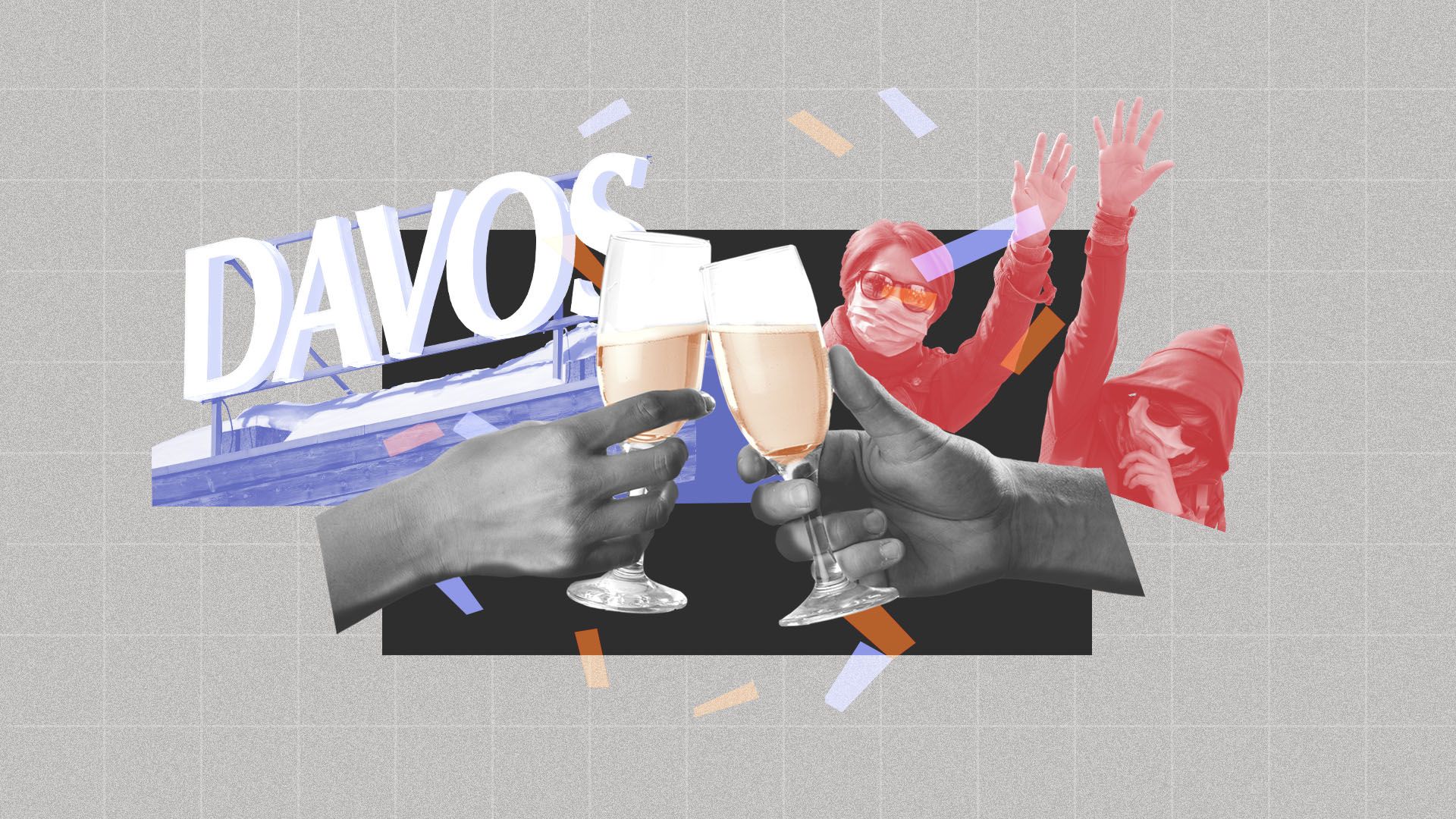 "This has been a very upbeat Davos," David Miliband, chief executive of the International Rescue Committee, remarked today in an interview with Axios.
Behind the scenes: That was a frequent observation this week. With the trade war with China on hold and a hot war in the Middle East looking less likely, the wealthy and the powerful gathered at the World Economic Forum seemed to feel a weight off their shoulders.
They had reason to:
"The talk of recession has gone by the wayside," said Kelly Grier, U.S. chair of EY, the global professional services firm. "Last year at this time that's all we were talking about."
Chris Williamson, chief business economist for IHS Markit, described the global picture as follows: "Everything kind of simmering, nothing really resolved, but it should leave us with this period of relative calm where the environment will improve for growth to pick up slightly."
The leaders of countries facing real challenges — Ukraine's Volodymyr Zelensky, Pakistan's Imran Khan — kept things positive as they courted foreign investment.
President Trump was most bullish of all. He claimed to have brought back the American Dream, and he urged other countries to follow his lead in slashing regulations.
While the climate crisis was the main focus of the week — and scientists and political leaders did raise the alarm — corporations took the opportunity to one-up each other in their branding and pledges to do their part.
Trump didn't seem to wear out his welcome even after he dismissed activists like Greta Thunberg as "prophets of doom." Treasury Secretary Steven Mnuchin later said he'd only listen to Thunberg "after she goes and studies economics in college."
Multiple executives asked by Axios privately said they'd heard far more concern from their peers about a President Bernie Sanders or Elizabeth Warren than another term of Trump.
The flipside: Inside conference rooms, renowned experts expounded on vexing topics like artificial intelligence and global pandemics.
But outside in the hallways, the mood felt far lighter than last year despite global challenges having only grown more acute.
The bottom line: "The stock markets are up, and American businesspeople in particular think they're becoming great again," Miliband said.
2. The view from the mountaintop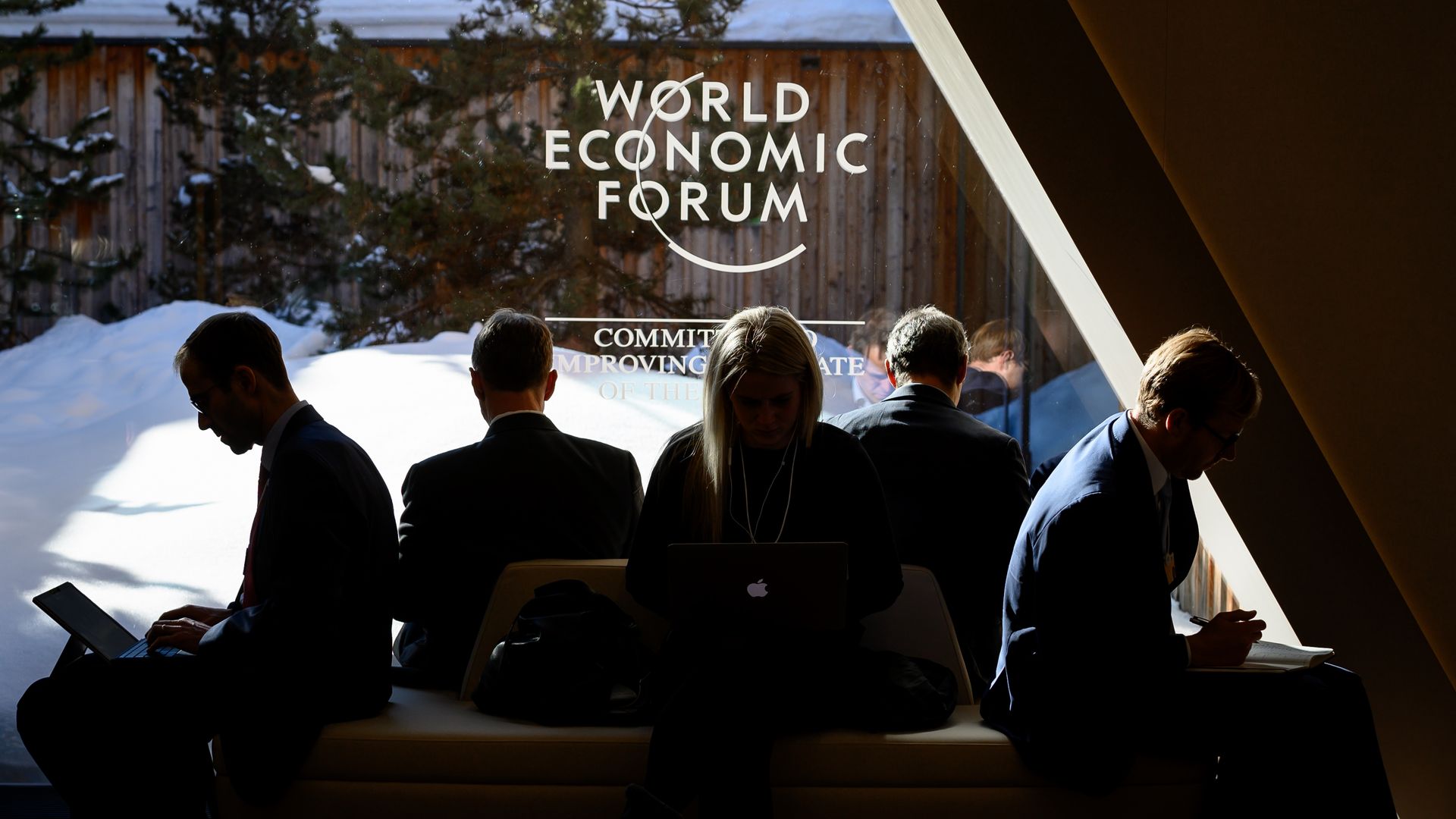 Where economics collides with geopolitics, the emerging realities are far more concerning.
The big picture: "We live at a time when markets are global, capitalism is global, but its traditional partner — liberal democracy — is in retreat," said Miliband, who is also a former U.K. foreign secretary.
"For the first time since 1900, the share of global GDP accounted for by autocratic countries is greater than the democratic countries."
Why it matters: As the distribution of economic might shifts, so does political power. And the world's autocrats and strongmen currently appear far more confident than liberals in the West, Miliband points out.
China and other autocracies feel increasingly assured that theirs is "a more strategic, more sustainable, more sensible set of policy instruments," he says.
"It's important to remember that those countries that are democratic but not economically strong — I'm thinking of African countries, for example — the pressure that they're under is not from nagging human rights defenders in the West, it's from investors from elsewhere."
At least in Davos, the autocrats are clearly part of the club.
Klaus Schwab, the forum's founder, congratulated China's vice premier for his country's role as a "responsible stakeholder" in international affairs.
Saudi Arabia took over the main stage for a session on the upcoming G20 summit in Riyadh. It included no questions on the hacking of Jeff Bezos' phone, let alone the murder of Jamal Khashoggi, but did feature an unchallenged claim that the kingdom has now achieved "full gender equality."
3. Putin foe warned of danger in Davos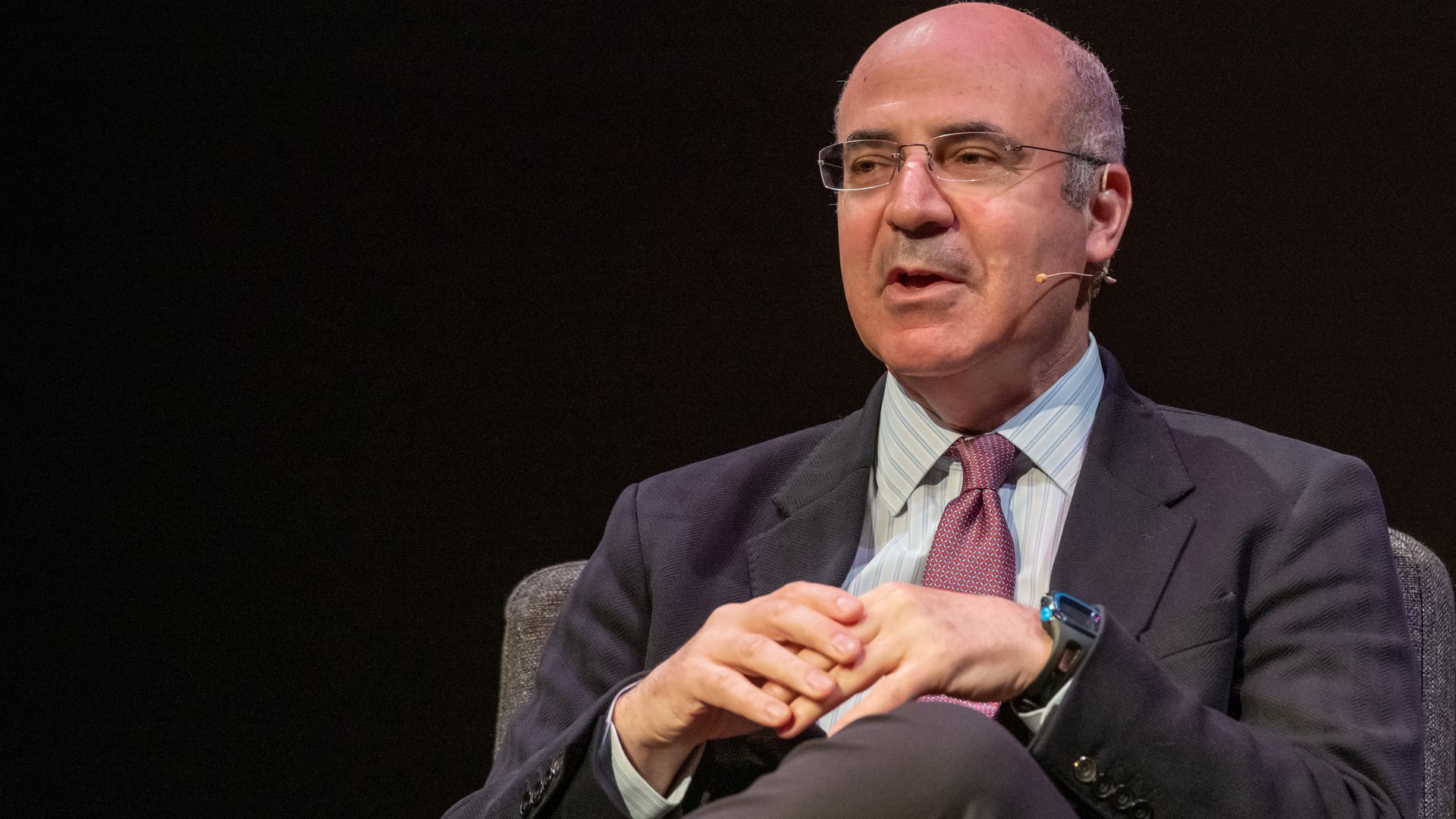 No story caused a bigger stir in Davos this week than the news that two suspected Russian spies had been caught in August posing as plumbers in the Alpine town.
Zoom in: One prominent attendee instantly suspected a personal connection.
Bill Browder, a U.S.-born financier and long-standing thorn in the side of Vladimir Putin, tells Axios that before departing for Davos he received a warning from the British security services — passed along by their Swiss counterparts — that he could be in danger.
"I can't say for sure, but I believe the two were connected," Browder says of the spies and the warning. "I've been coming here for 23 years and this is the first time I've ever received a security warning about the Russians."
Zoom out: Browder's Hermitage Capital was the largest foreign investment fund in Russia until 2005, when he was expelled from the country and Hermitage's offices were raided.
Browder's lawyer, Sergei Magnitsky, subsequently uncovered a massive fraud scheme allegedly involving Russian officials. He died in prison, apparently after being tortured.
Browder has since been fighting a fierce campaign against the Kremlin. He was the force behind the 2012 Magnitsky Act, which enables visa bans and overseas asset freezes for individuals accused of human rights violations.
Driving the news: "The Russians are particularly mad at me right now," Browder told Axios, "because we're on the verge of getting a European Magnitsky Act."
Browder says this is the culmination of a 10-year effort and "probably the most devastating thing that could happen to the Putin regime" given the property and assets key players own in Europe.
Between the lines: "Every time there's something like this going on, the Russians always do something to me," Browder says. "In Canada, when they passed their Magnitsky Act, they put me on the Interpol list for like the sixth time."
Worth noting: Browder speculates that Russia may have been "planning an operation" against him, though nothing directly links the "plumbers" to him.
Unusually for plumbers, the two men claimed diplomatic immunity. Police believed they intended to place surveillance equipment in key locations ar0und Davos, per the FT.
4. Guaidó tries to rally support with risky Davos trip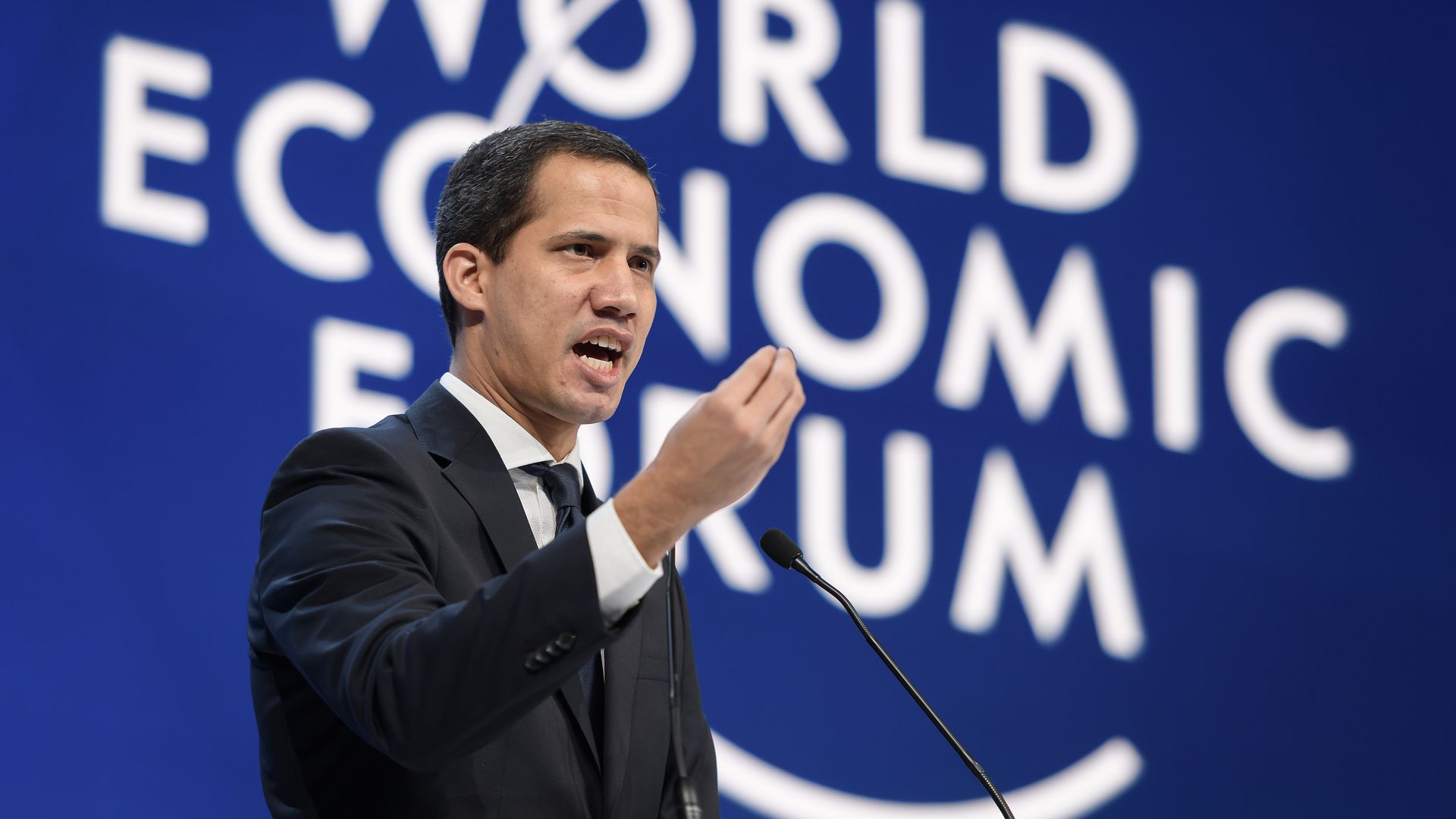 One of Davos' most interesting twists came early in the week, with the news that Venezuelan opposition leader Juan Guaidó was coming.
Why it matters: Guaidó defied a travel ban in visiting Europe and said his presence in Davos put members of the Venezuelan opposition in danger. He used the platform today to demand elections and call for more support from Europe.
Recognized as president by the U.S. but locked out of power for the past year by the regime of Nicolás Maduro, Guaidó is desperate to change an equation that tipped in Maduro's favor after a failed uprising last April.
As for why he had thus far failed to displace Maduro, Guaidó said outside powers were propping Maduro up, and "perhaps we underestimated the capability of the dictatorship to do bad."
He said the world needed to come together to block the illegal gold trade, which provides critical revenues to the regime.
Between the lines: Guiadó's message is that the time for dialogue with Maduro is over, and the time for elections has arrived. But he's also said there can be no free elections until Maduro steps down, meaning the logjam remains.
What to watch: Guaidó took a calculated risk in leaving Venezuela. The Maduro regime could jail him upon his return, but they've thus far been unwilling to test the red line the Trump administration drew around his security.
5. WhatsApp with this guy?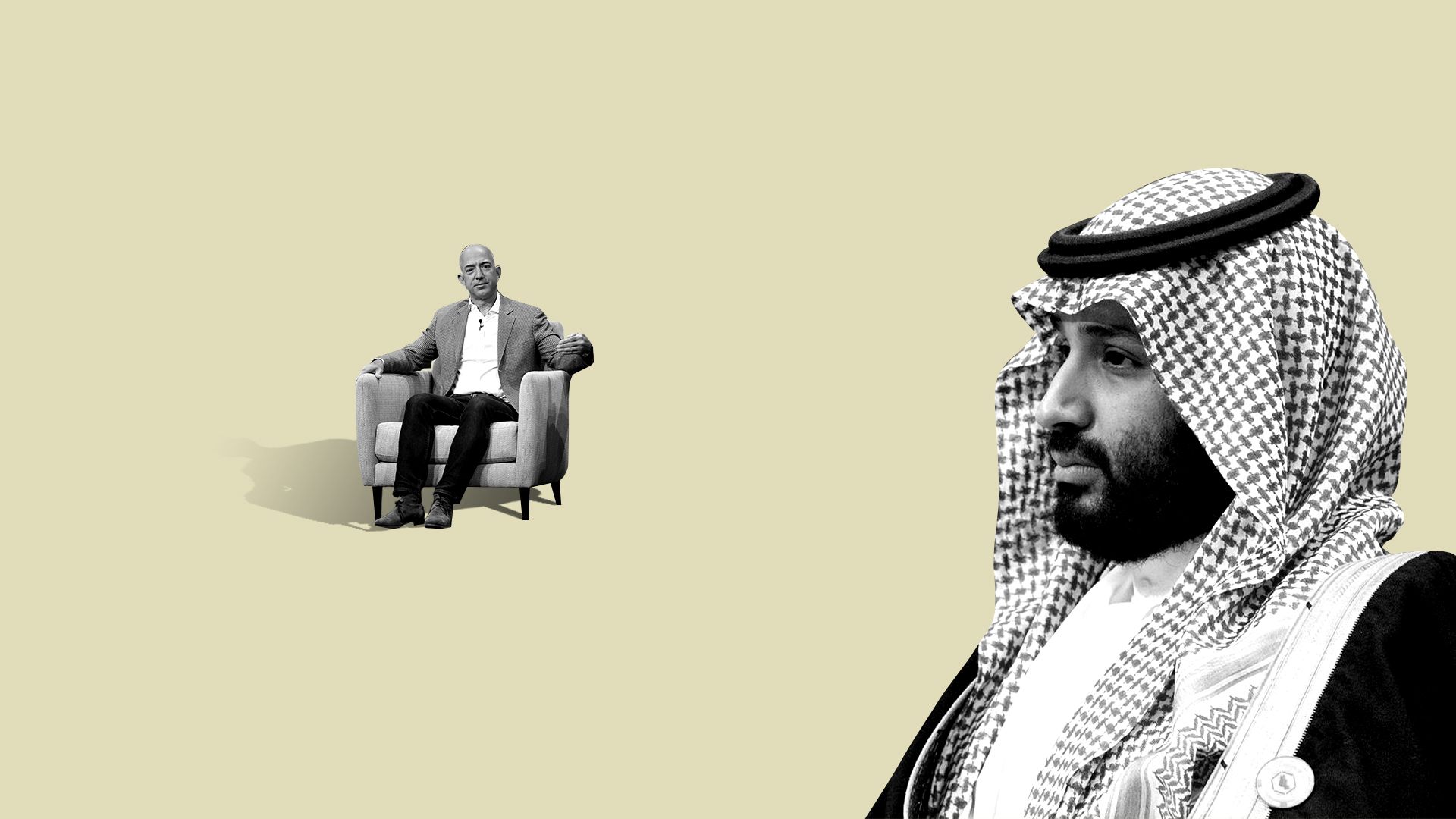 Core to the Davos creed is that when business titans and world leaders meet, they can solve big challenges together.
The flipside: Sometimes the world leader hacks the business titan's phone instead (allegedly).
UN investigators concluded "with medium to high confidence" that Crown Prince Mohammed bin Salman sent Jeff Bezos a video file via WhatsApp that included secret code developed by Israeli spy software maker NSO Group, Axios' Dan Primack writes.
The result was a colossal, months-long data extraction, beginning when Jamal Khashoggi was still alive and writing critically about Saudi Arabia for the Bezos-owned Washington Post. Saudi Arabia strongly denies the allegation.
It was allegedly done via the same messaging app that MBS has reportedly used to communicate with top White House aide Jared Kushner.
Bezos and MBS reportedly exchanged numbers at a 2018 Hollywood party.
Why it matters: If this story proves true, the nominal leader of a U.S. ally spied on the head of one of America's largest companies, who doubles as the owner of one of America's most influential media outlets.
6. China clamps down to halt virus' spread
Major Chinese cities, including Beijing, have canceled large public celebrations of the Lunar New Year in an attempt to contain a deadly coronavirus outbreak.
The latest: There've been 18 deaths and at least 584 cases of 2019-nCoV, including one in the United States, writes Axios' Eileen Drage O'Reilly.
It appears the virus can be transmitted between humans, but it's still uncertain how infectious it is, as most of the cases have been in family groups or between a patient and a health worker.
What to watch: Recent moves by China to suspend travel from certain cities could lead to citizen panic and distrust for their government officials, Lawrence Gostin of Georgetown University told Eileen.
"How do you enforce a lockdown of a city the size of New York or London without a massive violation of human rights and provoking fear?" Gostin said.
7. Stories we're watching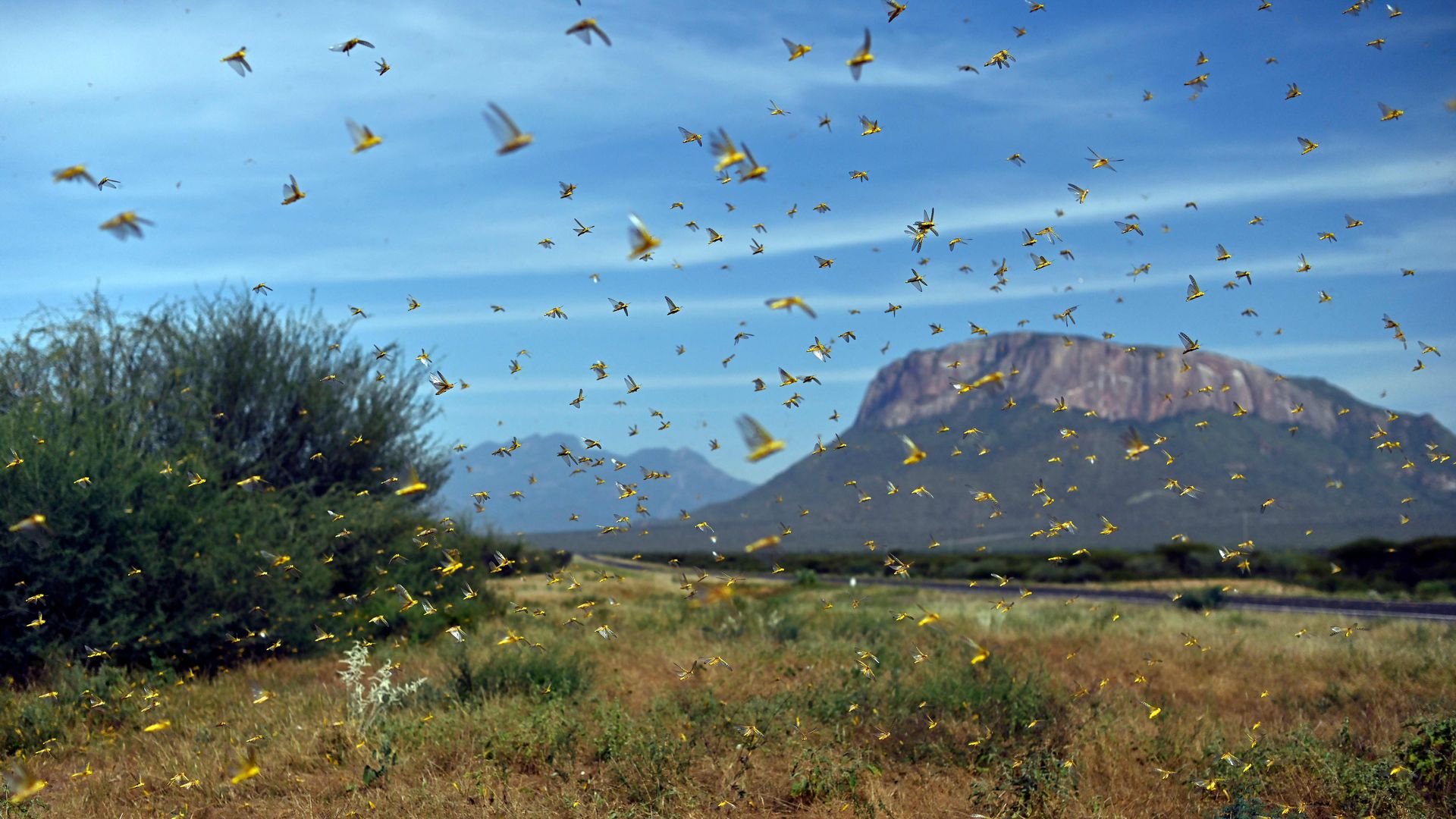 Quoted:
"It seemed Europe's sleeper trains had reached their final destination. Until this week. After a 17-year hiatus, the Brussels to Vienna night train has resumed service."
— The
Telegraph on
a romantic option now on offer for Europe's climate conscious: a sleeper train rather than a cheap flight.