Axios What's Next
March 29, 2023
Robots and autonomous vehicles are revolutionizing all sorts of industries, Jennifer and Joann report today — but they're also causing plenty of consternation about humans' role in the workplaces of the future.
Today's newsletter is 1,445 words ... 5½ minutes.
1 big thing: 🤖 Will a robot take your job? Will AI?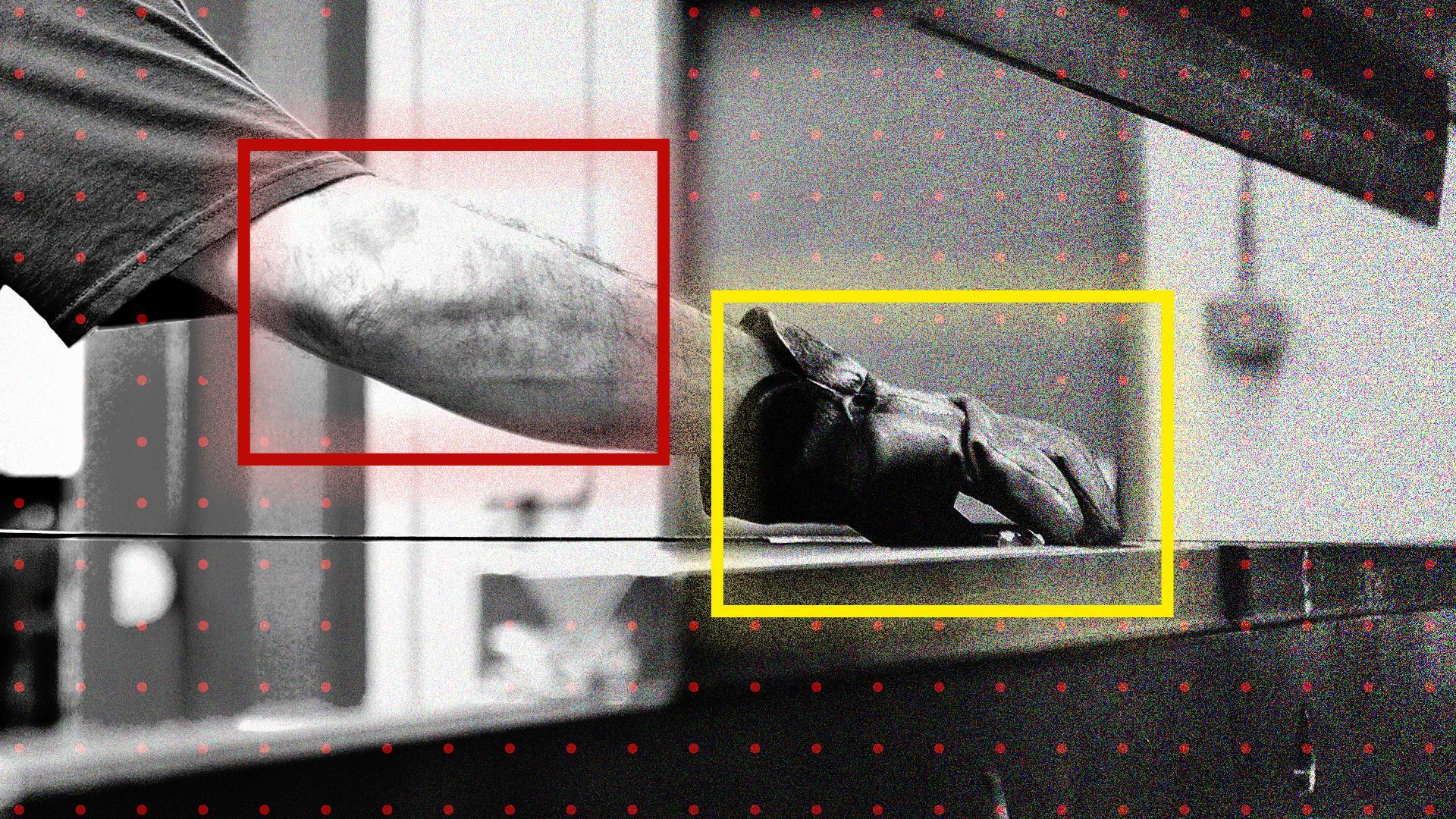 For all the hand-wringing over whether robots will replace human workers, ChatGPT and its ilk — tools known as generative AI — are shaping up to be a big employment threat too, Jennifer A. Kingson writes.
Why it matters: Robots tend to replace manual laborers, while artificial intelligence threatens knowledge workers — ensuring that people of all education levels can look nervously over their shoulder at the tech gunning for their paycheck.
State of play: Robots' growing sophistication has them starting to work as everything from security guards, window washers and assembly line workers to food deliverers and fry cooks.
They're predicted to prove their mettle as warehouse workers, aides to the elderly, pharmacists and more.
At the same time, AI software and large language models (LLMs) — including ChatGPT — may soon be able to do all manner of jobs, blending into society in ways that aren't clear yet.
Yes, but: For all their potential workplace benefits (like indefatigability), these technologies all have manifold flaws — from serving up misinformation to falling over on the job.
Threat level: It seems clear that automation will continue to erode certain jobs, as it has already done in the manufacturing realm.
The question is whether other jobs will crop up as a substitute — say, in supervising, programming, or fixing the robots or software — and whether workers are equipped to perform them.
What they're saying: "I'm not optimistic that just the simple process of workers getting displaced from some jobs and doing other ones is going to be enough," says Daron Acemoglu, a professor and labor economist at the Massachusetts Institute of Technology.
He argues that AI and LLMs are more likely to replace human workers — particularly given many companies' desire to trim costs through automation.
The other side: A World Economic Forum report predicts that, by 2025, machines could displace about 85 million jobs — but create 97 million new roles "more adapted to the new division of labour between humans, machines and algorithms."
Robot manufacturers say their products won't kill jobs — they'll just replace boring, dangerous and repetitive roles with better ones that require human judgment.
"We really view robots as a partner to people, not as a replacement," the co-founder and CEO of Agility Robotics, Damion Shelton, tells Axios.
And people tend to exaggerate the job threat from robots, research shows.
The big picture: An epic labor shortage is bedeviling employers, causing some to eye robots and AI as potentially cheaper than increasing wages.
Meanwhile, long-term trends — like demographic shifts and a mismatch between skills and workplace needs — are worrisome to economists, who fear our education and training apparatus isn't oriented toward future needs.
The U.S. has a shortage of skilled tradespeople, for example, but community colleges and other institutions aren't offering appropriate programs, Acemoglu says.
One promising solution: Amp up subsidized training programs for jobs that can't easily be done by robots or AI, and funnel potentially displaced workers into them.
In the U.S., "when we adopt robotics, we then lay off workers," Acemoglu said. "But if you look at what happens in Germany, they retrain workers and they create jobs for other workers."
2. 👷‍♂️ Meet the new warehouse workers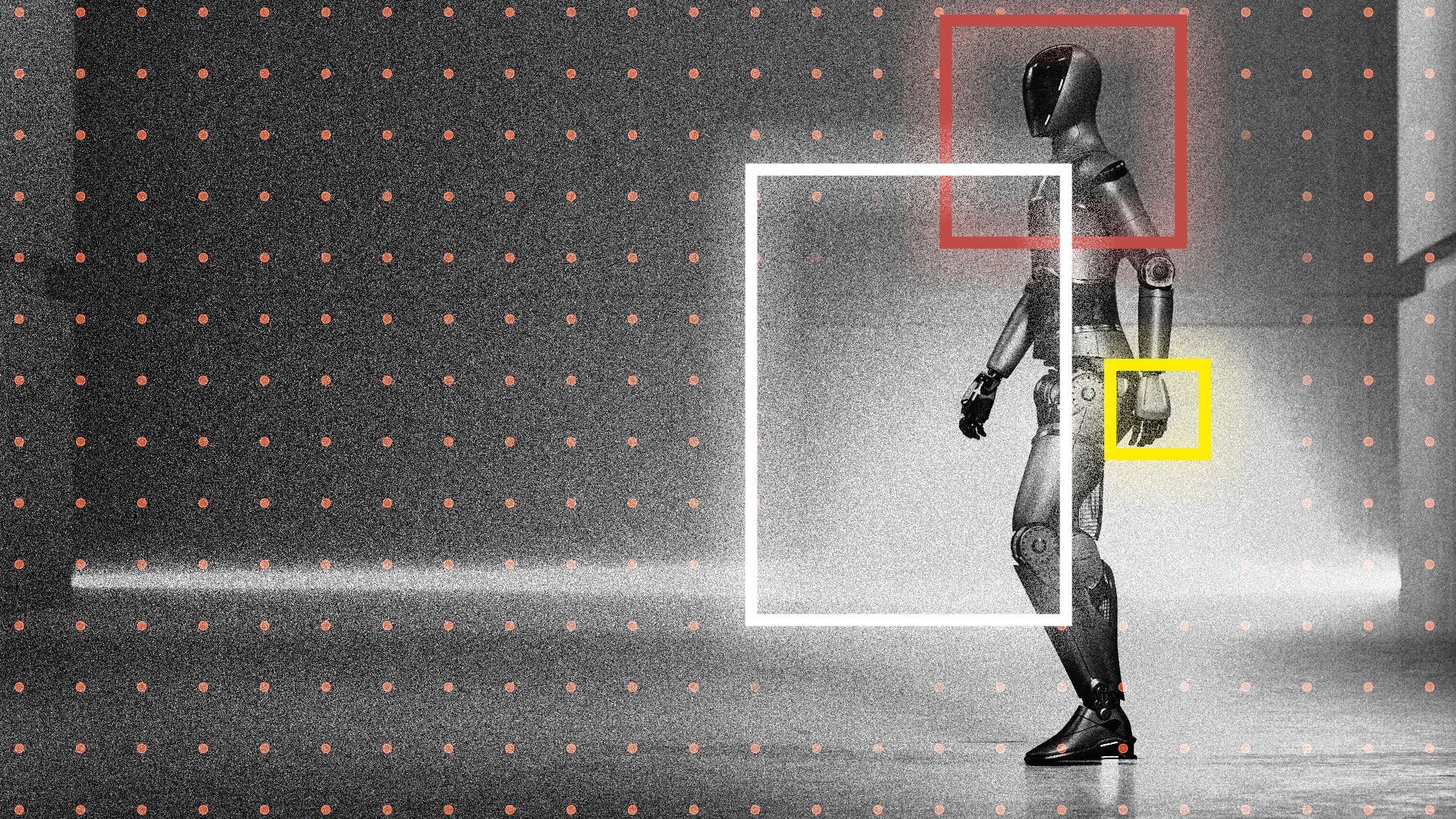 The first commercially available human-shaped robots designed for warehouse work were recently unveiled by a company called Agility Robotics, for delivery in 2025, Jennifer writes.
Details: Digit, which is built to work alongside humans, can lift and move plastic bins in a warehouse or distribution center.
Fully self-charging, Digit — who is a slim 5'9" and 140 pounds — will walk over to its own charging dock, click itself in, and return to the workplace for another shift after it's juiced up.
"Everything we do is about building a robot that can work in human spaces and do human workflows," Jonathan Hurst, the co-founder and CTO of Agility Robotics, tells Axios.
How it works: Digit is designed to pull plastic bins called "totes" from a warehouse wall and move them wherever they need to go.
Digit will lift "anything that a person would handle," Damion Shelton, CEO of Agility, tells Axios. "Think about things that are larger than a small box, but smaller than a giant bag of dog food."
The big picture: There's an arms race to develop humanoid robots that can alleviate labor shortages and do jobs that people find too boring, dangerous or repetitive.
Tesla and a startup called Figure are building humanoid robots for logistics work, while another startup, Sanctuary AI, recently deployed a humanoid robot with dexterous hands (but wheels instead of legs) at a Canadian retail store.
Building robots that can simulate human movements is a huge challenge, but approximating the human body is important: "With other form factors, it is very hard to be multipurpose," Hurst says.
3. 🚜 Robots go off-road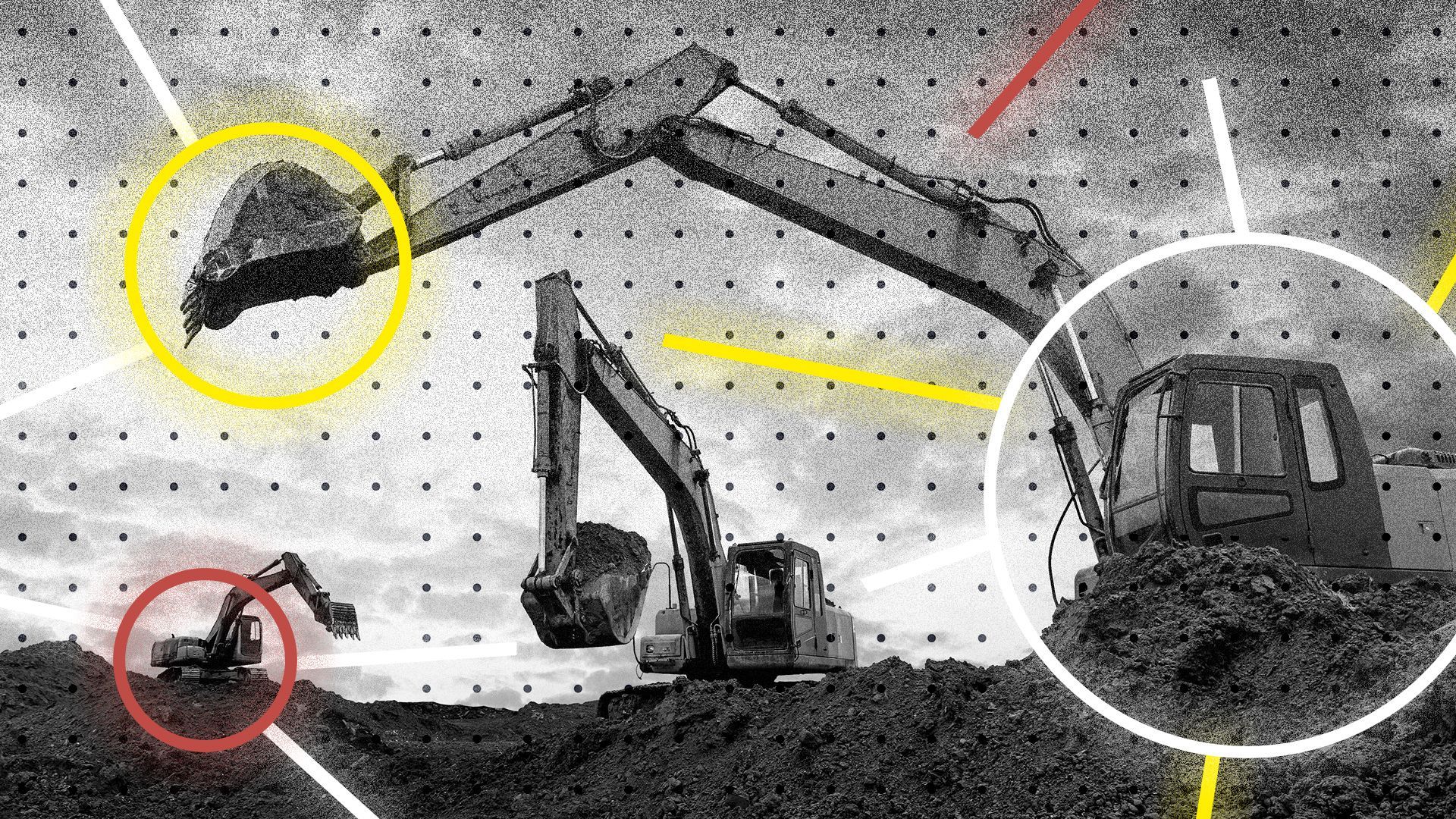 A shortage of truck drivers and skilled machine operators is inspiring the development of autonomous vehicles for use in construction, farming, heavy industry and even freight rail, Joann Muller reports.
What's happening: Caterpillar, which deployed its first (and truly massive) autonomous mining trucks in Australia in 2013, now has nearly 600 in operation worldwide.
It's tailoring that expertise to smaller operations, including quarries such as Luck Stone's Bull Run Plant in Chantilly, Virginia, where Cat's self-driving trucks will begin hauling rocks, gravel and sand in 2024.
Lessons learned there will help Caterpillar bring autonomy to even smaller vehicles, such as bulldozers on construction sites, Michael Murphy, Cat's chief engineer for autonomy, tells Axios.
In agriculture, Deere & Company has introduced autonomous tractors to help growers coping with a shortage of farmhands.
And startups such as SafeAI and Teleo are retrofitting older machines with autonomous or remote-operated technology for construction and other uses.
What's next: Shipping containers that can move themselves on railroad tracks.
Parallel Systems, founded by former SpaceX engineers, is creating autonomous battery-electric rail cars as an alternative to trucking.
The goal is to use platoons of autonomous rail cars to deliver freight on routes of about 500 miles that are typically handled by trucks today, the company's founder and CEO, Matt Soule, tells Axios.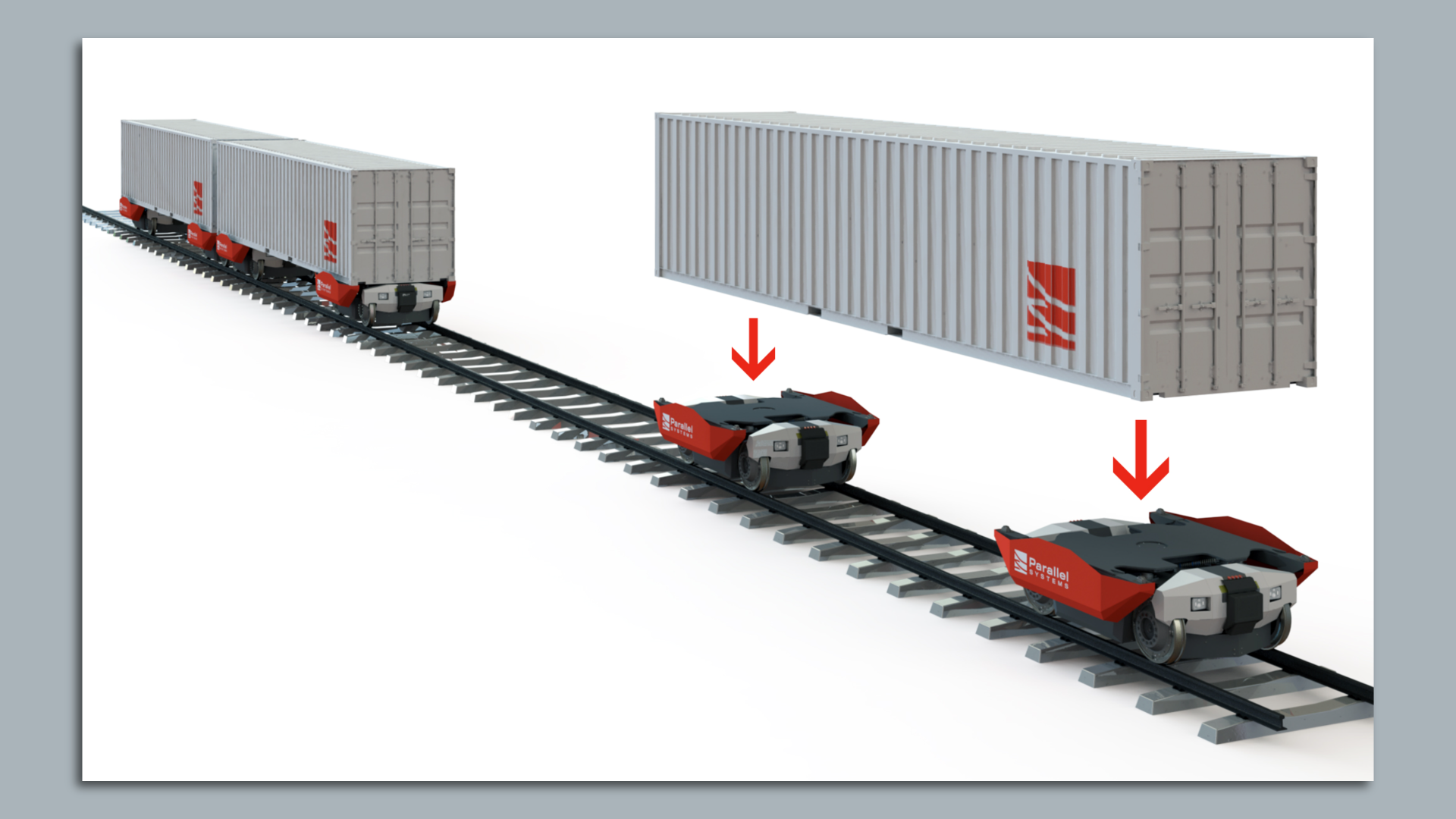 How it works: Each of Parallel's rail cars can move along the rail independently, with its own battery, traction motor, computer and sensors.
When a container arrives at a port or intermodal facility, it would be lifted onto one of Parallel's autonomous rail vehicles, which is then linked via compression — sort of like bumper cars — to others headed in the same direction.
4. 🚗 How autonomous vehicles "see"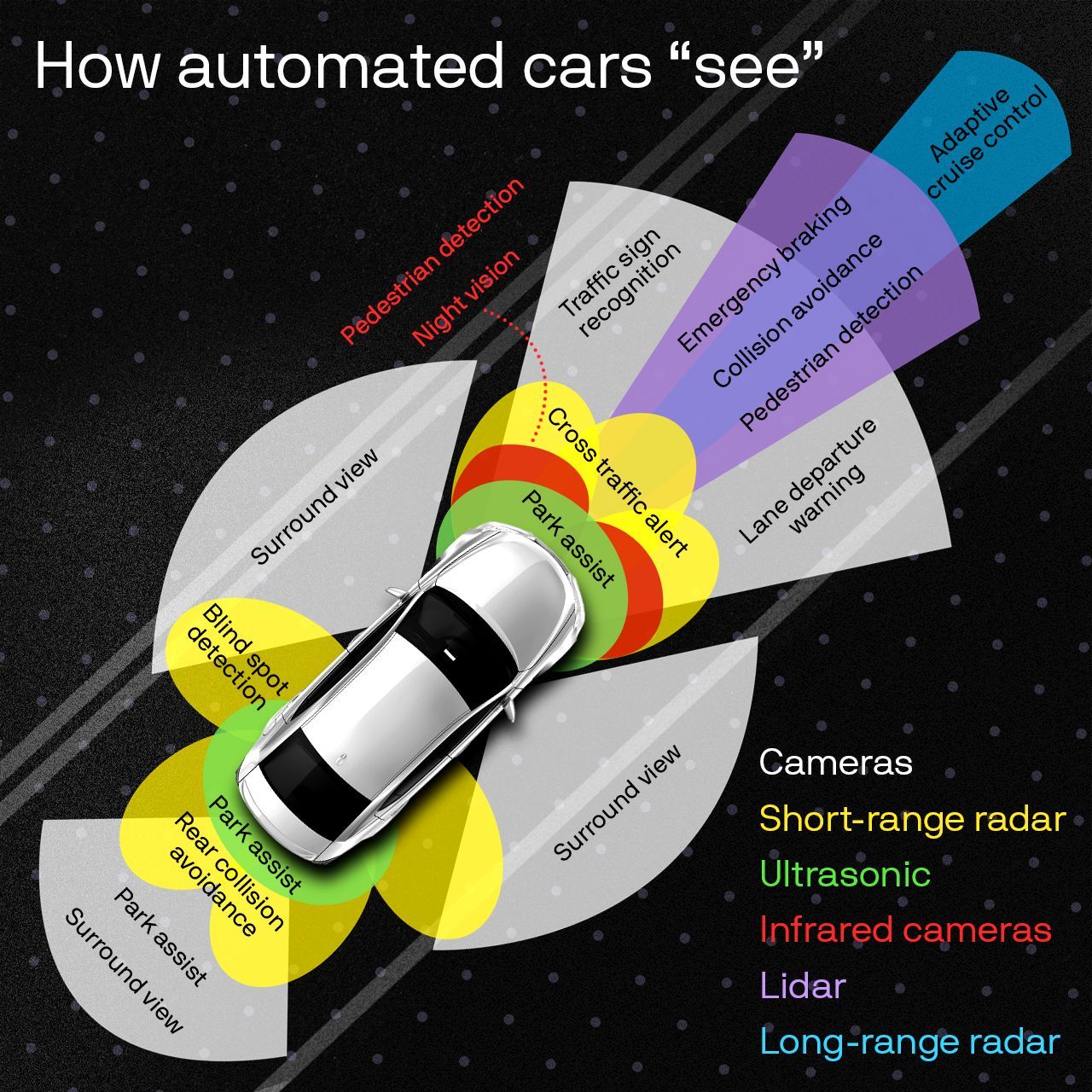 It takes a variety of overlapping sensors working together for self-driving cars to accurately perceive the world around them, Joann writes.
Combining camera and sensor input together in an AI-driven process called "sensor fusion" helps cars make sense of the constant flow of information.
Multiple cameras with different ranges and purposes help cars get a 360-degree view of their environment.
But regular cameras can't calculate distance and aren't great in rain and fog. Infrared cameras can help with night vision.
Radar supplements camera views by sending out pulsating radio waves that can detect objects and provide data about their speed and distance.
Yet radar's accuracy and resolution are low, so it can't identify objects.
Lidar paints a detailed 3D picture of a car's environment using signals that bounce back from high-speed lasers.
Once prohibitively expensive, lidar is now being used even in assisted-driving systems with lower levels of autonomy.
Ultrasonic sensors transmit high-frequency sound waves to gauge the distance of objects within close range, like parked cars.
5. 🌊 Drones head 🎵 under the sea 🎵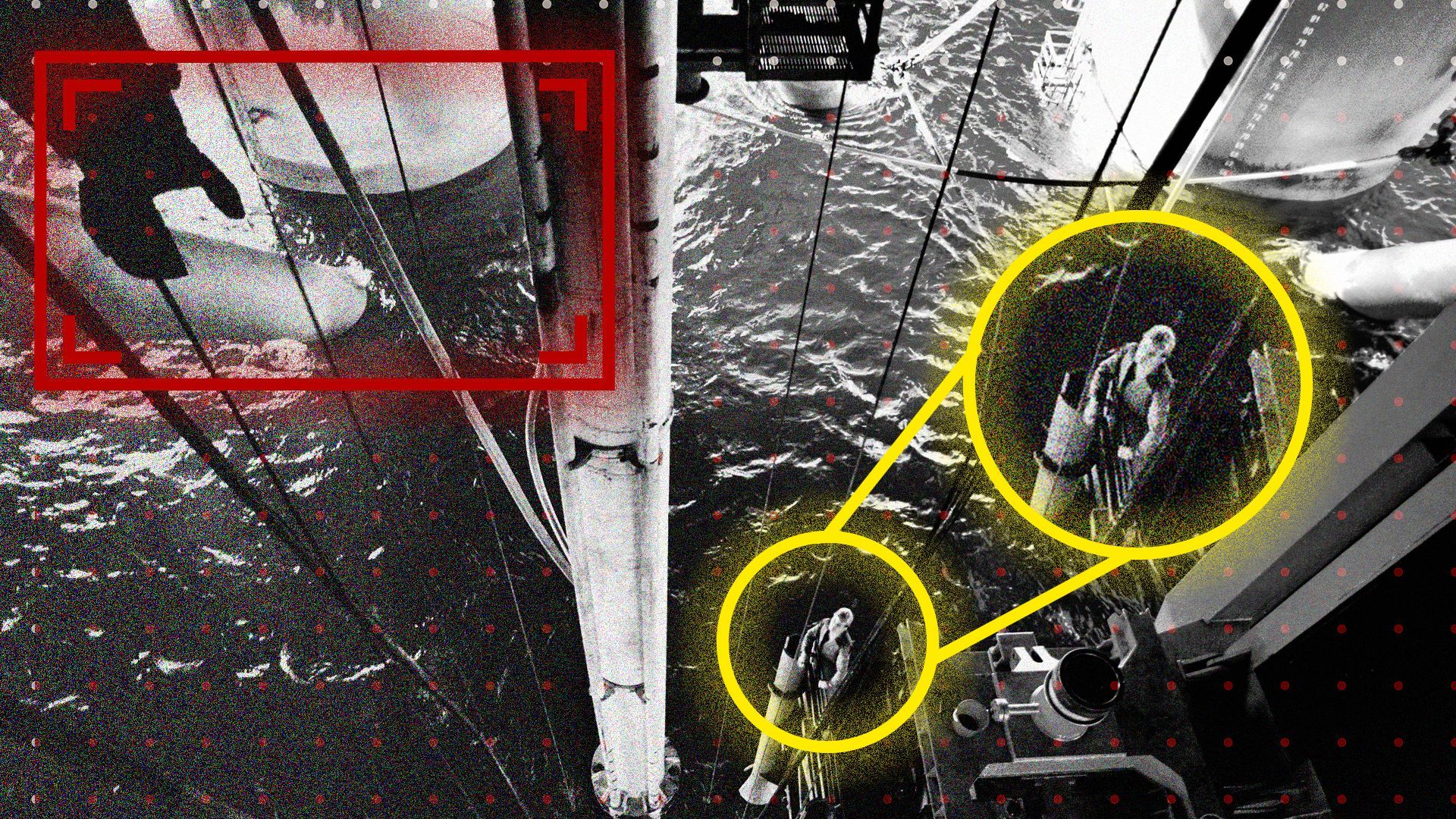 Former NASA engineers who built robots for space are now developing ocean-faring versions for deepwater maintenance and construction jobs that are too dangerous for human divers, Joann reports.
Houston-based Nauticus Robotics is pioneering the use of AI-equipped subsea robots for the U.S. military and offshore industries.
Where it stands: Remotely operated vehicles (ROVs) have been used in the energy sector for decades, but deploying them is costly and carbon-intensive.
Nauticus' maritime robots, which can hover, travel long distances, and pick and place objects, promise far more versatility than today's ROVs.
What's happening: Nauticus' robots work in pairs: There's an autonomous host vessel on the ocean surface and a cloud-connected submarine capable of operating more than a mile underwater.
Hydronaut, the 60-foot transport vessel, can be operated remotely from shore, or with a crew of just four people.
Aquanaut, with clawed arms that fold into its oval, car-size body, moves independently from the host vessel, without a tether.
Together, they can monitor and maintain underwater infrastructure at 30%-40% less cost than existing technology — and with nearly zero emissions, says Nauticus founder and CEO Nicolaus Radford, formerly of NASA.
Big thanks to What's Next copy editor Amy Stern.
Was this email forwarded to you? Get your daily dose of What's Next by signing up here for our free newsletter.