Robots are your new office security guard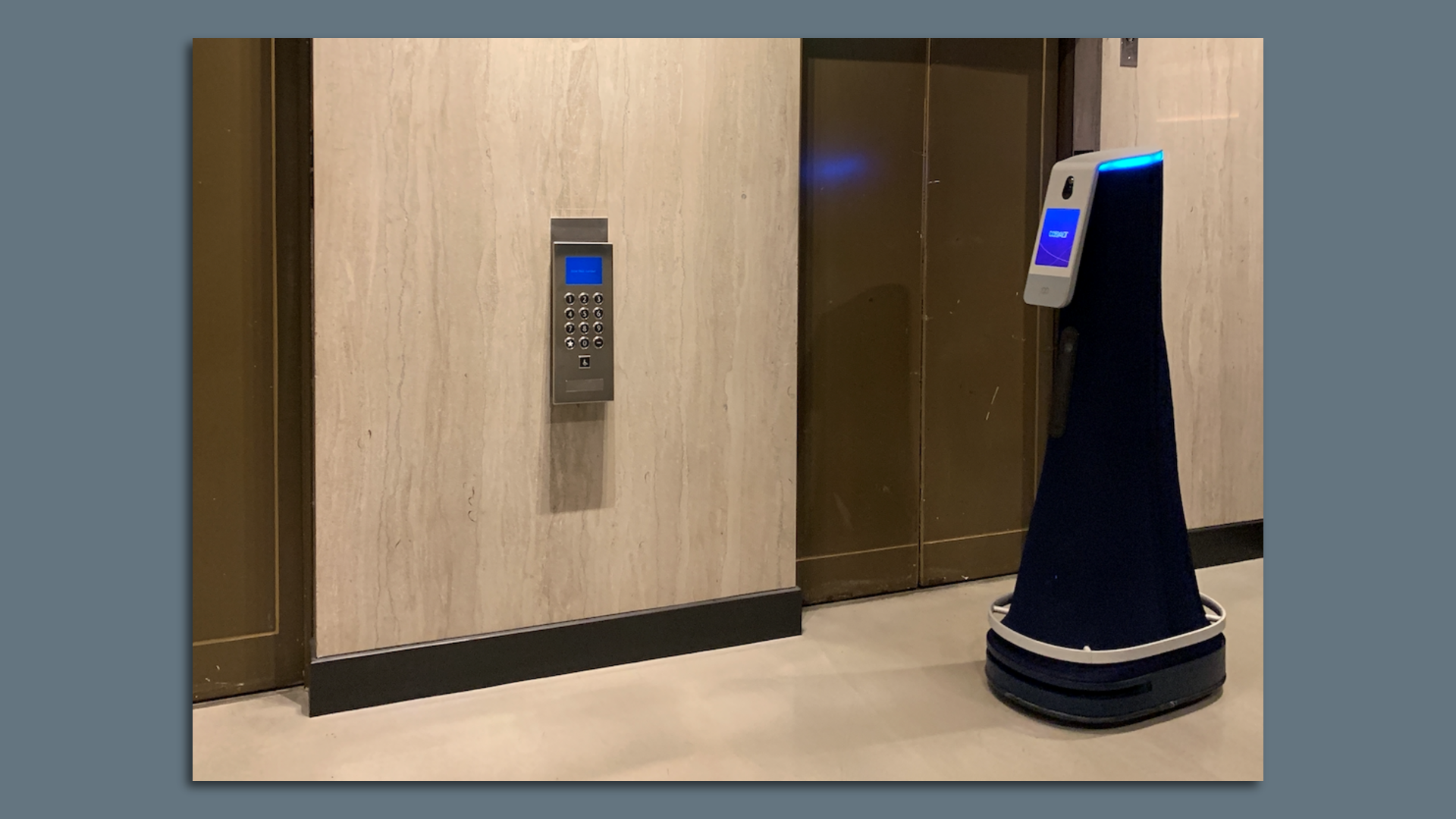 They stand five feet tall and glide at three miles per hour, patrolling office buildings for everything from broken fire alarms to suspicious activity: Security robots are starting to replace human guards in workplaces and beyond.
Why it matters: Despite some hiccups, robots armed with sensors and artificial intelligence are making inroads in diverse fields — from window washing and pizza making to bartending and caring for the elderly.
Driving the news: Lower costs mean it's now substantially cheaper for companies to use robots than traditional guards for 24/7 security.
Robots can check in visitors and issue badges, respond to alarms, report incidents, and see things security cameras can't.
Security robots don't get bored, tired, or distracted by their phones — and it's safer for them to confront intruders and other hazards.
Two-way communications systems allow employees to report problems or request human help by talking to the robot.
By the numbers: Using a robot guard vs. a human can save a company $79,000 per year, according to a recent report by Forrester Research.
What they're saying: "All this money has really poured into service robotics because of the money that has gone into autonomous vehicles," says Mike LeBlanc, president and COO of Cobalt Robotics, which is leading the charge to populate offices with non-human security guards.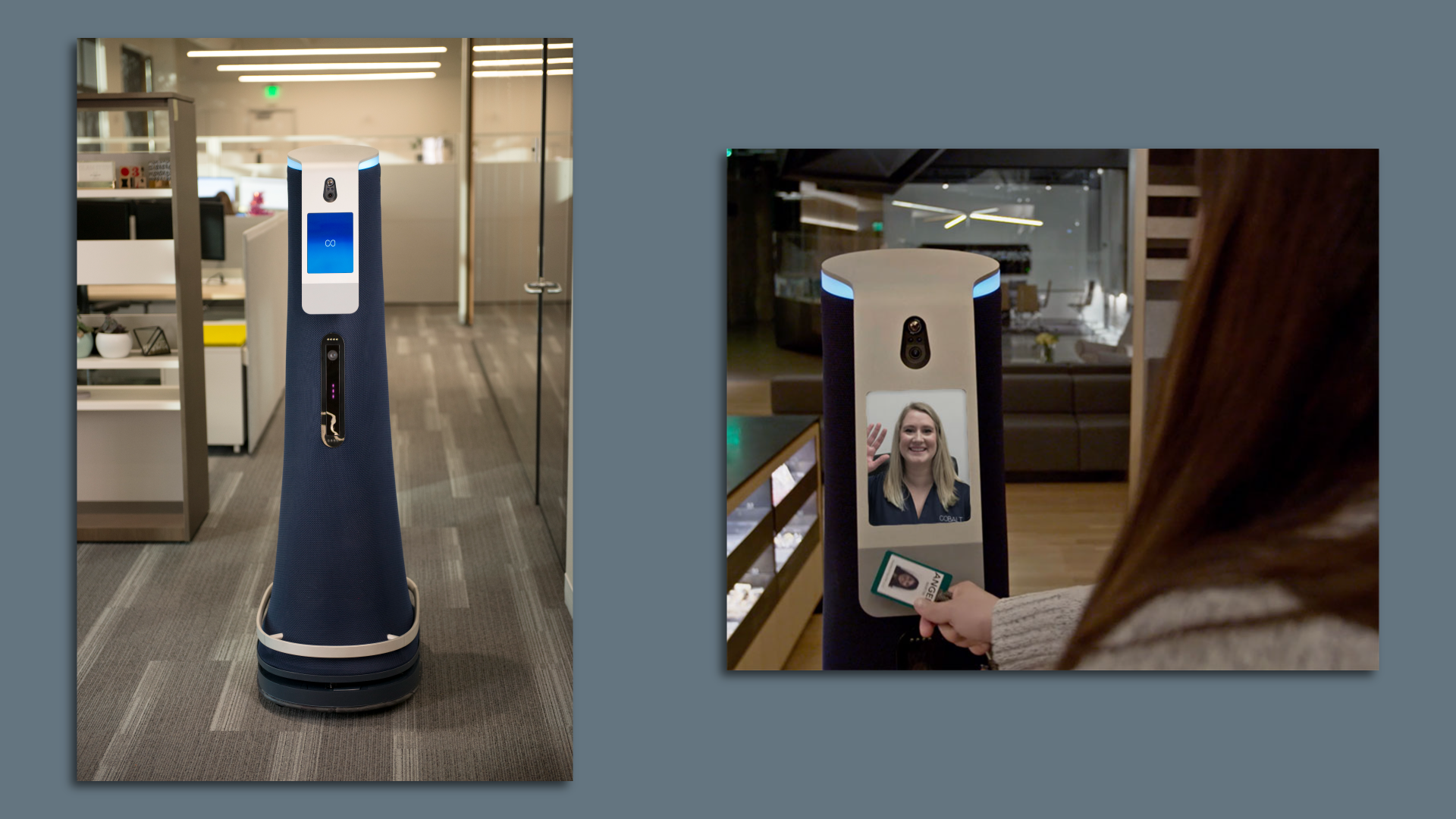 How it works: Cobalt's robots are built to the specifications of a particular building's ramps and elevators.
They roam hallways looking for possible problems — like unusual motion at night or a door that's been propped open — and report back to a human-staffed call center.
"They have fabric, so they're designed to look like a piece of high-end office furniture," LeBlanc tells Axios. "And they have a tablet on the front that allows people to interact with our 24/7 specialists at any given time."
"People can tap on the screen of the robot, a person will come up on the screen, and they'll be able to ask them what's going on," LeBlanc said. "They can say, 'There's a leak or spill over here,' or 'There's someone in the office who's making me uncomfortable.'"
Case study: Food delivery startup DoorDash is using Cobalt robots across its corporate sites, for everything from COVID-19 temperature checks to routine security patrols, alarm responses, and security escort services.
Thanks to the robots, DoorDash's security director "doesn't have people calling out sick, he doesn't have trouble filling spots, doesn't have any HR complaints, and he can really count on higher levels of accuracy and faster response times," LeBlanc said.
The fun factor: Companies often have naming competitions to let employees decide what they're going to call the new droid.
"A lot of people enable games or trivia on the robot's screen," LeBlanc said. "They'll have the robots tell jokes on the screen, fun things for their culture."
The robot is also a hit at office parties: "It's a fun thing to take selfies with — but it's also keeping an eye out and making sure that nobody's getting too out of hand."
State of play: There's competition between indoor vs. outdoor robots in the nascent security-robot space.
Cobalt's robots don't go outside — and thus, for example, aren't able to escort employees to their cars in a dark parking lot.
But companies like Knightscope and SMP Robots are deploying them in all kinds of indoor and outdoor settings, from shopping malls and hotels to warehouses and industrial facilities.
Drones are also getting into the game. "In contrast to ground robots, drones aren't thrown off if a chair is out of place or when navigating an unstructured environment," Forrester's report notes.
Reality check: Like delivery robots —which can stumble on sidewalks and fall into ditches — security droids have been known to malfunction.
Mishaps range from "running over a toddler's foot to ignoring people in distress," per Insider.
News reports have cast doubt on whether outdoor security robots actually prevent or curtail crime.
One Knightscope robot patrolling a shopping mall accidentally drove itself into a fountain; another was escorted from Boston's Prudential Center by human officers after people got sick of it. (A Knightscope executive did not respond to requests for an interview.)
Our thought bubble: If you're a person in distress at an office, you might prefer to have a person on the scene versus having to rely on someone at a call center —and on the proper functioning of a robot's communications tech.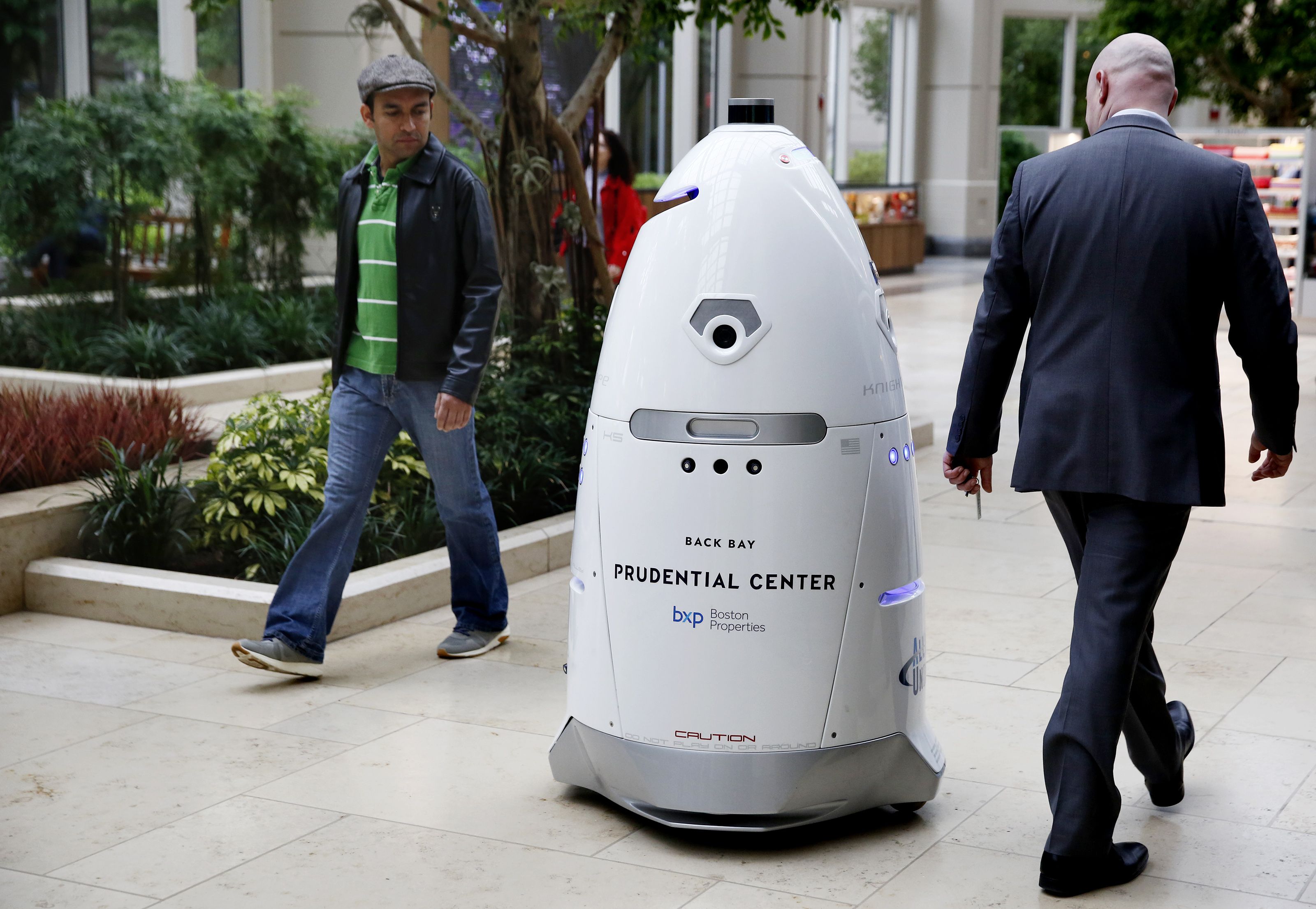 Of note: Robot security guards don't necessarily put human ones out of business — they just allow them to swoop in strategically or work on different tasks, like programming and maintaining the robots.
In security work, "the hours are long, stress runs high, isolation is real, and the tasks are tedious," Forrester's report argues. "Automation can help."
The bottom line: High-profile glitches are the exception for security and surveillance robots, which will likely proliferate as the technology improves.
Go deeper