Robot window washers are here to clean our skyscrapers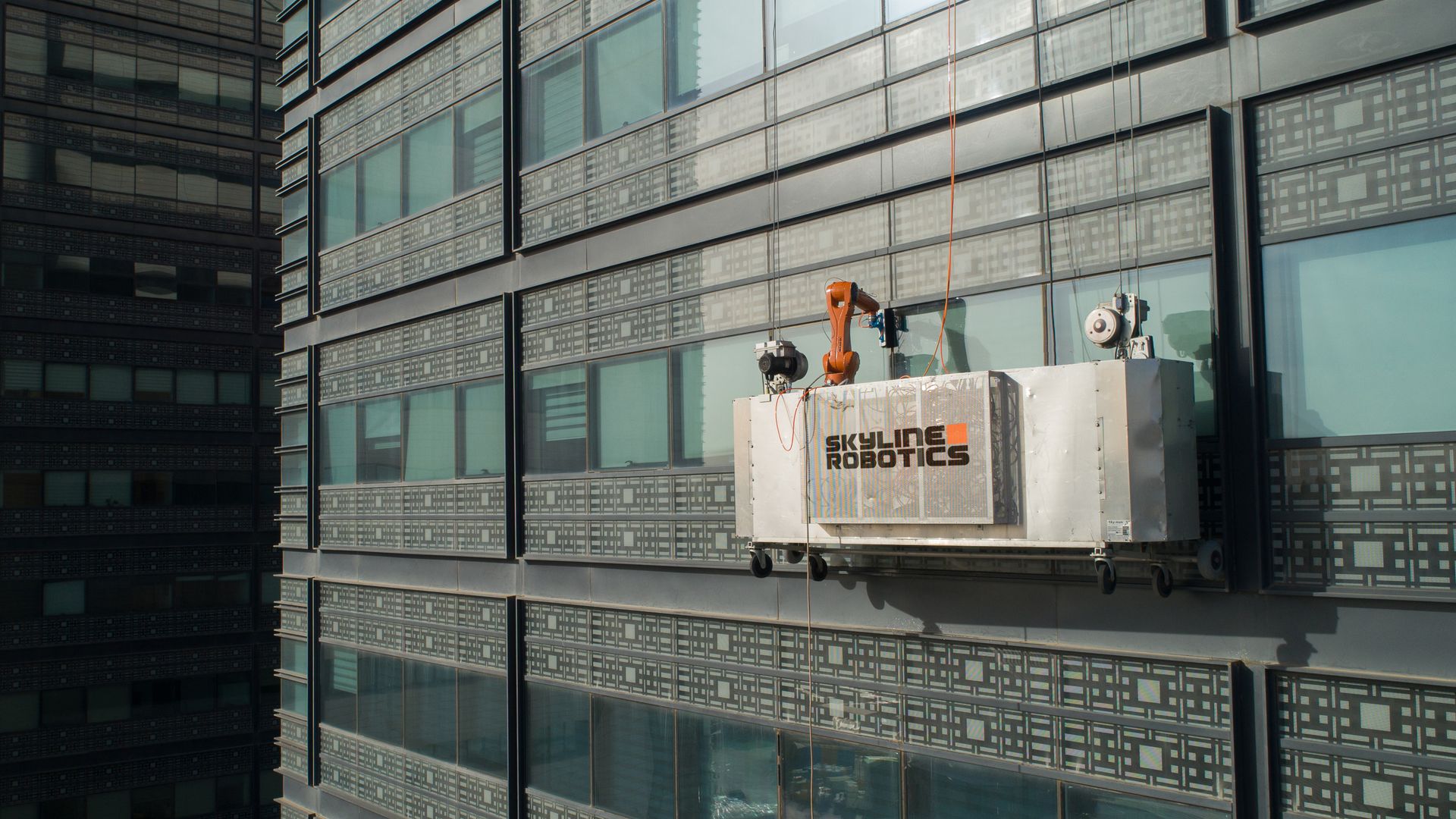 Commercial window washing is still handled primarily by humans on scarily high perches, but now — thanks to a handful of startups — robots are poised to disrupt the industry.
Why it matters: It's safer and faster to use a robot to cleanse a skyscraper — plus, they don't need meals or smoke breaks.
Driving the news: Two competing Israeli companies, Skyline Robotics and Verobotics, are pitching their robot-based window-cleaning systems in New York and other big cities.
Both companies sell AI-based systems with robots that hug buildings' curtain wall.
The robots scrub walls and windows with brushes, but don't use any chemicals.
Where it stands: Skyline, whose "environmentally diligent cleaning robot" is called Ozmo, recently secured an investment from the venture arm of the Durst Organization, the big developer that owns One World Trade Center.
The company has already sewn up a deal with Platinum, the largest commercial window cleaner in New York, for its robots to work alongside human washers.
Verobotics, meanwhile, has secured a distribution deal in Hong Kong for its autonomous high-rise building cleaner, which has been billed as an "Israeli robot spiderman."
Its system is in operation on a high-rise in Israel, and will be deployed on a "very iconic building" in New York City in April, said Ido Genosar, co-founder and CEO of Verobotics.
Robots can clean about three times faster than humans and work at night, he noted, adding: "The goal is to have continuous upkeep all year long."
How it works: The two companies' systems operate quite differently.
Skyline's Ozmo is a six-armed bandit that sits in the conventional basket that window washers use today.
It uses deionized water for streak-free cleaning and sensor-guided brushes that know how much force to apply without cracking the glass. (See Ozmo in action here.)
Due to current regulations, one person must typically sit alongside Ozmo while it cleans, while another person on the building's roof directs the crane that controls the basket.
With Verobotics' system, a 20-pound robot armed with a brush is lowered down from the building roof.
The robot is "literally walking vertically on the window using suction cups," Genosar said. "And it is delivering a payload, which is a cleaning device that is also doing the inspection." (See a video here.)
Verobotics' system uses no water or other liquids. "We are using mechanical force, pushing the brushes very hard against the glass."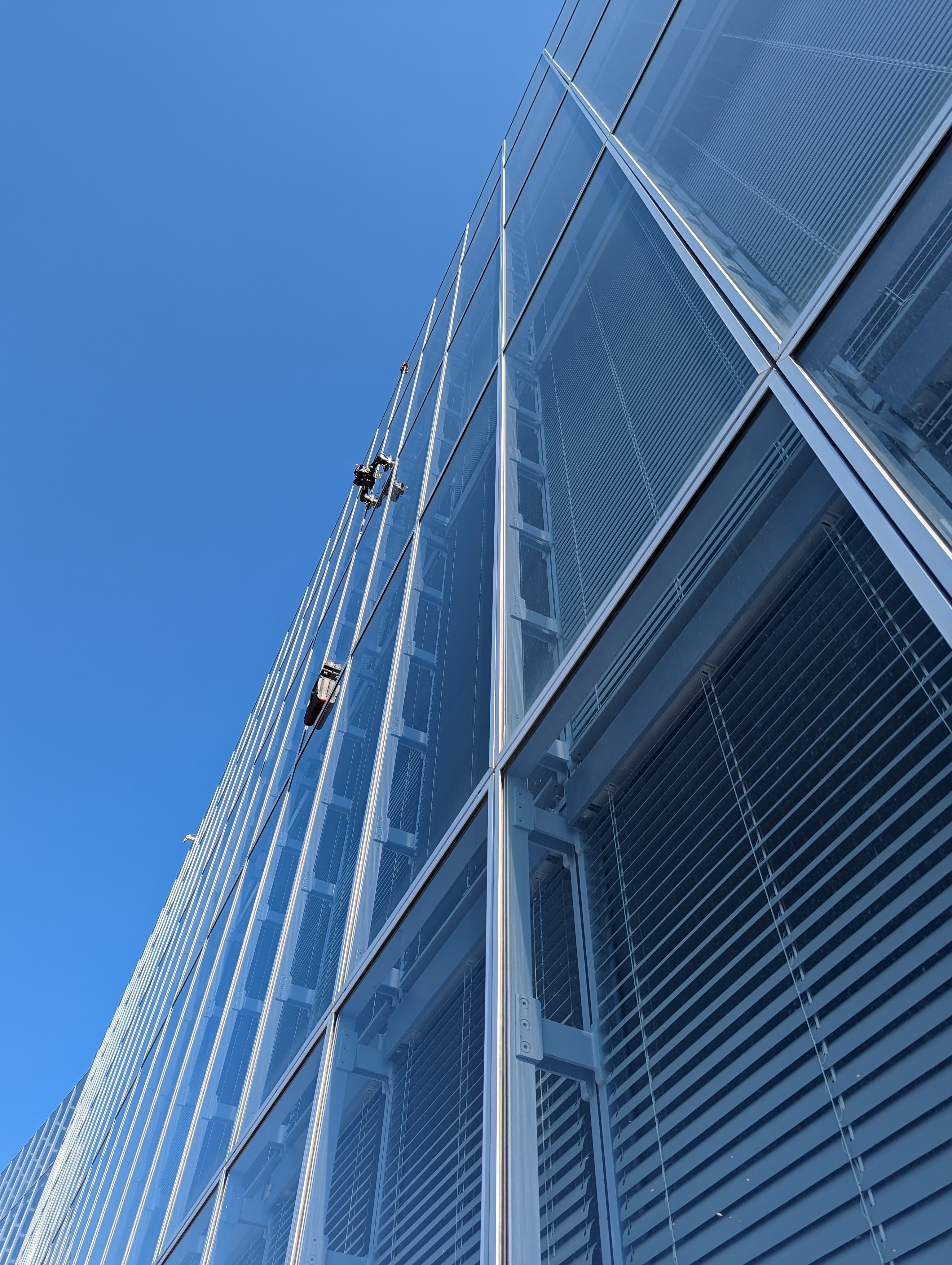 Zoom in: The killer app for these robots — beyond window washing — may turn out to be inspection and maintenance.
The units use lidar to "map" a facade, and they can detect and monitor structural problems.
They can also help with LEED environmental compliance by identifying problems such as heat loss.
"By adding a couple of cameras, we can tell you if you have window cracks, if you have HVAC leaks," says Brown.
"We're going to be able to give you real-time data — that's information that no one ever had before."
The big picture: Window washing is a business that "basically hasn't changed in the last 100 years," Genosar tells Axios.
Most professional window washers are highly skilled union members, and many are older or approaching retirement age, according to Genosar and Brown.
It's hard to find new recruits because of the danger and tedium of the job, as well as the overall labor shortage, they said.
There are window-cleaning drones, but those don't work well in cities or at very high altitudes, Brown said, because of safety and water pressure issues.
Of note: Small robotic window washers for home use are already on the market, from companies like Hobot.
The intrigue: New York City is planning to replace its notorious Rikers Island prison with four new buildings in various boroughs — and will require that all facade cleaning be done by robots, Brown said.
City officials "don't want any human interaction with the people in the cells," said Brown, whose company plans to bid on the project.
The bottom line: There's a boom in building skyscrapers — including supertall versions — and robots seem like a promising innovation for cleaning and inspecting them.
Go deeper