A self-driving revolution is happening off-road, too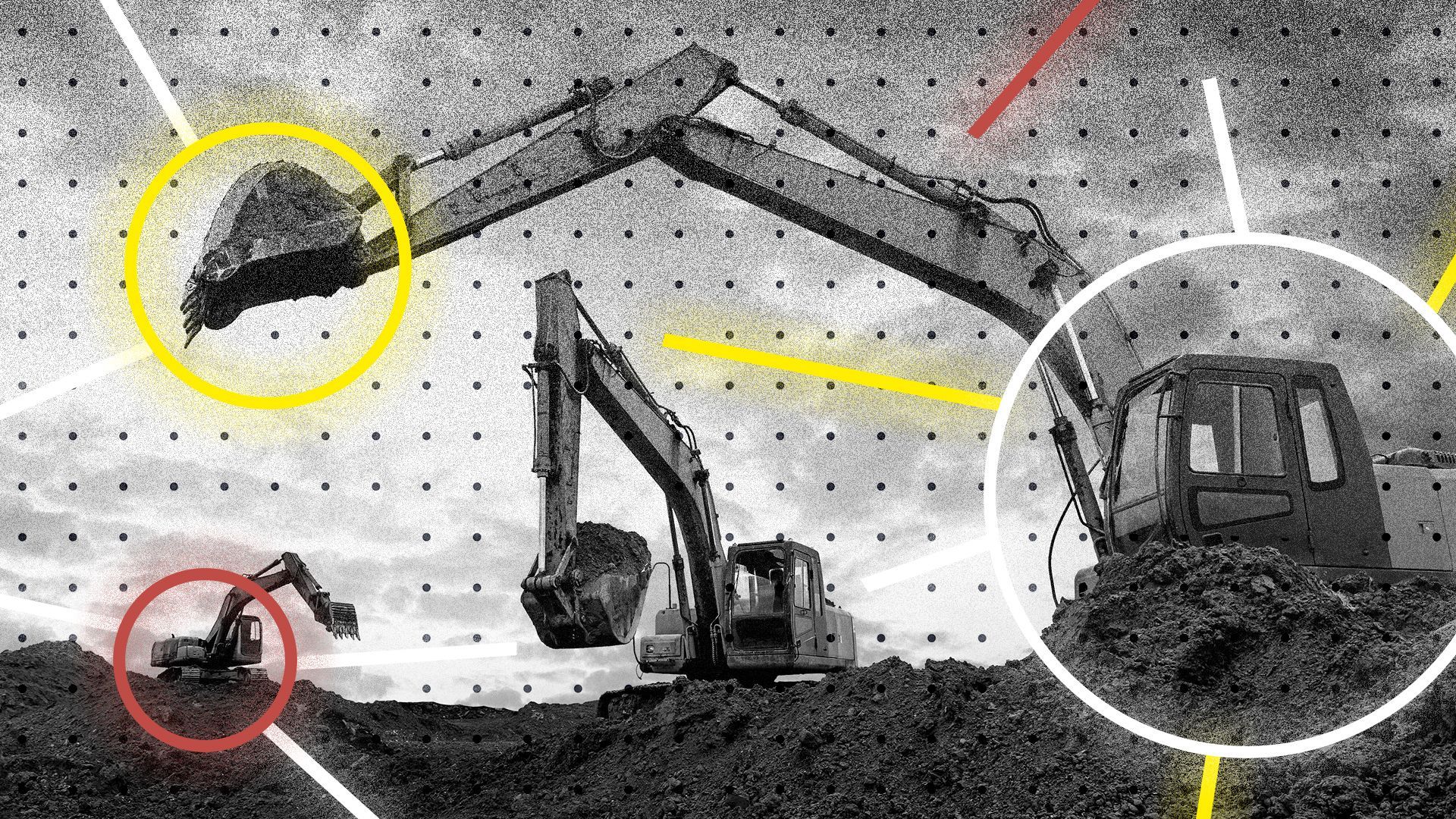 A shortage of truck drivers and skilled machine operators is inspiring the development of autonomous vehicles for use in construction, farming, heavy industry and even freight rail.
Why it matters: Off-road autonomy is every bit as revolutionary as self-driving cars, helping to reduce costs and improve productivity for a variety of industries.
Industrial settings are generally less complex than crowded highways or urban neighborhoods, which means they could also be a good testing ground for the emerging technology.
What's happening: Caterpillar, which deployed its first (and truly massive) autonomous mining trucks in Australia in 2013, now has nearly 600 in operation worldwide.
It's tailoring that expertise to smaller operations, including quarries such as Luck Stone's Bull Run Plant in Chantilly, Virginia, where Cat's self-driving trucks will begin hauling rocks, gravel and sand in 2024.
Lessons learned there will help Caterpillar bring autonomy to even smaller vehicles, such as bulldozers on construction sites, Michael Murphy, Cat's chief engineer for autonomy, tells Axios.
"Autonomy is a journey Caterpillar has been on for 30-plus years," he said. "We're reinventing ourselves as we work on these smaller operations."
In agriculture, Deere & Co. has introduced autonomous tractors to help growers coping with a shortage of farmhands.
And startups such as SafeAI and Teleo are retrofitting older machines with autonomous or remote-operated technology for construction and other uses.
"After 20 years of build-up in the off-road autonomy space, we're finally hitting a tipping point for adoption at scale," SafeAI CEO Bibhrajit Halder tells Axios.
What's next: Shipping containers that can move themselves on railroad tracks.
Details: Parallel Systems, founded by former SpaceX engineers, is creating autonomous battery-electric rail cars as an alternative to trucking.
The goal is to use platoons of autonomous rail cars to deliver freight on routes of about 500 miles that are typically handled by trucks today, the company's founder and CEO, Matt Soule, tells Axios.
Mile-long trains pulled by a central locomotive don't make economic sense on such routes, he said.
Shifting the bulk of those routes to autonomous electric rail cars will help decarbonize freight transportation and allow truck drivers, who are in short supply, to focus on first- and last-mile deliveries, Soule said.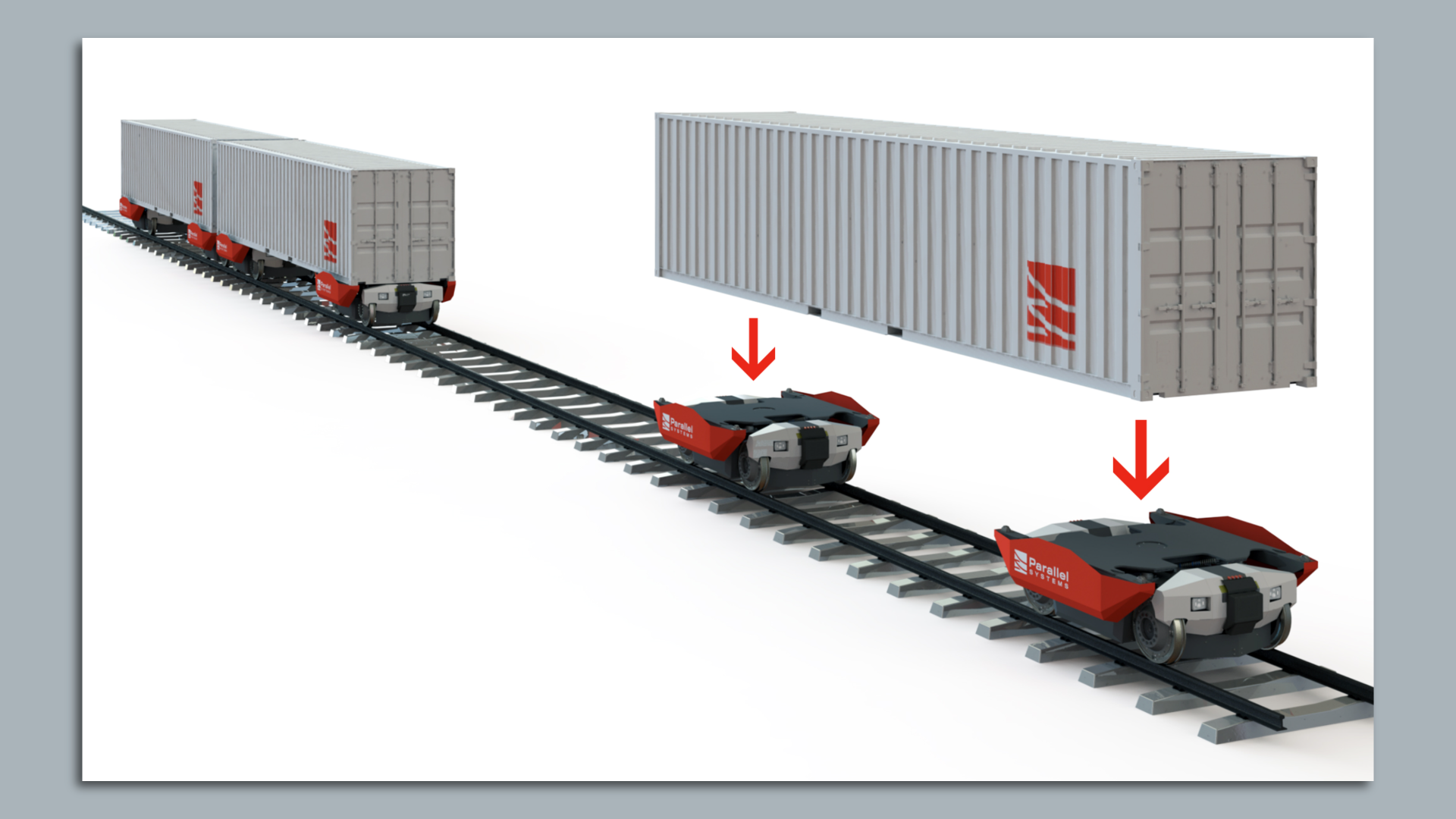 How it works: Each of Parallel's rail cars can move along the rail independently, with its own battery, traction motor, computer and sensors.
For efficiency, though, they would travel in platoons of 10 or 15 cars, drafting off the lead container for better aerodynamics.
When a container arrives at a port or intermodal facility, it would be lifted onto one of Parallel's autonomous rail vehicles, which is then linked via compression — sort of like bumper cars — to others headed in the same direction.
After Parallel secures the necessary track authority from the rail dispatcher (as any rail operator must), the platooned containers would then move themselves to their destination.
The bottom line: While progress on self-driving cars and trucks has been slower than expected, off-road autonomy is barreling down the track.
Go deeper