Axios Sneak Peek
January 05, 2023
Welcome back to Sneak. We're starting off tonight with a brief respite from the House speaker drama, which is quickly beginning to feel like "Groundhog Day."
Smart Brevity™ count: 1,060 words ... 3.5 minutes.
1 big thing: Biden's border run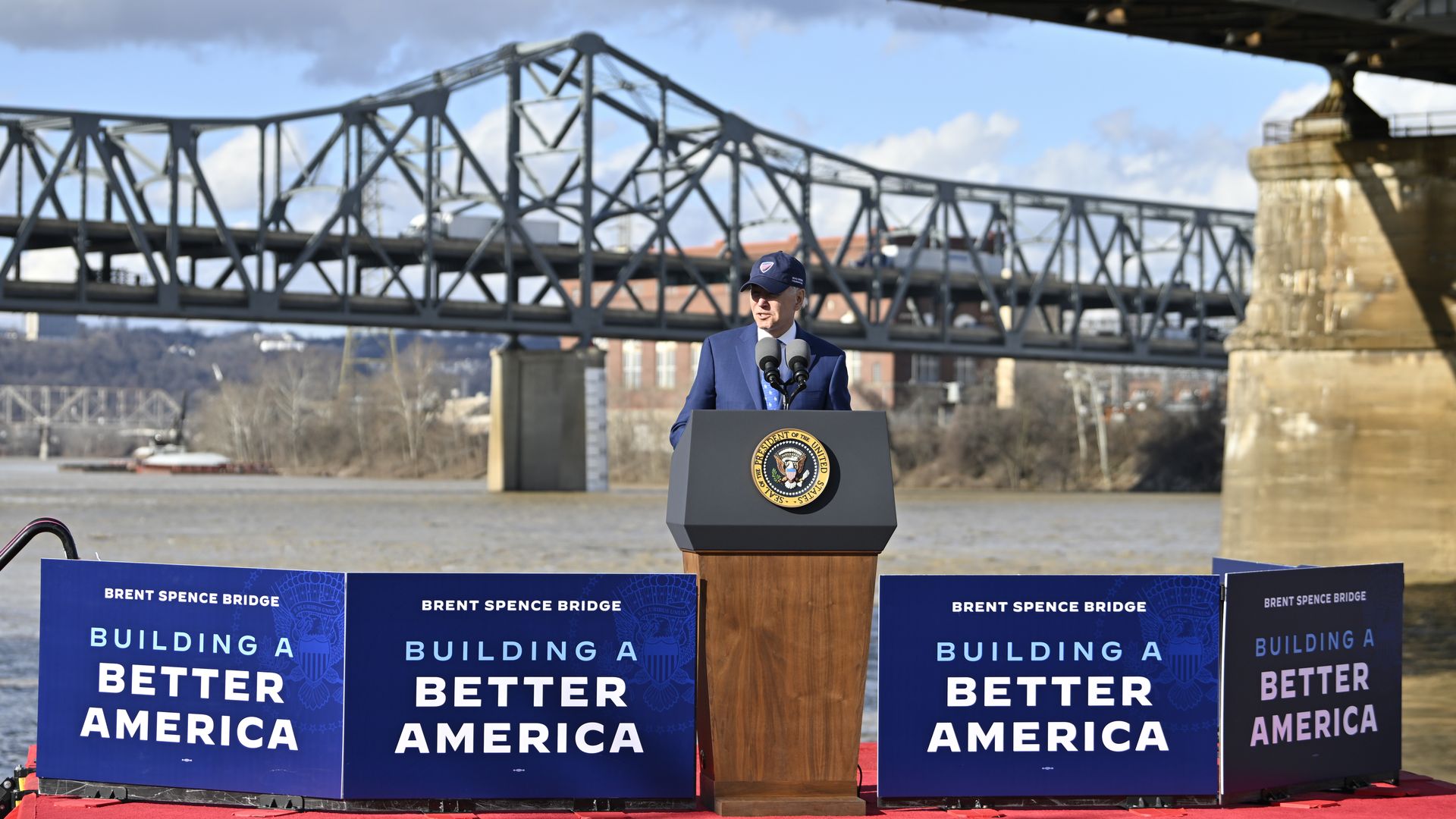 President Biden's first trip to the border marks a public — and perilous — step toward addressing an immediate humanitarian emergency and long-term political dilemma ahead of his likely re-election campaign, Axios' Hans Nichols and Stef Kight report.
Why it matters: Republicans have relentlessly hammered Biden over the border crisis, citing a lack of a visit as evidence he's unserious about the issue. Moderate and border-district Democrats have been clamoring for Biden to find a better policy response to the untenable situation.
What we're watching: The visit to the El Paso area, tacked on before Biden heads to Mexico for the North American Leaders' Summit, presents both optical risk and political opportunity.
"Maybe he should learn what's happening down there," Rep. Grace Napolitano (D-Calif.) told Axios. "Maybe he can do something. Maybe straighten the mess out and give us the help that we need."
Driving the news: Biden announced his intent to visit the border after a bipartisan event in Kentucky with Senate Minority Leader Mitch McConnell (R-Ky.), as House Republicans were engaged in open fratricide back in Washington.
The big picture: Last month, the Supreme Court forced the Biden administration to continue the controversial pandemic-era border policy Title 42, which allowed for the immediate expulsion of some migrants, while legal challenges unfold.
The decision may have been a political reprieve for Biden, but it didn't offer any resolution for the thousands of migrants crossing every day, at times straining local and federal resources.
Go deeper: Officials have been discussing a potential new parole program for Nicaraguans, Cubans and Haitians, as well as a new rule that would severely limit migrants' ability to qualify for asylum at the southern border, Axios has reported.
Persuading Mexican President Andrés Manuel López Obrador to increase security on his own southern border to interdict migrants from Central America — a likely topic at the summit — is another potential solution.
But any potential legislative fix will require Republican support, which is unlikely to spring from a GOP that cannot even organize itself.
2. 🚢 McCarthy's sinking ship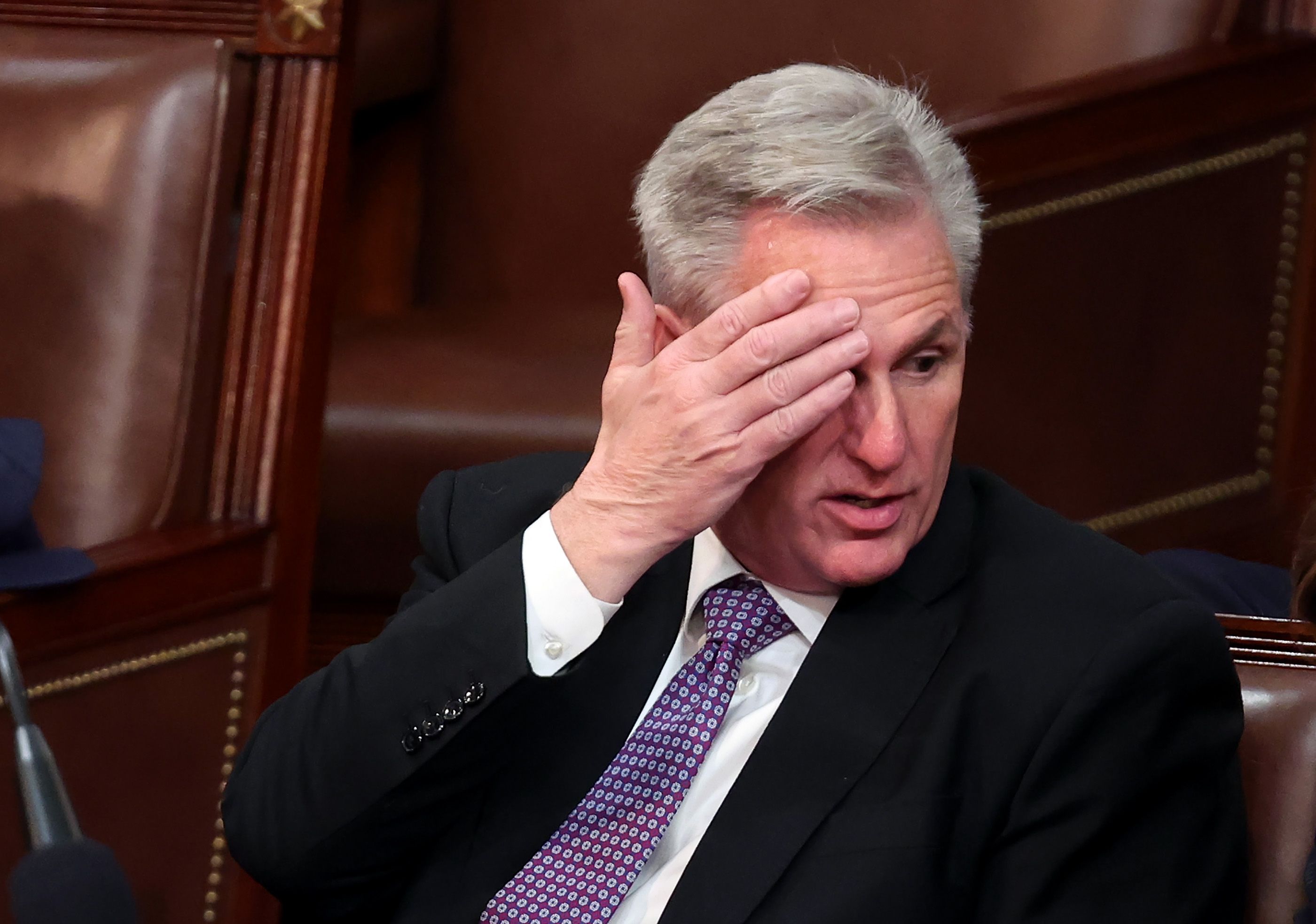 Rep. Kevin McCarthy's (R-Calif.) speaker nightmare turned Kafka-esque this afternoon, after GOP leaders found themselves unable to whip the votes to adjourn the House for negotiations.
Instead, McCarthy was forced to endure humiliation in three consecutive ballots — bringing his total number of defeats to six — before rebel Republicans finally agreed to break for backroom meetings until 8pm ET.
Why it matters: McCarthy had weeks — in some respects, years — to convert his critics and lock up his dream job. But on Day 2 of the historic contest, the Republican leader's vote count was moving in the wrong direction.
Rep. Victoria Spartz (R-Ind.) began voting "present" on the fourth ballot — a second GOP defection after Rep. Byron Donalds (R-Fla.) removed his vote from the McCarthy column yesterday.
Rep. Ken Buck (R-Colo.) continued to vote for McCarthy through the sixth ballot but told CNN that the California Republican needs to either cut a deal or step aside "at some point today."
🚨 The latest: Fifteen minutes before the House was set to reconvene, McCarthy emerged from a meeting with several of his top detractors and called for talks to continue — adding that another vote tonight would not be productive.
Earlier this evening, Rep. Andy Biggs (R-Ariz.) — a leading member of the "Never Kevin" group — told reporters: "I do sense progress. I do think there's gonna be a resolution."
Asked if that meant a resolution for a different speaker, Biggs responded: "Yes."
The other side: Rep. Dan Crenshaw (R-Texas) has embodied the growing fury within the rest of the GOP conference over what they feel is a hostage situation orchestrated by "unserious" people.
"McCarthy would have to resign from Congress, then I'll consider an alternative — but I'll tell you what, whoever that 20 wants, I will never vote for that person. I do not care who it is," Crenshaw told reporters.
He later told Fox News' Guy Benson, "We cannot let the terrorists win."
3. 👀 Trump juice dries up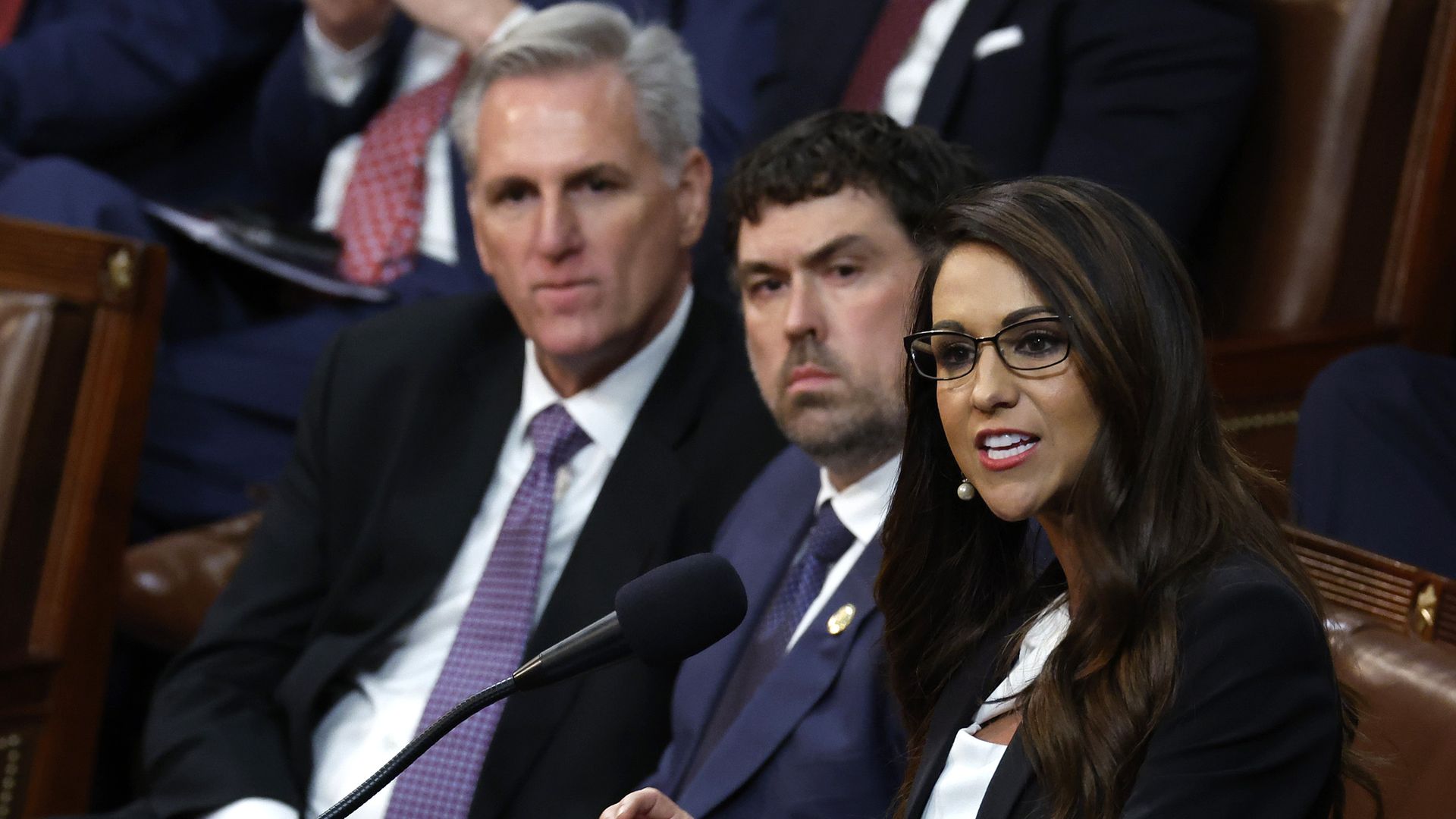 Once upon a time, former President Trump's all-caps endorsement of McCarthy might have moved mountains in the MAGA caucus.
Yet in the latest sign of his weakening influence — including in a House GOP conference that for years has fashioned itself in his image — Trump's call for Republicans to "take the victory" was brushed aside.
The intrigue: Rep. Lauren Boebert (R-Colo.), a MAGA favorite, confirmed that Trump had been making calls to McCarthy holdouts in a nominating speech for Rep. Byron Donalds (R-Fla.).
"I think it actually needs to be reversed. The president needs to tell Kevin McCarthy that, sir, you do not have the votes and it's time to withdraw," Boebert declared, drawing an audible reaction from Democrats.
Reality check: Trump's "campaigning" for McCarthy has been halfhearted at best, with sources telling Axios' Alayna Treene that he sees the chaos as an internal House matter.
A true test of whether Trump has lost his touch would see him go scorched-earth on McCarthy's detractors, savaging them on social media and threatening primaries.
But given that the name "Trump" isn't appearing on any of the ballots, don't expect that sort of whipping operation any time soon.
4. 🎥 CSPAN's finest hour
CSPAN has captured animated scenes from the House floor over the last two days, with a range of camera angles into lawmaker scrums providing tea leaves about the state of negotiations.
Why it matters: It's not usually like this. As the National Taxpayers Union's Joe Bishop-Henchman points out, House speakers tend to clamp down on the camera feeds and establish a more rigid broadcast system after they're elected.
In fact, CSPAN has written letters to past Speakers Nancy Pelosi and John Boehner asking for additional cameras to be installed for more public transparency. The requests were denied.
"A lot of people [are] siding with the past Speakers, saying fixed cameras prevents theatre," Bishop-Henchman tweeted. "That *is* the theatre. Yesterday we saw a lot of what is really happening, backstage."
5. 📸 Worth 1,000 words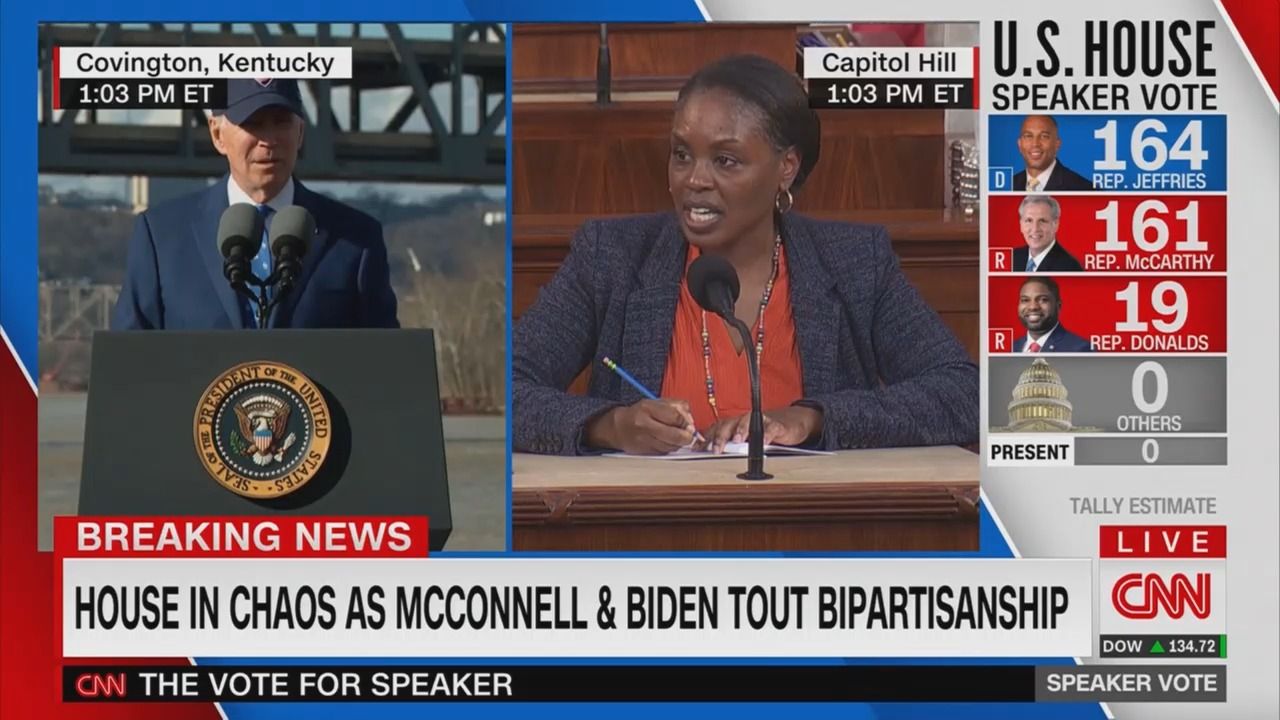 📬 Thanks for reading tonight. This newsletter was edited by Zachary Basu and copy edited by Brad Bonhall.