Axios Sneak Peek
May 23, 2023
Welcome back to Sneak. Smart Brevity™ count: 1,076 words ... 4 minutes.
⚡ Situational awareness: Virginia Gov. Glenn Youngkin is reconsidering his decision not to run for president and may jump into the race after the state's legislative elections, Axios' Juliegrace Brufke and Mike Allen scooped.
1 big thing: Dems' debt regrets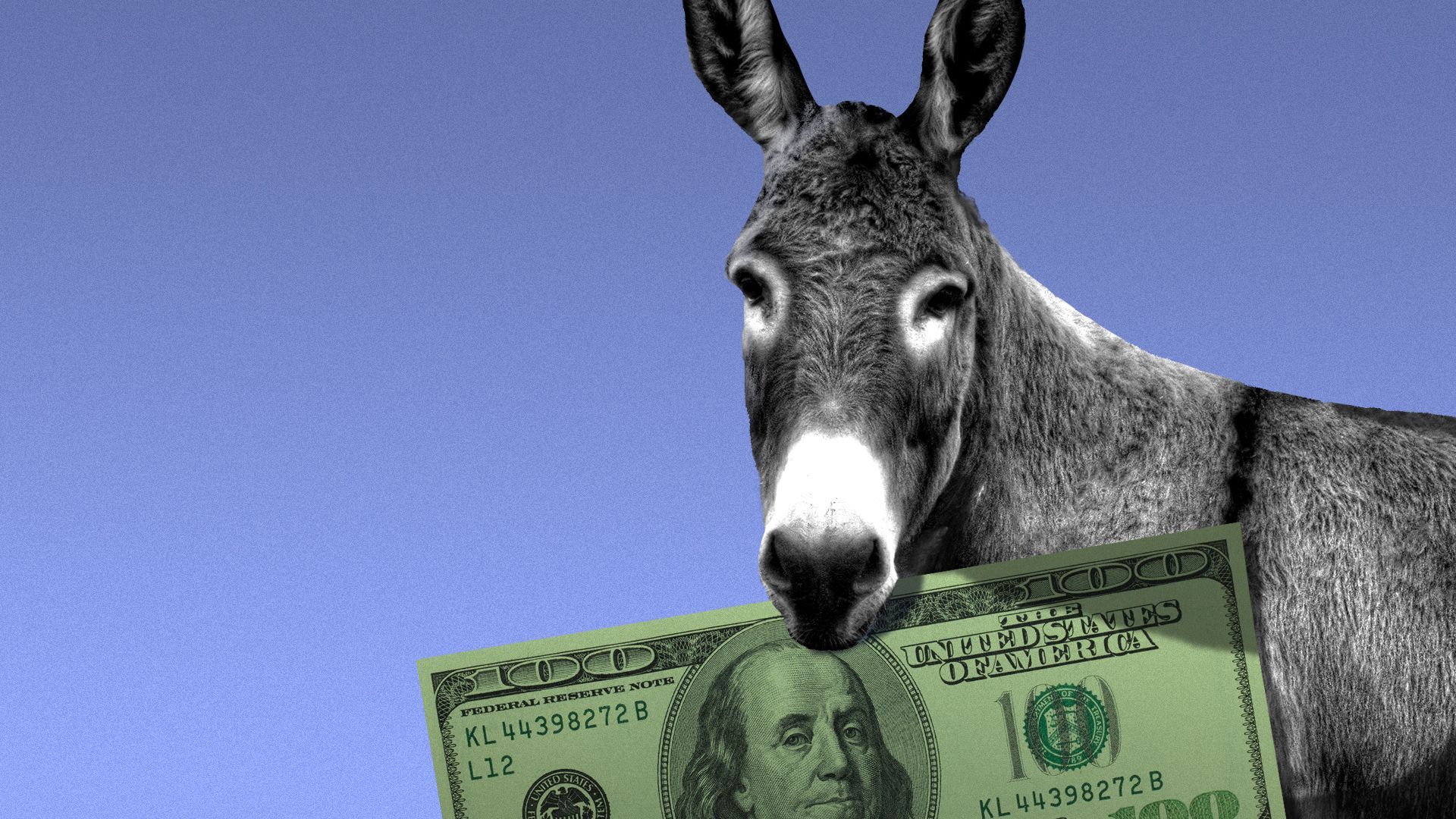 With just 10 days until the U.S. government's "hard deadline" to avoid a default, Democrats' anxiety has been compounded by new regrets over how Washington blundered to the edge of economic Armageddon.
Why it matters: Political and business leaders had long been aware of a potential debt ceiling crisis if the GOP won the House. Yet Democrats appear to have underestimated Republicans' intransigence — and their unity behind House Speaker Kevin McCarthy (R-Calif.).
The big picture: The range of Democratic regrets — which are not necessarily shared by all elements of the party, including the White House — largely center on three strategic decisions made over the past six months.
1. Not raising or abolishing the debt ceiling when they had full control of government.
For two years, Democrats held the White House, House and Senate — albeit with the narrowest of majorities and a pair of centrist wild cards in Sens. Joe Manchin (D-W.Va.) and Kyrsten Sinema (I-Ariz.).
The Congressional Progressive Caucus called for Democrats to act on the debt ceiling in last fall's lame-duck session "to prevent Republican hostage-taking efforts" that could result in spending cuts.
Sen. Tim Kaine (D-Va.), a moderate, told Politico last week that if he could "do one thing different, it would have been raising the debt limit late last year."
2. Betting on GOP dysfunction without a Plan B.
McCarthy's tortured, 15-ballot speaker election in January left Democrats skeptical that the divided GOP conference could muster the votes for a party-line debt ceiling bill.
Without that leverage, Democrats reasoned, moderate Republicans might take the responsible route of voting for the "clean" debt ceiling hike that President Biden had been calling for.
Instead, McCarthy again defied the odds by passing a conservative wish list with just one vote to spare — strengthening his hand and forcing the White House to regroup.
3. Not negotiating sooner.
Biden vowed that he would not negotiate over the debt ceiling, arguing it would only reward the GOP's hostage taking. But that's indeed the position he's now in — even if the White House continues to claim these are separate negotiations over the budget.
"His team and leaders in the Congress were mistaken if they thought that refusing to negotiate was the strongest approach," Rep. Jared Golden (D-Maine) told Axios, arguing Democrats may have been able to push for tax hikes on the rich if they had started talks earlier.
Asked if revenue raisers could still be on the table, a senior House Democrat told Axios: "I think this is starting too late. It's too precarious, and, sadly, most would argue we missed that boat."
2. 💰 Latest: McCarthy hails "productive" meeting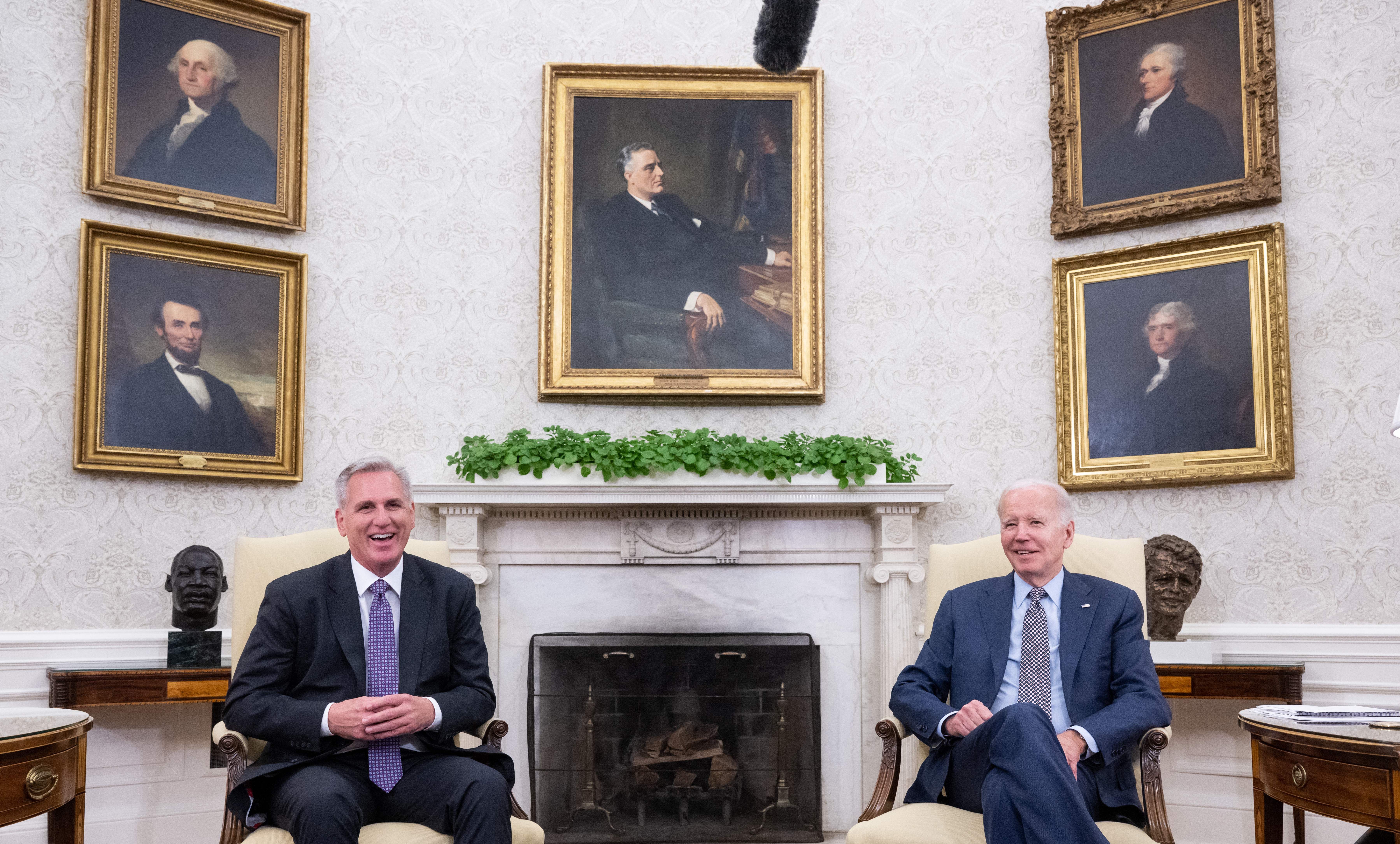 Emerging from his 90-minute meeting with Biden, McCarthy told reporters that there's still no agreement on the debt ceiling — but that "the tone tonight was better than any other time we've had discussions."
"This meeting was productive," said House Financial Services Chair Patrick McHenry (R-N.C.), a key McCarthy ally who was in the meeting.
"It told us, as the negotiating team, a little more of the details that we need to get to a package that can pass Congress."
State of play: McCarthy said cuts to defense spending and tax changes to raise revenue are off the table — and confirmed he would give members 72 hours to read the bill if and when it's drafted.
With Treasury Secretary Janet Yellen reiterating today that the U.S. could be unable to pay its bills by June 1, that leaves Congress with a very narrow window to get a package through both the House and Senate.
Staff for each side will continue to negotiate through the night after receiving directives from Biden and McCarthy, and members are on standby to potentially vote over Memorial Day weekend.
What to watch: House Minority Leader Hakeem Jeffries (D-N.Y.), who has been cut out of negotiations, was very pessimistic about the state of talks — blasting the GOP for rejecting the White House's offer to freeze spending in 2024.
3. 🗣️ Tim Scott's pitch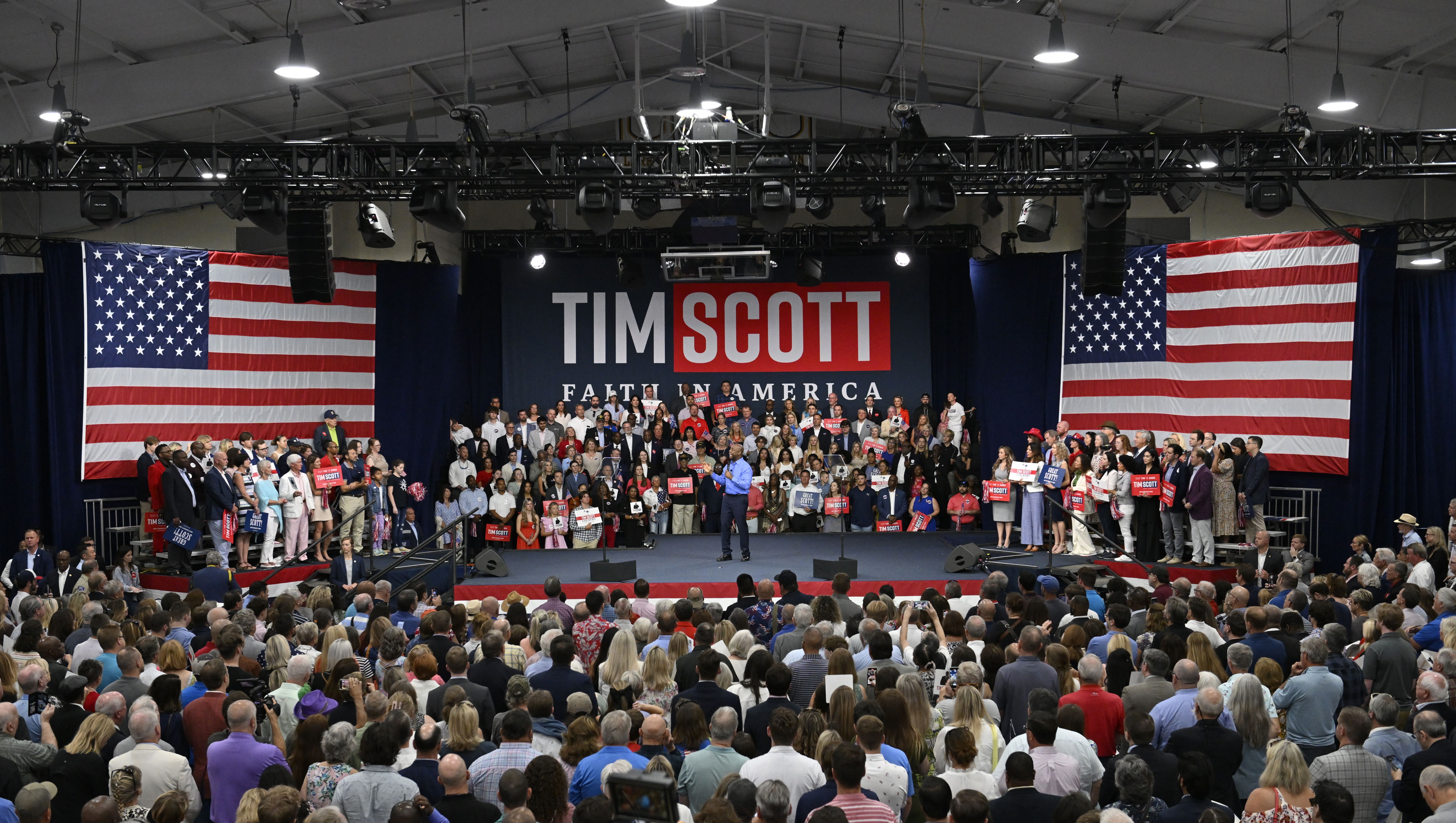 Sen. Tim Scott (R-S.C.) enters the GOP presidential race as a little-known long shot, but his campaign launch today made clear how he aims to distinguish himself, Axios' Sophia Cai reports from North Charleston, South Carolina.
Why it matters: Scott, the only Black Republican in the Senate, is positioning himself as an optimistic, baggage-free alternative to former President Trump and Florida Gov. Ron DeSantis.
Driving the news: At his kickoff rally in North Charleston, Scott seemed to tweak Trump in particular when he told more than 1,500 supporters that the GOP's choice in 2024 boils down to "victimhood or victory," and "grievance or greatness."
"America is not a nation in decline," Scott told today's crowd, a veiled shot at one of Trump's favorite riffs since he left office.
4. 🏛️ Delaware giant retires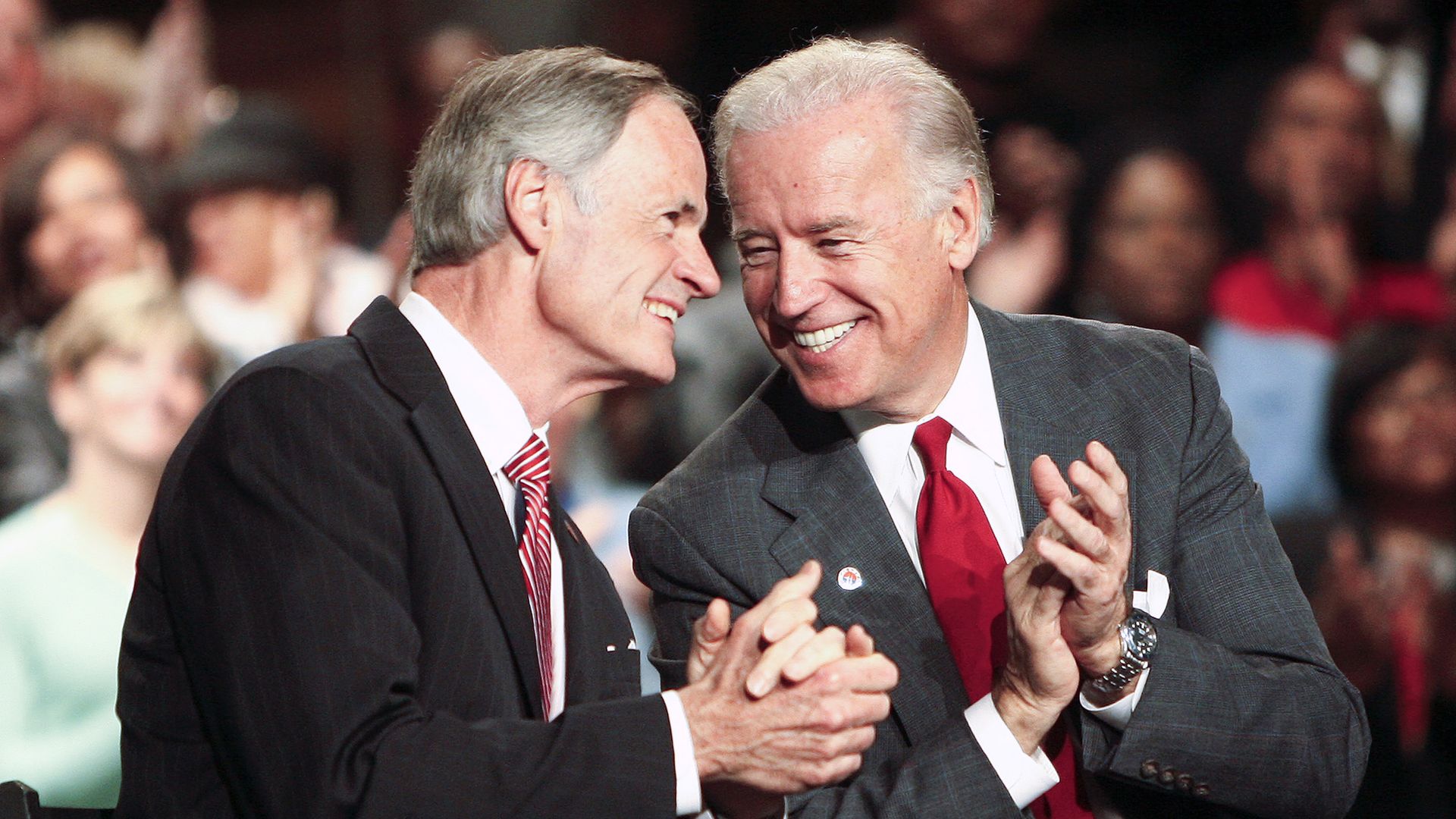 Sen. Tom Carper (D-Del.) became the fourth Democratic senator to announce he will not seek re-election next year, joining Sens. Dianne Feinstein (California), Ben Cardin (Maryland) and Debbie Stabenow (Michigan).
Why it matters: Carper, the only Vietnam War veteran left in the Senate, has held statewide elected office in Delaware since 1977.
"It's hard to find an elected Delaware official, and their respective deputy, who has not campaigned, interned or worked for the politician," the Delaware News Journal writes.
Carper immediately endorsed Rep. Lisa Blunt Rochester (D-Del.) to succeed him, with Senate Majority Leader Chuck Schumer (D-N.Y.) voicing support for the at-large congresswoman soon after.
Between the lines: Depending on how the primaries shake out, Democrats could elect three Black women to the Senate next year — Blunt Rochester, Prince George's County executive Angela Alsobrooks in Maryland, and Rep. Barbara Lee in California.
Only two Black women have served in the Senate — now-Vice President Kamala Harris (D-Calif.) and former Sen. Carol Moseley Braun (D-Ill.).
Delaware state Sen. Sarah McBride is likely to run for Blunt Rochester's vacated House seat, which — if she wins — would make her the first transgender member of Congress.
📬 Thanks for reading tonight. This newsletter was copy edited by Kathie Bozanich.