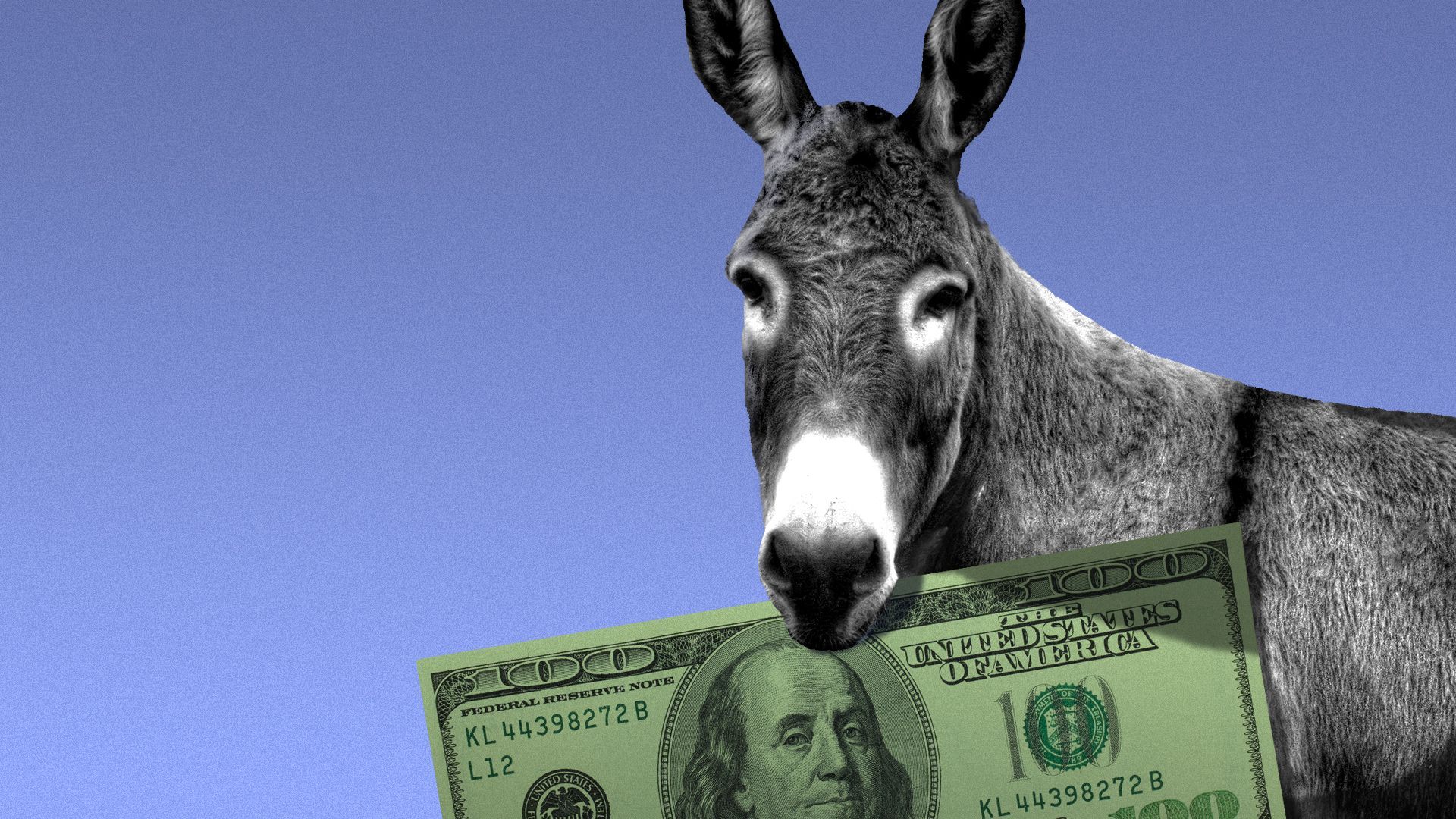 With just 10 days until the U.S. government's "hard deadline" to avoid a default, Democrats' anxiety has been compounded by new regrets over how Washington blundered to the edge of economic Armageddon.
Why it matters: Political and business leaders had long been aware of a potential debt ceiling crisis if the GOP won the House. Yet Democrats appear to have underestimated Republicans' intransigence — and their unity behind House Speaker Kevin McCarthy (R-Calif.).
The big picture: The range of Democratic regrets — which are not necessarily shared by all elements of the party, including the White House — largely center on three strategic decisions made over the past six months.
1. Not raising or abolishing the debt ceiling when they had full control of government.
For two years, Democrats held the White House, House and Senate — albeit with the narrowest of majorities and a pair of centrist wild cards in Sens. Joe Manchin (D-W.Va.) and Kyrsten Sinema (I-Ariz.).
The Congressional Progressive Caucus called for Democrats to act on the debt ceiling in last fall's lame-duck session "to prevent Republican hostage-taking efforts" that could result in spending cuts.
Moderate Sen. Tim Kaine (D-Va.) told Politico last week that if he could "do one thing different, it would have been raising the debt limit late last year."
2. Betting on GOP dysfunction without a Plan B.
McCarthy's tortured, 15-ballot speaker election in January left Democrats skeptical that the divided GOP conference could muster the votes for a party-line debt ceiling bill.
Without that leverage, Democrats reasoned, moderate Republicans might take the responsible route of voting for the "clean" debt ceiling hike that President Biden had been calling for.
Instead, McCarthy again defied the odds by passing a conservative wish list with just one vote to spare — strengthening his hand and forcing the White House to regroup.
"It's not unreasonable to expect Republican leaders to be adults, though," Rep. Dan Kildee (D-Mich.) stressed to Axios. "We gave them more benefit than they deserve, I guess."
3. Not negotiating sooner.
Biden vowed he would not negotiate over the debt ceiling, arguing it would only reward the GOP's hostage-taking. But that's indeed the position he's now in — even if the White House continues to claim these are separate negotiations over the budget.
"His team and leaders in the Congress were mistaken if they thought that refusing to negotiate was the strongest approach," Rep. Jared Golden (D-Maine) told Axios, arguing Democrats may have been able to push for tax hikes on the wealthy if they had started talks earlier.
Asked if revenue raisers could still be on the table, a senior House Democrat told Axios: "I think this is starting too late. It's too precarious, and, sadly, most would argue we missed that boat."
The bottom line: A growing number of Democrats now believe the only acceptable escape hatch is for Biden to invoke the 14th Amendment.
Go deeper