Biden teases 14th Amendment "authority" on debt ceiling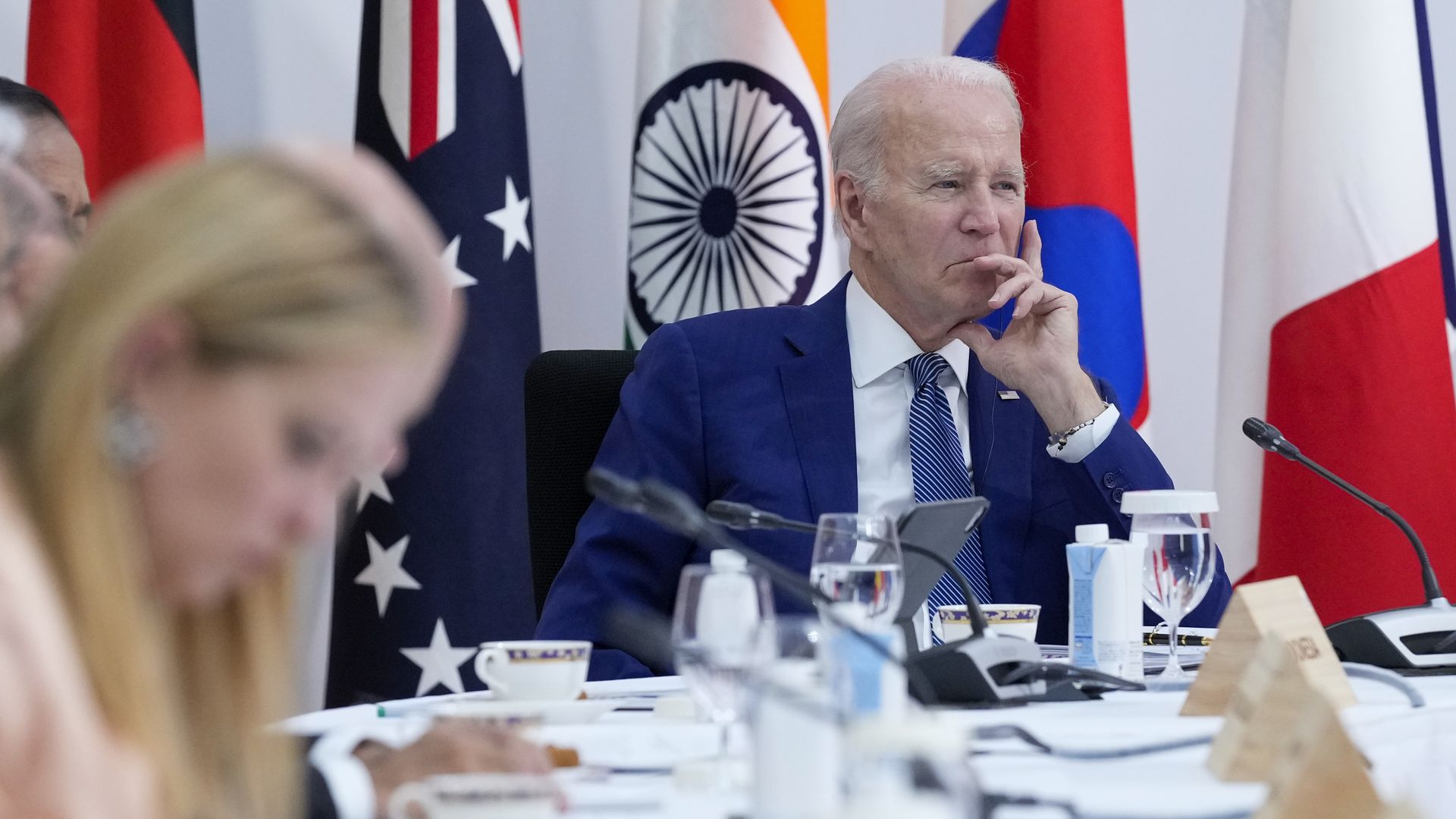 President Biden and House Speaker Kevin McCarthy (R-Calif.) will meet Monday to continue debt ceiling negotiations.
Driving the news: Biden said late Sunday that a phone call he'd had with McCarthy about the matter while flying back from the G7 summit in Japan "went well," per a pool report on his return to the White House. McCarthy earlier in the evening described the call as "productive."
Their comments came after Biden publicly chided House Republicans earlier on Sunday for their debt ceiling proposal and called on them to "move from their extreme positions."
"Much of what they've already proposed is simply, quite frankly, unacceptable," Biden said from Hiroshima, Japan, on the last day of the G7 summit.
Republicans are seeking a debt ceiling deal that would cut government spending.
Biden said Sunday that he is "willing to cut spending," but added that "we have to also look at the tax revenues."
The big picture: Biden's remarks come after House Republican negotiators declined a Friday offer from the White House to freeze government spending in the 2024 budget as part of a deal to raise the debt ceiling.
"I can't guarantee that they wouldn't force a default," Biden said of House Republicans, but he emphasized that "our teams are going to continue working."
Zoom in: Biden, who has previously said that he'd consider invoking the 14th Amendment to raise the debt ceiling without an act of Congress, said Sunday that he thinks he has the "authority" to do so.
"The question is could it be done and invoked in time that it would not be appealed as a consequence past the date in question," Biden said.
Republicans have said they oppose the idea, and any attempt to circumvent the debt ceiling would likely face a lengthy court battle.
Treasury Secretary Janet Yellen has also cast doubt on the idea. "It doesn't seem like something that could be appropriately used in these circumstances, given the legal uncertainty around it and given the tight time frame we're on," she said on NBC's "Meet the Press" on Sunday.
What to watch: Yellen has warned that the U.S. could stop being able to pay its debts as early as June 1.
Go deeper: Biden and McCarthy's shared math problem
Editor's note: This story has been updated with comment from Treasury Secretary Janet Yellen and House Speaker Kevin McCarthy, and to reflect his scheduled meeting with President Biden on Monday.
Go deeper