April 14, 2020
Today's Media Trends is 1,918 words, a 7 minute read. Sign up here.
You're invited: Axios will host a live virtual event on the future of fintech and consumer privacy tomorrow (April 15) at 12:30 p.m. ET. Live convos with Andrew Yang and Credit Karma CEO Kenneth Lin.
1 big thing: Scoop — Congress' local news bailout push
A bipartisan group of lawmakers is circulating a draft letter to be sent to the White House requesting additional relief targeted specifically at local newsrooms, according to a draft of the letter obtained by Axios.
Why it matters: Local news was already facing dire strains in the U.S., but the coronavirus and a pending recession have pushed the industry into near collapse at a time when people need access to news and information more than ever, Axios' Margaret Harding McGill and I write.
The $2 trillion rescue package passed by Congress last month covers small businesses, including some news companies, but advocates argue it's not enough to cover the long-lasting damages coronavirus will have on local news.
Newsrooms are officially considered "essential services" by the federal government and many state governments, but some argue they won't be able to survive without additional financial support.
Driving the news: Reps. Debbie Dingell (D-Mich.), Bill Flores (R-Texas), Fred Upton (R-Mich.) and Marc Veasey (D-Texas) are seeking support for a letter to President Trump that calls for federal advertising dollars to be prioritized to local outlets.
The letter asks Trump to:
Direct Cabinet secretaries to speed up planned advertising campaigns to local media outlets.
Direct federal agency advertising dollars for new and existing programs to local media.
Incentivize a portion of the coronavirus stimulus funds that are going to businesses be used for advertising on local media.
The House's efforts follow calls from nearly two dozen senators last week, led by Connecticut Sen. Richard Blumenthal, to provide relief for local newsrooms in any future COVID-19 relief package.
Yes, but: All of the letter's 19 Senate signatories were either Democrats and Independents. And while Republicans have signed on to co-sponsor bills that help the news industry in the past, it doesn't seem likely at this point that Republican Senators are on board.
Between the lines: None of these efforts fully address the needs and asks of the news industry.
On Thursday, some of the biggest media trade groups, representing thousands of publishers and broadcasters, asked Congress to provide extensive relief to local news outlets in its next stimulus bill.
Part of their requests included ensuring that local media can seek relief under the Paycheck Protection Program, a federal backstop to help small businesses impacted by the coronavirus. This request has not been mentioned in any of the efforts from Congress.
Some TV and radio station groups, like Gray Television, have struggled to take advantage of the existing funding, because their size is being calculated on their larger holding group, not the sizes of struggling newsrooms at the local level.
2. Partisan publishers hit a virus plateau
New data from CrowdTangle shows that engagement for national and local news sources on Facebook is exploding during the coronavirus pandemic, while engagement with hyper-partisan publishers is hardly growing, Axios' Neal Rothschild and I write.
Why it matters: Consumers are looking to local and national outlets with authority to understand the impact of the virus on their health, the economy and their communities. This is different from the past few years, when hyper-partisan publishers dominated engagement on Facebook.
Driving the news: According to the data, engagement with stories from local outlets, like Detroit Free Press and Tampa Bay Times, as well as national outlets, like The Washington Post and Wall Street Journal, has spiked dramatically, but traffic to several hyper-partisan sites has only grown modestly.
Some partisan publishers like dailykos.com and infowars.com similarly aren't seeing as heavy bumps in page views compared to some select local and national outlets like foxnews.com, washingtonpost.com and cnbc.com, or local outlets like seattletimes.com or bostonglobe.com, the N.Y. Times reports.
Partisan publisher traffic spiked in early February around the time of President Trump's acquittal in the impeachment trial.
Between the lines: According to the latest Axios-Ipsos Coronavirus Index, most people say they have a great deal of trust in local news outlets and national newspapers, compared to cable news, which tends to be more partisan.
The bottom line: For the first time in several years, political stories are not at the center of our nation's psyche.
3. Consumers crave cheerful content
Consumers are looking for fun and lighthearted entertainment to relieve stress during the coronavirus crisis, instead of categories like true crime or suspense.
Why it matters: Some mediums, like podcasting, that over-index on genres like true crime, may be partially impacted by the fact that consumers need a break from their regular content routines.
Driving the news: According to new research from tv research firm Magid, consumers are seeking out funny (39%) and fun (31%) videos, movies and TV programs during the coronavirus crisis.
More consumers are also watching familiar entertainment, or series and movies they already know. According to Magid, about a third of consumers have increased their engagement with content they already know well.
Users are looking for comedic relief, according to new data from Captify, a firm that specializes in search retargeting. Users searching for search terms within Captify's network such as funny movies, standup comedy, comedy, funny and sitcom as they relate to movies and TV shows was up over 314% from March 1 to April 12.
A similar phenomenon is happening with podcasts. Podcast consumption has been down since the virus began keeping people at home.
True Crime, which is traditionally one of podcasts' top categories, has been down in downloads over the past few weeks, according to data from podcast analytics firm Podtrac. News, business, and comedy are some of the top categories that have seen the most growth during the coronavirus era.
Between the lines: With more people stuck at home with families, including small kids, family entertainment is up during the coronavirus.
According to data from Hulu, the content categories that have seen the biggest jumps in viewers during the coronavirus are were dramas, movies and kids content.
What's next: While news and information has become a much heavier part of people's consumption diets during the coronavirus era, that could start to wear off as people get sick of the constant stream of bad news.
According to the Magid study, for the first time, about 1 in every 6 people say they are starting to actively avoid the news in order to relieve their stress.
4. Bloomberg launching new entertainment vertical
Bloomberg is launching a new entertainment-focused vertical called "Screentime," the company will announce on Tuesday.
Why it matters: Analysts expect that the global on-demand video market could reach around $100 billion in the next few years.
"It's an interesting time for Bloomberg to come in and capture this moment in the right way," says Crayton Harrison, managing editor of company's news coverage in the Americas. "We've reached a maturation phase in the industry."
"Our core mission is to chronicle capitalism, as our chief likes to say. There's going to be a lot of capitalism in this industry — more deals, more money changing hands, and we think we have new perspective to bring to this."
Details: Screentime will launch with several new products that will be anchored by Bloomberg talent across the U.S., Asia, and Europe, including:
A weekly entertainment newsletter, authored by media and entertainment reporter Lucas Shaw, that builds off of his current "Hollywood Torrent" newsletter.
A new "Pop Star Power Ranking," which lists the top 25 based on metrics from album sales to social media fandom.
A new integration across Bloomberg's Business of Sports podcast and Bloomberg's social channels.
Screentime's coverage will span four main pillars:
Television and movies
Music and podcasting
eSports and video games
Influencers
Between the lines: The company has launched a number of new verticals that are similarly structured to Screentime — like "Hyperdrive" for auto and mobility industry, and "Prognosis" for healthcare — to help wrangle its 2,700 person newsroom.
The bottom line: Bloomberg, like other media companies, says its experiencing record readership and engagement amid the coronavirus.
March 2020 set a traffic record for Bloomberg.com at 100 million monthly unique visitors.
It also hit record content users on the Bloomberg Terminal, its premium data and breaking news subscription portal.
5. Disney's kingdom loses its magic
Disney has become of Hollywood's biggest coronavirus victims.
Why it matters: Analysts point to Disney's healthy balance as proof that the company will weather the pandemic. But its experience dealing with coronavirus will fundamentally alter the way the nearly 100-year-old business operates moving forward.
Driving the news: A services union group said Sunday that Disney would furlough over 43,000 of its 75,000 employees of its Walt Disney World theme park.
The big picture: Several of Disney's blockbuster films have been postponed as theaters remain shuttered. The production of other Hollywood titles is being put on hold as social distancing measures are in place.
Disney cruise lines extended some of its temporary sailing suspensions. The company has closed most of resorts worldwide and many stores.
By the numbers: As a result of the pandemic, Disney's stock has dropped nearly 30 percentage points as of Monday from its peak in January.
Its stock price gas reached its lowest point since 2014, erasing six years of gains that have mostly been fueled by box office dominance.
Disney has begun increasing its access to cash so that it can weather the storm.
Between the lines: Despite the fact that TV consumption is up, Disney's flagship sports network ESPN is also being impacted by the crisis.
On Monday, ESPN said that it's asked its 100 highest-paid commentators to take a 15% pay cut over the next three months.
Yes, but: Despite these challenges, Disney+, is flourishing as families stuck at home look for easy ways to entertain their kids.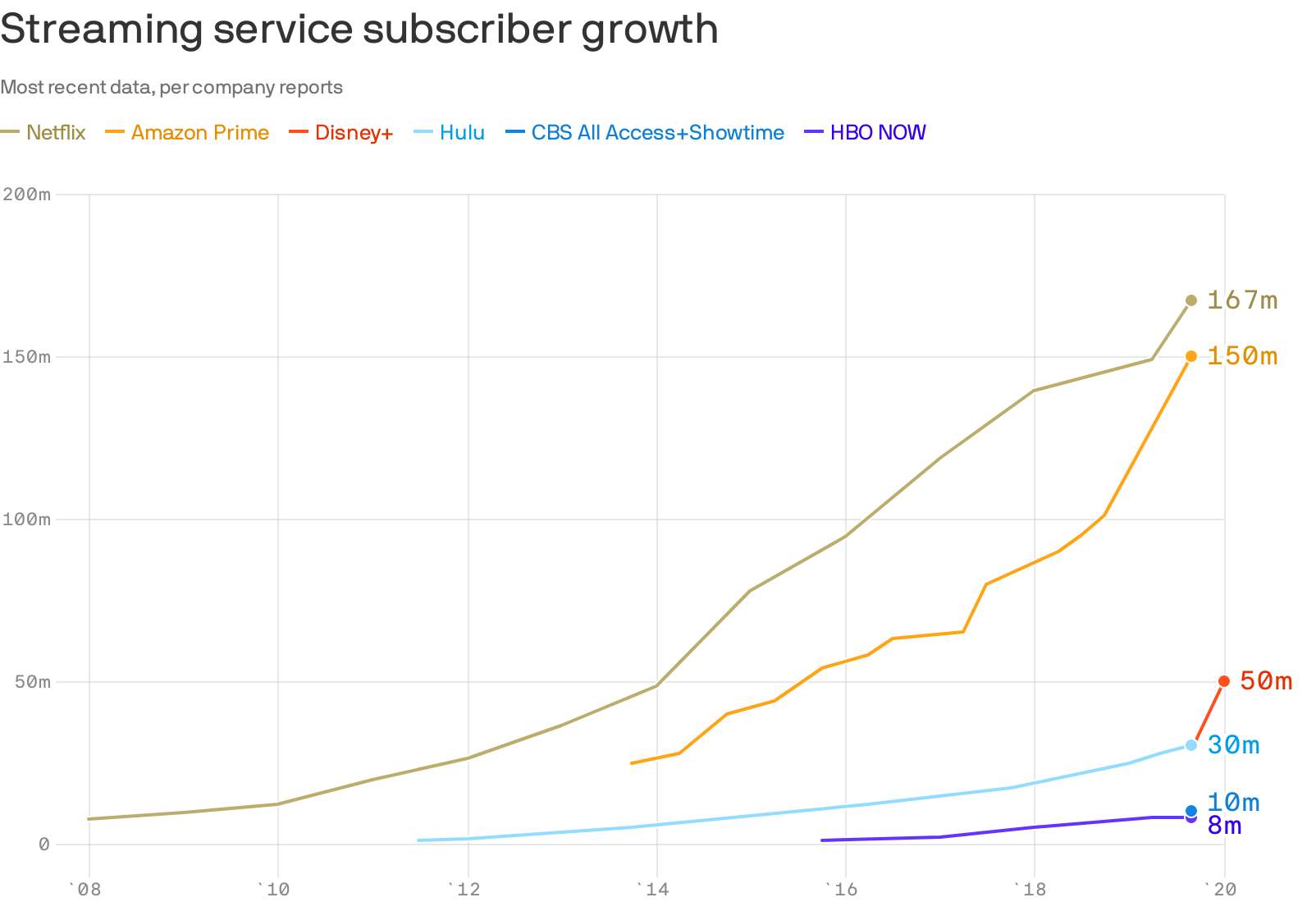 What's next: Bob Iger, who in February announced his retirement as Disney CEO, has re-engaged with the company amid the coronavirus pandemic, N.Y. Times media columnist Ben Smith writes.
Per Smith, Iger is helping to craft a response to the crisis to address Disney's future, including reopening the company with less office space and ending glitzy and expensive old-school television practices like TV ad upfronts.
6. No coronavirus ceasefire for streaming wars
The highly-anticipated streaming wars are still on, even as most of Hollywood production has come to a halt.
Peacock is still on track to launch tomorrow, April 15th. The company revealed its launch sponsors Monday, and says it will keep ad load at a minimum.
Quibi says it's had 1.75 million downloads since launching last week, but the company didn't reveal how many of those downloads resulted in paid subscriptions.
Disney+ says it now has over 50 million subscribers after launching five months ago.
Netflix continues to be the most-watched streaming service throughout the coronavirus, according to data from Nielsen.
What's next: HBO Max executives say that the service is still on track to launch in May.
7. 1 fun thing: Boomers to Zoomers
Expect more family video chats from grandma and grandpa moving forward, even after stay-at-home orders come to an end.
Driving the news: Passover seders and Easter celebrations across the country prompted several seniors to finally take the plunge and download Zoom.
What the seniors are saying: Nearly a dozen told Axios they absolutely loved the experience.
"We used it on Wednesday night for three seders," says Mike Bovarnick, a 93-year-old retired Boeing executive living outside of Seattle with his wife Ruth, 89.
What their grandkids are saying: Several millennials told Axios about lengthy, painful and comical FaceTime calls with grandparents and parents to walk through the Zoom install process, which usually takes just a few minutes.
"On the second night of Passover, I experienced a new kind of plague — trying (and failing) to get my grandmother onto Zoom for a virtual seder," said Jenny Hurwitz, 30, a general manager of a recruiting company in New York City.
"After spending 57 minutes on FaceTime trying to explain the process (all while checking the brisket and stirring the matzoh balls) we realized it wasn't going to happen and gave up."