Axios Login
July 14, 2023
Ina here, with some pretty big news about the future of this newsletter. Today's Login is 1,180 words, a 4-minute read.
1 big thing: Farewell Login, hello Axios AI+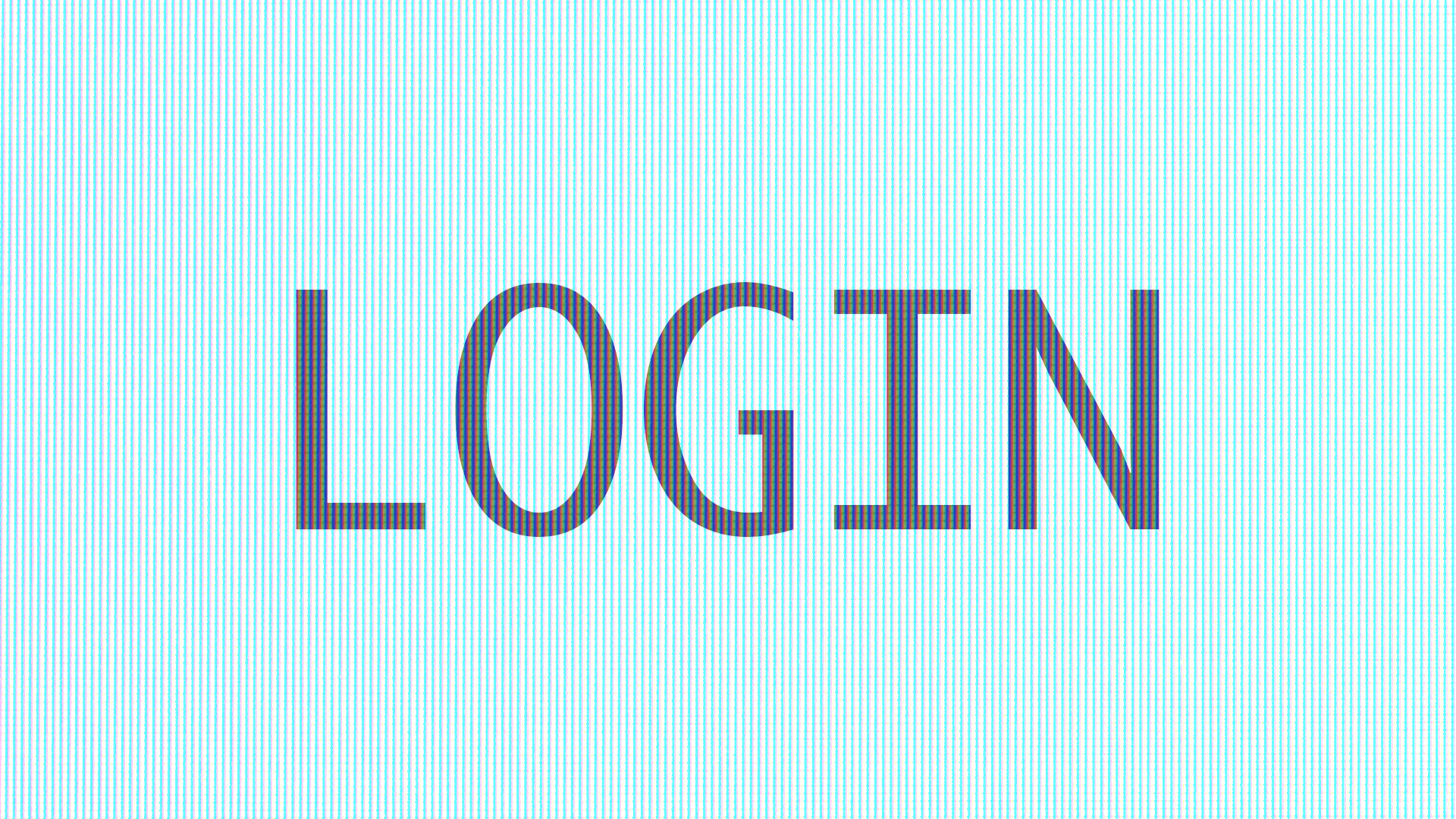 We're changing up this newsletter! On Monday, Login becomes Axios AI+ — as we further ramp up our coverage of a field that promises deep changes on a scale to match those of the smartphone or the internet itself.
Why it matters: Our new name signals the Axios tech team's focus on the industry hurricane that is artificial intelligence.
The big picture: Axios is determined to be your most essential source of information and illumination on how AI is changing life and work: the companies and products it's inspiring, the daily discoveries and applications that are making it ever more powerful, the leaders and minds who are shaping its course, and the many ways its innovations could go awry.
Details: Here are some new regular features you can expect to find:
A new interview series with people at the forefront of AI, called Human Intelligence.
Prompt — reviews of unusual or important new AI products.
Flash Point — features on key collisions and conflicts that arise as AI bumps up against other political, social and economic forces.
Yes, but: Don't worry! Of course we'll continue to cover other major topics in tech, too — visionary new products, social media conflicts, Big Tech's power and efforts to counter it, and more.
In that coverage as well as in our expanding focus on AI, we'll continue to bring our analytical, evidence-based approach to bear, using our trademark Smart Brevity format.
What you're saying: Hit "reply" to this email and tell us what you think and what stories and people you'd like to see us cover.
Customer service note: The newsletter on Monday will come from a new email address, [email protected], so be sure to whitelist us.
2. AP strikes news-sharing, tech deal with OpenAI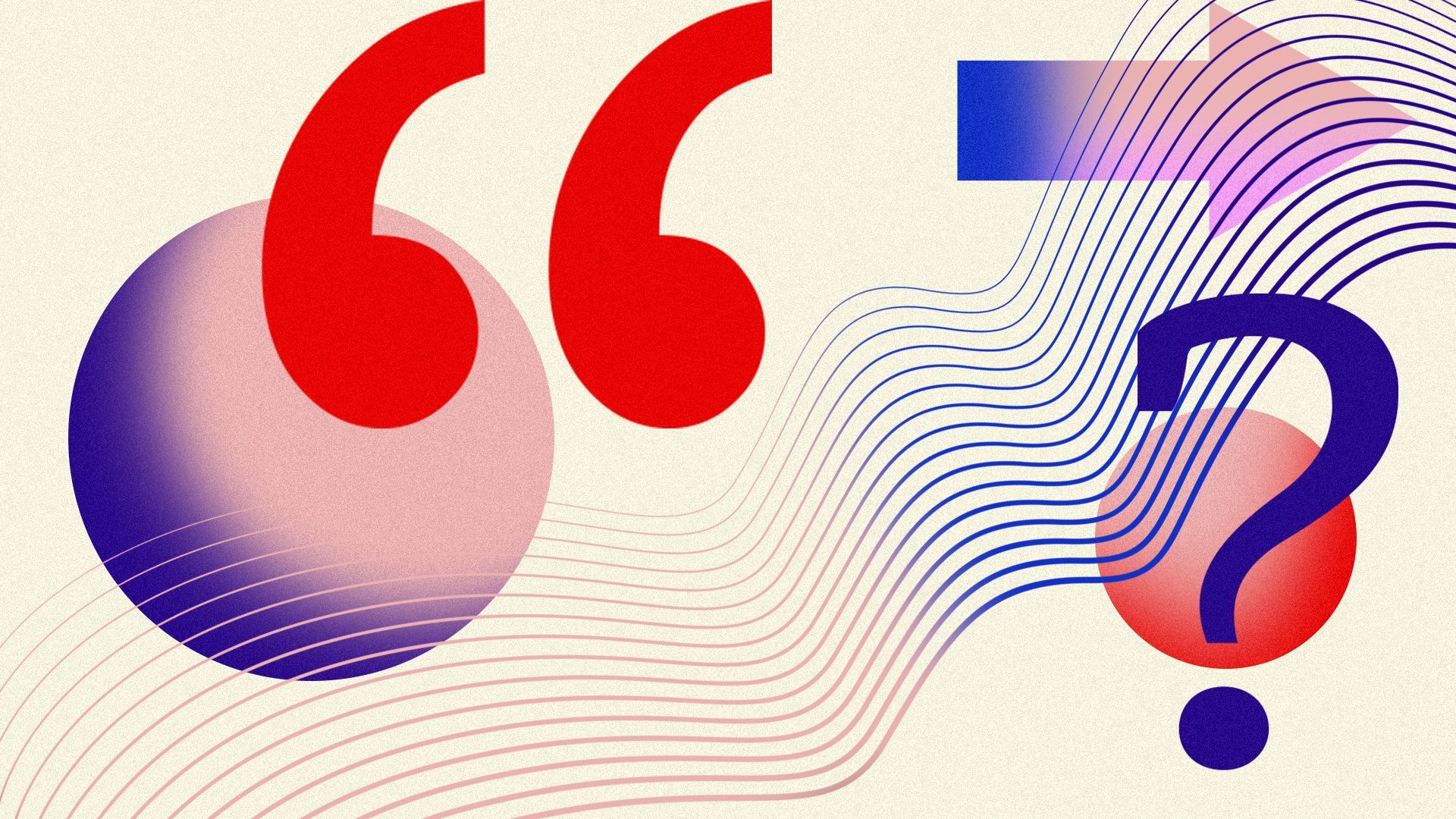 The Associated Press on Thursday said it reached a two-year deal with OpenAI, the parent company to ChatGPT, to share access to select news content and technology, Axios' Sara Fischer writes.
Why it matters: The deal marks one of the first official news-sharing agreements made between a major U.S. news company and an artificial intelligence firm.
Details: As part of the deal, OpenAI will license some of the AP's text archive dating back to 1985 to help train its artificial intelligence algorithms.
The AP will get access to OpenAI's technology and product expertise.
The two firms are still working through the technical details of how the sharing will work on the back end, a spokesperson said.
Brad Lightcap, OpenAI's chief operating officer, said AP's "feedback— along with access to their high-quality, factual text archive — will help to improve the capabilities and usefulness of OpenAI's systems."
Be smart: The AP was one of the first major national news organizations to use automation technology in its news report.
About a decade ago, it began automating corporate earnings reports before later using automation for its coverage of local sporting events.
It has since expanded its use of automation in other parts of the news-gathering and production processes, including helping partner newsrooms adopt automation for coverage of local public safety incidents, and translating weather alerts into Spanish.
Earlier this year, AP launched an AI-enabled search tool that makes it easier for its clients, which are primarily other newsrooms, to access its vast trove of photos and videos using descriptive language, rather than traditional metadata.
Yes, but: The company does not yet use generative AI in its news stories.
The partnership with OpenAI is meant to help the firm understand responsible use cases to potentially leverage generative AI in news products and services in the future.
The big picture: The news industry is grappling with ways to best leverage artificial intelligence to improve output, while also protecting its work from being used to train AI algorithms without permission or compensation.
In striking a deal with OpenAI, AP hopes to be an industry leader in developing standards and best practices around generative AI for other newsrooms.
"AP firmly supports a framework that will ensure intellectual property is protected and content creators are fairly compensated for their work," said Kristin Heitmann, AP chief revenue officer.
"News organizations must have a seat at the table to ensure this happens, so that newsrooms large and small can leverage this technology to benefit journalism," she added.
What's next: Asked whether the AP is working to secure similar deals with other AI companies, like Google, a spokesperson said, "We have longstanding relationships with many technology companies and ongoing dialogue with each about new opportunities."
3. Ina's reflections on the end of Login's run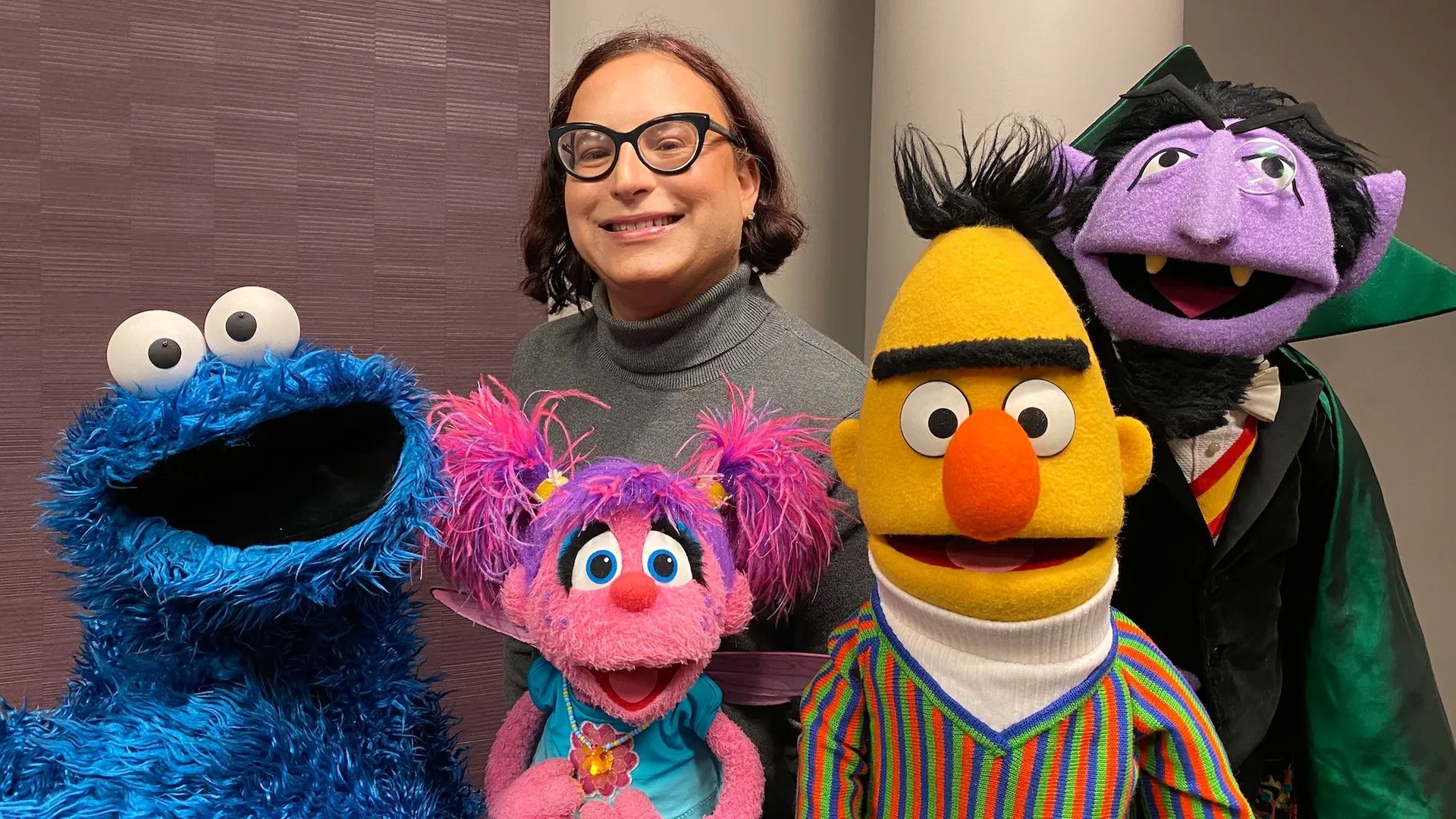 In the very first issue of Login, which arrived in subscribers' inboxes on March 13, 2017, Bill Gates spoke excitedly with me about Microsoft's work in artificial intelligence — and reiterated his warning that the U.S. was not investing enough to be ready for the next pandemic.
Yes, but: While those predictions seem quite prescient, that same interview featured Gates touting the power of virtual and augmented reality, two technologies that have yet to live up to the hype.
We also spilled a lot of ink over the arrival of 5G. And while the next generation of cellular networks is here, it has yet to prove itself the game changer that was promised.
The big picture: I've covered a lot of ground (physically and metaphorically) over six-plus years.
Why it matters: I love technology and there's nothing like getting to be among the first to try out something new, as was the case very recently with Apple's Vision Pro headset.
But to me writing about technology means tempering that enthusiasm with an awareness of its pitfalls: It can isolate as well as connect, and it can automate our human biases.
What's next: I invite you on the next adventure as Ryan Heath and I aim to help you navigate the Next Big Thing, understand both its promise and its pitfalls, and hopefully have more fun along the way.
4. Take note
On Tap
ICYMI
TikTok's popularity shows no signs of waning, even as some users voice concerns about the app's potential threat. (Axios)
Two former Celsius executives including ex-CEO Alex Mashinsky have been indicted and charged with fraud in connection with the crypto lender's collapse. (Axios)
5. After you Login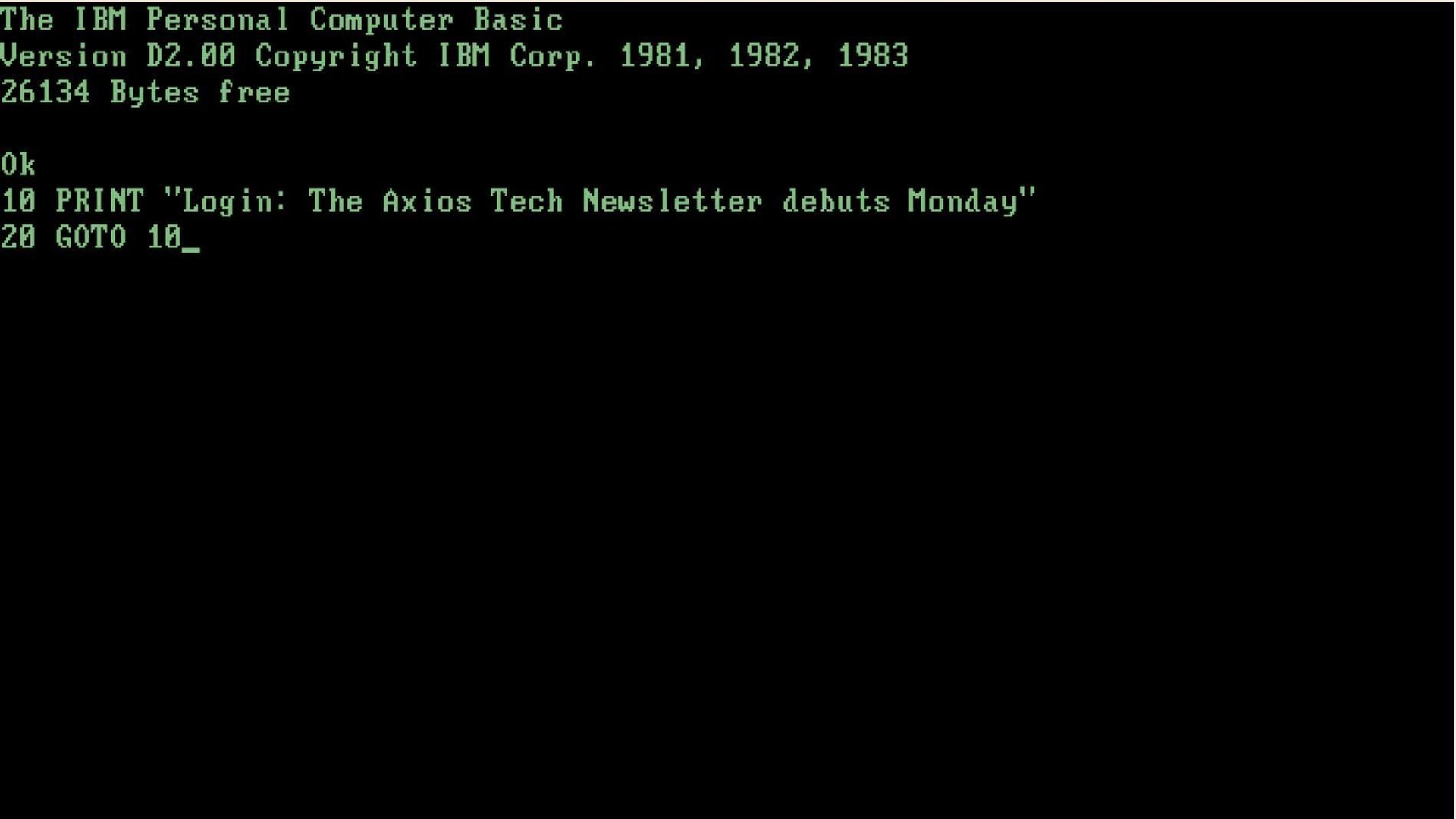 Here is one of several promo images I created ahead of Login's launch. (Even then I was looking backwards as well as forward.)
Thanks to Scott Rosenberg for editing and Bryan McBournie for copy editing this newsletter.
And thanks also to all of the Axios writers and editors who have contributed to Login and all those who will help bring their expertise to Axios AI+ starting on Monday.