AI leaders: Please regulate us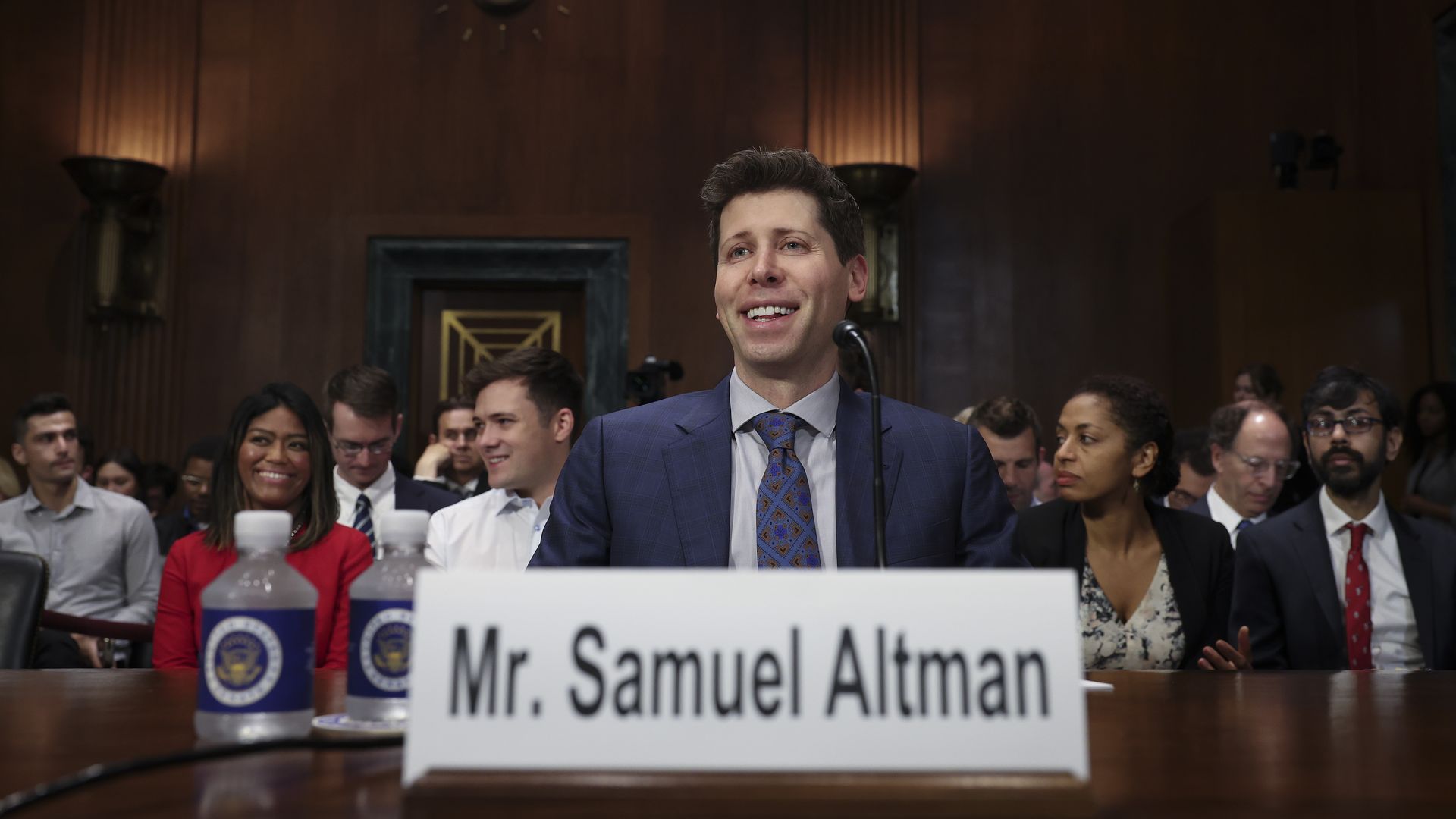 For what might be the first time ever, industry leaders of a new technological revolution are practically begging the government to regulate them — and they still might not get what they want.
Driving the news: A discussion Tuesday between lawmakers and tech executives about the potential misuse of generative AI featured OpenAI CEO Sam Altman urging Congress to enact rules to limit the technology's dangers.
Altman's regulatory wish list: "a new agency that licenses any effort above a certain threshold of capabilities," testing of potentially dangerous AI models before deployment, and independent audits.
Altman appeared before a Senate Judiciary subcommittee, along with IBM chief privacy and trust officer Christina Montgomery and NYU professor Gary Marcus.
What they're saying: "This is your chance, folks, to tell us how to get this right. Please use it," said Sen. John Kennedy (R-La.). "Talk in plain English and tell us what rules to implement."
"This cannot be the era of 'move fast and break things,'" Montgomery said. Her priority: "define the highest risk uses of AI," with existing agencies taking action, rather than wait to commission a new AI-focused regulator.
Marcus argued for safety testing in the style of clinical trials for prescription drugs.
All three witnesses agreed on the need for international bodies to help set standards and monitor AI. Altman offered the International Atomic Energy Agency as a model.
Reality check: AI is still more likely to cause a range of near-term harms than Congress is to regulate to prevent those harms.
Between the lines: In the past tech companies have asked to be regulated in some areas — like privacy — after their products have become controversial or raised a public outcry. The difference with AI is how early in the adoption cycle some companies are calling on government to make rules.
The other side: Some in the industry fear that effective AI regulations today would lock in the AI race's current leaders — including the OpenAI/Microsoft alliance and Google.
Meanwhile, critics outside the industry argue that Congress needs to consult much more widely beyond the ranks of the industry it aims to regulate.
Details: Among the worries raised by lawmakers about generative AI:
Election misinformation, and impersonation of public and private figures.
Job disruption and economic displacement.
Weaknesses in non-English languages, including Spanish.
Copyright and licensing problems.
Dangerous and harmful content.
Flashback: Congress failed to take early action to set rules for social media — a mistake senators said they're determined not to repeat with AI.
"The result is predators on the internet, toxic content, exploiting children, creating dangers for them," said Sen. Richard Blumenthal (D-Conn).
What they're saying: Sayan Chakraborty, co-president of Workday, who sits on the White House's National AI Advisory Committee and built his first neural network in 1989, told Axios: "We do need thoughtful regulation, we do need rules."
"I think people are gonna have to get much more mature about than they are now, where they are taking a vacuum cleaner to the internet, sucking up all this data and not being thoughtful about who's over-represented or underrepresented."
What's next: More AI hearings are on tap, with Sen. Chris Coons (D-Del.) previewing one in July that will look specifically at copyright and patents.
Go deeper