Axios Latino
September 19, 2023
🌞 Welcome back!
👀 Puede leer este boletín en español aquí.
This newsletter, edited by Astrid Galván and Laurin-Whitney Gottbrath, is 1,429 words, a 5.5-minute read.
1 big thing: 🚀 Ellen Ochoa's Minecraft moment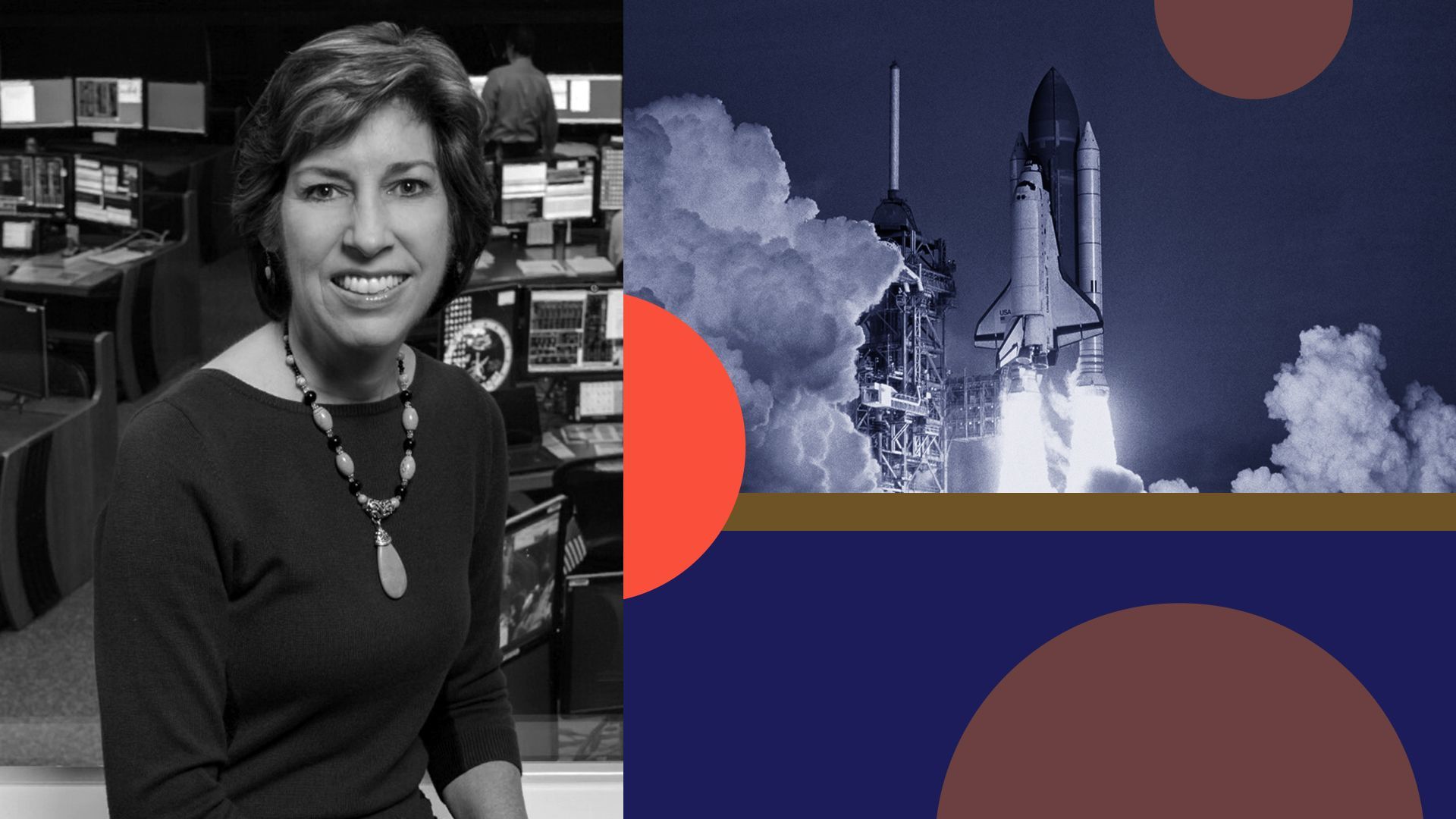 Astronaut Ellen Ochoa, the first Hispanic woman to travel to space, tells Marina she hopes having her life story featured in a video game can motivate more Latinos to explore a STEM career.
Driving the news: Ochoa was added last week as a character in the Minecraft Education suite, a learning version of the block-building game. Other characters include Gloria Estefan and civil rights activist Monica Ramirez.
Ochoa has also been featured in two recently published books about important U.S. Latino figures.
Why it matters: Around 35 million people worldwide are signed up to use Minecraft Education.
What she's saying: Ochoa, the former director of the Johnson Space Center, says many Latino children don't know about the opportunities in STEM fields, but that having role models, mentors and accessible hands-on activities can make a difference.
Students "may not have seen anybody like themselves do something that to them seems sort of incredible if not impossible," Ochoa says.
Background: Ochoa was always interested in science, but says that as a child she did not consider being an astronaut because she didn't see a lot of women or Hispanic scientists.
After getting her doctorate from Stanford University, she applied to NASA and was rejected twice. She was chosen on her third try in 1990.
She became the first Latina to go to space in 1993 when she was part of a nine-day mission aboard the Discovery space shuttle. She went on three other space flights before retiring from space operations in 2007.
Ochoa then became deputy director of the Johnson Space Center, and in 2013 she rose to become the first Hispanic person to be named director.
"We tried to do a lot of things that would help ensure that people of all different kinds of backgrounds were both being hired and getting the opportunity to develop," she says about her time as director.
2. Tracking Latino monuments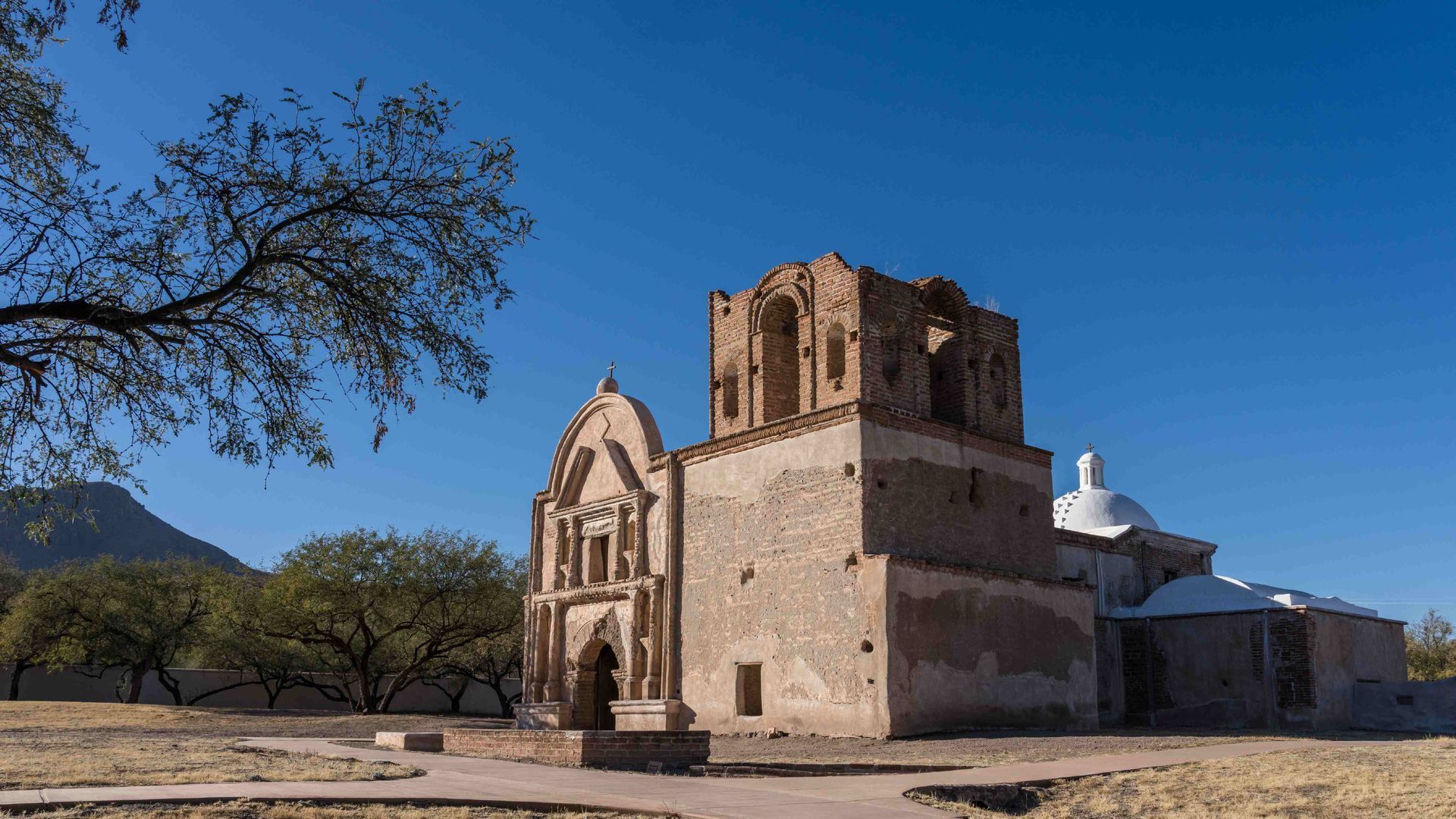 For Hispanic Heritage Month, Axios Latino is showcasing landmarks that spotlight Latino contributions to U.S. history.
Details: The National Park Service lists more than 200 sites on its website that reflect American Latino heritage across the country, Russell writes.
More of the sites are connected to Spanish colonial history, but in recent years, the agency has been adding landmarks about the Latino experience in the 19th and 20th centuries.
Those include the Trujillo Homesteads in Colorado and "The Forty Acres," a parcel of land in Delano, California, that became the headquarters for the United Farm Workers of America (UFW) in 1966.
The intrigue: In response to complaints that Latino sites are hard to locate, the NPS has created a map to help visitors.
The interactive map lets users point to sites and locate hours.
Flashback: An Axios review last year of public monuments and historic sites in the U.S. found few honoring Latinas of history outside of religious figures like La Virgen de Guadalupe or Virgen de la Divina Providencia.
Yes, but: The NPS today lists more sites connected to civil rights than in the past, and the agency is exploring how to save landmarks linked to Black and Latino civil rights.
The agency said earlier this year nine sites in Mississippi connected with the 1955 murder of Emmett Till and the 1964 Mississippi Freedom project fit the requirements for the National Park System.
President Biden in July signed a proclamation to establish a national monument honoring Till and his mother, Mamie Till-Mobley.
3. How Latinos give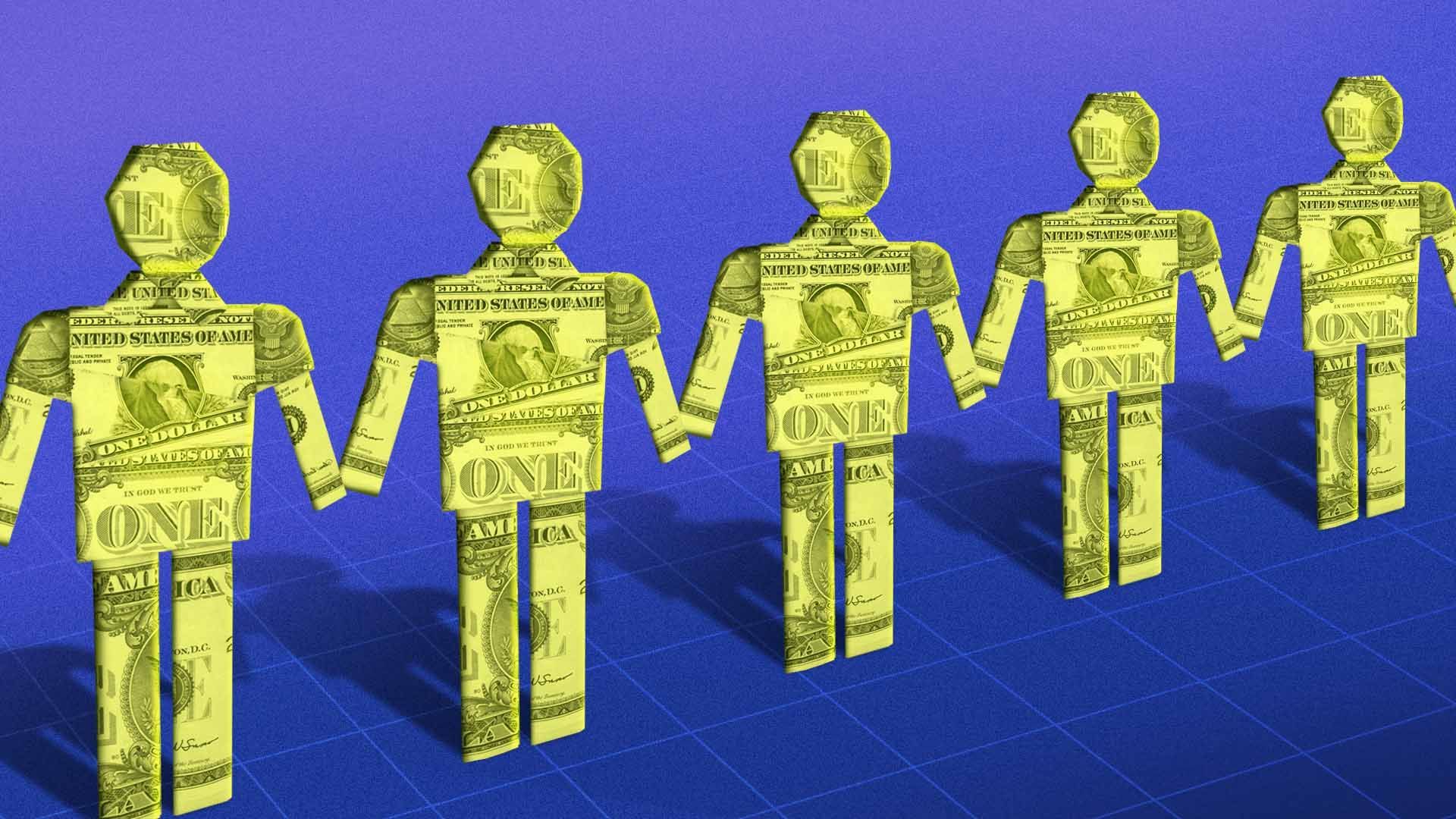 Latinos are more likely to give money to family and friends compared to non-Latino households, a study has found.
Why it matters: As nearly 20% of the U.S. population, Latinos are a multi-trillion-dollar financial force. But researchers know very little about how Latinos participate in philanthropy, Astrid writes.
Details: The study, "Latinx Philanthropy: Understanding Generosity Trends Across Latinx Communities in the US," stems from a collaboration between Hispanics in Philanthropy and Indiana University Lilly Family School of Philanthropy.
It finds that even when controlling for socioeconomic factors such as education level and immigration status, Latinos are more likely to practice informal giving to friends and family than non-Latino households.
In terms of formal giving, the top organizations or causes that Latinos give to are religious congregations; food, shelter and basic necessities; health care and medical research; and education.
In 2018, the last year of available data, 26% of Latino households gave to charitable organizations, compared to 53% of non-Latino ones, according to the study.
What they're saying: The report is helpful for an "overall understanding of the role of Latinos in U.S. society," says Hilda Vega, deputy vice president of philanthropic practice at Hispanics in Philanthropy.
Vega cites remittances from people in the U.S. to Latin America as one example of how Latinos give.
People in the U.S. sent $79.2 billion in remittances last year, per data from the Migration Policy Institute.
"Generally, we can see that Latino generosity has been parallel to other levels of generosity, meaning it went up for a certain time and then it went down during the pandemic," Vega says.
4.🌟 A very wonderful Visionarios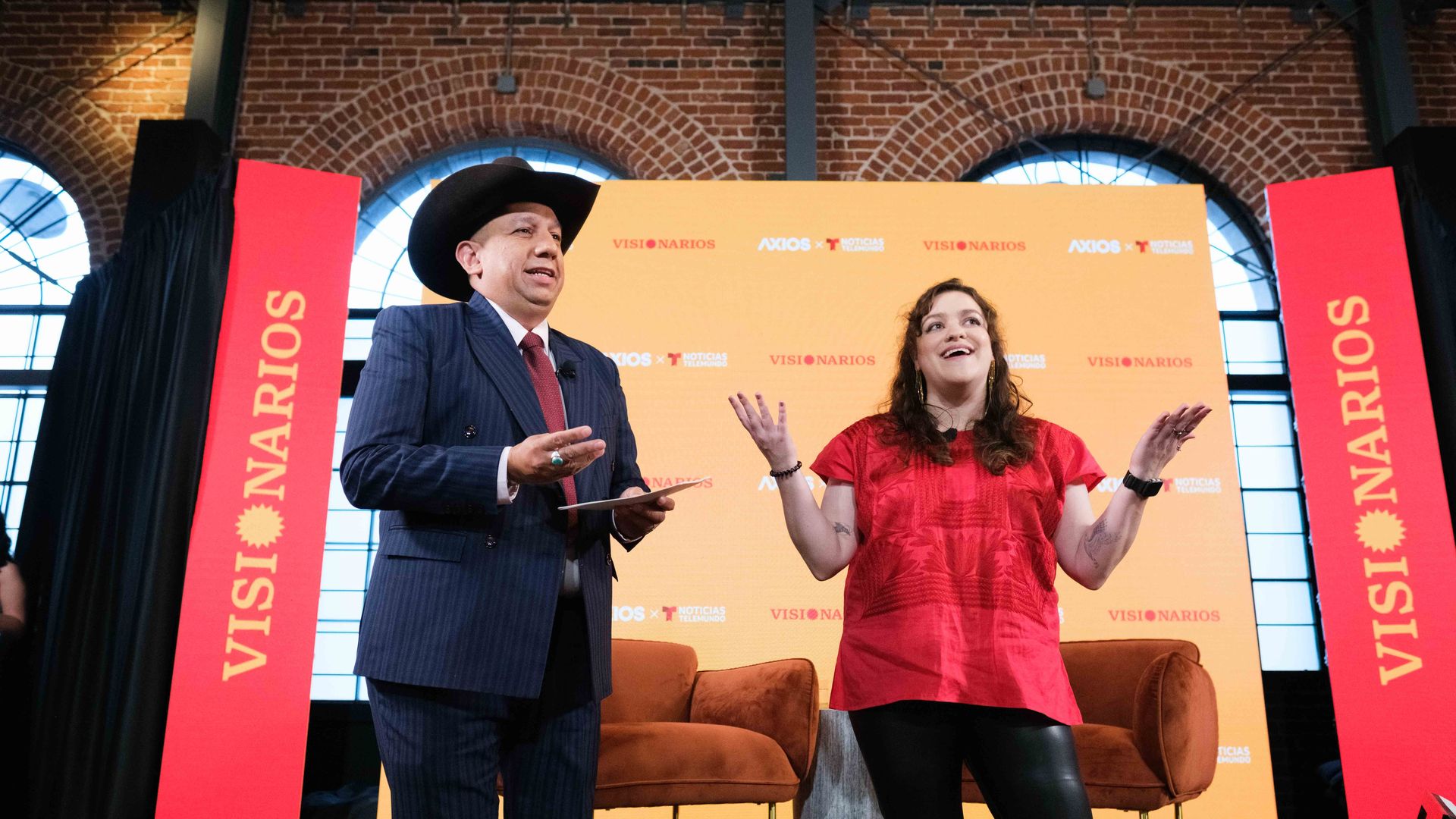 Astrid here. We are so grateful to all of you who showed up at Axios Visionarios 2023 or watched it live online!
Driving the news: It was a pachanga for the ages. Here are some highlights:
Los Angeles Mayor Karen Bass told Russell about her concerns over the treatment of migrants by Republican governors and her city's ability to handle an influx.
Mexican women's flag football team captain Diana Flores talked to me about setting a positive example for little girls everywhere, the issues women in sports face and her advocacy to make flag football an Olympic sport in the 2028 Summer Games.
Hollywood creator, showrunner, producer and actor Gloria Calderón Kellett told Noticias Telemundo anchor Julio Vaqueiro about creating opportunities for Latino writers and about what industry changes would most benefit striking Latino writers.
What's next: We're going to start planning for next year's event soon. Do you have thoughts on what city we should go to? Reply to this email.
5. Stories we're watching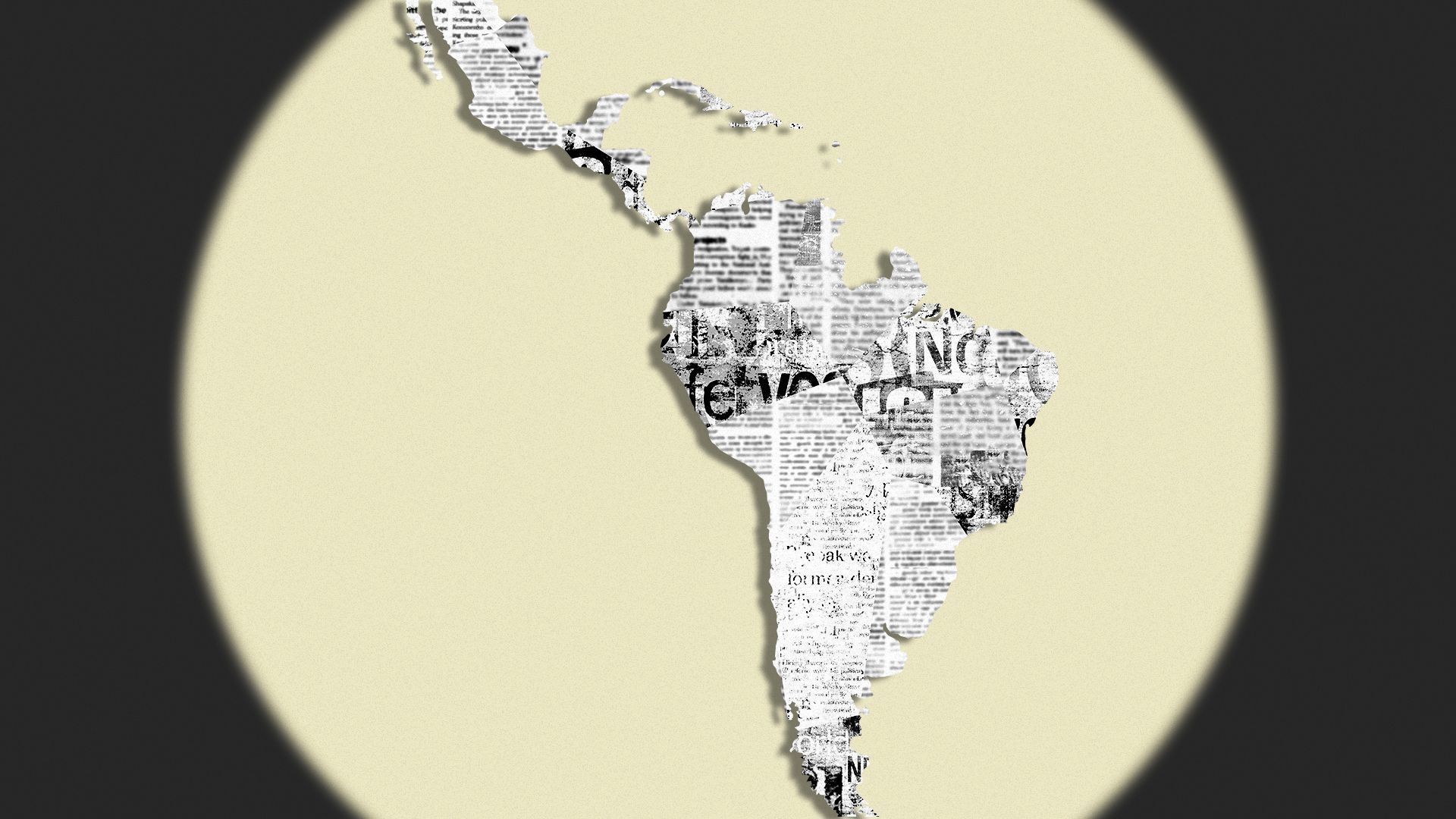 1. The Brazilian Supreme Court on Friday issued its first sentence for one of the rioters who tried to seize several government buildings this January in protest against the inauguration of President Luiz Inácio Lula da Silva.
Sanitation worker Aécio Lúcio Costa Pereira, a supporter of former President Jair Bolsonaro, was sentenced to 17 years in prison after being found guilty of trying to overthrow the government.
Bolsonaro claimed, without evidence, that there were election irregularities leading to his loss, though he has denied accusations that he stoked the rioters.
2. UN authorities asked the Dominican Republic yesterday to reconsider the closure of its border with Haiti, warning it will have a considerable commercial impact on both nations.
Dominican President Luis Abidaner ordered last Friday the closure of sea, land and air borders, arguing that Haitians are building a canal that would divert water from a shared river.
Abidaner has also been building a border wall with Haiti. Both countries share the Hispaniola island.
6.🪅Smile to go: Dale, dale, dale
Piñatas are at the center of new U.S. first-class stamps designed by Mexican-born and U.S.-based graphic designer Víctor Meléndez, Marina writes.
Details: Meléndez says the USPS asked him three years ago to think of stamp designs. He decided to highlight one of the most iconic items from his Mexico City-based childhood, the piñata.
The four stamps were launched for sale last week. Two of them feature piñatas with seven spikes, which are typically used in Mexico around Christmas. Each end represents the seven sins.
The two other stamps feature donkey-shaped piñatas that are popular in the U.S.
This is the third year that the USPS has had Hispanic-themed stamps, following Day of the Dead ones in 2021 and mariachi ones last year.
Huge thanks to Carlos Cunha and Axios Visuals for their help with this newsletter! Sign up here to get us twice-weekly in your inbox.