Axios Generate
November 01, 2023
🐪 Hello Wednesday. Hello November. We're greeting you with a brisk Smart Brevity count of just 1,226 words, 4.5 minutes.
🛢️ Breaking: Senate Majority leader Chuck Schumer and over 20 other Democrats asked the Federal Trade Commission to launch antitrust probes of the Exxon-Pioneer and Chevron-Hess deals.
🎂 Happy birthday to Red Hot Chili Peppers frontman Anthony Kiedis, whose voice animates today's intro tune...
1 big thing: New tie-ups show carbon removal's evolution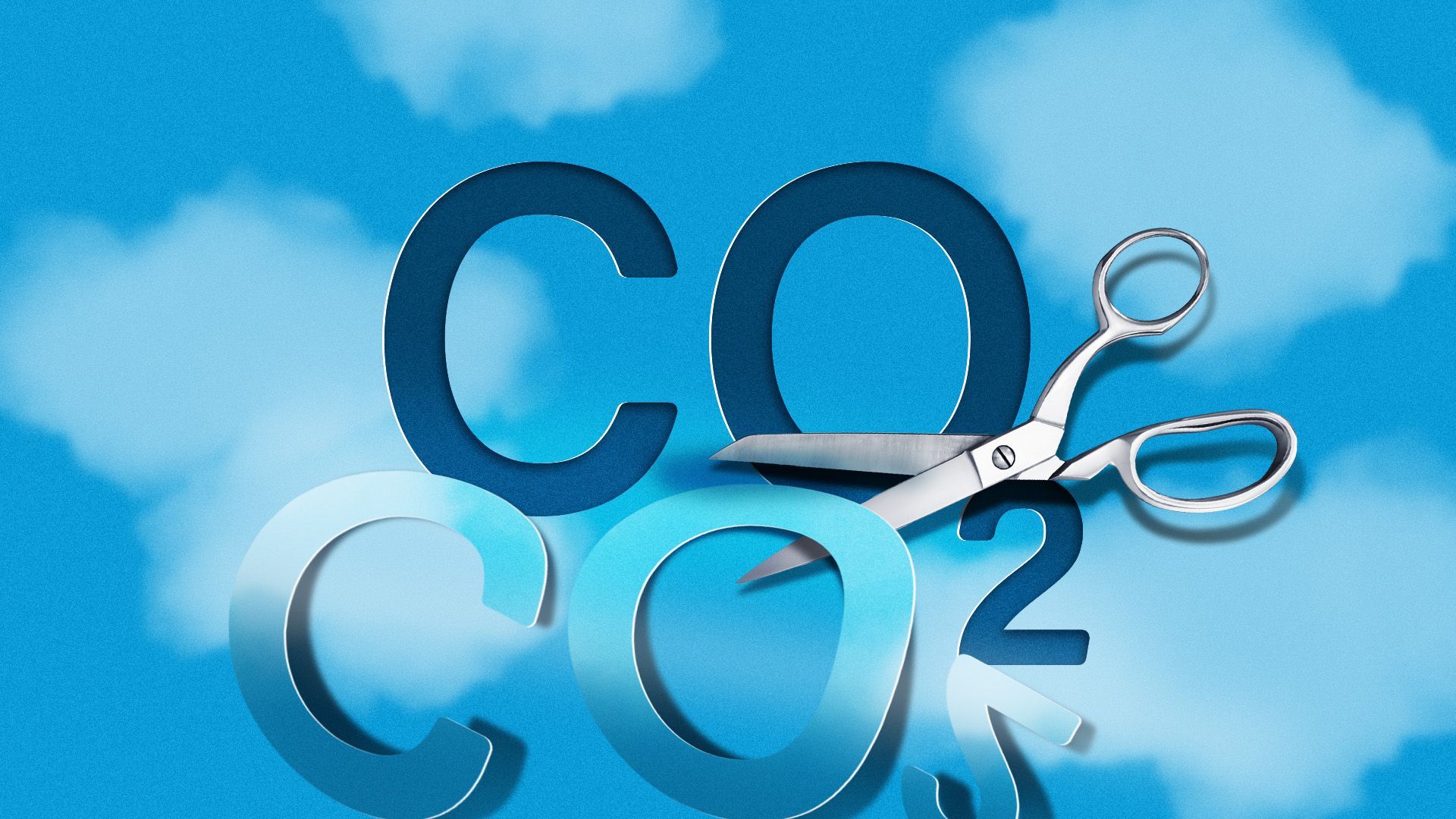 Two pieces of carbon removal news this morning provide a snapshot of the young industry's evolution, Ben writes.
Driving the news: Captura, a Caltech spinout, is partnering with energy giant Equinor on a pilot plant in Norway.
Why it matters: They hope the initial 1,000-metric-ton-per-year effort creates a "launchpad to build large-scale, commercial plants in key regions around the world."
How it works: Captura uses renewables to power a method called electrodialysis that ultimately results in removal of carbon dioxide from ocean water.
That leaves the water absorbing more CO2 from the atmosphere.
What's next: This pilot's CO2 will help test storage systems at Northern Lights, a major planned capture, transport and subsea sequestration initiative led by Equinor, Shell and TotalEnergies, according to Captura.
Equinor and Captura have initially committed $15 million to their partnership, with most coming from the former.
Catch up fast: Captura is among many companies with various marine removal technologies — an area also receiving Energy Department support.
It announced a $12 million Series A round in January and tells Axios it's slated to reveal more finance soon.
Meanwhile, two carbon management tools — direct air capture (DAC) and embedding CO2 in building materials — are going the Reese's route.
This morning, DAC company Heirloom and CarbonCure, a startup that injects CO2 into concrete during mixing, extended their partnership through 2025. Costs were not disclosed.
State of play: The deal expands the "DAC-to-concrete storage pathway" they demonstrated earlier this year, when CO2 captured by a California Heirloom facility was used in concrete for construction projects in San Jose, they said.
Heirloom is also part of DOE's big DAC "hubs" program and recently struck a deal to provide removal services to Microsoft.
The bottom line: Carbon removal volumes remain tiny today, and it will likely take several approaches to achieve scale.
2. Storm Ciarán rapidly intensifies, heads toward UK, France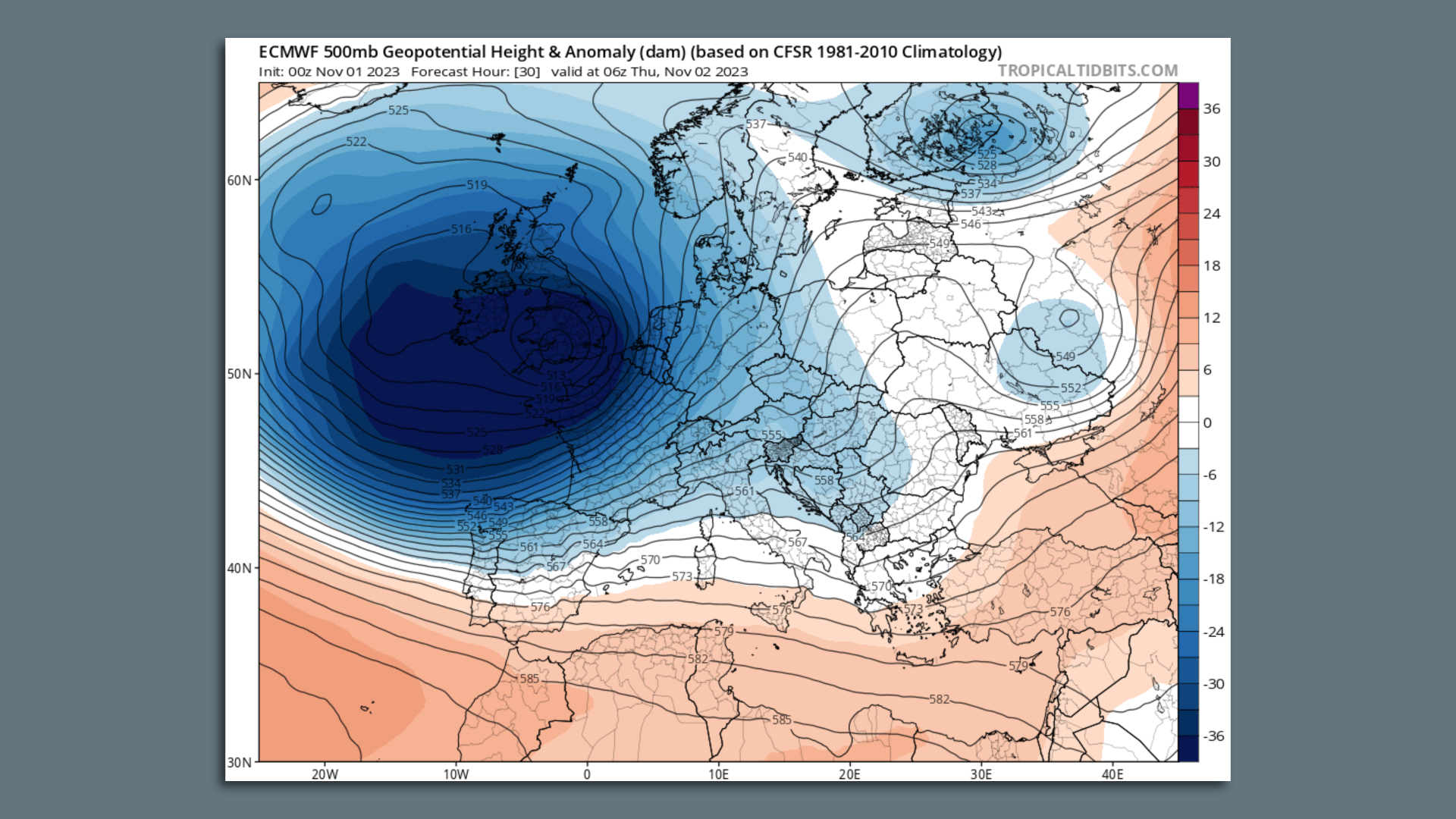 A rapidly intensifying and unusually powerful storm is poised to bring heavy rains and damaging winds to portions of Western Europe Wednesday night and Thursday, Andrew writes.
Driving the news: Dubbed Storm Ciarán by the U.K. Met Office, the storm is beginning to strengthen over the North Atlantic Ocean, fueled by extremely strong jet stream winds of up to 200 mph.
Between the lines: Based on computer model projections, the storm could set records for the lowest air pressure readings recorded in this region, as it reaches maximum intensity Thursday while it crosses the southern U.K.
In general, the lower the air pressure, the stronger the storm.
The tight pressure gradient will bring the threat of hurricane-force winds of up to 90 mph to the U.K. and 100 mph across the English Channel into northwestern France, where alerts are in effect for "violent" winds.
Threat level: Storm Ciarán comes after powerful Storm Babet struck some of the same regions last week, leading to significant flooding in the U.K. in particular.
Amber warnings, the second-highest alert level, are in effect for parts of the U.K.'s southwest and south on Thursday.
"Flying debris could result in a danger to life," the warnings state.
A phenomenon known as a "sting jet," which leads to localized peaks in wind speeds, may form and affect northwestern France.
3. Offshore wind's rough patch gets even worse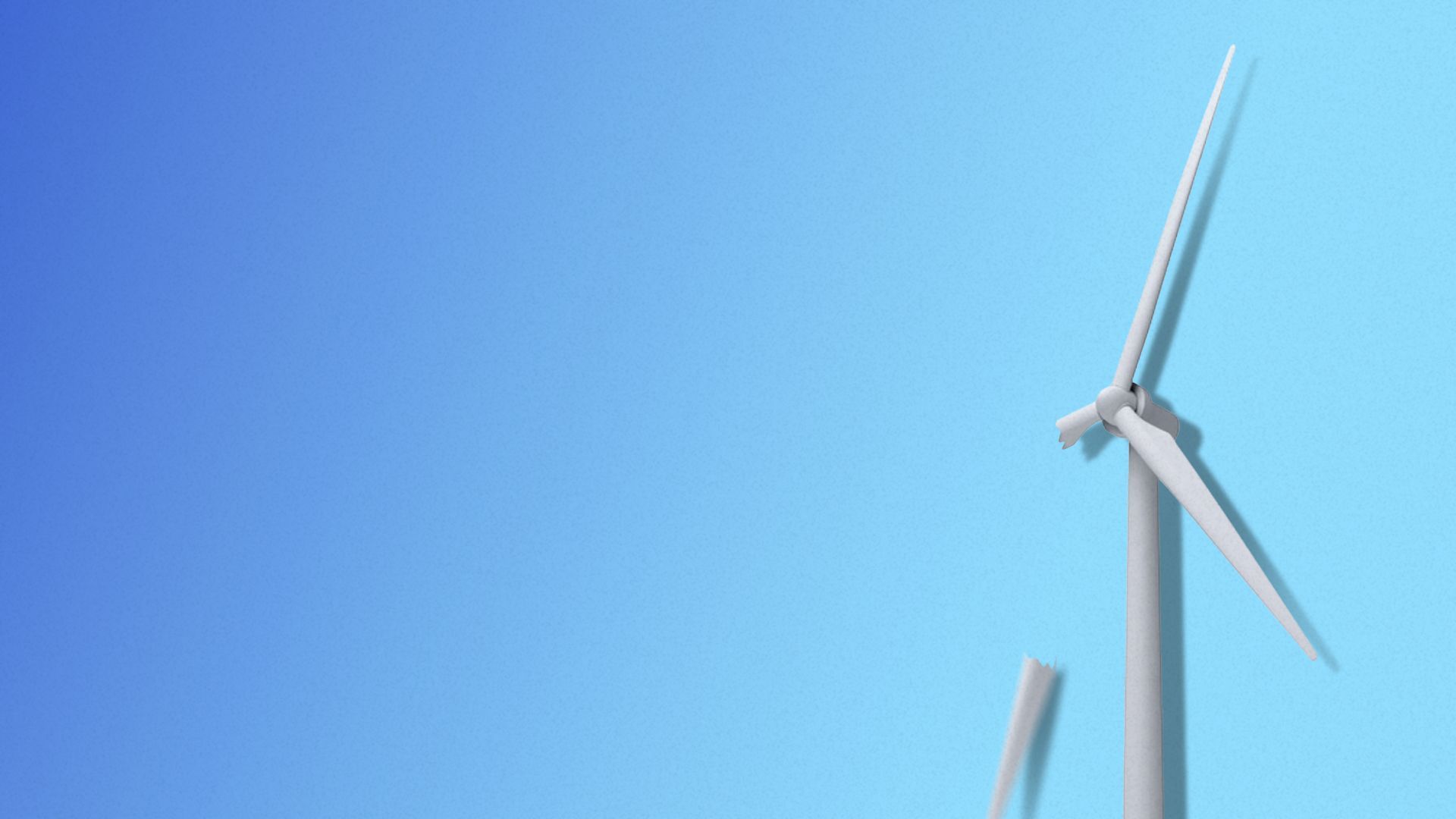 We've now got the starkest evidence yet of the headwinds buffeting the U.S. offshore wind buildout, Ben writes.
Driving the news: Wind giant Ørsted last night abandoned plans for major coastal New Jersey projects, called Ocean Wind 1 and 2.
Economic conditions "changed dramatically," the company said, citing inflation, interest rates and supply chain bottlenecks hitting the 2.2 gigawatt plan.
Why it matters: Offshore wind can help the U.S. decarbonize its power mix.
But a White House goal of 30 gigawatts of capacity in place by 2030 faces mounting setbacks.
State of play: Several developers are reconsidering or delaying Atlantic Coast plans as project economics worsen.
Yes, but: There's momentum elsewhere.
Ørsted, which is planning and building several U.S. projects, made a final decision to build the 704 megawatt Revolution Wind project off Rhode Island and Connecticut.
The Interior Department yesterday approved Dominion Energy's 2.6 GW Coastal Virginia Offshore Wind project — the largest yet greenlit by regulators.
Go deeper: Axios' Rebecca Falconer has more on Ørsted's decision.
4. The weather forecasting AI race is on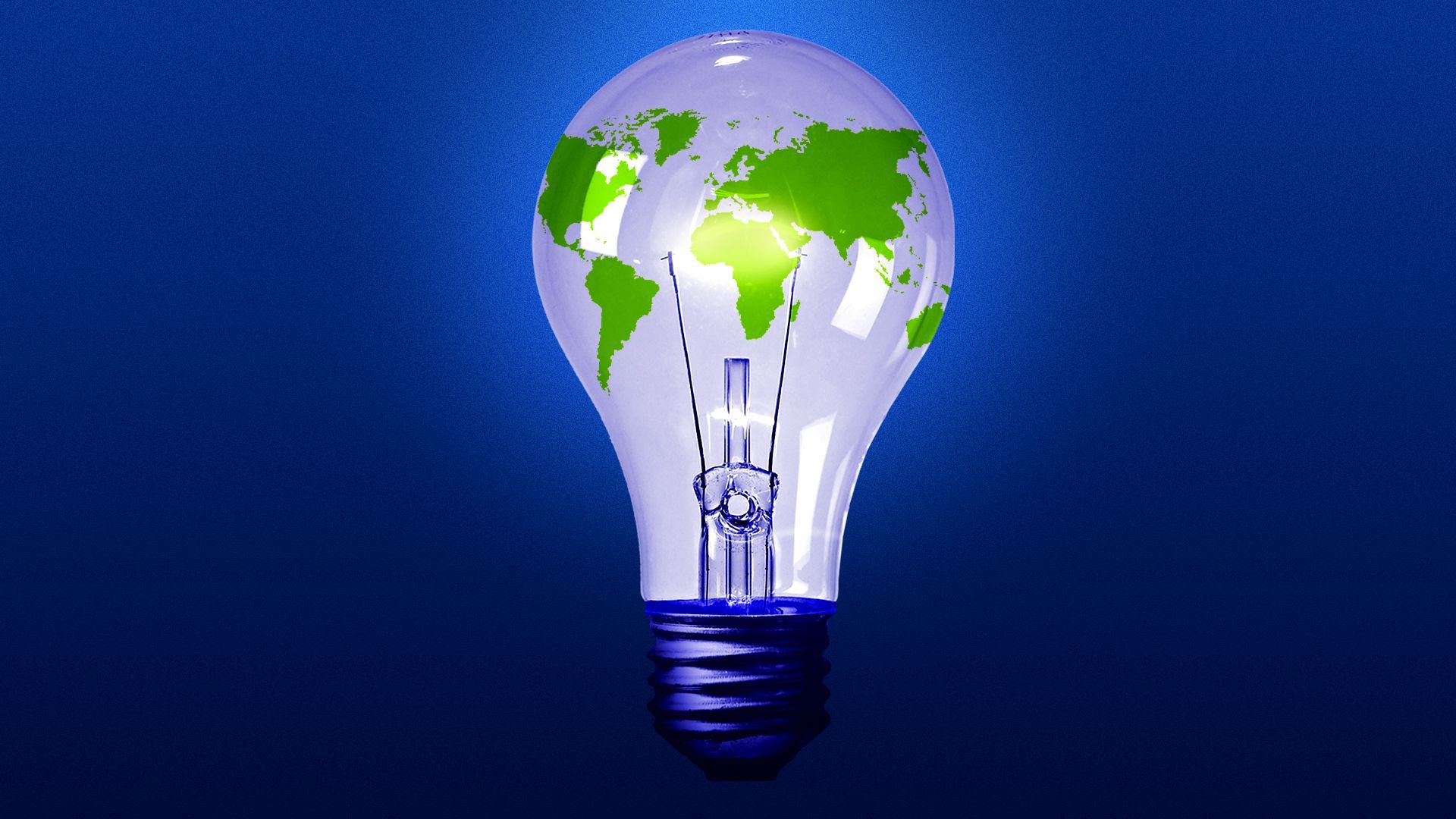 An international competition over implementing artificial intelligence for more accurate weather forecasts is starting to take shape, Andrew writes.
Driving the news: The U.K. Met Office, which already runs one of the top weather forecast models in the world, announced a new partnership on Tuesday with the Alan Turing Institute to develop highly accurate, lower-cost forecast models using machine learning and AI techniques.
Yes, but: There is a risk of AI-driven advances being oversold. Many weather models already use some machine learning techniques. Skeptics of AI-generated weather and climate models say they are essentially black boxes.
5. Climate philanthropy stalled last year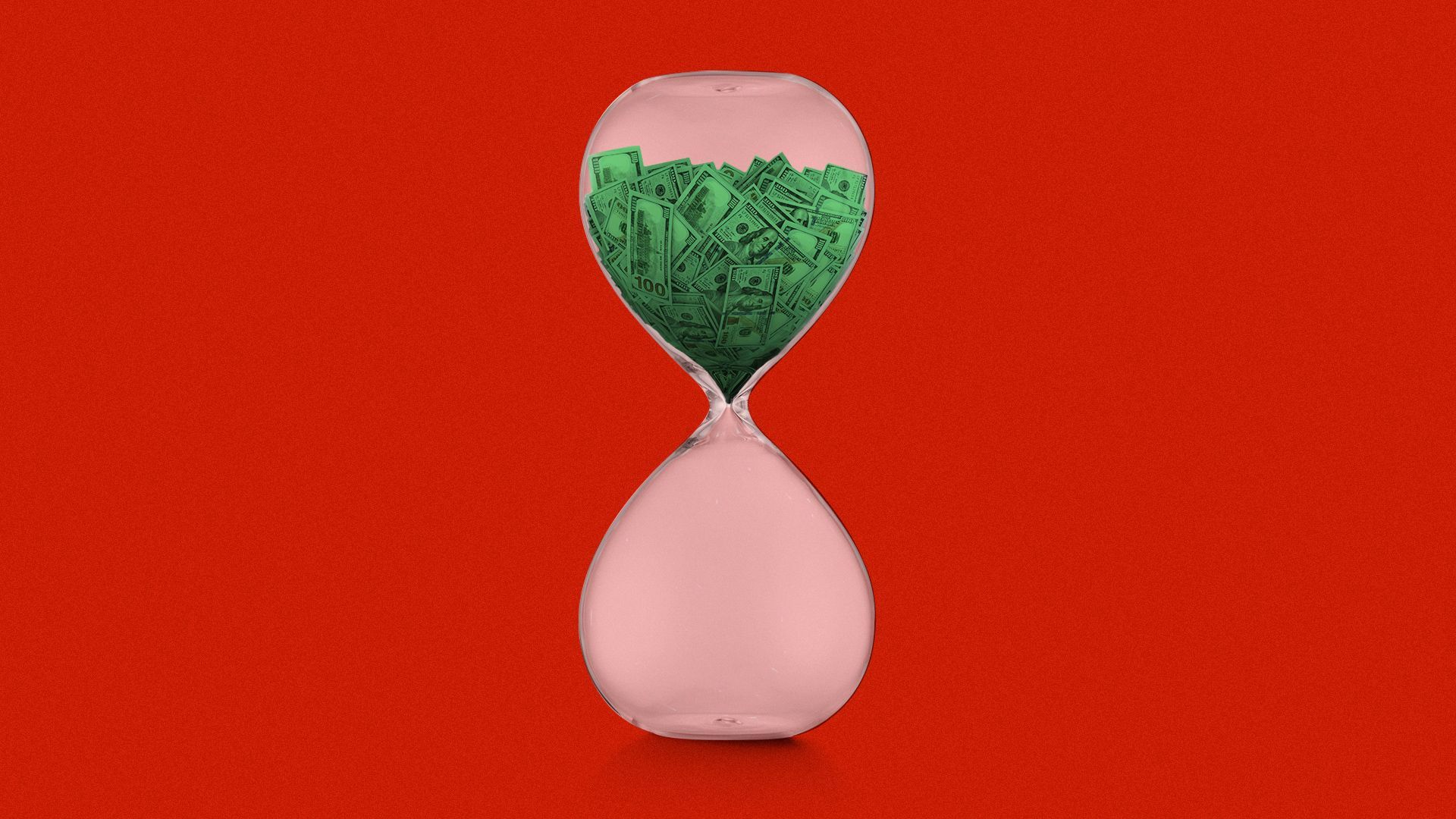 A new analysis shows that total philanthropic giving by foundations and individuals to emissions reduction efforts remained essentially flat from 2021 through 2022, Andrew writes.
Why it matters: In addition to the growing low-carbon economy, philanthropic giving is a major source of support for emissions cutting, as well as climate adaptation.
The big picture: 2023 is on the way to becoming the hottest year on record globally, and new data suggests that the world may only have about six years of present-day emissions rates before the Paris Agreement goal of limiting warming to 1.5°C is surpassed.
Given this reality, scaling up philanthropic support for climate programs is sorely needed, said ClimateWorks CEO Helen Mountford, whose organization publishes the annual data.
Total giving added up to about $811 billion in 2022, ClimateWorks found, of which between $7.8 to $12.8 billion was focused on climate change mitigation.
Between the lines: The flat trend in spending from 2021 to 2022 can be traced to large boosts during the previous year, as well as challenging economic conditions.
Clean electricity was still the biggest category for foundation funding, but 2022 saw a spike in money for reducing emissions of super pollutants like methane and to decarbonize transportation.
6. Charted: An EV investment milestone
A new tally shows announced investments in the North American EV supply chain since passage of the 2022 U.S. climate law have topped $100 billion, Ben writes.
Why it matters: The law includes major incentives for domestic battery manufacturing — the largest slice of the $100B in research firm BloombergNEF's analysis.
State of play: The total includes Toyota's new $8B investment, announced Tuesday, to expand capacity at its battery manufacturing plant under construction in North Carolina.
7. 🏃🏽‍♀️ Catch up fast on policy: Interior edition
President Biden's choice for the No. 2 job at the Interior Department could bring new tensions over oil drilling on public lands, Ben writes.
Driving the news: He tapped Laura Daniel-Davis as acting deputy secretary to replace Tommy Beaudreau, who recently left the role. Davis moves into the gig after serving as principal deputy assistant secretary for land and minerals management.
The intrigue: Beaudreau, who easily won bipartisan Senate confirmation, was seen as a relatively moderate voice. But Daniel-Davis has received pushback in Congress and never received a confirmation vote.
What they're saying: Sen. John Barrasso, the top energy committee Republican, alleged she has "continually blocked access to important minerals and restricted oil and gas leasing on federal lands."
The other side: Nicole Gentile of the Center for American Progress said Daniel-Davis can "deliver on the president's vision of conserving public lands and wildlife," expanding outdoor access and working with tribal groups.
Did someone forward you this newsletter? Welcome, and please sign up.
🙏 Thanks to Chris Speckhard and Javier David for edits to today's edition, along with the talented Axios Visuals team.