Deadly Storm Ciarán lashes Europe with heavy rain and flooding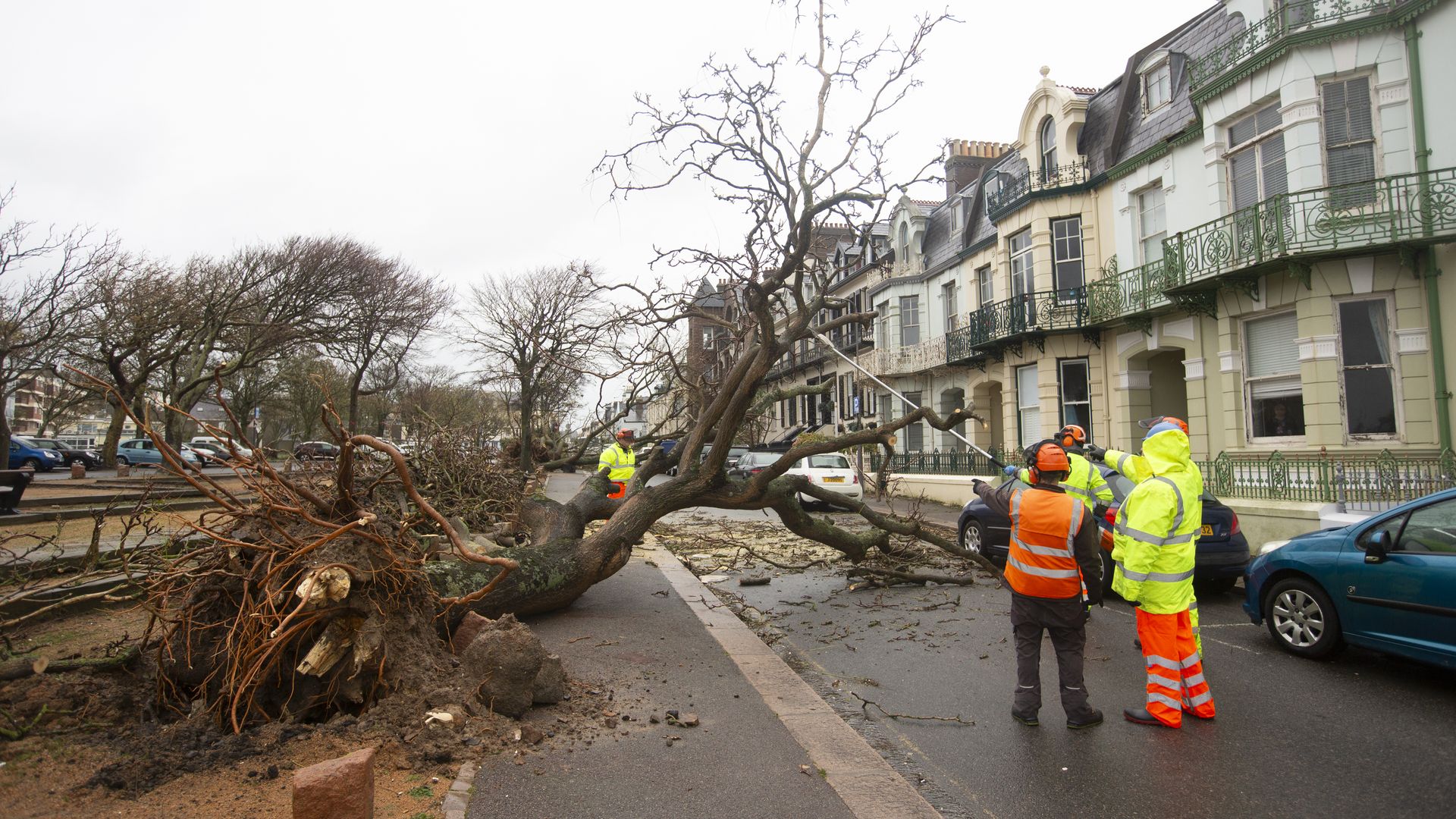 A record-setting storm lashed the U.K., France and Italy with heavy rains, powerful winds and flooding on Thursday, with its deadly effects extending into other parts of Western Europe.
The latest: At least 12 deaths across Europe have been tied to the storm as of Friday evening local time, according to multiple reports.
The greatest weather impacts were felt in southwestern England, the U.K. island of Jersey in the English Channel, northwestern France and Italy's Tuscany region.
Large areas of Tuscany were hit by record rains and heavy flooding that swept away cars, shutdown highways and knocked out power to thousands of homes and buildings.
Power outages and downed trees were reported in Brittany, France's northwesternmost region, and 82 flood warnings were in effect in the U.K. due to the storm.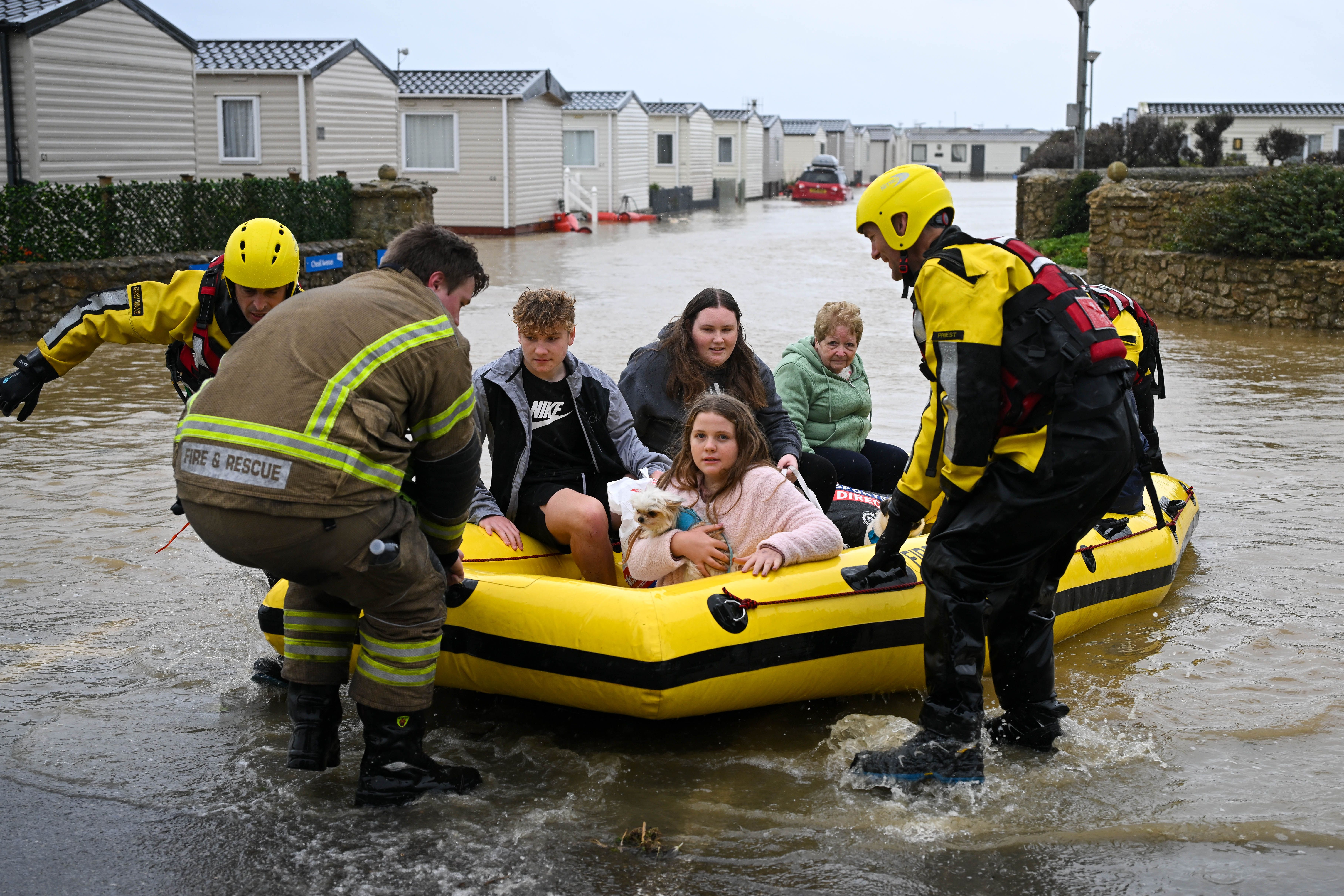 The big picture: Dubbed "Storm Ciarán" by the U.K. Met Office, the storm rapidly developed over the North Atlantic Ocean, aided by a cold front and powerful jet stream winds of up to 200 mph.
Its rate of intensification qualify it as a bomb cyclone, as its minimum air pressure plunges.
Between the lines: The storm set a record for the lowest mean sea level air pressure on record in England and Wales during the month of November. The record in England dated back to 1916, according to the Met Office.
The tight pressure gradient associated with Storm Ciarán brought hurricane-force winds of up to 100 mph to southern reaches of the British Isles, and even more intense winds, across the English Channel into northwestern France, where alerts were in effect for "violent" winds.
Along the coast of southwest England and western France, wave heights of up to 50 feet have struck coastal areas and caused flooding.
State of play: Storm Ciarán followed intense Storm Babet, which struck some of the same regions last week, leading to significant flooding in the U.K. in particular.
A red warning, the highest alert level, was in effect Thursday for Jersey, which is located near France, where winds of up to 102 mph were recorded.
Amber warnings, the second-highest level, were downgraded across affected parts of the U.K to the lowest warning level, yellow, by the evening.
In France, the country's weather agency issued three red warnings for parts of the northwest because of the threat of violent winds and 30 amber alerts across much of the rest of the country due to risks from an inundation of rain and coastal flooding, among other hazards.
By the evening, amber warnings remained in effect for six administrative regions in northern and southwestern France.
MétéoFrance reported wind gusts of up to 120 mph in Brittany, noting that records had been set. This may have been related to a phenomenon known as a "sting jet," which leads to localized peaks in wind speeds, and tend to be located to the southwest of deepening low pressure areas.
Context: A mix of ingredients fueled Ciarán, including a powerful, 200-mph jet stream at about 30,000 feet above the surface, an initial area of low pressure along a cold front and record-warm North Atlantic waters.
Unlike hurricanes, which feast off of very warm waters, non-tropical storms like Ciarán thrive off of sharp contrasts in air masses across short distances.
Editor's note: This story has been updated with additional developments.
Go deeper