Axios Generate
November 07, 2019
Good morning! Today's Smart Brevity count: 1,228 words, ~ 4.6 minutes.
Axios' Amy Harder joined the Climate Pod podcast to talk about the Paris Agreement and her latest column. Listen here. 
And at this moment in 1980, Bruce Springsteen was about to hit #1 on Billboard's album charts with "The River," so an A+ Clarence Clemons moment brings us into the news...
1 big thing. Chart of the day: Distributed solar
A new Energy Department report lays out how solar PV systems are getting bigger and better over time.
Why it matters: The Tracking the Sun report underscores how an important part of solar's growth and evolution isn't just the increasing number of systems, but also their design and scale.
What they did: The annual Lawrence Berkeley National Laboratory analysis explores distributed systems — the stuff installed at homes and businesses, as opposed to centralized utility-scale projects.
Where it stands: One conclusion is that system sizes have been growing and getting more efficient. In the residential sector, the median system has nearly tripled this century to 6.4 kilowatts as of last year.
"Those trends partly reflect increasing module efficiencies, as many residential systems are space-constrained based on available roof area," they note.
In the commercial and industrial space, the median system went from 7 kilowatts in 2000 to 47 kilowatts in 2018.
Larger systems have become more common as "a broader set of non-residential customers become comfortable with the technology and as developers and investors seek out projects offering higher returns."
* * *
Speaking of electricity, Google and the big multinational power company AES Corp. yesterday announced a 10-year "strategic alliance" to speed renewables growth by "leveraging Google Cloud technology to pioneer innovation in the sector."
Go deeper: Google and AES Announce Cloud-Based Partnership for Clean Energy (Greentech Media)
2. A growing oil industry divide
A pair of analyses are laying bare the divide between major oil companies and their smaller peers.
Driving the news: A new Rapidan Energy Group note explores plans by Democratic White House hopefuls to thwart oil-and-gas development on federal lands and waters.
A Democratic president "would likely halt virtually all new federal leases via executive order on day 1," they write, while also noting likely efforts — albeit ones less likely to be implemented — to block projects on existing leases.
Why it matters: These areas account for 24% of U.S. crude oil production, and Rapidan also notes that the policies would "negatively impact investor sentiment and plans for future growth on private lands."
What they're saying: To my point above, this hardly affects everyone equally. "While Democrats like to swing at 'Big Oil' the washout of these policies would disproportionately impact smaller producers," Bob McNally, Rapidan's president, tells Axios.
Quick take: It's majors and huge independent players that have more options internationally if the U.S. playing field gets tougher, while they're also more equipped to handle new domestic regulations.
Driving the news, part 2: There's a growing shale patch divide between oil giants' appetite for growth and what's happening with smaller and independent players.
Let's spend a little more time with new forecasts from IHS Markit. Yesterday I wrote about how they see very slow U.S. production growth next year and then a flattening out in 2021.
But, but, but: The majors aren't dealing with the same financial pressures and reliance on capital markets as independents.
Last week's Q3 earnings presentations of Exxon and Chevron, which both have acquired lots of Permian acreage, show steep production increases there into the mid-2020s.
What they're saying: "IHS Markit does not see the current price environment as a threat to the majors' shale plans — they will increasingly drive new Permian volumes," IHS analyst Raoul LeBlanc said.
More broadly, they see the majors growing from roughly 15% of U.S. onshore production now to around 20% in 2023.
What's next: "Robust majors' spending will increasingly drive incremental growth in the Permian. But it will not significantly offset the effect of the independents' newfound austerity," he notes.
(Hat tip: A tweet about the IHS report from Bloomberg's @catkngai inspired me to lay this out.)
The big picture: On top of all of this, the big players are better equipped to navigate in a world that could become much more serious about reining in emissions.
The majors have been increasing their investments in areas like renewables and electricity services, EV charging, carbon removal, and more, although it's still a very small fraction of their overall fossil fuel business.
"Majors and large independents have the capacity to transition to becoming energy companies, not just oil and gas companies, more than other oil companies do," said Jason Bordoff, head of a Columbia University energy think tank.
3. Volvo's batteries and Tesla's pickup
Volvo says it's working with suppliers to bring "global traceability" of cobalt used in EV batteries through the use of blockchain technology.
Why it matters: Cobalt is a key material in batteries, but its extraction — largely in the Democratic Republic of the Congo — is linked to human rights abuses and dangerous conditions.
The big picture: Demand for the material is set to grow as automakers roll out more and more EV models in the coming years — including Volvo, which unveiled its first fully electric car last month with more on the way.
Where it stands: Volvo said the use of the digital transaction technology "boosts transparency of the raw material supply chain as the information about the material's origin cannot be changed undetected."
The company said it has reached agreements with its two main battery suppliers, CATL and LG Chem, to implement the "traceability" this year. Tech companies including Oracle and IBM are involved in the effort.
Go deeper: Volvo Cars Goes for Blockchain Tech to Avoid Unethical Cobalt (Bloomberg)
* * *
Speaking of EVs, The Verge reports: "Tesla will finally unveil its long-awaited electric pickup truck on November 21st, Elon Musk tweeted on Wednesday. The truck, which Musk has dubbed 'Cybertruck,' is supposed to look like something straight out of Blade Runner, the CEO has said."
4. Poll: Iowa voters care about climate
The latest Quinnipiac University poll of Iowa voters released yesterday finds that Democrats care about global warming, but it's not their top priority.
What they found: 34% of likely caucus attendees list health care as the most important topic when deciding who to support, but climate is next at 24%. Then it's the economy at 11%, and foreign policy and education each at 8%.
Why it matters: The Iowa caucus, which is the first contest in the Democratic White House race, is less than three months away. The survey of 698 likely caucus attendees has a margin of error of +/- 4.5%.
5. What they're saying: Trump's Paris exit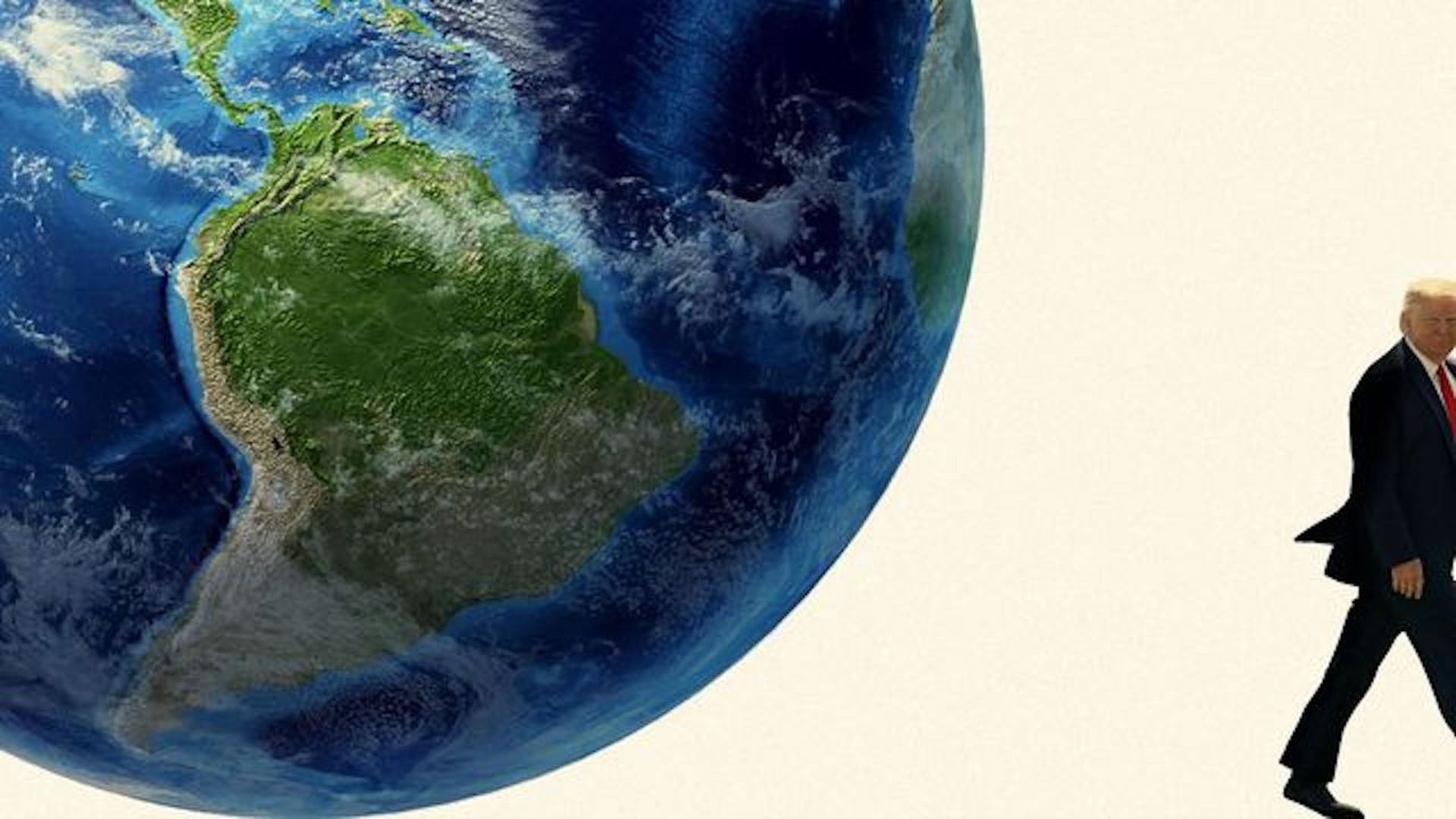 The Trump administration's formal notice of its intent to abandon the Paris Climate Agreement drives another nail in the coffin of U.S. ambitions to fight climate change and pushes the world closer to a less stable future, writes Axios Expert Voices contributor Alice Hill.
Why it matters: Because the U.S. ranks as the second-largest contributor to greenhouse gas emissions, its retreat from the global battle against climate change exacts a heavy toll.
This decision weakens pressure on other countries to reduce emissions at a time of rising global temperatures and atmospheric carbon concentrations higher than at any point in human history.
Where it stands: The U.S. announcement has not caused much outcry abroad, expected as it was. Nor has it yet kept other countries from continuing to join and honor the Paris agreement.
Yes, but: It has branded the U.S. as a global outlier and risks weakening the resolve of other nations to cut their own emissions as part of the voluntary agreement.
Meanwhile, federal recalcitrance has inspired businesses and local governments to redouble their own climate efforts. Hundreds of cities, as well as some 17 states and territories, have vowed to honor the country's Paris accord commitments, potentially meeting two-thirds of promised American reductions.
Alice Hill is senior fellow for climate change policy at the Council on Foreign Relations, former senior director for resilience policy on the National Security Council and co-author of "Building a Resilient Tomorrow."