🇨🇭 Good Monday morning from newly snowy Davos, in the Swiss Alps, where President Trump is to address global elite later this week, depending on the shutdown.
When you register, you get complimentary snow cleats for your heels.
The Financial Times' Gideon Rachman says Trump's speech will be the World Economic Forum centerpiece ("Trump calls the tune at Davos party"): "If he can persuade the ... audience that all he is doing is demanding a level playing field, he might get a positive reception."
Former Treasury Secretary Larry Summers writes in the FT that Trump can make "a nervous world ... a bit less nervous" if he sends "clear signals that the U.S. will strive to be a reliable and predictable partner."
https://www.axios.com/newsletters/axios-am-9f898979-a398-474d-b89b-5a9c76bc1180.html?chunk=0#story0
1 big thing: America's "trust crash" as China rises
Unveiling the annual Edelman Trust Barometer in conjunction with tomorrow's opening of Davos, president and CEO Richard Edelman told me that that the U.S. has fallen to "an Iraq war level of trust" around the world.
Key takeaways from my interview with Edelman about his firm's study, which found the U.S. has suffered a "trust crash," internally and externally:
"As to brand USA" — how the rest of the world sees the U.S. — "you can see deterioration … over the last four or five years. It doesn't begin with Trump, but it certainly was accelerated."
"So if you're an American company, you now have a trust weight around your ankles."
The U.S. score is "better than China or India [and other] developing countries. But among the developed countries, we're at the low end."
On the massive drop in trust in government within the U.S., for so-called normal times: "This not tied to a specific catastrophic event like 9/11 or Fukushima [nuclear disaster] in Japan. It's also not tied to an economic downturn like the Great Recession."
"It's the first time we've seen such a trust drop delinked from either a major event, or economic chaos."
China, meanwhile, in the opposite direction: "The government is the highest trusted institution, … whereas in the United States, it's the lowest trusted institution."
"It has to do with a sense of confidence and belief in direction and a clear plan and following through, as opposed to freelancing."
Be smart: These results show the limits of "America first" bravado, both internally and externally. With such a strong economy, the U.S. could be in a confident position in these times thanks to tectonic disruption.
Instead, U.S. leaders have a huge repair job ahead and no obvious plans to tackle it.
Go deeper, both by Axios' Sara Fischer ... "Red alert: America suffers record drop in trust; China rises" ... "The institutions Americans and Chinese call 'broken.'"
https://www.axios.com/newsletters/axios-am-9f898979-a398-474d-b89b-5a9c76bc1180.html?chunk=1#story1
2. Shutdown extends into work week
Shutdown Day 3 ... Senate votes at noon on possible solution, as federal agencies carry out furlough plans:
"Many more Americans will begin feeling the repercussions of a shutdown that officially began at 12:01 a.m. Saturday after most government offices had stopped work for the weekend," per Bloomberg:
"The widening disruption intensifies frantic efforts by Republicans and Democrats to blame one another for the deadlock and may harden the determination of lawmakers to gain leverage from the moment."
What we're hearing about what's next:
This weekend was mainly about posturing for the base, for both sides, chasing shadow issues unrelated to funding. The political incentives may realign toward action, beginning today.
A Democrat lobbyist emails: "Why doesn't Trump call them all down and give Rs cover for the deal and fly off to Davos as the deal maker?"
A Republican replies: "Because too many of his people think the Rs are winning."
P.S. "The Statue of Liberty will reopen [today], New York Governor Andrew Cuomo said, ... vowing to use state funds." (Reuters)
N.Y. Times Quote of the Day ... Sam Nunberg, a former campaign adviser to President Trump, on Trump's management style:
"The misconception is that the president does not know what he does not know. In my experience, the reality is that the president knows what he does not know and does not think he needs to know it."
https://www.axios.com/newsletters/axios-am-9f898979-a398-474d-b89b-5a9c76bc1180.html?chunk=2#story2
3. While you were watching football ...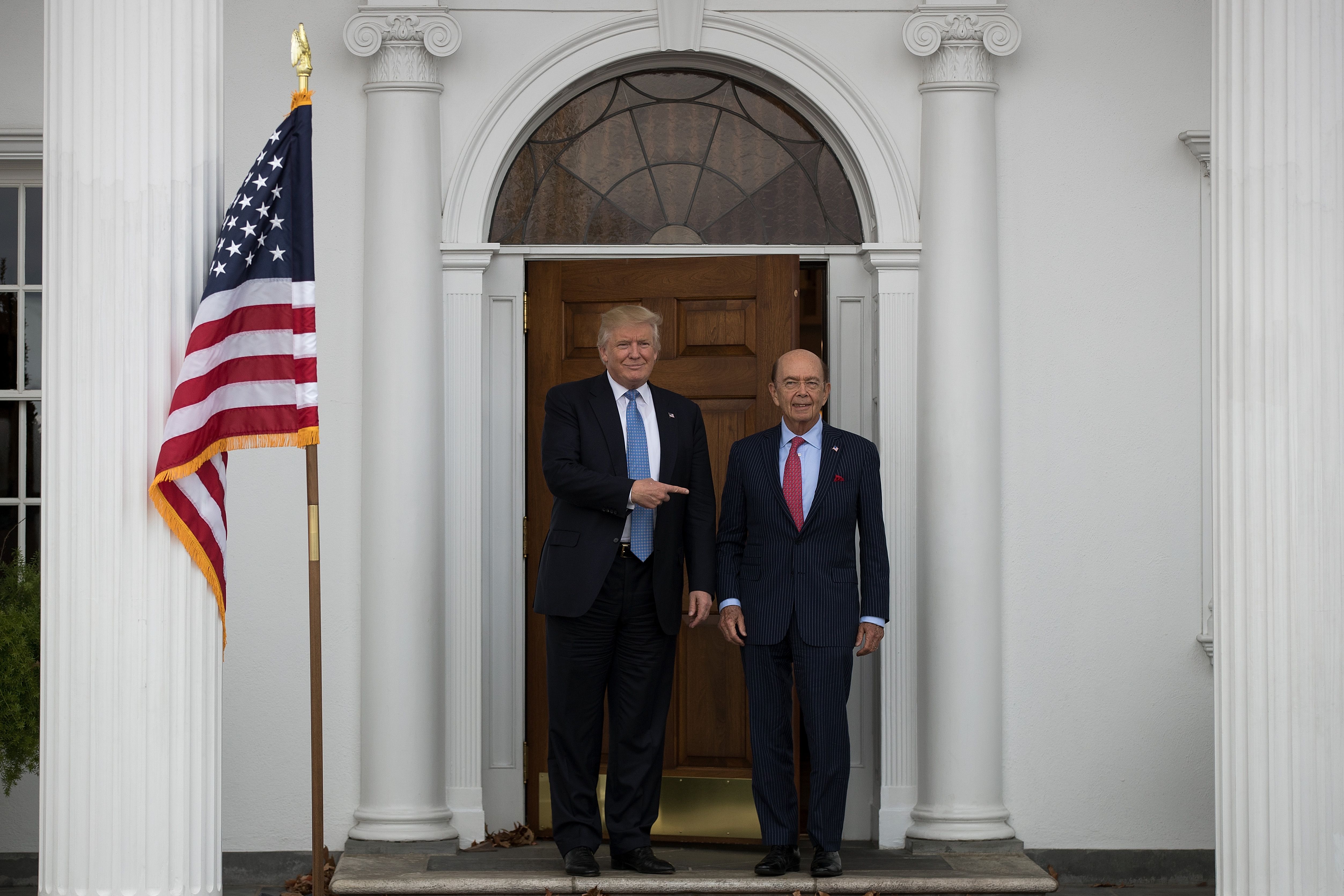 President-elect Trump and future Commerce Secretary Wilbur Ross meet during the transition at Trump's golf club in Bedminster, N.J. (Drew Angerer/Getty Images)
A quadruple crown of juicy scoops by Jonathan Swan in his Sneak Peek newsletter (Sunday evenings, looking ahead to the week for both ends of Pennsylvania Avenue):
1. President Trump has put Commerce Secretary Wilbur Ross out to pasture: Ross's efforts to wheel and deal with the Chinese have left the president unimpressed. Another problem: He keeps falling asleep in meetings. (Details)
A bonus for AM readers: It's not just U.S. government colleagues that Trump has humiliated Ross in front of. During the state visit to Beijing, Trump had U.S. Trade Representative Robert Lighthizer present the U.S. views of the Comprehensive Economic Dialogue, which Ross had co-chaired with Treasury Secretary Steve Mnuchin.
Ross was seated outside the room that the principals were meeting in, so U.S. colleagues and Chinese counterparts saw him as they were going into and out of the room.
2. Attorney General Jeff Sessions has adamantly urged FBI Director Christopher Wray to make a "fresh start" with his core team, including replacing deputy director and Trump bête noire Andrew McCabe. (Details)
3. Special Counsel Robert Mueller's team has been talking with George Nader, a little-known Bannon associate who boasts of his well-placed connections in the Middle East. Swan could only find a few people who have met him. (Details)
4. Trump turns on his Interior Secretary: Ryan Zinke went "rogue," and the president isn't happy about it. Two weeks ago, Zinke made an announcement that surprised the White House: the waters around Florida would be exempt from his agency's offshore oil and gas leasing program. (Details)
Sign up free for Sneak Peek here.
https://www.axios.com/newsletters/axios-am-9f898979-a398-474d-b89b-5a9c76bc1180.html?chunk=3#story3
Bonus: Pic du jour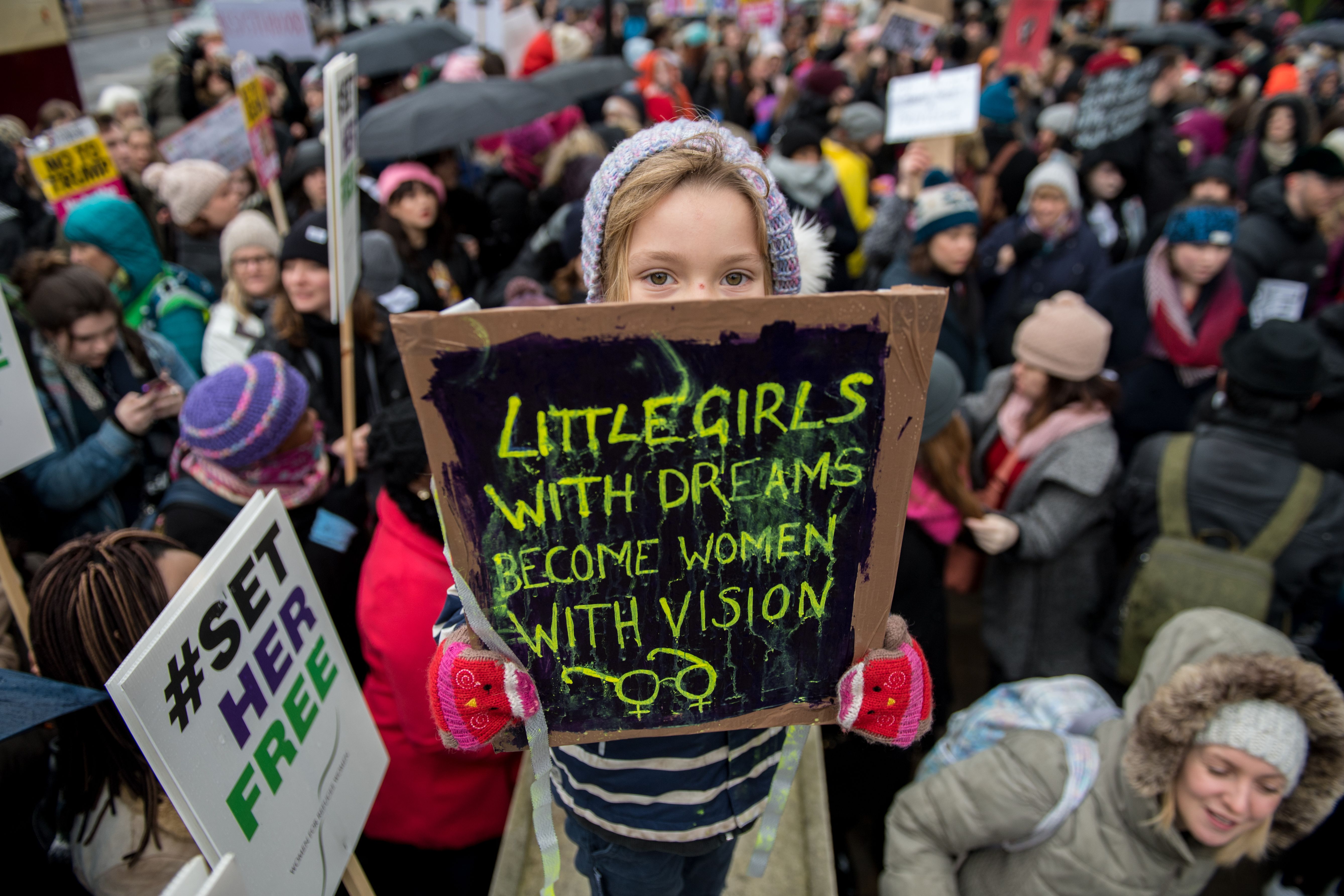 Chris J Ratcliffe/Getty Images
Orla Dean, 5, attends yesterday's Time's Up Women's March in London.
"Following marches that drew huge crowds across the U.S. on Saturday, one year after Trump's inauguration, protesters gathered [yesterday] on multiple continents, including in London, Paris, Sydney, Madrid and Buenos Aires." (AP)
See 21 photos on 1 page of rallies around the world. (N.Y. Times)
https://www.axios.com/newsletters/axios-am-9f898979-a398-474d-b89b-5a9c76bc1180.html?chunk=4#story4
4. Zero sum: If women win power, men lose it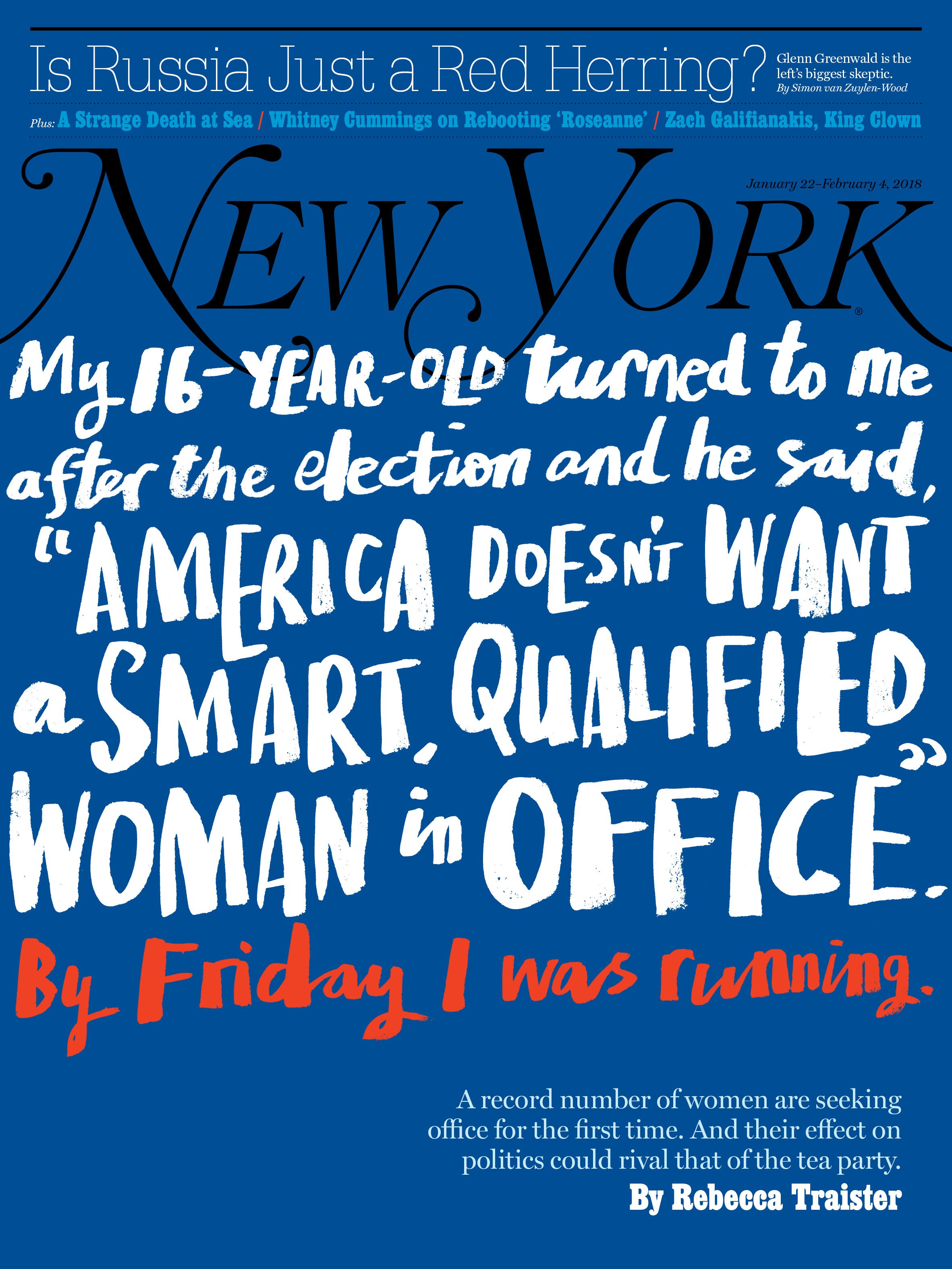 Courtesy New York Magazine
"The Other Women's March on Washington ... [R]ecord number of female candidates running for office in 2018 for the first time" New York Magazine cover story by Rebecca Traister:
"390 women are planning to run for the House of Representatives, a figure that's higher than at any point in American history. Twenty-two of them are non-incumbent black women — for scale, there are only 18 black women in the House right now."
"49 women are likely to be running for the Senate, more than 68 percent higher than the number who'd announced at the same point in 2014."
Why it matters: "[I]n most fields, altering power ratios is neither swift nor easy. ... This is one of the relative virtues of politics: It can be swiftly responsive to change. You can, in theory, run for local or state or even federal office, even if you've never been as much as a student-council secretary."
https://www.axios.com/newsletters/axios-am-9f898979-a398-474d-b89b-5a9c76bc1180.html?chunk=5#story5
5. Amazon's no-cashier store opens today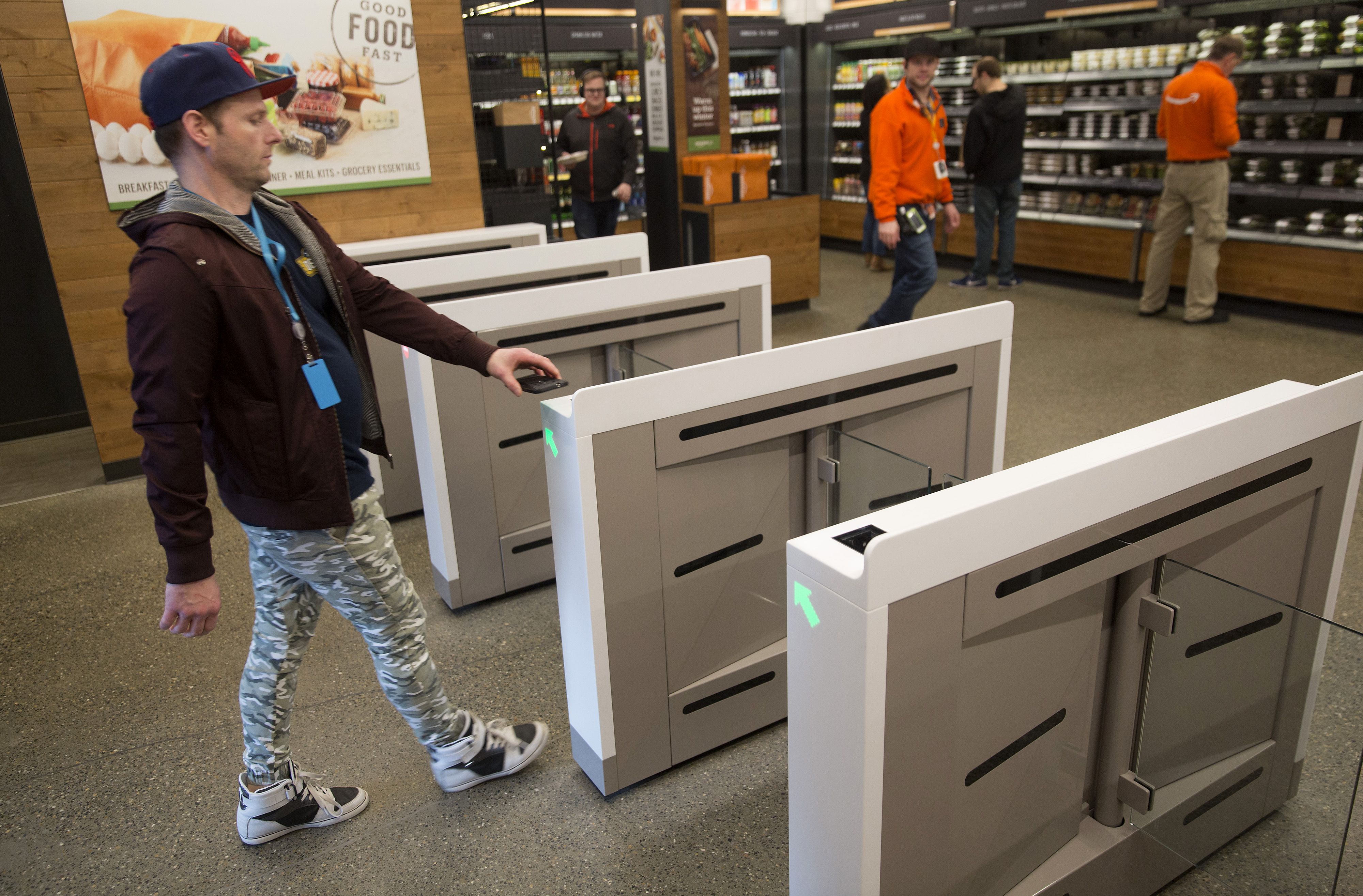 An Amazon employee scans in to shop at the Amazon Go store in Seattle. (Mike Kane/Bloomberg via Getty Images)
"It feels as if you are entering a subway station," the N.Y. Times' Nick Wingfield writes from Seattle. "A row of gates guard the entrance to the store, known as Amazon Go, allowing in only people with the store's smartphone app."
"Inside is an 1,800-square foot mini-market ... The technology, ... mostly tucked away out of sight, enables a shopping experience like no other."
"There are no cashiers or registers anywhere. Shoppers leave the store through those same gates, without pausing to pull out a credit card. Their Amazon account automatically gets charged for what they take out the door."
How it works: "Every time customers grab an item off a shelf, ... the product is automatically put into the shopping cart of their online account. If customers put the item back on the shelf, Amazon removes it from their virtual basket."
Why it matters: "There were a little over

3.5 million cashiers in the United States

in 2016 — and some of their jobs may be in jeopardy if the technology behind Amazon Go eventually spreads. For now, Amazon says its technology simply changes the role of employees."
The Amazon Go app is available for download now. Store opens 7 a.m. PT.
https://www.axios.com/newsletters/axios-am-9f898979-a398-474d-b89b-5a9c76bc1180.html?chunk=6#story6
6. Facebook sees "moral duty" to fix risks
In a slew of blog posts as part of its "Hard Questions" series, Facebook says technologies have both hurt and helped democracy around the world, Axios' Sara Fischer writes:
Facebook Civic Engagement Product Manager Samidh Chakrabarti says there's no guarantee that "positives are destined to outweigh the negatives," but that the company has a "moral duty" to understand how its technology is affecting democracy.
Key quote: "In 2016, we at Facebook were far too slow to recognize how bad actors were abusing our platform. We're working diligently to neutralize these risks now."
Why it matters: The posts show a continued effort by Facebook to be more transparent about ways its platform has steered from its mission of promoting openness and democracy. 
Sara's thought bubble: There's a reason other tech companies are quieter about addressing these types of questions. Doing so forces tech companies to confront wider societal issues about the negative effects of technology.
The most telling line from the series of posts explains why Facebook so staunchly believes it should be considered an open technology platform rather than a media company. Chakrabarti says that "a more connected world can be a more democratic one."
Facebook included a guest post from Harvard professor Cass Sunstein, the first of several outside contributors to the "Hard Questions" effort, who contends that "serendipity" in information discovery is a good thing: "Unplanned, unanticipated encounters are central to democracy itself."
"As with automobiles, so with social media: We're a lot better off with them than without them."
https://www.axios.com/newsletters/axios-am-9f898979-a398-474d-b89b-5a9c76bc1180.html?chunk=7#story7
7. Flaw in plan to treat Big Oil like Big Tobacco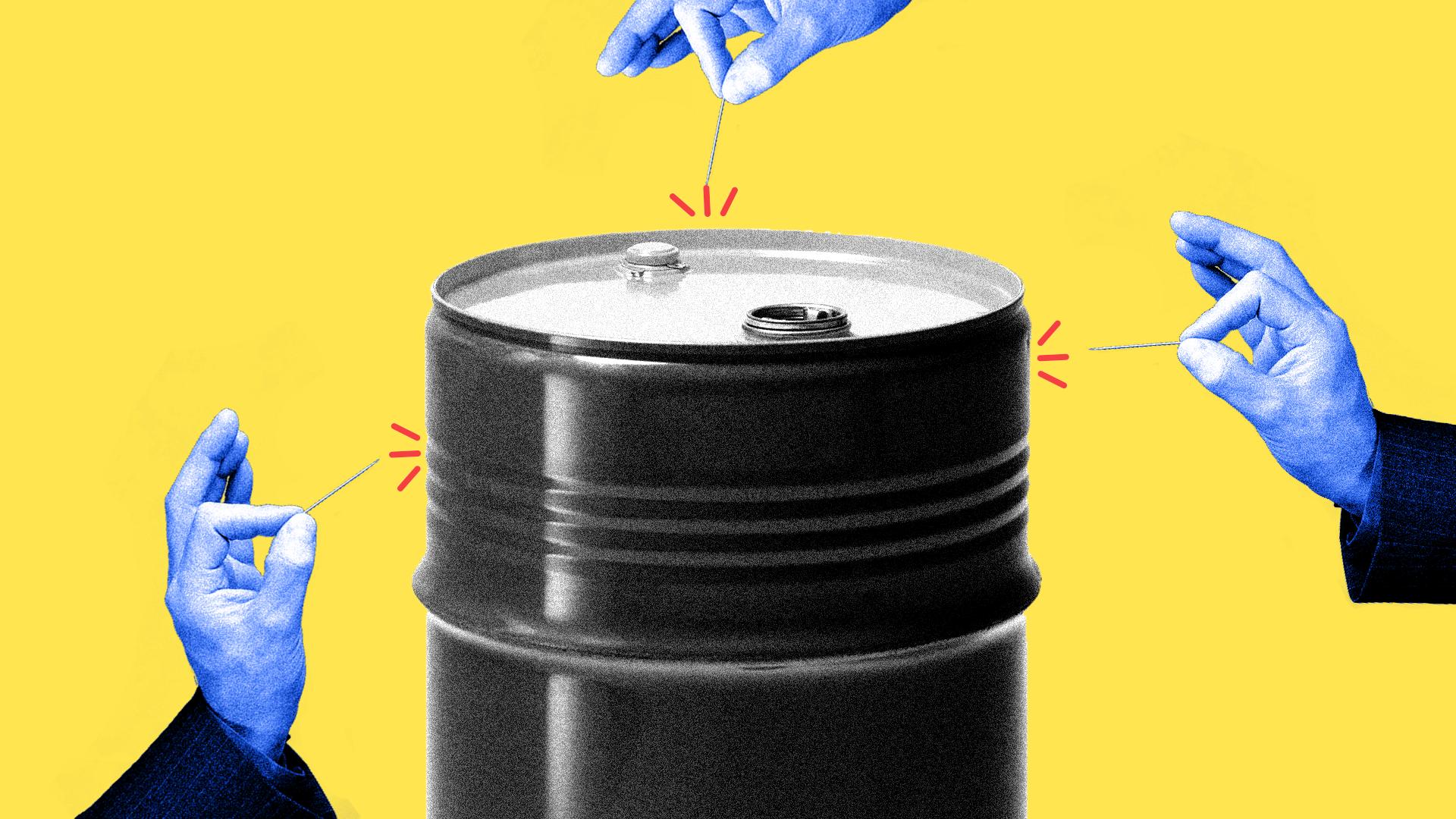 New York City and several California municipalities are suing big oil companies, alleging they concealed what they knew about climate change and are liable for billions of dollars of damage caused by rising global temperatures, Axios' Amy Harder writes in her weekly "Harder Line" column:
Why that's flawed: The strategy is based on the 1990s lawsuits against tobacco companies. But climate change is a global problem we're all collectively causing by burning products owned by fossil-fuel companies.
The legal roots of these claims today are untested and unlikely to succeed, some lawyers say.
https://www.axios.com/newsletters/axios-am-9f898979-a398-474d-b89b-5a9c76bc1180.html?chunk=8#story8
8. Axios World: Eastern Europe shrinking
The global population is expected to balloon to nearly 10 billion people by 2050, with Africa's population doubling in that time and five of the world's six inhabited continents growing significantly.
Check out our new Axios World stream, and follow us @AxiosWorld.
https://www.axios.com/newsletters/axios-am-9f898979-a398-474d-b89b-5a9c76bc1180.html?chunk=9#story9
9. Super Bowl: Vegas favors Pats over Eagles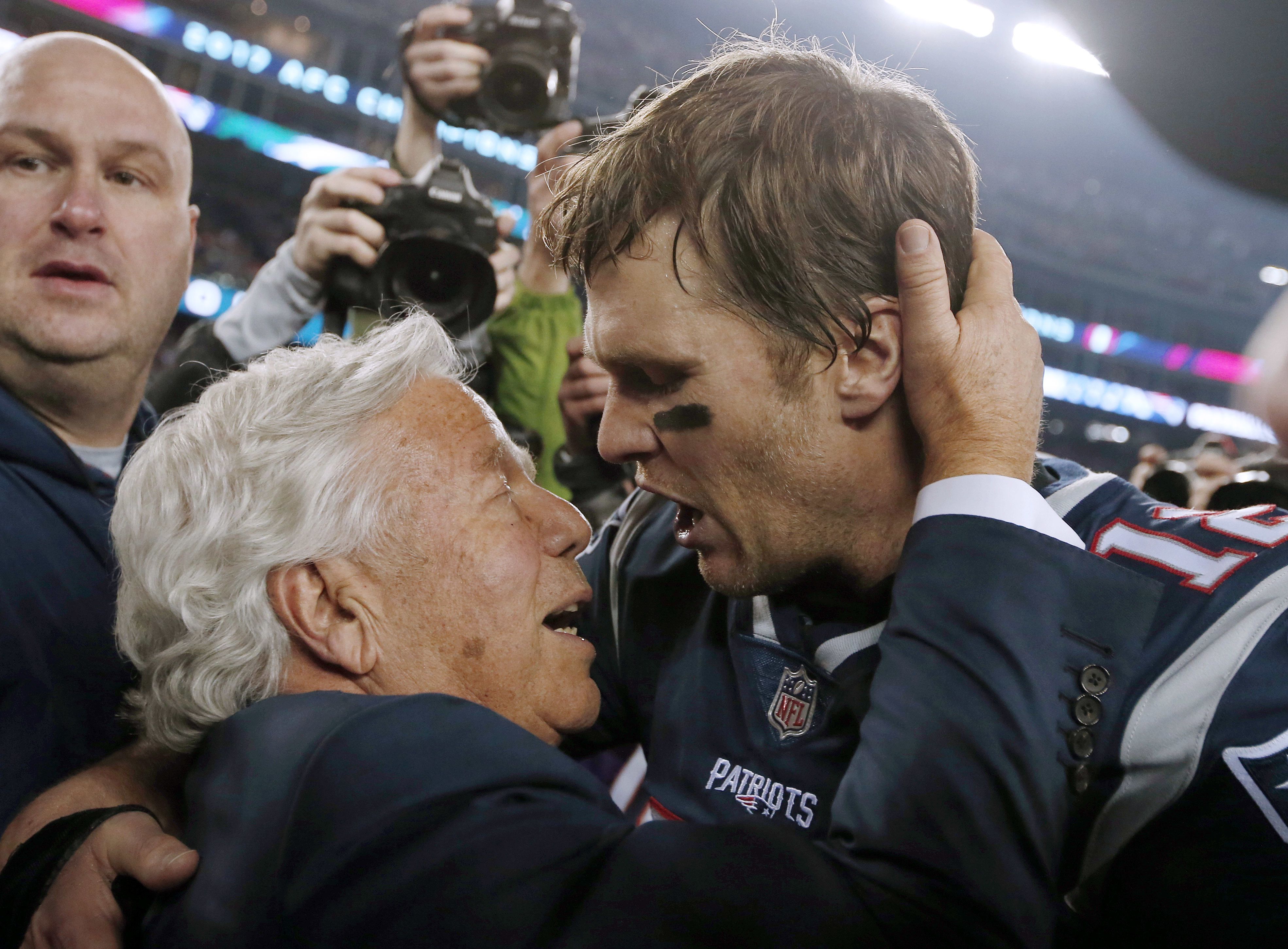 New England Patriots owner Robert Kraft embraces Tom Brady after yesterday's 24-20 comeback over the Jacksonville Jaguars in AFC championship. (AP's Winslow Townson)
Oddsmakers like Tom Brady's chance of winning a sixth Super Bowl, making his New England Patriots nearly a touchdown favorite over Philadelphia.
The Eagles are trying for their first Lombardi Trophy, at Super Bowl 52 in Minneapolis on Feb. 4, per AP's Tim Dahlberg:
Sports books around Vegas opened the Patriots a 5-6 point favorite to win their second straight Super Bowl.
Fun fact I: Oddsmakers also made New England a big favorite to win the Super Bowl next year in Atlanta.
"Bookmakers posted their opening lines early in the fourth quarter of the Eagles-Vikings game, with lines ranging between 5 and 6 1/2 points. The over/under in most books for total points scored in the game was 48."
"Bettors jammed into sports books [yesterday] for the two conference championship games, with millions wagered in person and millions more bet on phone apps."
Fun fact II: "[B]ookmakers have turned a profit [on every Super Bowl] except the 2008 game when the New York Giants upset the previously unbeaten and 12-point favorite Patriots."
P.S. #Crisco cops ... Before the game, Philly police slathered Crisco on street poles to try to keep fans from climbing them, per N.Y. Times: "The city used this approach in 2008 before the Philadelphia Phillies won the World Series."
"The team's fans ... are still remembered for

pelting snowballs at a man dressed as Santa Claus

during a losing game in 1968."
https://www.axios.com/newsletters/axios-am-9f898979-a398-474d-b89b-5a9c76bc1180.html?chunk=10#story10
10. 1 film thing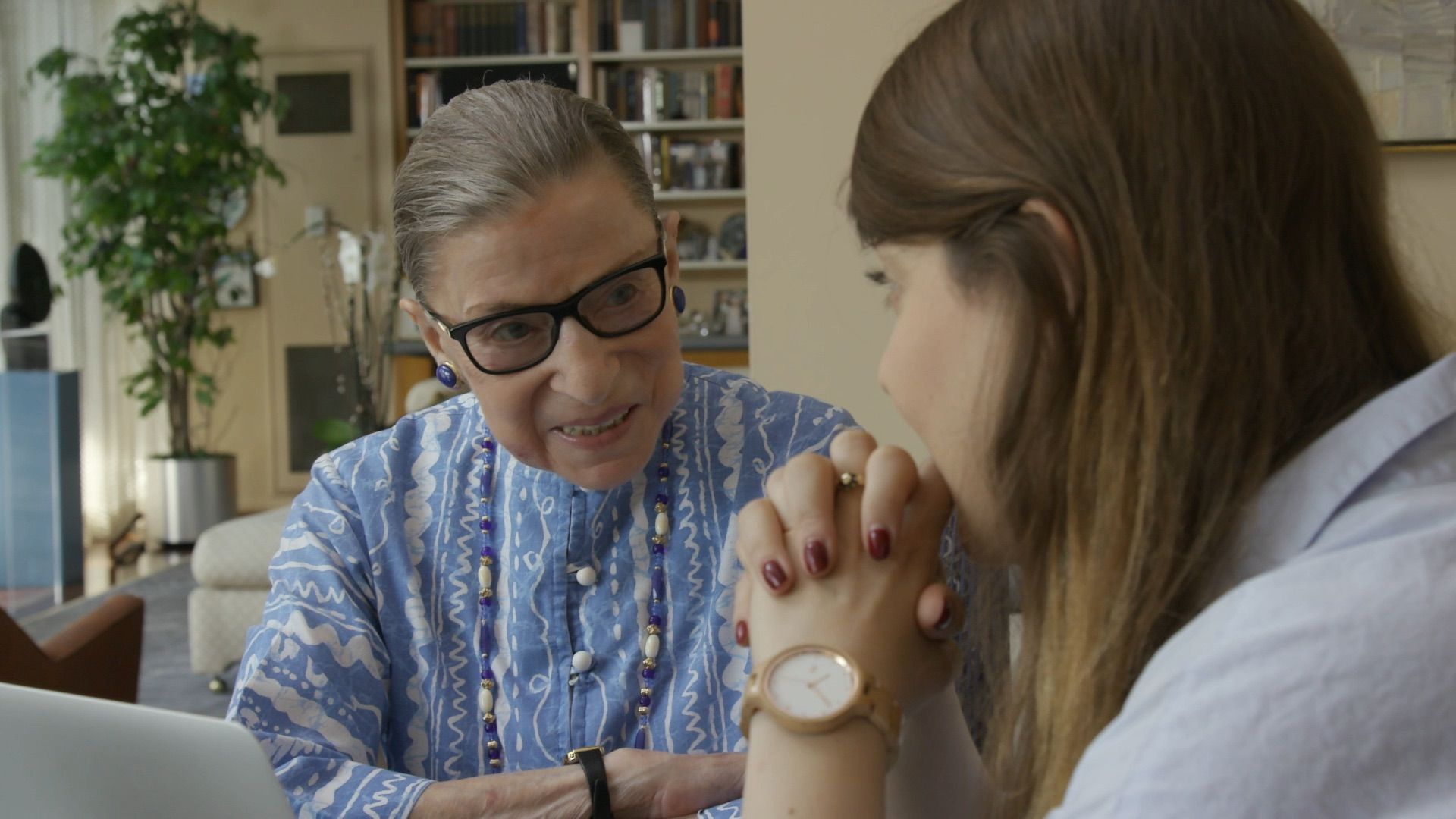 In the film "RBG," Supreme Court Justice Ruth Bader Ginsburg talks to her granddaughter, Clara Spera. (CNN Films)
At the Sundance Film Festival in Park City, Utah, Justice Ruth Bader Ginsburg got big applause during a conversation with NPR's Nina Totenberg, at the premiere of a documentary, "RBG," from CNN Films and Storyville Films:
Totenberg asked: "You've hired a full complement of clerks through the 2020 term. How's your health?"
Ginsberg, 84, joked that an "excuse" for staying is that the Smithsonian American Art Museum will need her loaned Josef Albers back: "'I just say: As long as I can do the job full steam, I will be here!"
Ginsburg said she first met Totenberg when she was a Rutgers law professor and the reporter phoned for an explanation of how the 14th Amendment's equal protection clause applies to women. That was 1971, two decades before Ginsburg joined the Court. They've been close ever since.
The justice said she loves Kate McKinnon's "SNL" of impression of her. The real RBG gave the audience a "Geeens-burg!"
The 97-minute film will be broadcast on CNN at an undetermined date.
Go deeper ... YouTube of conversation between Justice Ginsburg and Nina Totenberg.