Axios Sneak Peek
September 26, 2023
Welcome back to Sneak. Smart Brevity™ count: 1,019 words ... 4 minutes.
🚨 Situational awareness: A New York state judge ruled ahead of a civil trial next week that former President Trump committed fraud by exaggerating his net worth on financial records.
1 big thing: McCarthy's blame game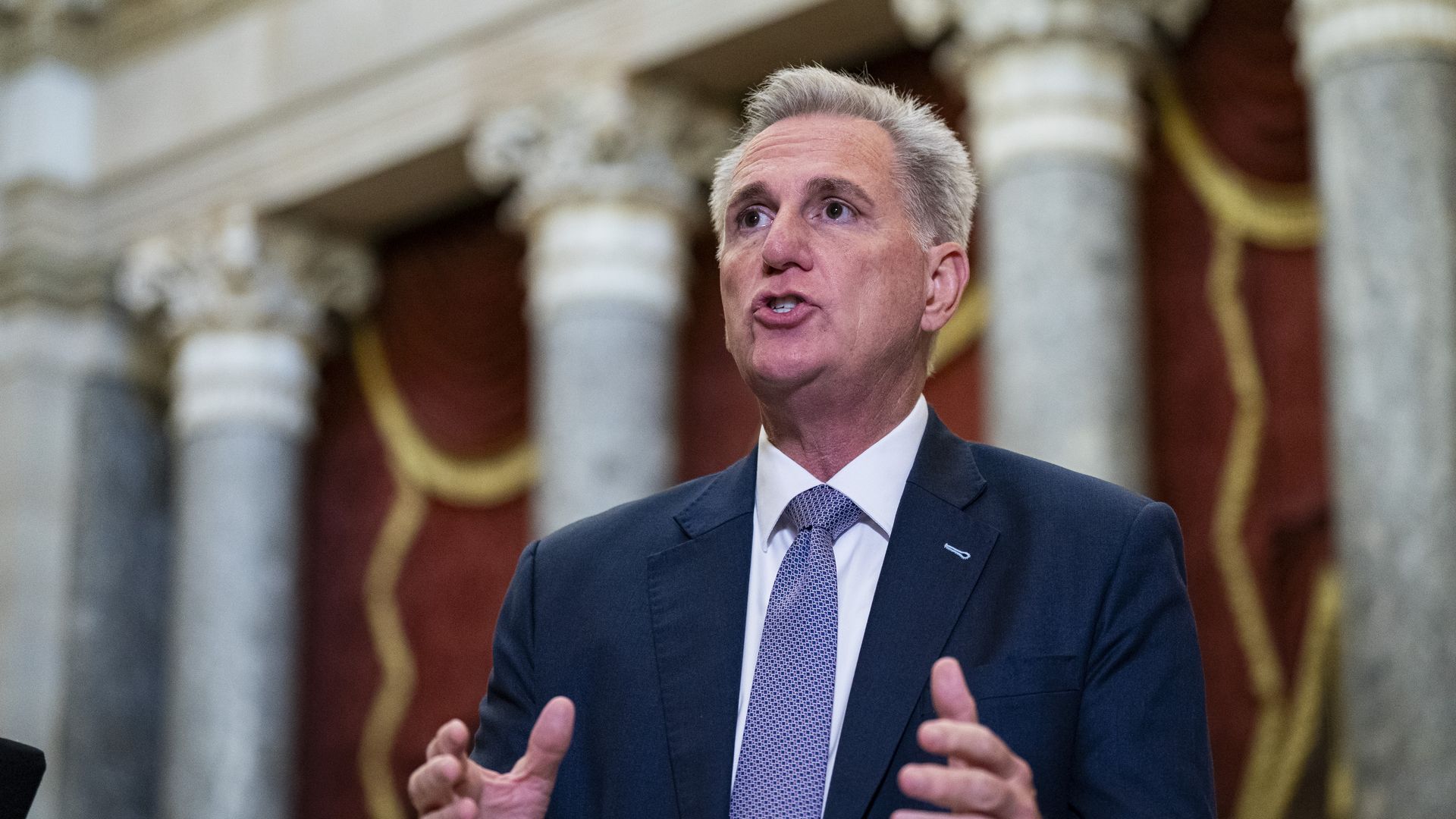 Locked in a desperate internal stalemate, House Speaker Kevin McCarthy (R-Calif.) appealed today for a meeting with President Biden to stave off the government shutdown set to take effect Sunday at midnight.
"Why don't we just cut a deal with the president?" McCarthy asked reporters when pressed on why he hasn't worked with Democrats to reach a short-term funding solution.
Why it matters: There's no evidence that meeting with Biden about the border — just one sticking point in the broader spending standoff — would do anything to solve the House GOP's internal crisis.
McCarthy knows this, but he's determined to shift blame ahead of a shutdown that could be politically damaging for Republicans and economically damaging for the country.
"Let's be very clear, [a shutdown] would not be on us," McCarthy argued, contradicting the many Republicans who have blamed GOP hardliners for the impasse — as well as the hardliners who have blamed McCarthy.
The other side: The White House has dismissed calls for Biden to meet with McCarthy, pointing to the spending agreement that the two sides already reached during debt ceiling negotiations.
State of play: Senate leaders unveiled a bipartisan deal today to keep the government funded through Nov. 17 while passing $6.2 billion in additional aid to Ukraine and $6 billion in disaster relief, Axios' Andrew Solender reports.
It's the latest attempt to turn the screws on House Republicans, who vigorously oppose keeping spending at the current levels but do not have a majority for their own stopgap bill.
GOP hardliners voiced disbelief at the Senate's proposal tonight as the House began debate on four appropriations bills, suggesting another mutiny could be in store if McCarthy is forced to consider the bill.
Between the lines: Lawmakers in both parties are panicked about the potential ramifications a shutdown could have on the U.S. economy.
Credit rating firm Moody's said yesterday that a shutdown would be "credit negative" for the U.S., potentially endangering the country's last remaining "triple A" rating from the big three credit rating firms.
Fitch, another ratings agency, downgraded U.S. credit in August following a tense standoff over raising the debt ceiling, citing a "steady deterioration in standards of governance" in recent decades, among other factors.
What they're saying: "When the most powerful government in the world beclowns itself and demonstrates to the world that it's being run by kindergarteners, there's also a huge effect in terms of risk perception and confidence and stability," Rep. Jim Himes (D-Conn.), a member of the Financial Services Committee, told Axios.
2. ✊ Biden makes history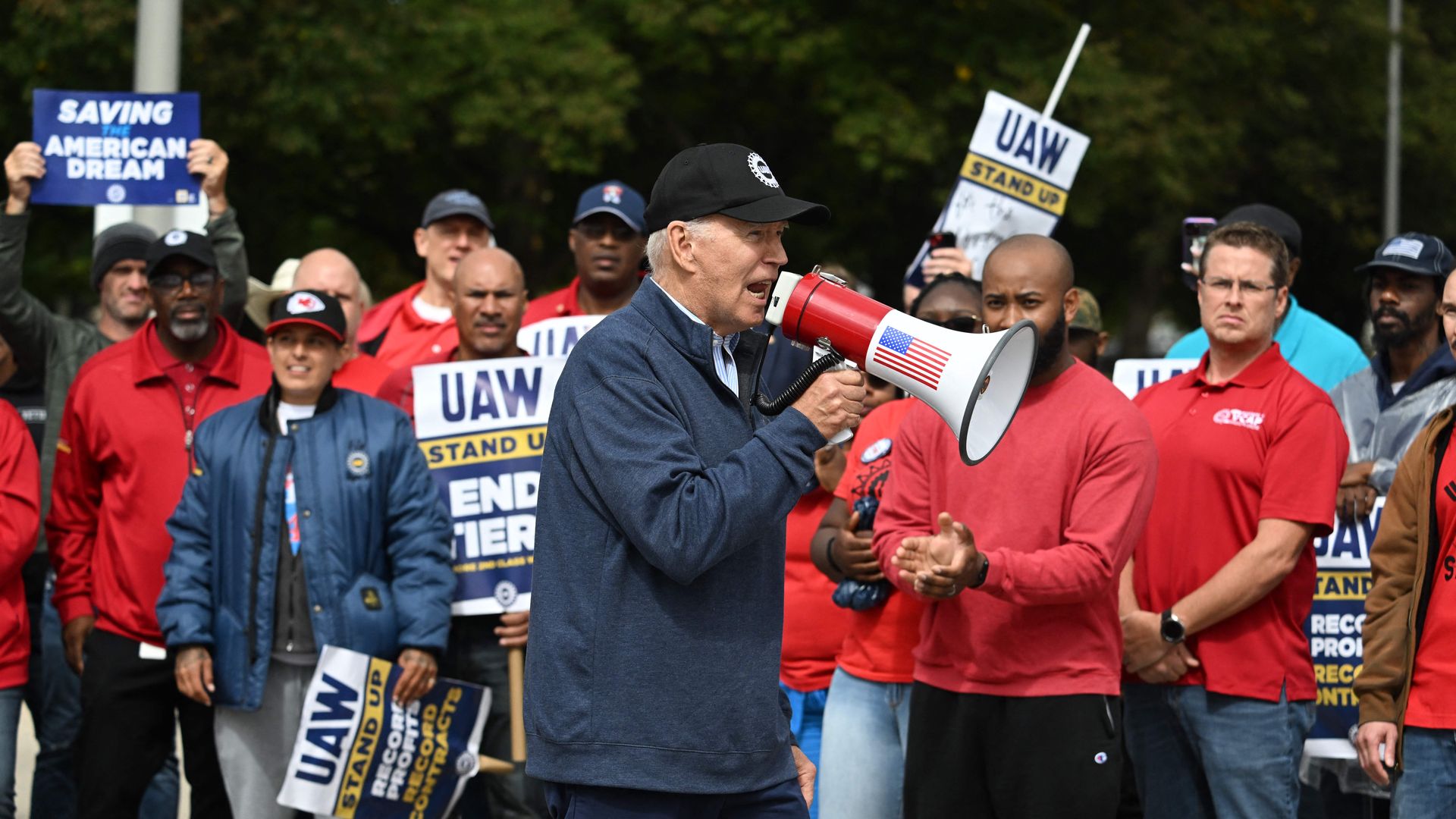 Biden today endorsed demands for a 40% raise for the striking members of the United Auto Workers union in Michigan, where he became the first sitting president to join a picket line.
"You guys, the UAW, you saved the automobile industry back in 2008 and before," Biden, who refers to himself as "the most pro-union president" in history, declared into a bullhorn.
"Made a lot of sacrifices, gave up a lot," he continued. "And the companies were in trouble, but now they're doing incredibly well. And guess what, you should be doing incredibly well too."
Why it matters: In their latest publicly disclosed offers, GM, Ford and Stellantis offered wage increases of about 20% to 21%.
The Detroit Three say 40% hikes would render them unable to keep up with their non-unionized competitors, like Tesla, Toyota and Volkswagen.
Tomorrow, it will be Trump's turn to travel to Michigan in a bid to reinforce his "pro-worker" bonafides — but under very different circumstances.
While Biden joined the picket line at the invitation of UAW leadership, Trump has been advised to stay away and will give a speech to mostly retired UAW members at a non-union manufacturing plant.
Calling Trump's rally "pathetic irony," UAW president Shawn Fain excoriated the former president's record on CNN this evening and said he sees "no point in meeting with him. He serves a billionaire class."
3. ⚖️ Menendez's unlikely defenders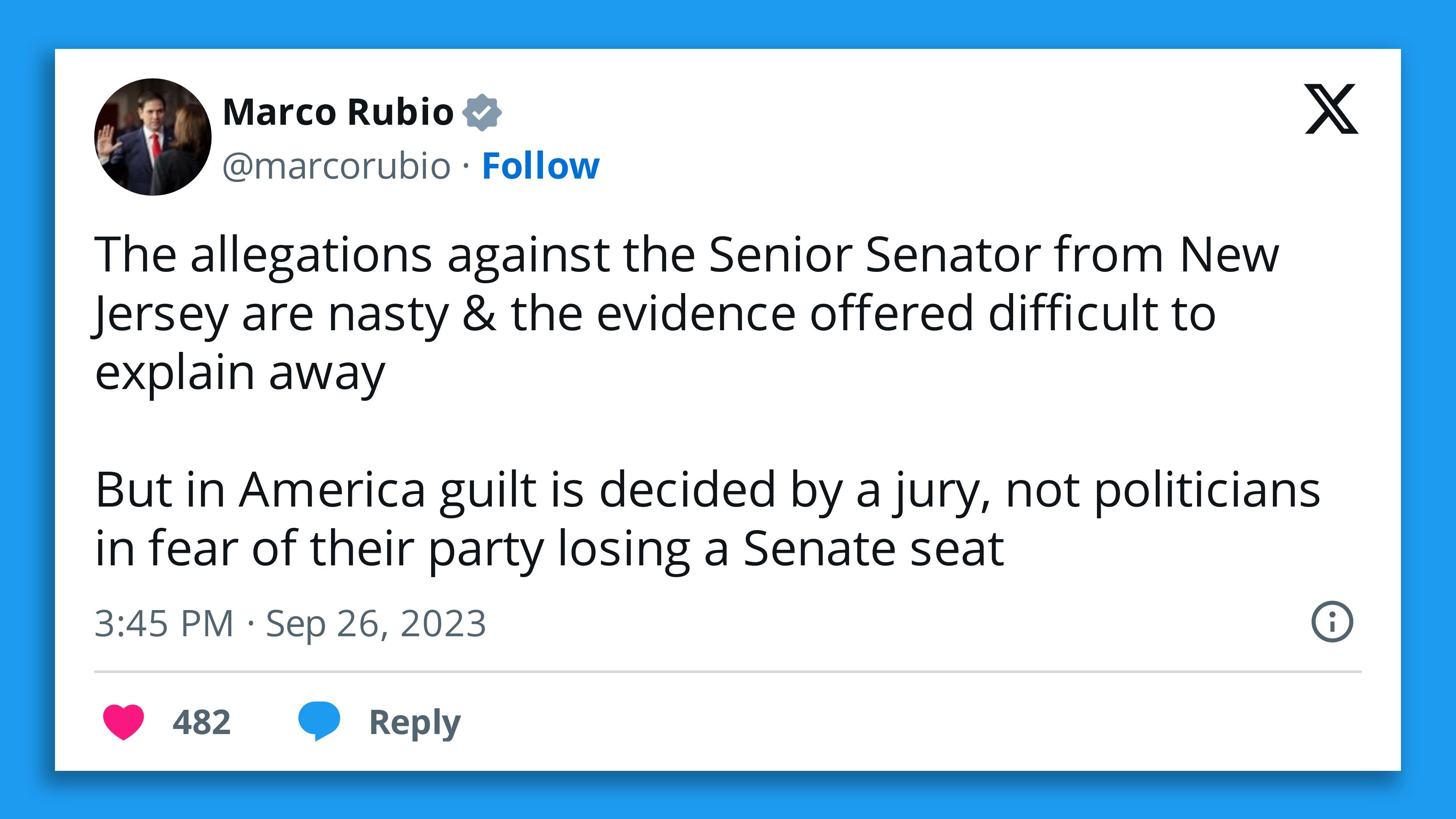 The political dam broke against Sen. Bob Menendez (D-N.J.) today, with more than 20 of his Senate Democratic colleagues calling for his resignation as he battles federal bribery charges, Andrew reports.
But an unlikely group of lawmakers is backing up the New Jersey Democrat's decision to stay and fight: Republicans.
Why it matters: It's a stark example of how the two parties have diverged on the question of what scandals and legal challenges disqualify someone from serving in public office.
What they're saying: "Senator Menendez has a right to test the government's evidence in court, just like any other citizen. He should be judged by jurors and New Jersey's voters, not by Democratic politicians who now view him as inconvenient to their hold on power," Sen. Tom Cotton (R-Ark.) tweeted.
Sen. Susan Collins (R-Maine) said the charges against Menendez are "extremely serious," but added "it's up to him and the voters of New Jersey to make the resignation decision."
Sen. J.D. Vance (R-Ohio), a staunch Trump ally, said: "Whether Bob Menendez steps down is a decision for the voters of New Jersey. Clearly the guy's been accused of some pretty crazy stuff ... but we do have innocence until proven guilty here."
4. 🏛️ Charted: Freshman rebels
Rep. Marie Gluesenkamp Perez (D-Wash.) has voted against the majority of her party 18% of the time since the start of this Congress — more than any other freshman representative or senator, Axios' Stef Kight reports from Quorum data.
Rep. Eli Crane (R-Ariz.), who is third on the list, is one of a handful of GOP hardliners who has called for McCarthy's removal and opposed any short-term bill to fund the government.
📬 Thanks for reading tonight. This newsletter was copy edited by Kathie Bozanich.