Axios Sneak Peek
November 30, 2023
Welcome back to Sneak. Smart Brevity™ count: 1,066 words ... 4 minutes.
1 big thing: McCarthy eyes exits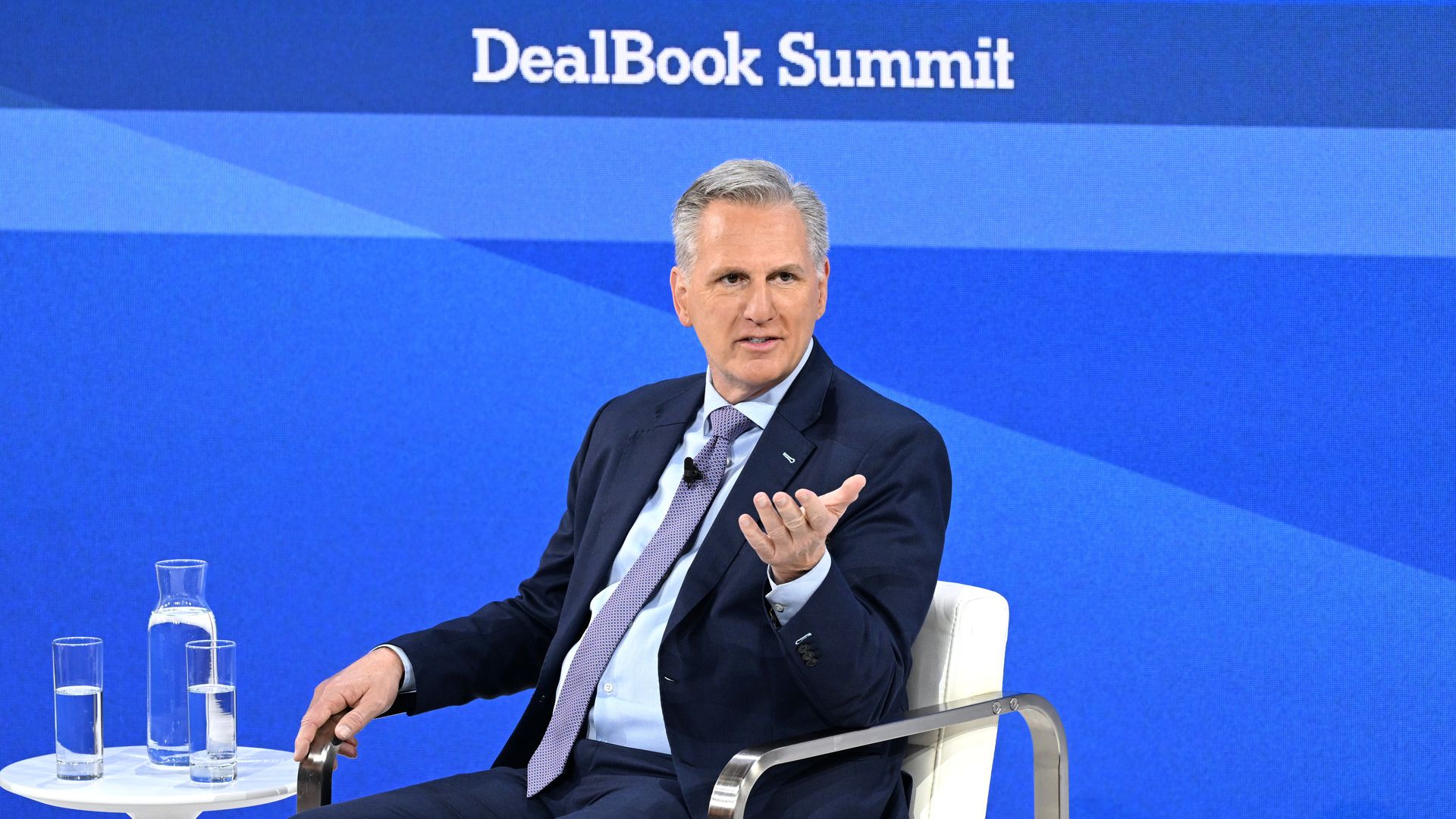 Multiple GOP lawmakers expect former House Speaker Kevin McCarthy (R-Calif.) to step down from his seat before the end of the year, Axios' Juliegrace Brufke reports.
Why it matters: The potential exit of McCarthy — who privately told donors he is looking to "get the hell out," according to a source familiar with the conversation — could leave the House GOP with an even narrower majority.
"I have another week or so to decide because if I decide to run again, I have to know in my heart I'm giving 110%," McCarthy said at The New York Times DealBook Summit on Wednesday, referring to California's Dec. 8 filing deadline.
"I have to know that I want to do that. I also have to know if I'm going to walk away, that I'm going to be fine with walking away. And so I'm really taking this time now," he said.
Zoom in: Speculation over McCarthy's potential departure escalated ahead of the Thanksgiving recess, with multiple GOP sources noting he posted a photo on Instagram in which his district office appeared to be in the process of being packed.
The GOP's razor-thin majority is already on the verge of being diminished further by the potential expulsion of Rep. George Santos (R-N.Y.) in a vote expected on Friday.
The intrigue: GOP lawmakers have noted the awkward nature of shifting from leading the conference to being a rank-and-file member. Tensions between McCarthy and his critics have continued to flare up since his historic ouster.
Some rank-and-file members voiced frustrations with McCarthy attempting to "kneecap" multiple candidates that aimed to succeed him as speaker, arguing that the efforts minimized much of the sympathy he gained after the initial ouster.
"The image in the rearview mirror is getting smaller by the day," one lawmaker said of McCarthy's influence over the conference. "I don't think he's having a good time being a regular Joe."
What they're saying: McCarthy allies have praised his tenure — applauding his fundraising prowess and leadership skills — but told Axios they wouldn't blame him for leaving given the circumstances. And his critics remain vocal about their grievances.
"I suspect the former speaker will return to spend more time with the people he's always represented — on Wall Street and K Street. I don't imagine he'll be walking the streets of Bakersfield," Rep. Matt Gaetz (R-Fla.) told Axios.
"Damn shame," one McCarthy critic quipped, predicting that the former speaker will likely use millions in PAC funds to meddle in the races of the House Republicans who voted to oust him.
2. 🗳️ Scoop: No Labels, no convention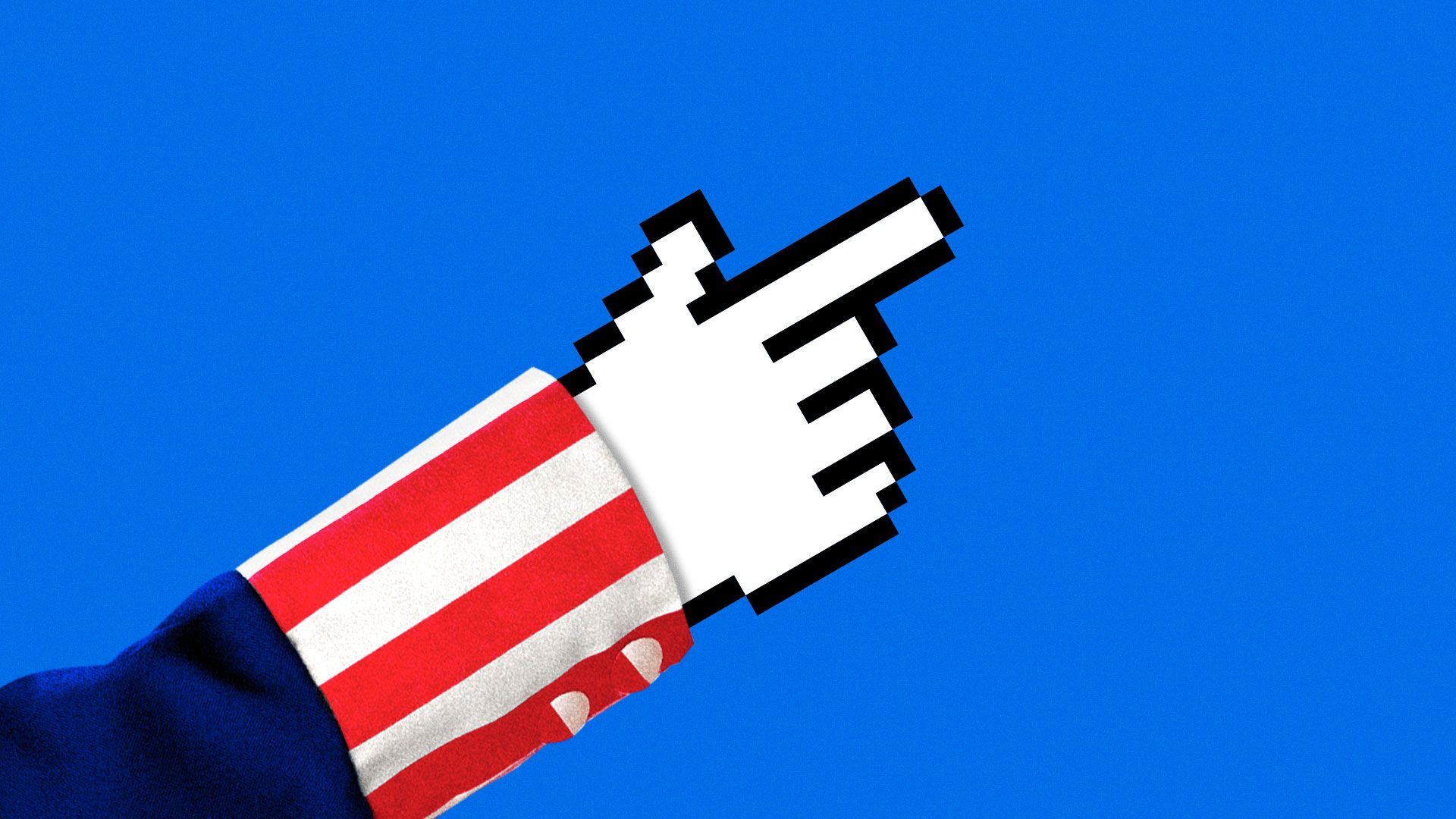 No Labels — the bipartisan group plotting a third-party presidential bid — is pulling the plug on its Dallas convention next spring and will instead conduct its "selection process virtually," Axios' Hans Nichols reports.
Why it matters: The group hasn't made a final decision on whether to launch a third-party challenge, which Democratic critics argue could throw the election to former President Trump.
Canceling its Dallas convention will give No Labels more flexibility — and more time — to make that determination.
It will also allow more candidates to potentially emerge and challenge the status quo.
What they're saying: "No Labels' goal has always been to get on the ballot and select a Unity ticket that can win outright in the Electoral College," the group said in a statement to Axios.
"We have no intention of doing anything but that, and every step we make is with that goal in mind."
Zoom out: No Labels' previous plan was to use the period between Super Tuesday on March 5 and the Dallas convention that had been set for April 14-15 to listen to supporters and then make a final decision on whether to launch a third-party ticket.
If a decision had been reached to move forward, the goal was to use the convention to select a unity ticket — one Republican and one Democrat — then slingshot them into the presidential contest with fanfare and free media.
Despite canceling the convention, the group's organizers are still moving forward with gaining ballot access — and claim No Labels will be viable in 27 states by the end of the year.
3. ⚡Lightning round: 24 hours on Truth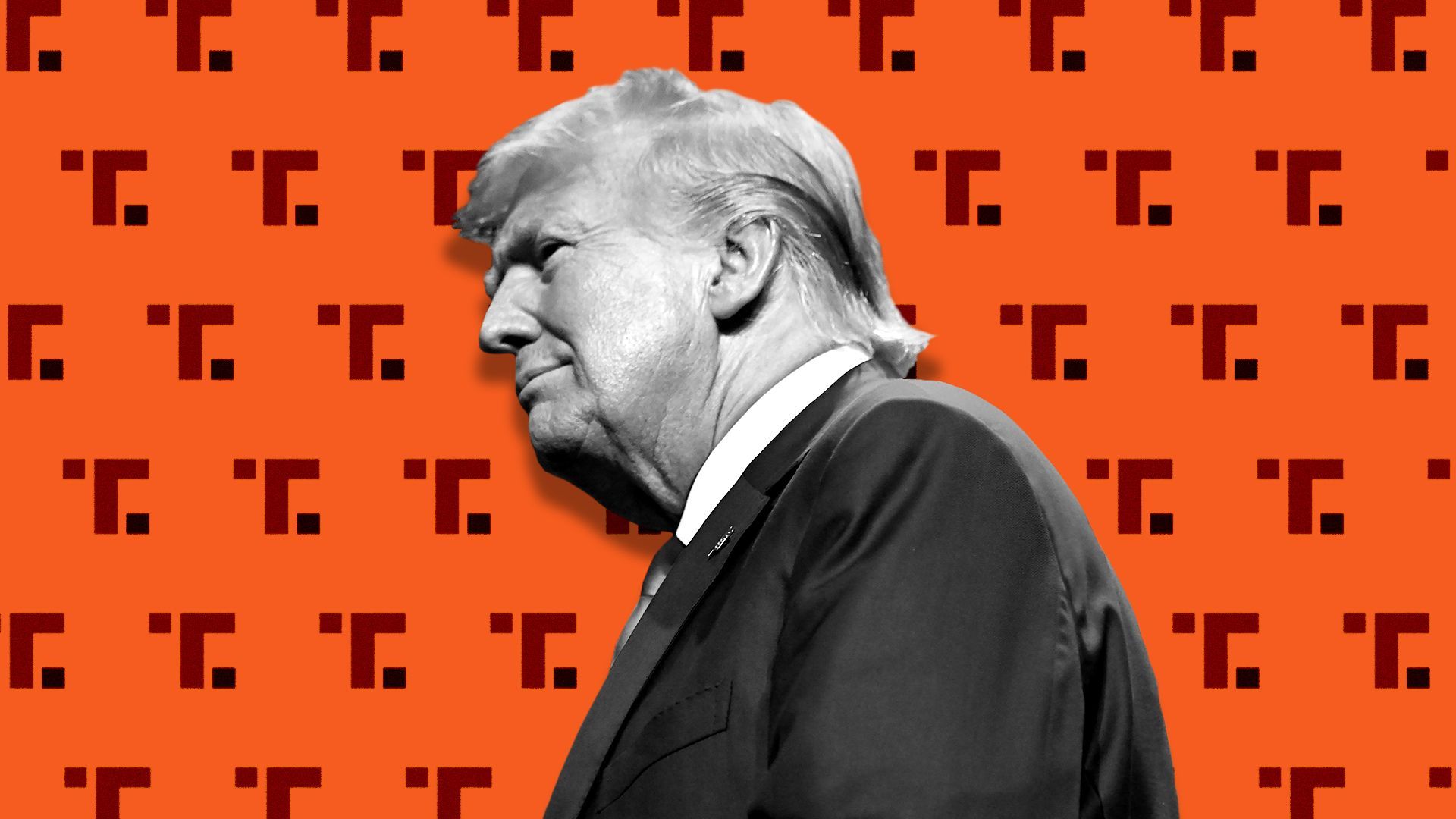 Former President Trump has spent the last 24 hours on Truth Social unleashing a torrent of grievances, vengeful promises and links to online conspiracy theories about his political rivals.
Why it matters: America may be used to it by now, but it's worth keeping tabs on the increasingly radical rhetoric of a candidate who — with all the necessary polling caveats — is currently the favorite to win both the GOP nomination and the White House.
A sampling:
4. 🔎 GOP teases Biden impeachment vote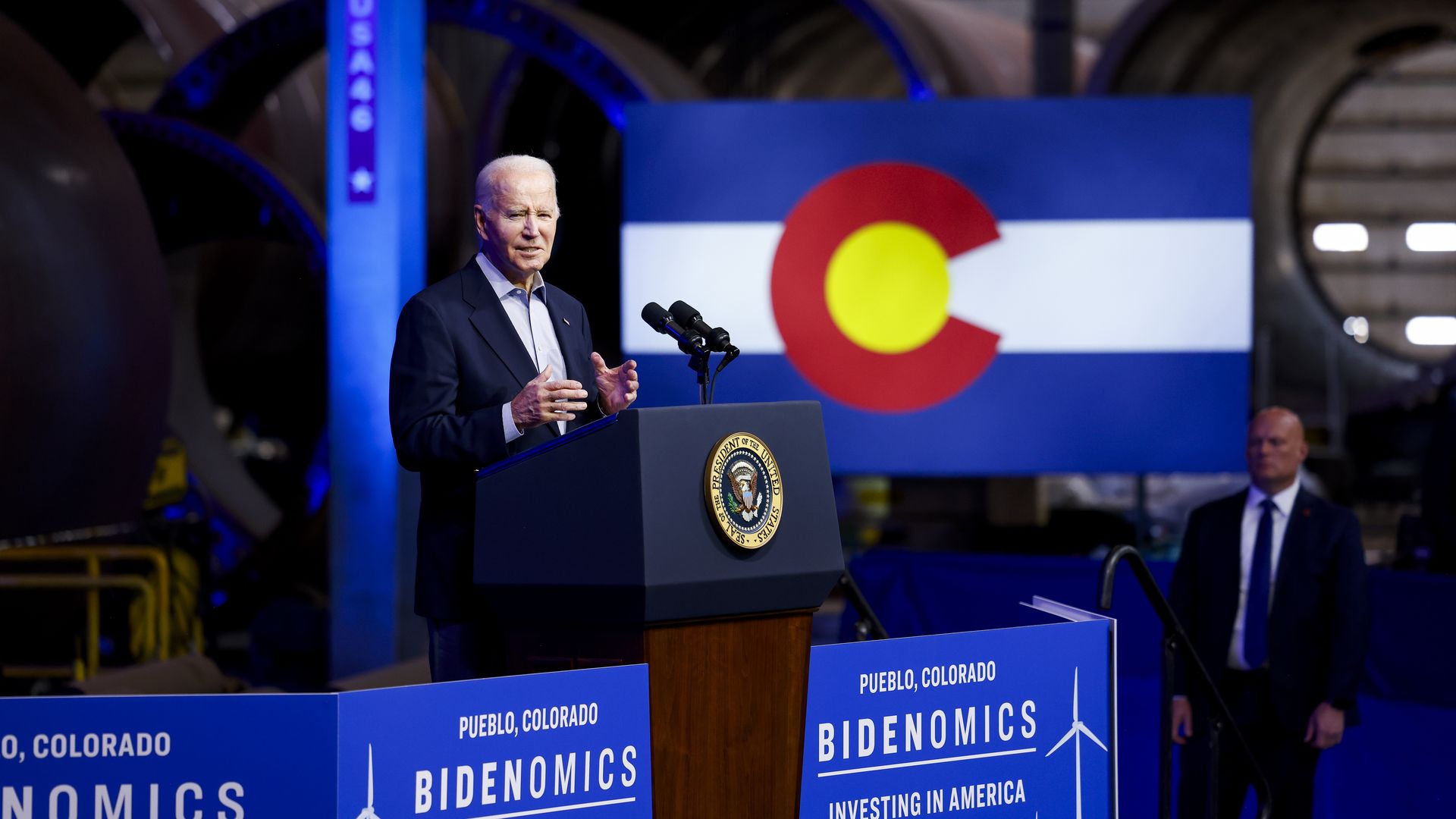 GOP leadership signaled during a closed-door meeting that the House may hold a formal vote on authorizing the Biden impeachment inquiry in the coming weeks, Axios' Andrew Solender reports.
"They are taking temperatures," one lawmaker told Axios.
Why it matters: The vote — which could be a difficult one for vulnerable Republicans — would be geared toward legitimizing the impeachment inquiry, particularly in efforts to enforce congressional subpoenas in court.
House Speaker Mike Johnson (R-La.) stressed at a press conference today that "next to the declaration of war, you can make an argument that impeachment may be the heaviest power that Congress holds."
"[Democrats] were brazenly political in how they brought those meritless impeachment charges against [Trump]," Johnson argued. "This, what you are seeing here, is exactly the opposite."
📬 Thanks for reading tonight. This newsletter was edited by Kathie Bozanich.