April 30, 2021
☕ Hello, Friday! Smart Brevity™ count: 1,170 words ... 4½ minutes. Edited by Zachary Basu.
1 big thing: Merrick Garland erases Trump effect
Attorney General Merrick Garland is quickly negating the Trump administration's law enforcement legacy, dismaying conservatives with a burst of aggressive reversals, Axios' Zachary Basu writes.
Liberal fears that Garland might resist prosecuting Trump and allies were partially eased this week when news broke that federal agents had raided the Manhattan home of Rudy Giuliani.
Under Attorney General Bill Barr, the Justice Department repeatedly blocked the U.S. Attorney's Office for the Southern District of New York, which Giuliani once led, from obtaining a search warrant for Giuliani's electronic records, the N.Y. Times reported.
Major steps under Garland include:
Investigations of the Minneapolis and Louisville police departments, following the deaths of George Floyd and Breonna Taylor.
A review of how DOJ prosecutes and tracks hate crimes, amid a surge in violence against Asian Americans.
Revocation of a Trump-era policy that restricted federal funding for "sanctuary cities," where local law enforcement has limits on cooperation with federal immigration agents.
2. Tech giants' revenue soars
Big Tech crushed earnings reports this week, and shows no sign of slowing down, Axios' Sara Fischer writes:
3. Stampede in Israel kills 44
These skullcaps and broken glasses remain in Mount Meron, Israel, after at least 44 people were killed in a stampede at a religious festival attended by tens of thousands of ultra-Orthodox Jews, AP reports.
The stampede began when people thronged a narrow, tunnel-like passage. People began falling on top of each other near the end of the walkway as they descended slippery metal stairs, witnesses said.
4. Uncovering the Tulsa Race Massacre at 100 years
Activists, scholars and families of survivors are working to unearth the horrors of a 1921 race riot that destroyed a thriving, middle-class Black community and killed 300 in Tulsa, Okla., Axios' Russell Contreras and Dion Rabouin write.
Why it matters: Following the death of George Floyd, communities of color are demanding the U.S. confront past episodes of racial violence. The Tulsa Race Massacre was one of the worst. And survivors want reparations.
On May 31, 1921, a white mob descended on Greenwood, a successful Black economic hub in Tulsa, following unsubstantiated rumors that a Black teen assaulted a white woman.
In 24 hours, the mob torched 35 blocks of Black-owned businesses, churches, homes, a library, a school and a hospital.
The vigilantes wiped out Greenwood's vibrant Black economic hub, known as "Black Wall Street."
No one was charged in the mass killing of Black people.
Phoebe R. Stubblefield, a University of Florida forensic anthropologist, is among the scholars excavating Tulsa's ground to document the massacre.
Activists, writers, and families are saving oral histories to keep the public from forgetting the massacre. It's rarely taught in Oklahoma public schools.
Survivors and descendants of victims will host a Black Wall Street Legacy Festival in May to draw attention to the 100th anniversary.
Nehemiah Frank, a massacre descendant and editor of The Black Wall Street Times, is among the descendants who are pressing for reparations from the city and state for a massacre that left generations in poverty.
Tulsa Mayor G.T. Bynum said reparations would "divide" the city. Instead, he supports developing property where Black Wall Street stood.
The massacre has generated more interest after it was depicted in two HBO series, "Watchmen" and "Lovecraft Country."
5. Big Tech adapts to D.C.
Even without big new legislation or regulation, four years of high-profile tech hearings have forced the giants to evolve, Margaret Harding McGill and Ashley Gold write:
Google and Facebook opened up more about their algorithms after Republicans and Democrats demanded more transparency.
Companies now use hearings to time policy announcements — sometimes aligning with proposed legislation — meant to show they're responsive to lawmaker concerns.
They've lawyered up, including retaining outside counsel to deal with Hill staffers.
Flashback: During the first raft of Big Tech hearings following the 2016 election, the biggest takeaway was how little Congress understood about how tech platforms work and make money.
Since then, lawmakers have come a long way in their grasp of the business, said Matt Perault, a former Facebook director of public policy who's now director of Duke's Center on Science & Technology Policy.
"We've gone from 'Senator, we run ads' to more nuanced questions about APIs [application programming interfaces] and mergers."
6. America online: Conservatives are disciplined, progressives are loud
Precision Strategies, an agency founded by Democrats, analyzed what broke through in the digital fallout from President Biden's first joint address to Congress:
"Conservative tweets spiked around ... immigration and gun safety ... Conservatives focused on a few core issues — immigration, border security, taxes, and jobs — but largely stuck to painting the entirety of the agenda as radical."
"Progressives are loud ... From racial justice and child care to climate and health care, progressives covered the widest range of issues. No single issue emerged as a widely held, clear priority."
Precision tallied emojis that lawmakers used to punctuate tweets:

7. 📺 America tunes out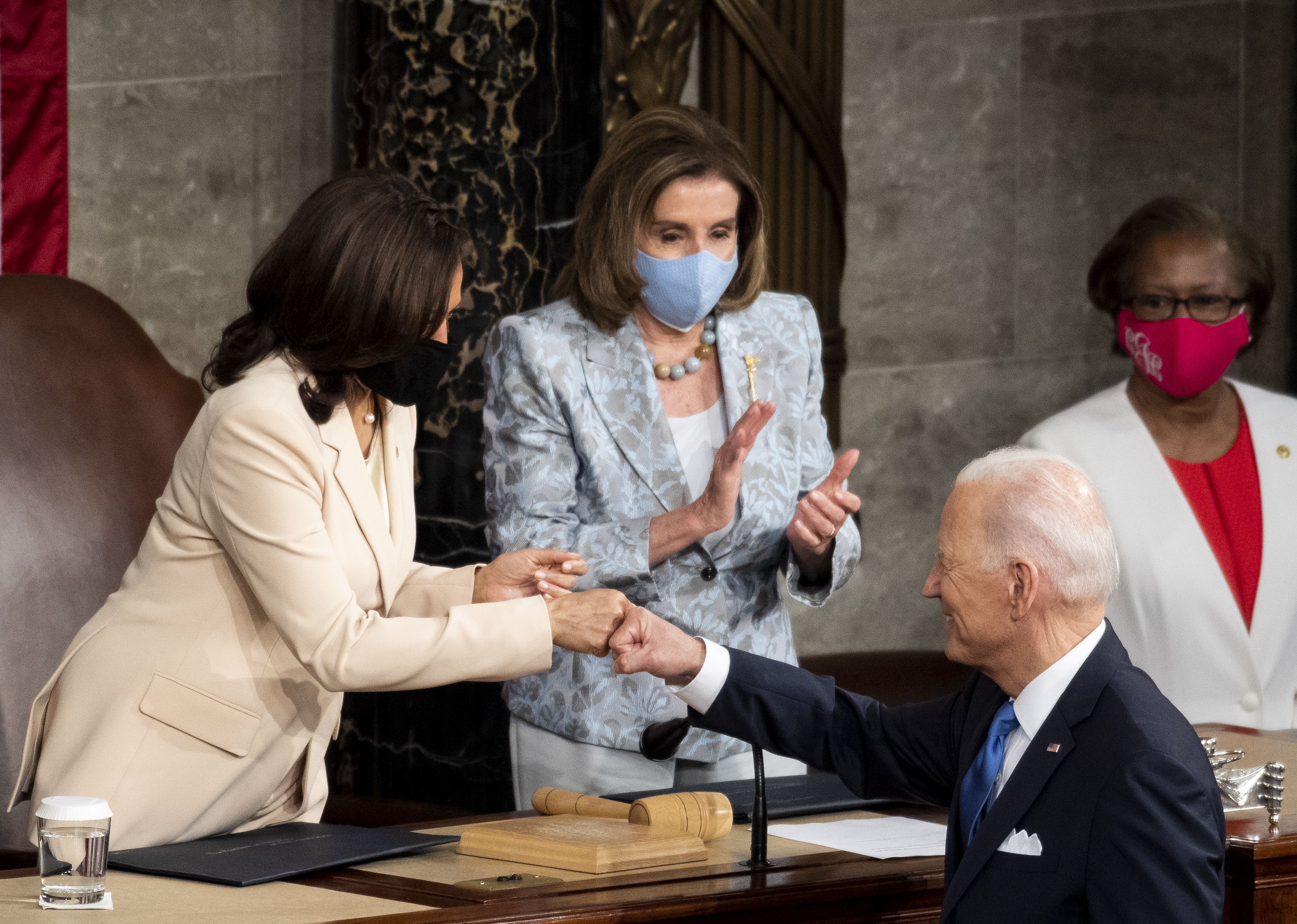 27 million people watched Biden's address across 16 networks — the smallest audience for the annual presidential speech since at least 1993, AP's David Bauder writes.
President Obama had 52 million viewers for his first address to Congress, in 2009.
The previous low was the 31 million who watched President Obama's final State of the Union in 2016, Nielsen said. Nielsen doesn't have measurements before 1993.
Between the lines: Axios' Sara Fischer points out that Biden is a known figure after eight years as V.P.
He's not there to throw bombs, and people know it'll be status quo.
Biden's audience compares to 37 million viewers former President Trump had for his State of the Union address last year. Trump's first speech to a joint session of Congress shortly after taking office in 2017 was seen by 48 million people.
The clearest difference from 2020 is the 3 million viewers for Biden on Fox News Channel, down sharply from the 11.5 million who watched Trump speak on that network in 2020.
8. The Economist calls Taiwan the world's most dangerous place
The U.S. "is coming to fear that it may no longer be able to deter China from seizing Taiwan by force," The Economist writes (subscription).
Why it matters: "Taiwan is an arena for the rivalry between China and America. ... If the Seventh Fleet failed to turn up, China would overnight become the dominant power in Asia."
9. Apple AirTags go on sale today
Apple AirTags, which track misplaced stuff, are a significant new revenue source for Apple. And for those who are blind or have very low vision, they could be a game-changer, Axios' Ina Fried reports.
"Misplacing items such as your white cane or Braille Display can leave you vulnerable and exposed," says David Goodwin, founder and editor of AppleVis, a site that specializes in how blind people and those with low vision can benefit from Apple products.
How it works: Like Tile, Apple uses Bluetooth to help locate items, and has the tag play a sound.
Apple incorporates the latest iPhones' ability to help guide users to the item, offering details like: "It's eight feet ahead on your left."
AirTags are $29 a piece or $99 for a four-pack.
10. 🎉 1 fun thing: Party cities
Of 1,500 groups that have booked trips to Denver later this year through the BACH app, which specializes in bachelor/bachelorette parties, 80% plan to stay in an Airbnb, Alayna Alvarez writes in Axios Denver.
📬 Please invite your friends, family, colleagues to sign up here for Axios AM and Axios PM.