Seattle's still big on car travel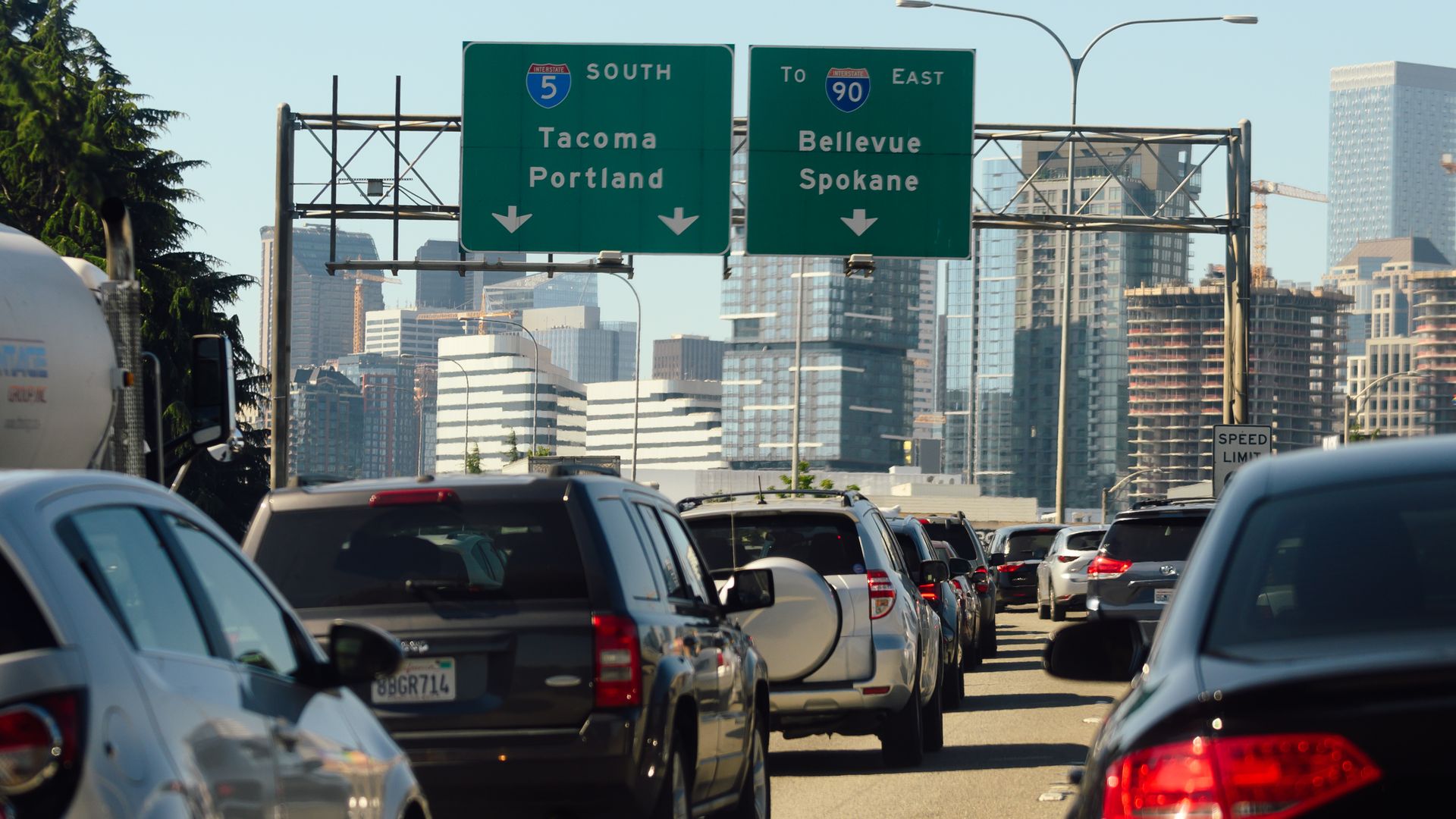 The average Seattle metropolitan area household travels a total of 30,235 miles by car annually, which is just under the national average of nearly 30,500, according to a new study by the Brookings Institution.
The study explores household auto, biking, mass transit and walking data for the 110 largest U.S. metro areas to measure how close people are to where they work, eat, play, shop and more.
Why it matters: "Helping people live closer to the centers of economic activity ... should reduce the distances people need to travel for many of their essential trips," the analysts wrote.
Shorter trip distances, in turn, make walking, bicycling and transit more attractive, improve quality of life, lower environmental emissions, create safer streets and unlock financial savings, the analysts said.
While there are signs the Seattle area is moving toward building for density and proximity to activities, a meaningful reduction of the number of miles a person needs to travel to essential services will take time, according to a Washington state transportation expert.
The Puget Sound region has to contend not only with the same car-centric building model as the rest of the nation, but additionally has geographical features like hills and bodies of water that exacerbate the challenge, Washington State Transportation Center director Mark Hallenbeck told Axios Seattle.
Additionally, the cost of living in our expensive downtown cores continues to push people out to the suburbs and beyond where driving is almost unavoidable, he said.
We may, therefore, be slower to see significant decreases in the number of miles traveled than some other areas, he said.
By the numbers: Living closer to multiple activity centers can save the average American driver around $920 to $1,200 in annual transportation expenses and reduce their carbon footprint by 2,455 to 3,020 pounds of carbon dioxide, the Brookings researchers found.
Nationally, only 37% of residents in the metro areas studied live within three miles of five activity centers — places where economic, physical, social and civic assets are clustered. In the Seattle area, the number of miles traveled by people living in that radius declined 10.1% between 2019 and 2022.
More Seattle stories
No stories could be found
Get a free daily digest of the most important news in your backyard with Axios Seattle.