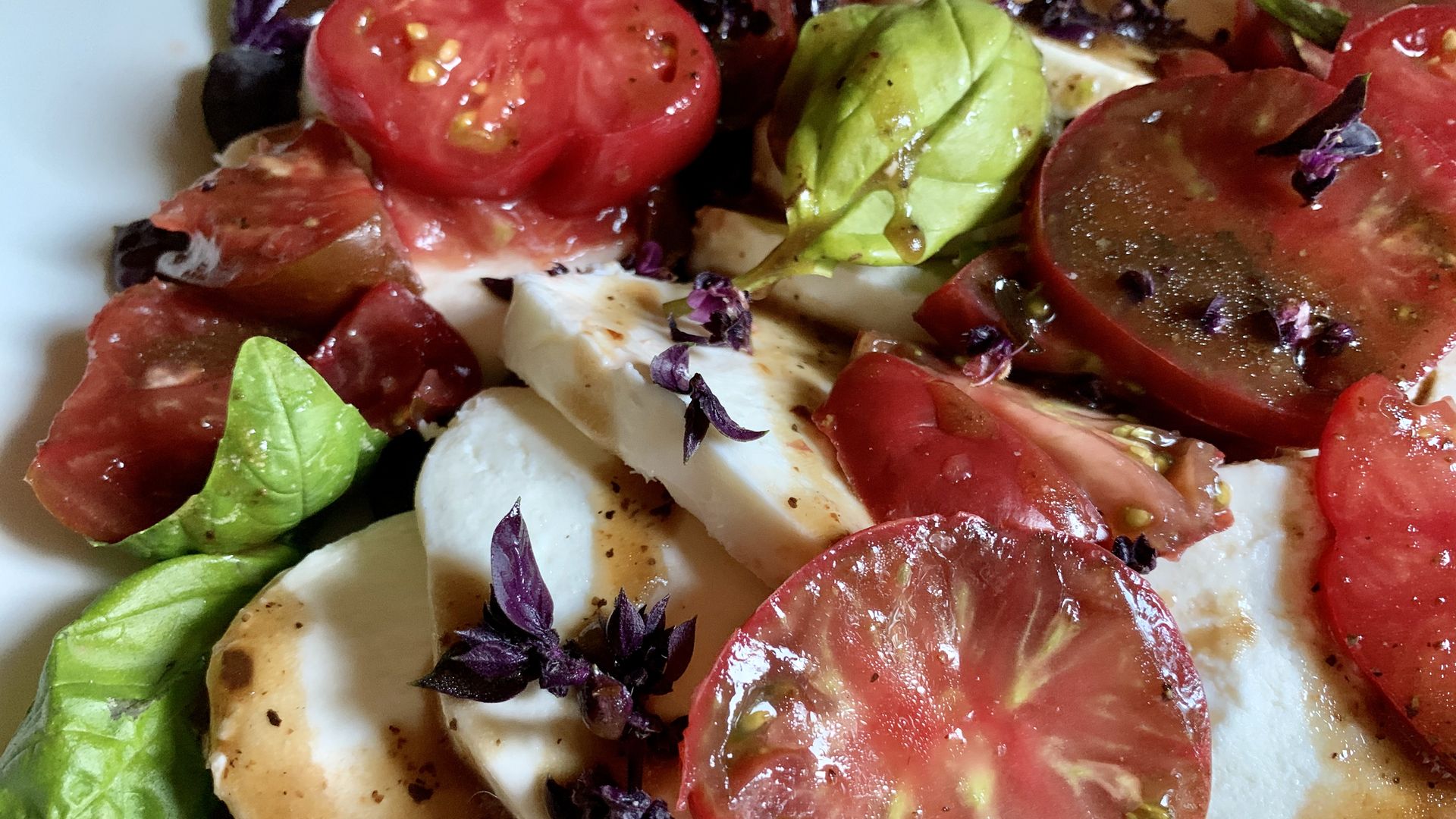 With a cool spring and slightly delayed planting season in the Pacific Northwest this year, many home grown fruits and vegetables are not quite ready for harvest. But that doesn't mean the hankering for fresh flavors is gone.
Driving the news: Using edible flowers right now to liven up the look and taste of everything from cocktails to salads and savories to syrups can help bridge the fresh food gap and satisfy cravings, according to Erica Browne Grivas, a journalist and the Western director of Garden Communicators International.
Edible flowers have been an integral part of many cultures' culinary histories, including ancient Rome, China, the Middle East and India and also are a good source of vitamins and antioxidants.
Often, their fragrance will give you a hint of their taste. For example, the flowers of Italian basil taste like pizza, while those of the Thai basil will remind you of curry, Grivas said.
And while it's a little late to plant some of these, there are still quite a few that can be sown by seed in a shady spot, such as nasturtiums which give a "peppery kick" to salads and soups, and others that can be bought as plants from nurseries, Grivas said.
Details: There are loads of how-to guides on using edible blossoms, but here are a few of Grivas' favorites from the humble dandelion to the noble rose:
Many species of viola can be used to impart a slightly wintergreen flavor to baked goods, ice cubes and cocktails.
Borage has lovely blue flowers and tastes like cucumber and is delightful on salads and cocktails.
Calendula, which is super easy to sow, has sunset-colored daisies known as "poor man's Saffron." The petals, which are the only edible part, are traditionally used to flavor soups, broths, rice dishes and biscuits.
Rose petals, which can range from spicy to sweet, can be used in a plethora of dishes, including ice cream, pastries and Middle Eastern-style lemonade.
The blossoms of apple trees, even those of tart crab apples, can be used to make delicately flavored crepes, syrups and sauces. Other perennial favorites include the blooms from lavender, lilac, chives, thyme, basil and, of course, mint. YUM!
Be smart: The flowers of most culinary herbs are safe to eat as are a wide variety of other blooms but some are downright dangerous or deadly, including Lily of the Valley and azaleas, so be sure you know what you're picking.
More Seattle stories
No stories could be found
Get a free daily digest of the most important news in your backyard with Axios Seattle.