Sorry stargazers, turns out the northern lights won't put on a show this week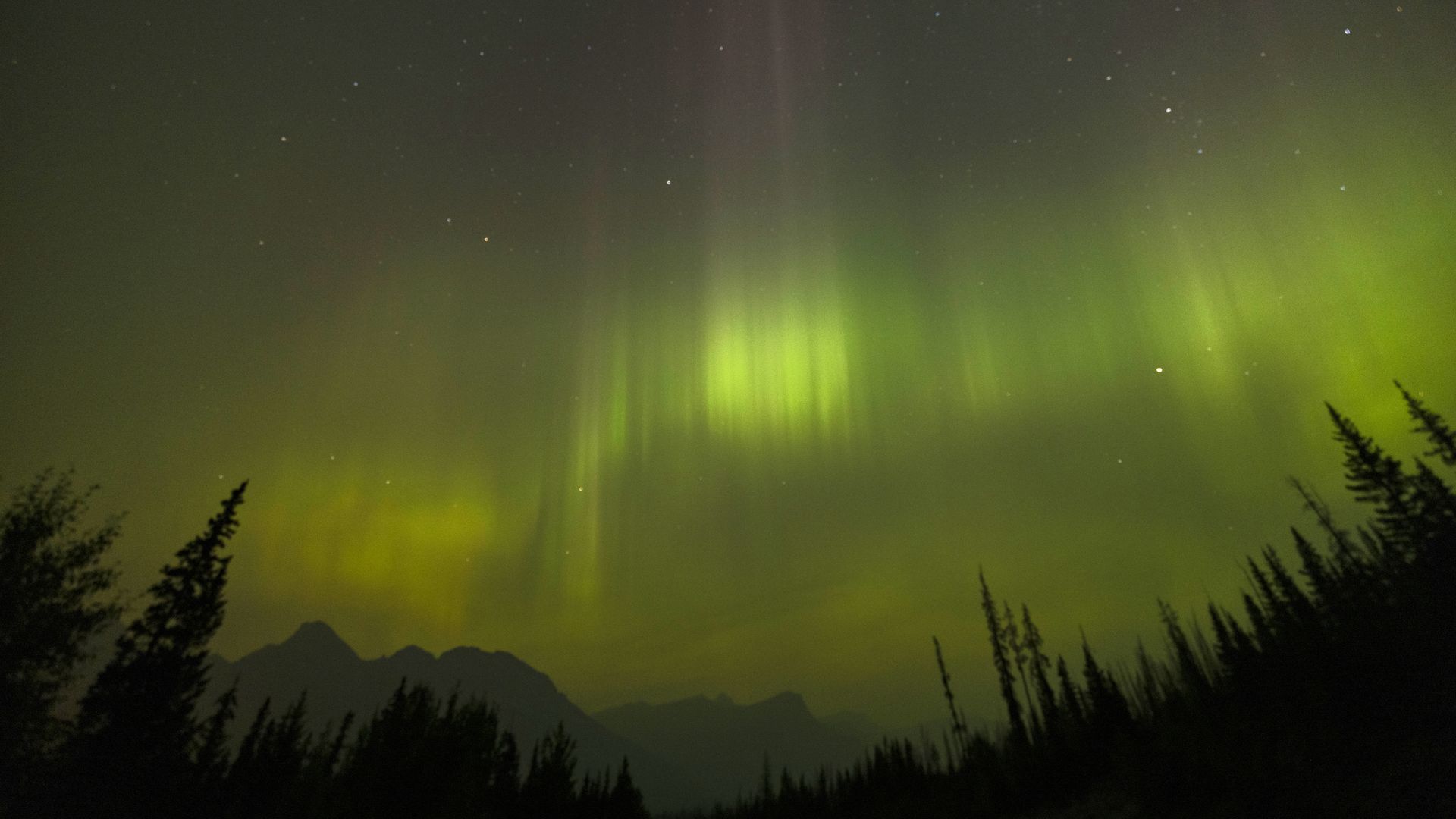 No need to go out of your way for a northern lights show that will not be anything special in Seattle or anywhere else this week.
Driving the news: A story that went viral about the aurora borealis being visible in 17 states due to a solar storm is not accurate, according to the University of Alaska Fairbanks Geophysical Institute that was widely cited as the source.
The Geophysical Institute does not make aurora predictions, according to a statement sent to Axios from research associate professor Don Hampton, a space physicist at the Institute.
Aurora predictions are issued by the National Oceanic and Atmospheric Administration's Space Weather Prediction Center, but the current numbers for Wednesday and Thursday actually show relatively low levels of activity.
Why it matters: NOAA makes predictions about solar storms so operators can take steps to mitigate potential issues because they have the potential to affect power grids and pipelines by inducing large currents, Hampton said.
Catch up quick: Lt. Bryan Brasher, a project manager at the Space Weather Prediction Center, told Axios that geomagnetic storms, which can lead to spectacular aurora displays, are primarily caused by two solar phenomena: coronal hole high-speed streams and coronal mass ejections.
The initial prediction for moderate geomagnetic storming on Thursday, which was reflected in the weekly 27-day outlook and garnered significant media attention, was influenced by the recurrence of a particular coronal hole that caused elevated geomagnetic activity during its previous Earth-facing rotation, Brasher said.
But that coronal hole had diminished when it rotated back into view and the forecast was adjusted, he said.
Even if the original forecast had persisted, he said, it would have been unlikely the aurora would have been visible from mid-latitude states.
The big picture: Hampton explained that the size of the aurora oval depends on the energy and level of activity that comes from the sun's stream of charged particles or the solar wind.
The solar wind is always present, but when the sun is near solar max, estimated to occur in 2024 or 2025, there are more sunspots, which indicate a complicated solar magnetic field structure.
This brings more erratic and "often very energetic bursts of solar wind" that may cause active auroral periods which expand the auroral oval and allow viewing further south than usual, Hampton said.
But, but, but: Because there are only a few satellites and instruments dedicated to collecting this data, observations are relatively sparse and models typically have a wide range of predictions.
In addition, once large solar storms leave the solar vicinity, they cannot be tracked and may be diverted or reduced before reaching the Earth's magnetic field, Hampton said.
More Seattle stories
No stories could be found
Get a free daily digest of the most important news in your backyard with Axios Seattle.