Rural doc med school program could help close care gaps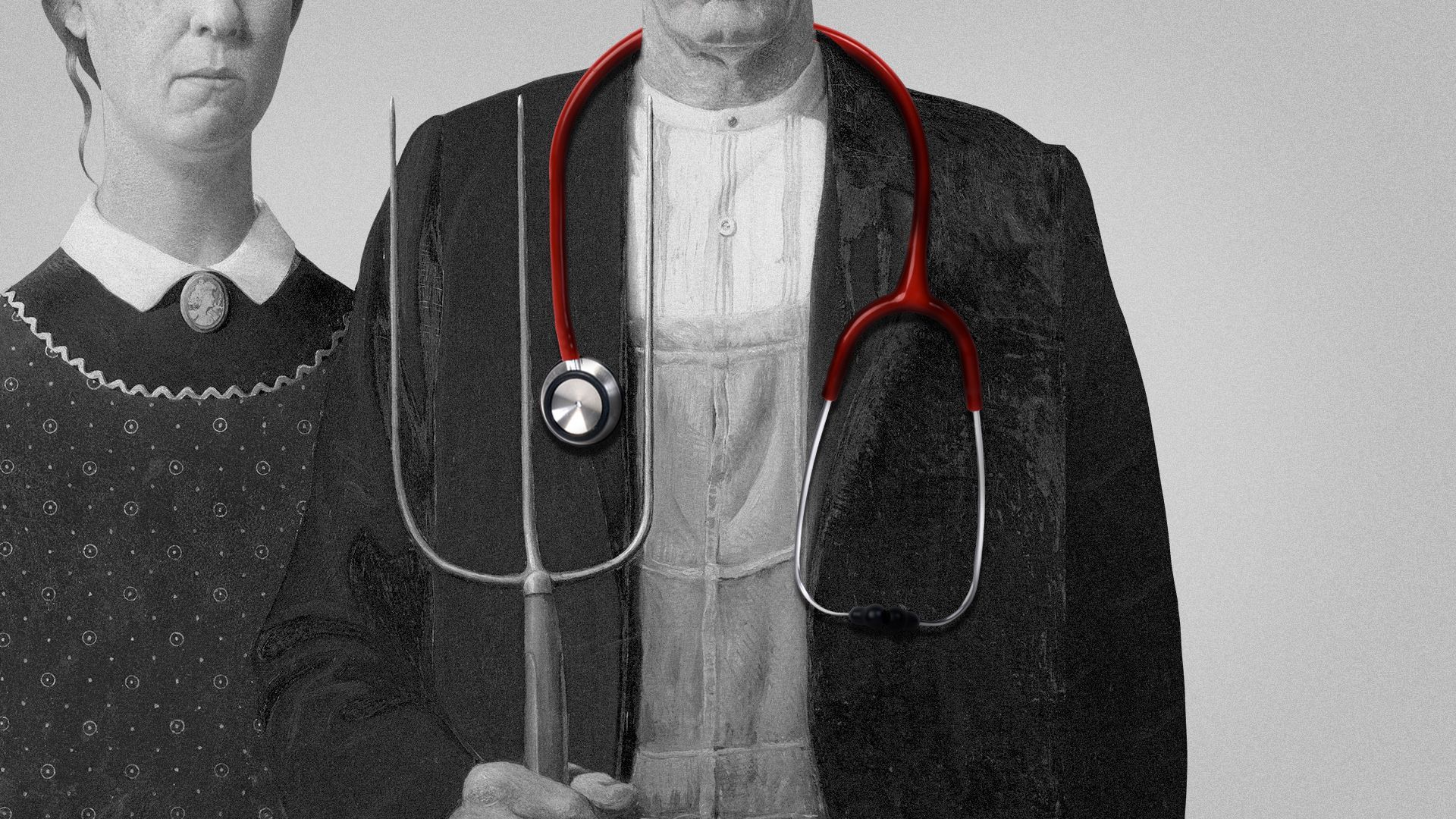 Physicians who had trained as medical students in rural areas were almost twice as likely to set up their practices in a rural location, a UW Medicine-led study published in the Journal of the Association of American Medical Colleges has found.
Why it matters: The scarcity of rural physicians is a public health crisis across the United States and contributes to a host of issues surrounding health inequalities and health care delivery, Arati Dahal, the study's lead author, told Axios.
By the numbers: Compared with urban areas, rural regions in the U.S. report higher rates of chronic illness, more maternal and infant mortality, and lower life expectancies.
In 2021, 61% of the country's designated primary care shortage areas were in rural areas, according to the study published recently in the Journal of the Association of American Medical Colleges.
Family docs make up about 15% of outpatient physician workforce but provide 42% of the care in rural areas.
The patient-to-primary care physician ratio in rural areas is 39.8 physicians per 100,000 people versus 53.3 physicians per 100,000 in urban areas, according to the National Rural Health Association.
How it works: Established in 1989, UW Medicine's Rural Underserved Opportunities Program offers medical students a four-week rotation in rural areas of Washington, Wyoming, Alaska, Idaho and Montana.
Working alongside a primary-care physician, students participate between the first and second year of medical school to get an early introduction to rural health care.
The study tracked 994 of 1,172 UW School of Medicine alumni who graduated between 2009 and 2014 and found that among 570 participants in the rural training program, 111 went on to establish their practices in rural communities.
Go deeper: Trinell Newby and Meagan Johnson, who are both still in med school, told Axios their participation in the program solidified their desire to serve rural communities. They said the high level of skill, resourcefulness and flexibility needed by physicians in these settings surprised and impressed them.
Physicians had to navigate around unique clinical settings, such as imaging studies (like MRIs) that are available only one day a week or figuring out how to get someone who has no electricity or running water home safely, said Newby.
Newby spent about eight months during her first two years of med school working in Pend Oreille County, which is ranked 38 out of 39 for overall health outcomes in Washington by county.
She also noted the way primary care doctors stepped up to provide addiction care or gender-affirming care where access is limited.
What they're saying: "I learned how to work with limited resources and to collaborate with others to ensure patients received the care they needed," Johnson, who worked in Central and Eastern Washington, told Axios. "Additionally, it allowed me to build stronger relationships and feel a more profound sense of connection to the community."
What's next: The study's authors hope that UW's program can be a model of how medical schools can create high-impact and influential rural training programs for a large number of students with a relatively small investment, Dahal said.
More Seattle stories
No stories could be found
Get a free daily digest of the most important news in your backyard with Axios Seattle.