Seattle has a dearth of monuments to women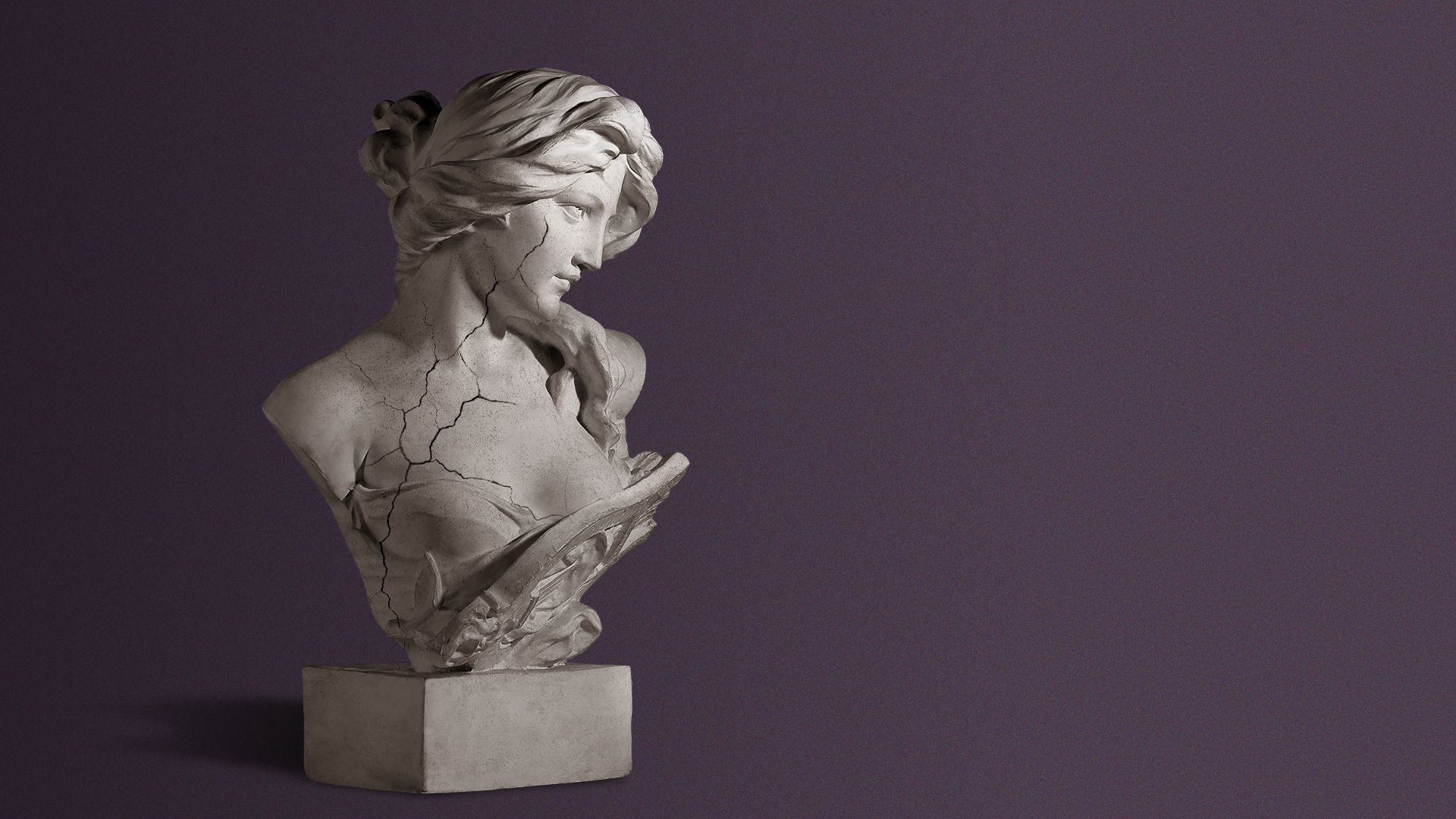 Among hundreds of pieces of public art in Seattle, you'll find few depicting real-life women from any point in history.
What's happening: The City of Seattle's civic art collection, which includes more than 400 permanent installations, contains only one outdoor monument honoring a female historical figure.
That sculpture is of Sadako Sasaki, who survived the Hiroshima bombing and later died of leukemia at age 12.
Plus: An examination of the book "Art in Seattle's Public Spaces" — as well as an earlier 1992 version — failed to find any other statues or outdoor monuments to specific women.
By contrast, Seattle's streets, squares and parks include at least a dozen public outdoor sculptures of individual men.
Why it matters: Monuments have historically been ways of "shaping collective memory," said Sasha Su-Ling Welland, chair of the Department of Gender, Women & Sexuality Studies at the University of Washington.
While there's debate about how to best honor underrepresented groups going forward, monuments to individuals send a very public message about whose achievements have been valued in the past, Welland told Axios.
What they're saying: "When we don't see people on pedestals that look like us or tell our stories, that tells us that we don't belong within veneration, we don't belong within honor, and often that we don't belong within that space," Sue Mobley, director of research at the nonprofit Monument Lab, told Axios' Chelsea Brasted.
Zoom out: Several public art pieces in Seattle feature generic or abstract female figures that don't correspond to a real person.
That's a common pattern. Only 6% of American monuments feature real women as their subjects, according to research by Sierra Rooney, assistant professor of art history at the University of Wisconsin-La Crosse.
Many instead showcase allegorical female figures "representing abstract ideals such as peace, loyalty, or vice," Rooney wrote.
Yes, but: The city says it has put real women at the center of its public art program in another way: by commissioning artwork from female artists.
More than 200 of the city's permanent civic art installations — slightly more than half — were made by women, according to the city Office of Arts & Culture.
Plus: Some artworks located inside Seattle public buildings depict notable women.
Axios found a portrait of Sojourner Truth in a public library that bears her name; a portrait of Mary Gates in Mary Gates Hall on the University of Washington campus; and a mixed-media artwork depicting three female leaders on the 10th floor of the Seattle Municipal Court building.
Because they're indoors, however, those artistic tributes will have a more limited audience than outdoor monuments, Welland said.
The bottom line: The lack of female statues and monuments reflects a power imbalance that has long existed, Welland said.
While adding more statues of women may seem like the easy solution, the bigger challenge is to "interrogate the whole narrative of history" — who got written in, who got written out, and why, she said.
More Seattle stories
No stories could be found
Get a free daily digest of the most important news in your backyard with Axios Seattle.