Washington state holds first cap-and-trade auction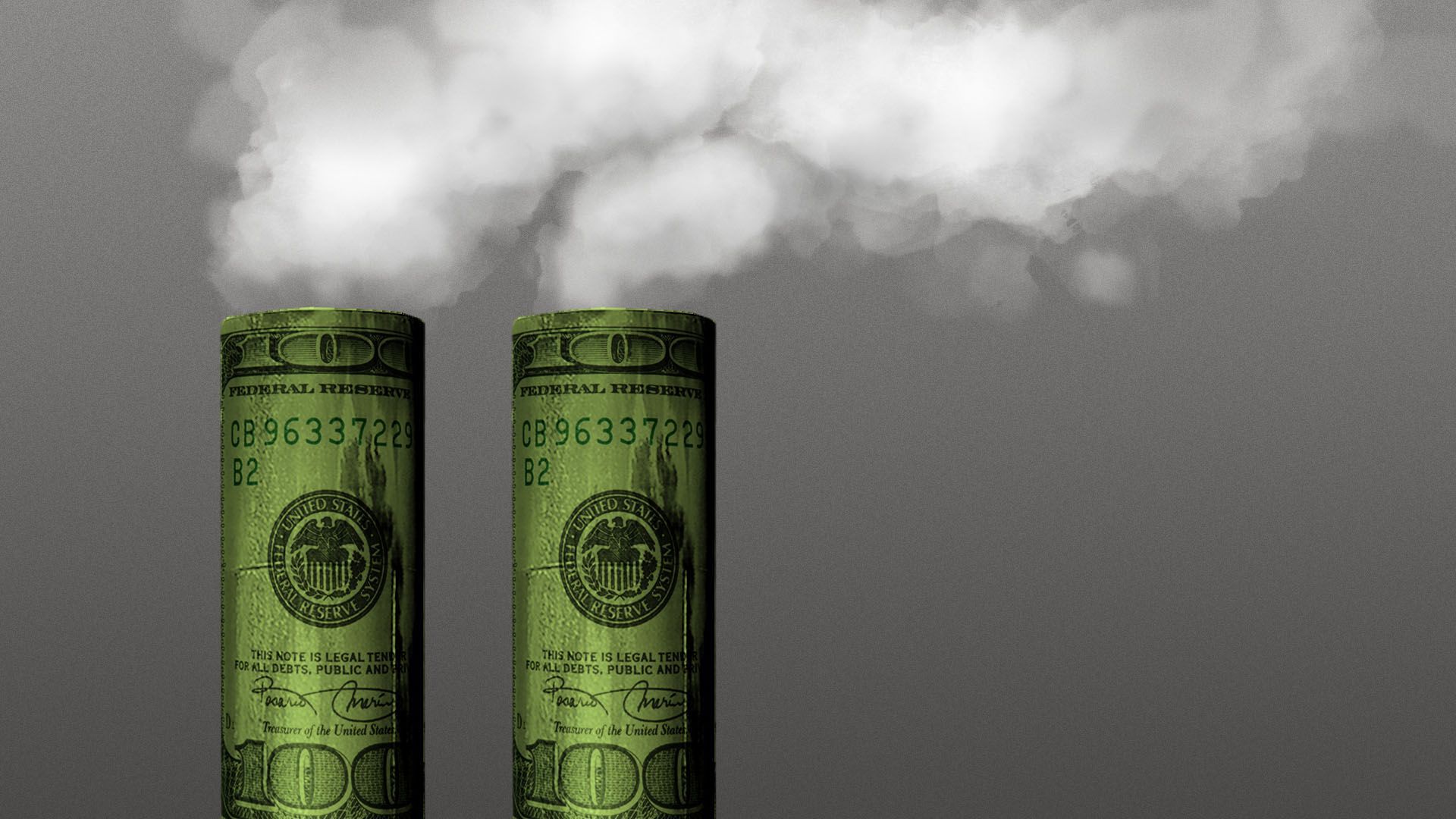 Washington's landmark cap-and-trade law hits a major milestone Tuesday, as some of the state's biggest emitters of greenhouse gases line up to buy permits to cover their annual emissions.
Why it matters: Over time, these state-run auctions are expected to generate billions in revenue, which under state law must be spent on projects to reduce emissions and combat the effects of climate change.
Washington is the second U.S. state to enact a comprehensive cap-and-trade policy, after California. Several Northeastern states have a regional cap-and-trade program, but it applies only to the power sector.
Catch up quick: Under Washington's law, formally known as the Climate Commitment Act, the Ecology Department will auction a certain number of pollution allowances each quarter.
Every year, the department will ratchet down the total number of pollution allowances available, with a target of cutting emissions to 95% below 1990 levels by 2050.
Corporations and other entities that release more than 25,000 annual metric tons of greenhouse gases must obtain enough allowances to cover their annual emissions. If they don't, they'll eventually face steep penalties for noncompliance, which can include fines of up to $50,000 per violation, per day.
Polluters can buy the allowances at auctions like the one happening Tuesday, or trade later with another entity covered by the cap-and-trade program.
The big picture: The idea is that the shrinking number of pollution allowances will cause the price of each one to rise over time, providing a financial incentive for polluters to curb their emissions without directly telling them how they must do so.
"It allows the market to determine the most cost-effective way to reduce emissions, which is really important for lowering costs overall, while still meeting the state's emissions reduction goals," Kjellen Belcher, manager for U.S. Climate Policy at the Environmental Defense Fund, an environmental advocacy group, told Axios.
Zoom in: Tuesday's three-hour bidding window will be a somewhat low-key affair conducted online, Claire Boyte-White, a state Department of Ecology spokesperson, told Axios. The final price of each allowance, as determined through the bidding process, will be revealed in a report March 7.
Later in March, the Ecology Department will share how much revenue was raised from the auction.
What to watch: While the new law includes some exemptions and safeguards to try to prevent consumers' energy costs from going up, critics have argued it still could cause gas and home heating prices to rise.
Plus: State Sen. Drew MacEwen, the ranking Republican on the Senate Environment, Energy and Technology Committee, told Axios he's watching closely to see if the auctions will raise as much money as state officials, including Democratic Gov. Jay Inslee, have predicted.
The governor's proposed two-year budget would spend $1.7 billion in revenue from the Climate Commitment Act, a number Inslee's office described as "conservative."
More Seattle stories
No stories could be found
Get a free daily digest of the most important news in your backyard with Axios Seattle.