Family Thanksgiving recipes: Pollo con recado rojo and blue Hubbard chiffon pie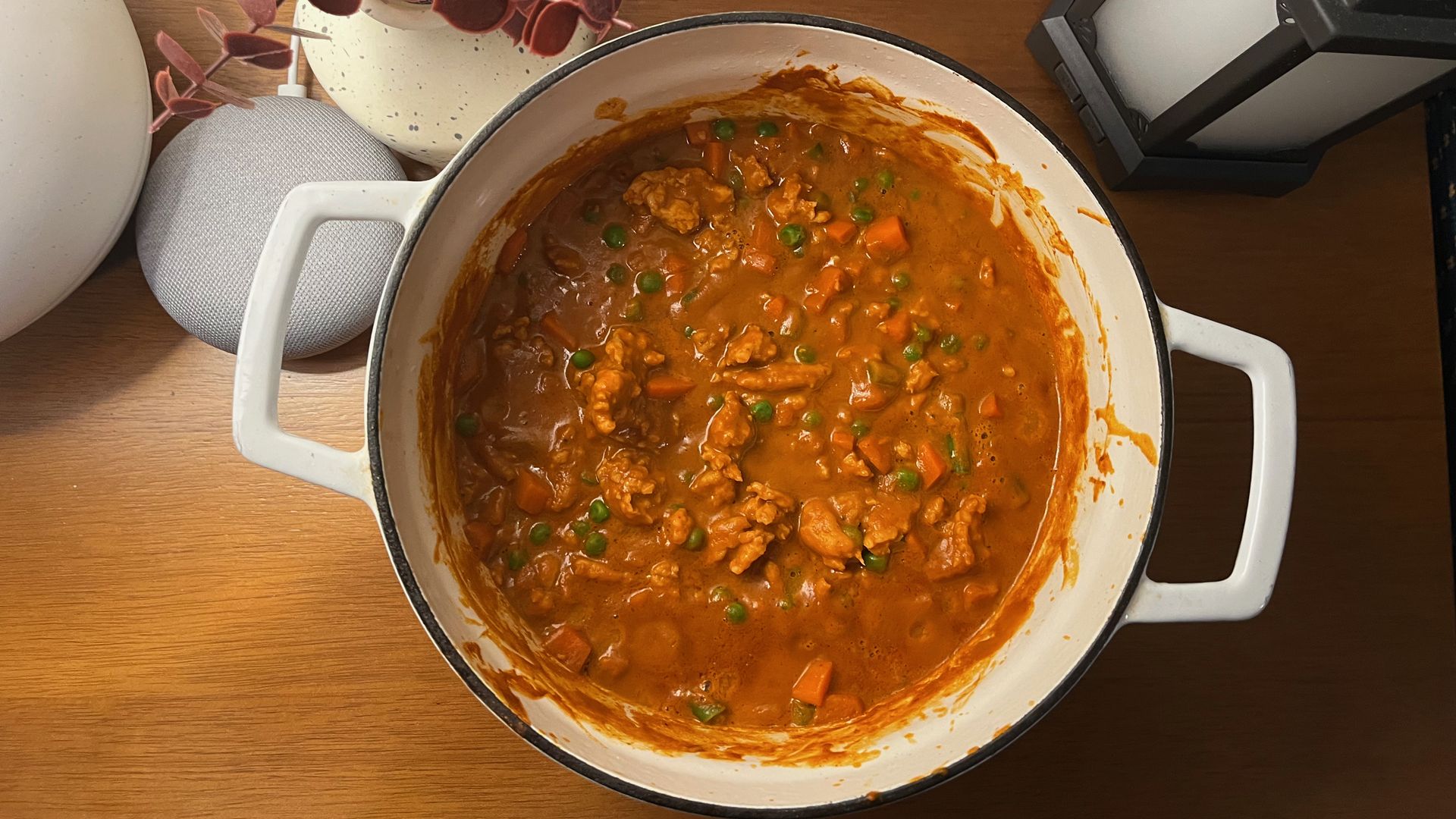 Turkey Day is fast approaching, so we're sharing our favorite family recipes for some inspiration.
Kim's side dish: Pollo con recado rojo
Why it matters: I can only enjoy fluffy dinner rolls with this saucy dish.
This recipe is inspired by pepían de pollo, a smoky chicken and vegetable stew commonly served in Guatemala.
Of note: Don't let the chiles deter you. Like most Guatemalan dishes, this plate delivers spice without the heat.
Here's what you need:
1 pound of ground chicken
1 cup of diced carrots
1 cup of peas
For the sauce:
3 Roma tomatoes
2 tomatillos
3 cups of water
3 dried Guajillo chiles
1 dried Poblano chile (remove seeds)
1 red bell pepper
Half a white onion
3 garlic cloves
2 tablespoons of sesame seeds
2 tablespoons of pumpkin seeds
Salt or chicken bouillon to taste
Directions:
Boil three cups of water in a large pot and place the tomatoes, tomatillos, dried chiles, bell pepper, onion, and garlic inside for eight minutes.
Meanwhile, combine the seeds and toast them on a hot pan for one minute until fragrant. Then set aside.
Once the veggies are soft, put them in a blender (with the water from the pot and toasted seeds) and blend for two minutes.
Pour the sauce through a mesh strainer and put it back into the large pot with the heat on low. Season with salt or chicken bouillon to your liking.
In a separate pan, cook the ground chicken with some olive oil and add in the diced carrots and peas.
Transfer all the chicken and veggies to the large pot, combine it with the sauce, and cook on low-medium for 20 minutes.
Serve it as a filling for dinner rolls, pour it over your turkey or enjoy it on its own.
Blue Hubbard chiffon pie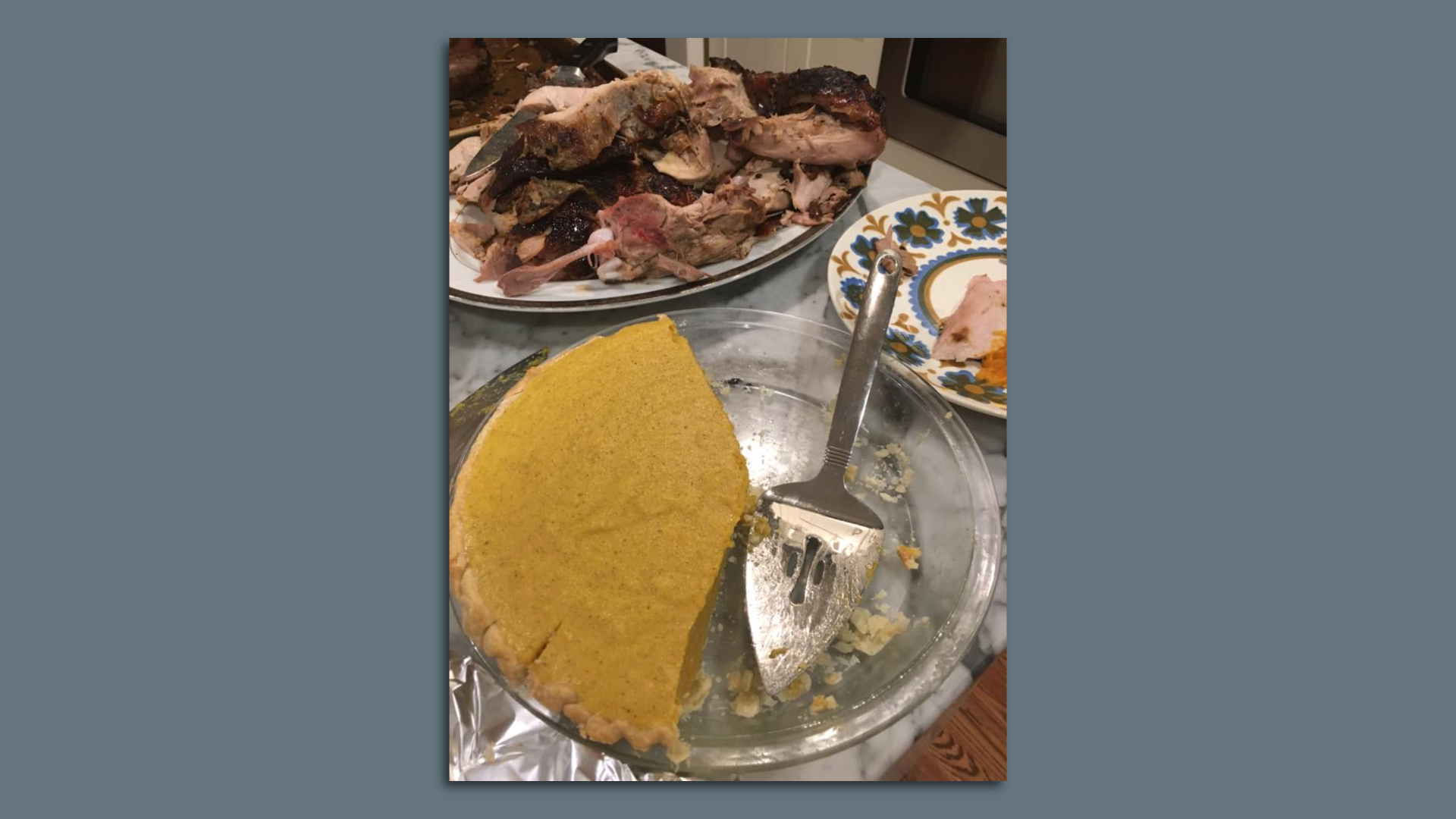 👩‍🍳Erin here! Blue Hubbard chiffon pie is pumpkin pie for people who don't love pumpkin pie.
The lightness of the egg whites lets the floral, fruity notes of blue Hubbard squash shine through — and even if you use plain ol' canned pumpkin, it loses that heavy, squashy taste.
Pie tip: Brush a very thin layer of melted white chocolate over the cooling crust to keep the pastry from soaking up the filling.
What you need:
9-inch pie pan
Store-bought pie crust (it's fine)
1 ¼ c squash puree or canned pumpkin
½ c milk
½ tsp cinnamon
½ tsp nutmeg
1 c sugar (reserve ½ c)
3 eggs, separated
1 envelope gelatin
Directions:
Bake the pie crust according to package directions; fill with dry beans in parchment paper to keep center from rising.
Slightly beat egg yolks. Mix with ½ c sugar, squash, milk, spices and a splash of rye or bourbon in a microwave-safe bowl. Microwave on high, stirring every 2 minutes until it starts to thicken — about 8-10 minutes.
Dissolve gelatin in ¼ c water and mix into thickened pumpkin mixture. Cool in freezer or fridge until cool to touch.
Beat egg whites in clean bowl while slowly adding the reserved ½ c sugar, until stiff peaks form.
Fold egg whites into cooled pumpkin mixture. Fill crust and refrigerate at least 6 hours. Serve with whipped cream.
More Salt Lake City stories
No stories could be found
Get a free daily digest of the most important news in your backyard with Axios Salt Lake City.