Utah researchers fast-track medical discovery — with fruit flies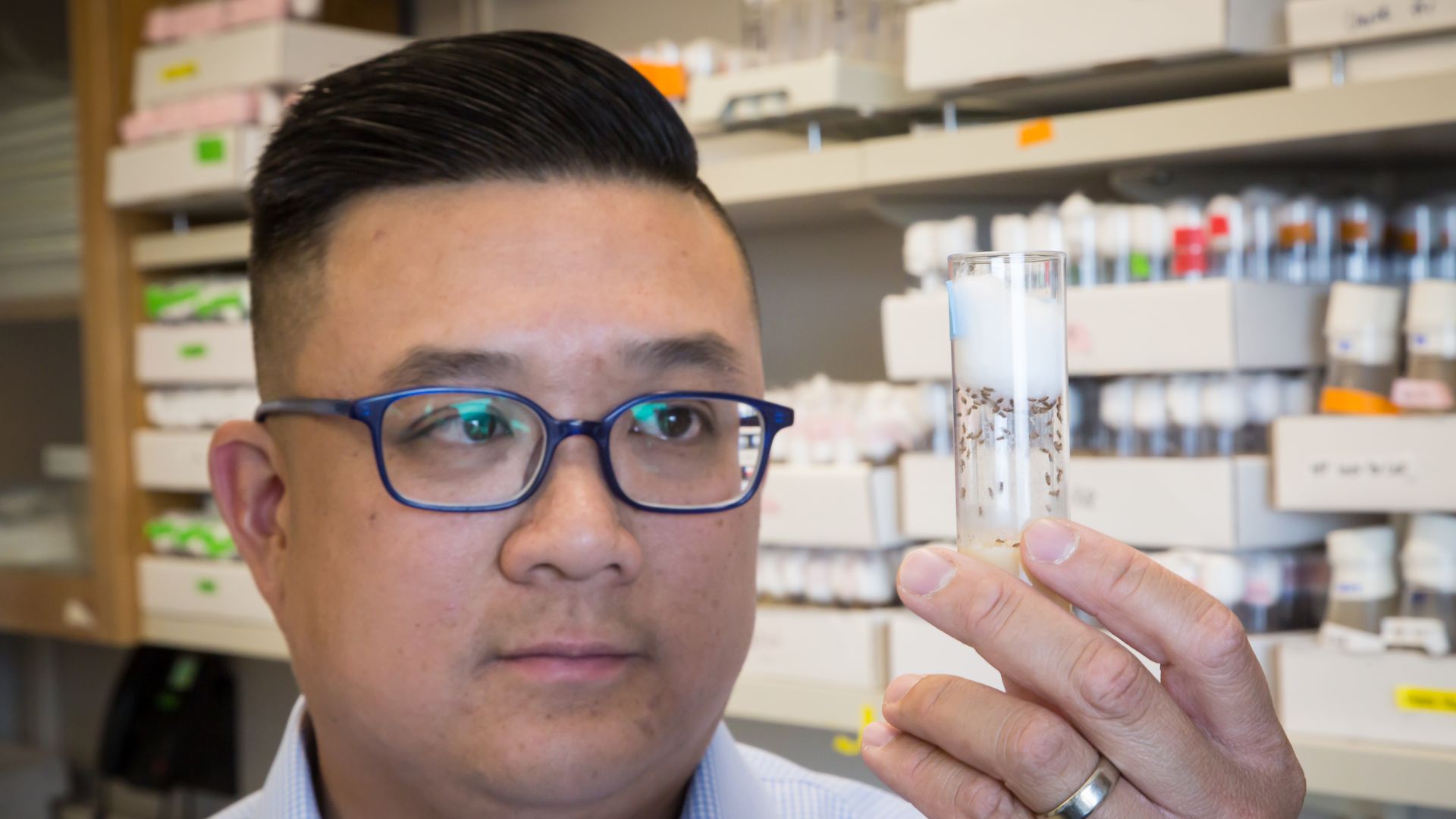 A Utah lab is running sweeping drug experiments to find treatments for rare illnesses, at a low cost — and in months rather than years.
The test subjects: millions of fruit flies.
Driving the news: University of Utah researcher Clement Chow last year found potential treatments for an ultra-rare congenital disorder by testing existing, approved drugs on his winged menagerie.
Now, his lab is screening 1,600 drugs to address SYNGAP1, a neurological disorder that causes developmental delays and other serious health problems.
Why it matters: The diseases Chow is studying are extremely rare — there are only about 1,200 known cases of SYNGAP1 in the world — so the customer base for treatments is too small to get drug companies' attention or robust funding for research.
Patients' families don't have the resources to fund research themselves, or the years it takes to wait for federal grants.
That makes the extraordinary efficiency of fruit-fly testing a source of hope for families with no other path forward, said Mike Graglia, who founded the SynGAP Research Fund in San Francisco after his son was diagnosed.
How it works: Chow's lab recreates the disorder in the fly's eye, which shows the abnormality clearly, Chow told Axios. Then researchers test a drug to see if the eye responds.
Fruit flies are closer to human biological complexity than other subjects, like yeast and worms — but far easier and cheaper to acquire than, say, mice. Flies reproduce by the hundreds and are ready for testing in days.
The intrigue: That means the lab can test thousands of drugs within months — at a cost small nonprofits like SynGAP Research Fund can afford, Graglia told Axios.
There aren't "enough kids for anyone other than the families to care, unfortunately," said Graglia, whose 9-year-old son requires full-time care. "It's just a bunch of parents raising money to help our kids. But when we go to many researchers, the proposals are 'years' and 'millions.'"
Catch up quick: Chow's lab found multiple potential therapies in a similar screen last fall for Man1b1, a rare metabolic disorder, after a desperate family sought help upon their son's diagnosis, the journal Nature reported in April.
"We have a drug that's in four different kids now," Chow said. "We finished it at the end of November, and … it looks like the drug is working."
Details: The fruit flies are given everything from Tylenol to anti-psychotic medicine to see what, if anything, works, Chow said.
Side effects and potential risks of treatments are weighed against the children's symptoms and quality of life, as with any off-label drug use.
That's no worse than patients' existing options, Graglia said. "What we're doing right now is treating our kids' multiple symptoms with multiple other therapies. The side effects are additive."
What they're saying: "We don't actually understand what most drugs do," Chow said. "They were discovered to do this particular thing that they're approved for, but we don't actually know the biology. … And those of us in this business strongly believe that these drugs have much more potential than what they're being used for."
What's next: The lab is running drug screens for three illnesses now, with six more in preparation.
More Salt Lake City stories
No stories could be found
Get a free daily digest of the most important news in your backyard with Axios Salt Lake City.