Utah wants residents to eat invasive bullfrogs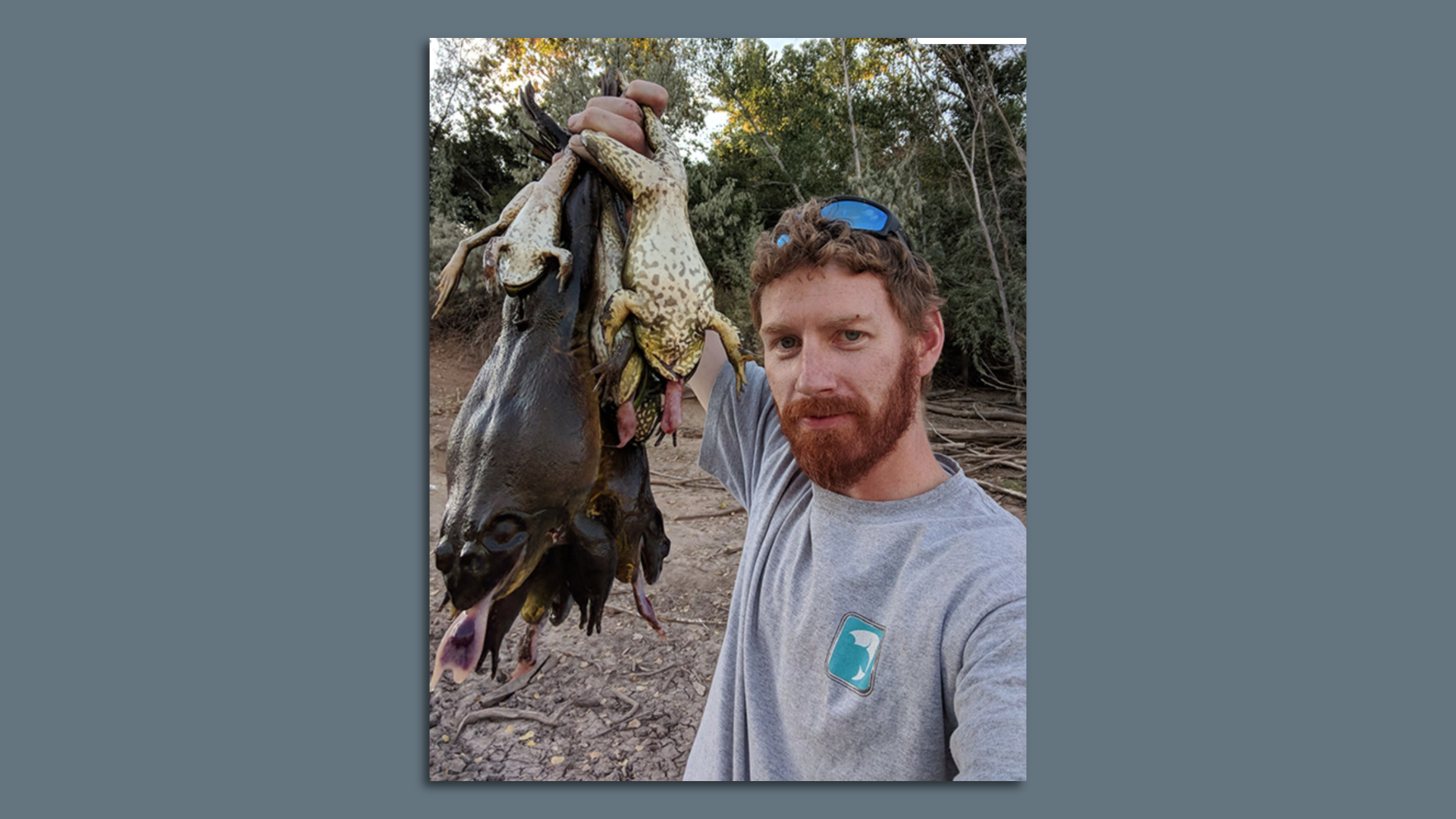 The Utah Department of Natural Resources is asking residents to eat bullfrogs.
Reality check: No, really.
What's happening: The DNR is promoting bullfrog-catching to help contain the amphibians, which have run … a-muck (?) in Utah's ponds and marshes.
Why it matters: Bullfrogs are invasive in Utah, and are out-competing other species like the endangered boreal toad.
Bullfrogs eat three species of native frogs that are threatened or struggling to repopulate in Utah, state wildlife spokesperson Faith Heaton Jolley told Axios.
Yes, but: You'll want to wait until the snow thaws to catch these croakers.
They're easiest to find during breeding season — late spring into early summer — when you can hear the males croaking in choruses, according to a 2019 blog post by Ja Eggett, a hunting range supervisor for the DNR.
How it works: Eggett recommends catching them with a bobber, which bullfrogs try to eat.
Attach hooks directly to the top and bottom of the bobber so the critters don't escape.
Of note: You might catch fish, too, so get a fishing license. But there is no season or harvest limit for bullfrogs.
Steer clear of waterfowl management areas, where bullfrog catching is illegal.
It's also illegal to transport live bullfrogs, so kill 'em dead at the shore.
Be smart: Bullfrogs may carry a disease that can infect other amphibians, Eggett notes, so take them away from waterways to clean them — i.e. skin them from the waist down, cut off the legs and wash them as needed.
Eggett has provided a detailed recipe for breaded frog legs, which he says taste like chicken, but slightly chewier.
Bon appétit!
More Salt Lake City stories
No stories could be found
Get a free daily digest of the most important news in your backyard with Axios Salt Lake City.