Study finds 1 refinery creates up to 25% of Salt Lake winter smog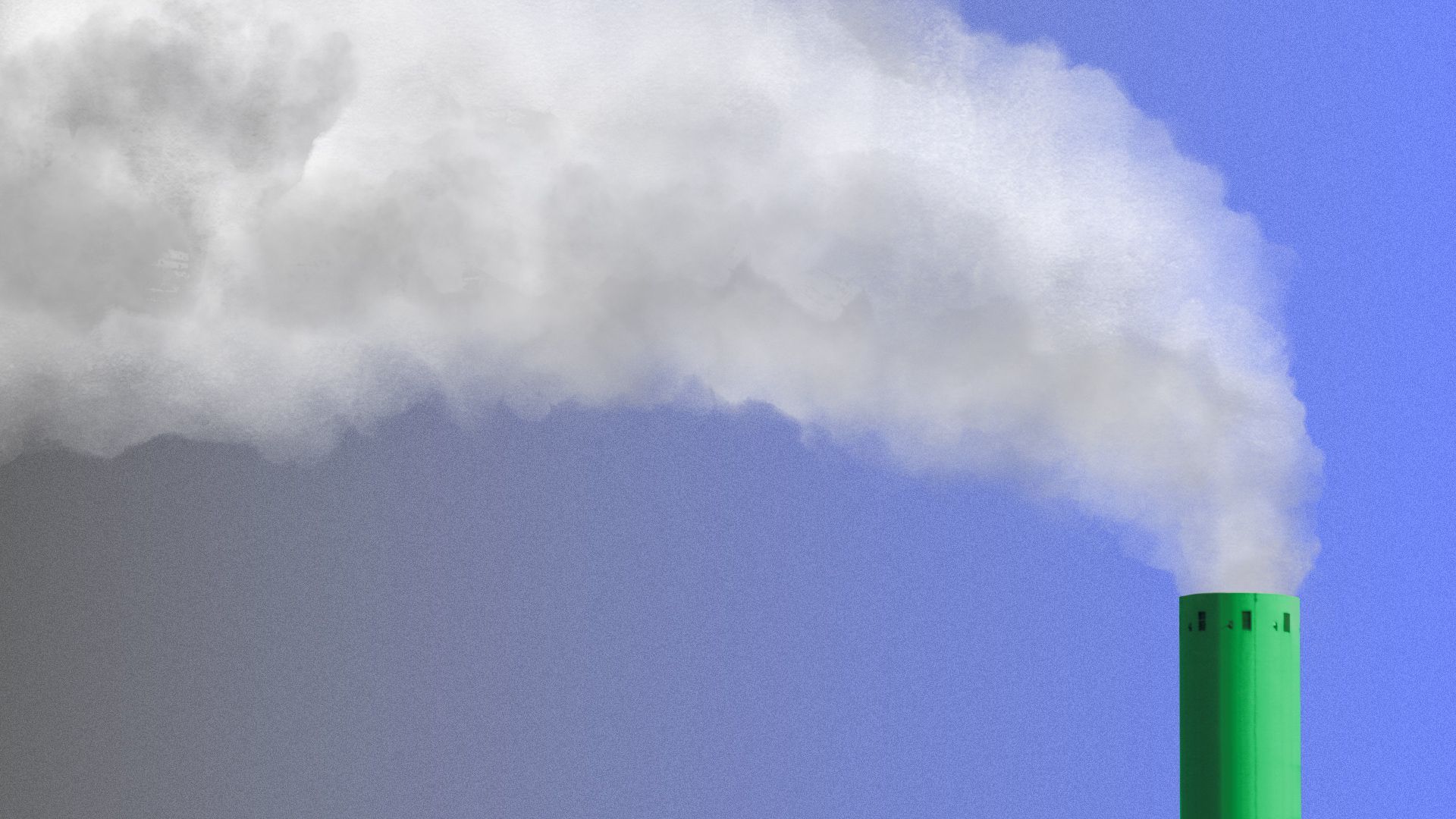 A Utah magnesium refinery is responsible for up to 25% of the fine particulate matter in the winter smog that periodically collects over the Wasatch Front, a new study found.
Driving the news: Researchers with the National Oceanic and Atmospheric Administration found that US Magnesium's refinery on the Great Salt Lake's southwest corner emits high volumes of chemicals that contribute to hazardous fine particulate matter, known as PM 2.5.
Modeling showed those chemicals were responsible for 10-25% of regional PM 2.5 during winter "inversions," when pollution is trapped with cold air in the basin around the lake.
"The air around the plant was unlike anything we had sampled previously due to the high chlorine emissions," NOAA scientist Steven Brown said in a statement.
Why it matters: Utah's inversions produce some of the nation's most dangerous air pollution levels, driving up hospital admissions and forcing children indoors for recess.
The findings suggest industry is contributing a bigger share of pollution than the state's previous estimate of 13% for all large industrial and commercial sites.
State officials have a history of shielding industry from culpability for air pollution, an approach that might be less tenable if one company is responsible for so much of it.
Details: Measurements taken in 2017 showed the plume rising from US Magnesium contained chlorine and bromine, and emissions haven't decreased since then, researchers say.
Those chemicals speed up the reaction that converts other pollutants into ammonium nitrate, the main contributor to particulate matter in Utah, the study found.
When contacted by Axios, US Magnesium declined to comment on the study.
Of note: Researchers didn't expect to find bromine in their samples and it's not considered a common pollutant, lead researcher Caroline Womack told Axios.
But regulatory records show US Magnesium — the only such refinery in the country — is "by far" the nation's biggest chlorine emitter, Womack said.
The intrigue: While federal and state regulators require industrial facilities to report chlorine emissions, they do not track bromine, NOAA said.
It's unclear whether the Utah Department of Environmental Quality will begin documenting bromine emissions in light of the study; the agency told Axios only that it was reviewing the study to determine "any actions that may be necessary."
What we're watching: Because the plant extracts magnesium from the brine of the Great Salt Lake, the emissions findings could point researchers to other industrial processes that use sea salts, Womack said.
"That would be where I would be interested to see if bromine is a byproduct," she said.
Flashback: US Magnesium was in the news less than a month ago, when the DEQ denied the company's request to dredge canals to the Great Salt Lake's receding shoreline, allowing it to pump 100,000 gallons of water per minute out of the lake.
Gov. Spencer Cox's public lands office initially asked federal regulators to approve the project, claiming it was necessary for Utah's economy and "national security."
But the office walked back its support after news of the proposal prompted public outcry.
Between the lines: The state's reaction to the dredging request signals it's not willing to entirely yield its environmental goals to US Magnesium, but officials may be reluctant to hinder its operation.
Context: Salt Lake City's west side is already the focus of an environmental justice assessment by the EPA.
Residents there have long encountered poor air quality and pollution from proximity to freeways, refineries and the growing international airport.
More Salt Lake City stories
No stories could be found
Get a free daily digest of the most important news in your backyard with Axios Salt Lake City.