N.C. budget chaos on full display in the House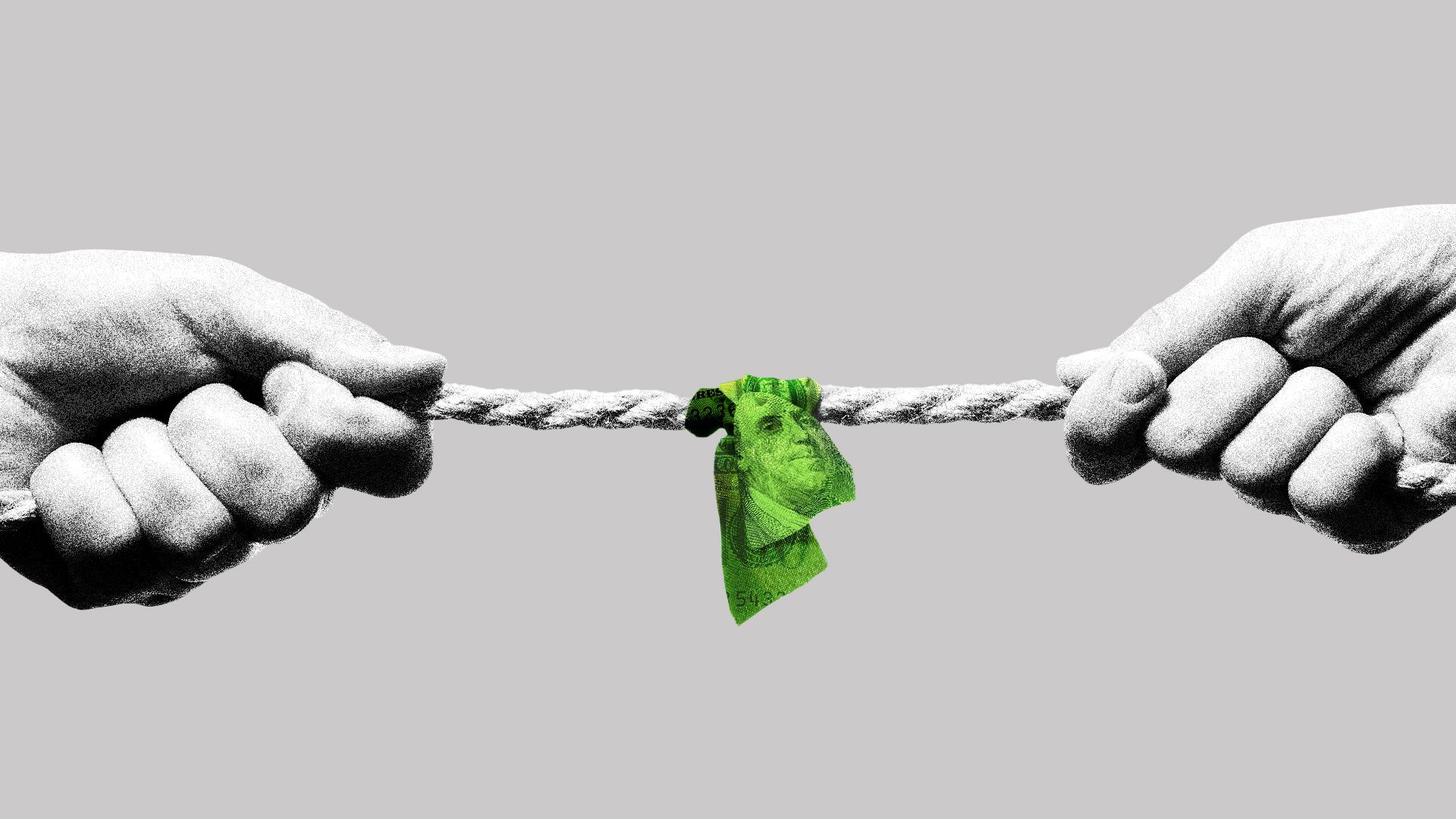 North Carolina legislators failed to pass a budget this week as promised.
The holdup, and the consequences of it, have made headlines across the state for days.
What's not as well known, however, is just how turbulent the legislature became over the issue at the center of the budget stalemate: casinos.
Driving the news: Around two dozen state House Republicans were missing from the House floor Tuesday afternoon, according to the House clerks office.
Some of them, including state Reps. Jason Saine and Jeff McNeely, simply refused to show up as an expression of their dissatisfaction with fellow Republicans who are opposed to including casinos in the budget and thus blocking the budget's passage.
What happened: Saine, a House budget chairman, said some members came to him and asked what they could do about the holdup.
He told them one option was to "vote with their feet."
Why it matters: That so many House Republicans were absent — and on a day when the chamber planned to vote on legislation — is a rarity that exposed a major rift within the ruling party, which usually tries to keep its disputes in the family.
The big picture: The absences also comes as heated disagreements between House Speaker Tim Moore and Senate leader Phil Berger have spilled out into the open.
State of play: Moore is requiring that at least 61 of 72 House Republicans agree to include in the budget provisions legalizing non-tribal casinos and video lottery terminals, rather than a simple majority. 42 House Republicans support the measure; 30 oppose it, Moore has said.
That threshold has angered Berger, who accused House leadership this week of breaking its promise to include the provision if it had majority support.
It's also given a minority of Republicans against the proposals the power to stall the budget from moving forward.
What they're saying: "We've all got wants and needs in our counties, our district," McNeely told Axios Wednesday. "The way we're going about this, and the actions we're taking, we're putting all those needs in jeopardy.
"To me, it's a small group controlling the larger group," McNeely said. "And that's not the way our politics work in America."
Details: Saine said he didn't "twist any arms" or tell any members to ditch the session, he just told folks what he would be doing.
"The budget is the biggest thing in the legislature. That's literally what we come up here to do," Saine told Axios in an interview in his office Wednesday.
"When [the budget] process screeches to a halt, by choice of a few folks holding us hostage, quite frankly," Saine said, "we will use the tools that are available [to us] to stop other processes."
The move also caught the attention of members in both chambers, he said.
Asked about the large number of absences Tuesday, Moore pushed back, saying Republicans still had a majority on the floor and could've "transacted any business we wanted to."
The legislation the chamber planned to vote on Tuesday wasn't time sensitive anyway, he said, so Moore decided it could be dealt with next week and told everyone to go home.
"That way we can continue to focus on budget negotiations," Moore said. "There may have been some that didn't come because they were mad; that's fine. That's alright.
"You gotta have a little drama, something to write about."
More Raleigh stories
No stories could be found
Get a free daily digest of the most important news in your backyard with Axios Raleigh.