Best Day Ever: Portland's Unipiper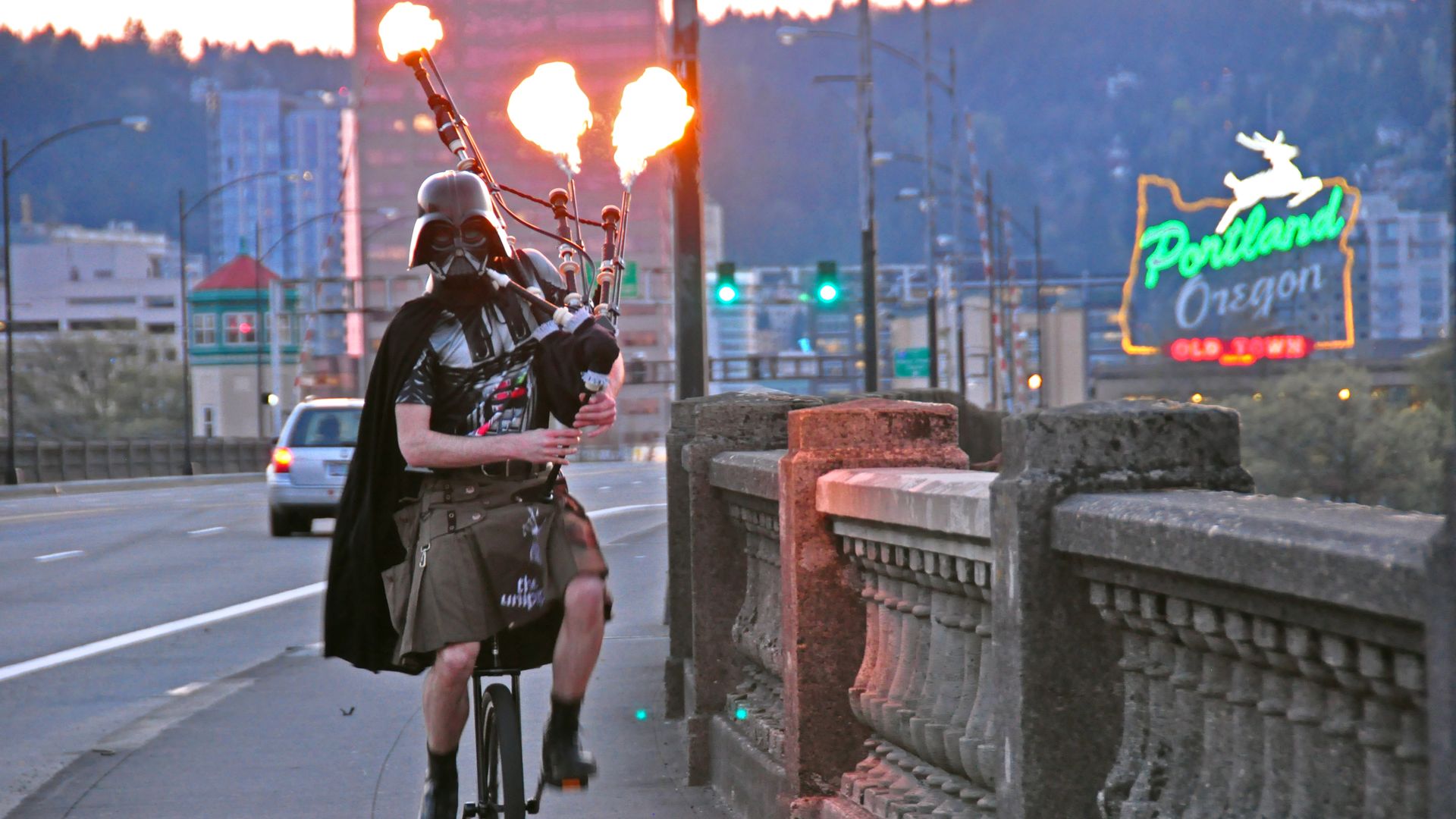 In the "Keep Portland Weird" department, the Unipiper, aka Brian Kidd, is a longtime icon.
In addition to unicycling around in a Darth Vader mask blowing flames out of bagpipes, Kidd started a nonprofit, Weird Portland United, five years ago.
You can catch the Unipiper at a pop-up shop Sept. 9 just across state lines at the Vancouver Mall. (Ask him to compare the 'Couv to Portland for weirdness.)
Or mark your calendars for the Weird Portland Gala and Costume Party on Nov. 11, featuring local celebrities, live music and lots of Portland weirdness.
Here's the Unipiper's dream day in Portland.
He tells Axios he's "definitely a full three meals a day kind of person," starting with a big breakfast.
🥞 Pancakes "are a must." The Unipiper's first choice for a syrupy stack is Cameo Café, on the corner of 82nd and Sandy.
🌲 After breakfast, he's off to explore nature.
"I love Elk Rock Island because it reminds me of the Scottish Highlands and it's usually not very crowded."
🫕 For lunch, he heads downtown for his favorite Japanese curry at Kalé.
"Dedication to the craft is evident. I recommend the doria dish with egg and spinach on the side."
📼 In the afternoon, he hits his favorite Portland shops.
"Nothing beats Variety Records on SE Foster. It's like the Powell's of obscure records and old VHS."
A collector of vintage toys and nostalgic ephemera, he also makes the rounds at both Billy Galaxy and Dr. Tongue's.
"If time permits, I'll make the drive down to Coin Corner in Oregon City. (Side note: Oregon City is criminally underrated!)"
🐟 For dinner, "there's only one choice" — the Horse Brass.
"Get a half order of fish and chips with a salad substituted for coleslaw. Stilton dressing on that salad."
"If I'm lucky, they'll have Unipiper Hazy IPA from Gigantic Brewing on tap, but if not, an Old Speckled Hen will do just fine."
🎤 To wrap the day, he'll "stumble next door to Movie Madness for an out-of-print horror title on VHS and spend some time marveling at the ever-growing collection of original movie props and costumes."
More Portland stories
No stories could be found
Get a free daily digest of the most important news in your backyard with Axios Portland.