Cost of fighting Oregon wildfires grows with climate change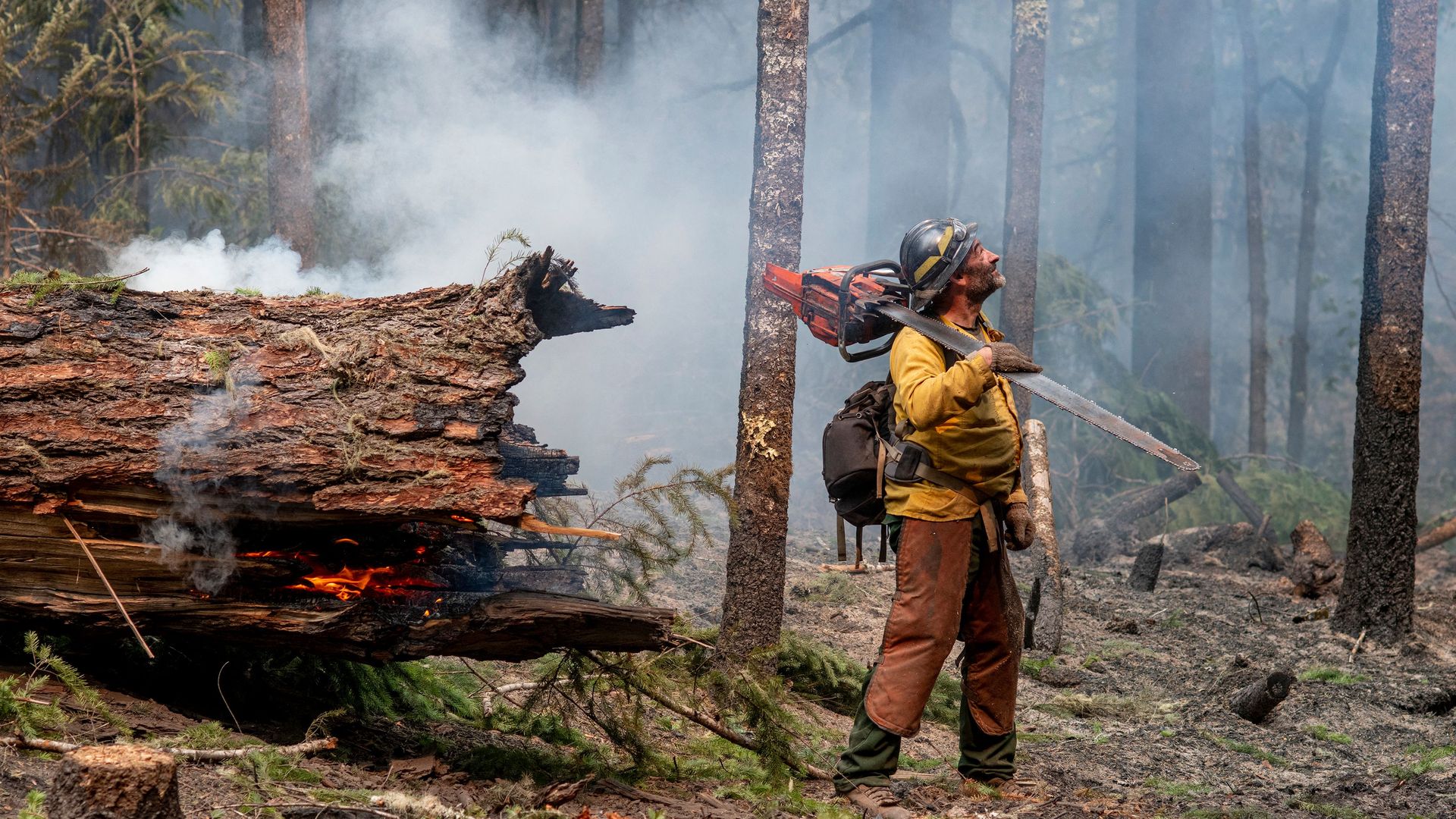 As wildfire season in Oregon becomes more volatile, in part due to climate change, the cost of fighting fires is also expected to grow for the state and federal governments.
Why it matters: The cost of fighting wildfires is not as straightforward as one might think. While labor and fuel make up the bulk of resources needed to fight wildfires, aircraft, third-party contractors and on-site incident management camps can quickly jack up the price.
What they're saying: "The cost of a fire is surprisingly fluid until you can get all of the final invoices and everything in," Jessica Prakke, a spokesperson for the Oregon Department of Forestry (ODF), tells Axios. "But we do predict that fires will continue to become larger and in turn more costly."
How it works: Funding for fighting wildfires depends on where one starts, and every wildfire is billed separately, Prakke said.
If a wildfire breaks out on state-owned land or private land, ODF is then responsible and taps into its budget paid for by the state's general fund.
If a wildfire starts on federal land, as many of the most devastating ones do, funds are either taken out of the Department of Interior's Wildland Fire Management Budget or the U.S. Forest Service's.
However, if costs exceed an agency's budget, which they routinely do, it's allowed to allocate funds from different areas within their budget or apply for emergency assistance from the state and federal governments.
The intrigue: The use of aerial support for fighting a wildfire is typically the most costly because aircraft are operated by third-party contractors who have their own prices for machinery, labor and overtime.
"We strategically use the aircraft because if we're using it every single time, that number is going to stack up," Prakke said. "If it's a small enough fire with low fire potential, we'll just tackle it with a hand crew and on-the-ground resources as strategically as possible to protect taxpayer dollars."
By the numbers: The year-to-date estimated total cost of fighting wildfires for ODF this year is just over $20 million. Of that, $16 million is the estimated cost since July 1 due to increased wildfire activity. As wildfire season progresses, that number will likely increase too.
ODF requested a $232 million budget for fire protection through 2025.
Nationally, the U.S. Forest Service's budget request for 2024 is $2.97 billion, per Jennifer O'Leary Risdal, a spokesperson for the agency. That's $647 million, or 28% more, than the previous year.
What's next: The future cost of fighting Oregon wildfires depends not only on how prepared state agencies can be in their initial attacks after severe weather events, but on whether they can drum up support among state legislators for a fire funding fix.
Fire officials are hoping to build on SB 762 — a bill passed in 2021 after the disastrous Labor Day fires that allocated $220 million for emerging firefighting technologies — by advocating for the creation of a disaster fund that can be tapped into without depleting funding from other parts of the budget.
More Portland stories
No stories could be found
Get a free daily digest of the most important news in your backyard with Axios Portland.