Best Day Ever: Portland's spider woman Greta Binford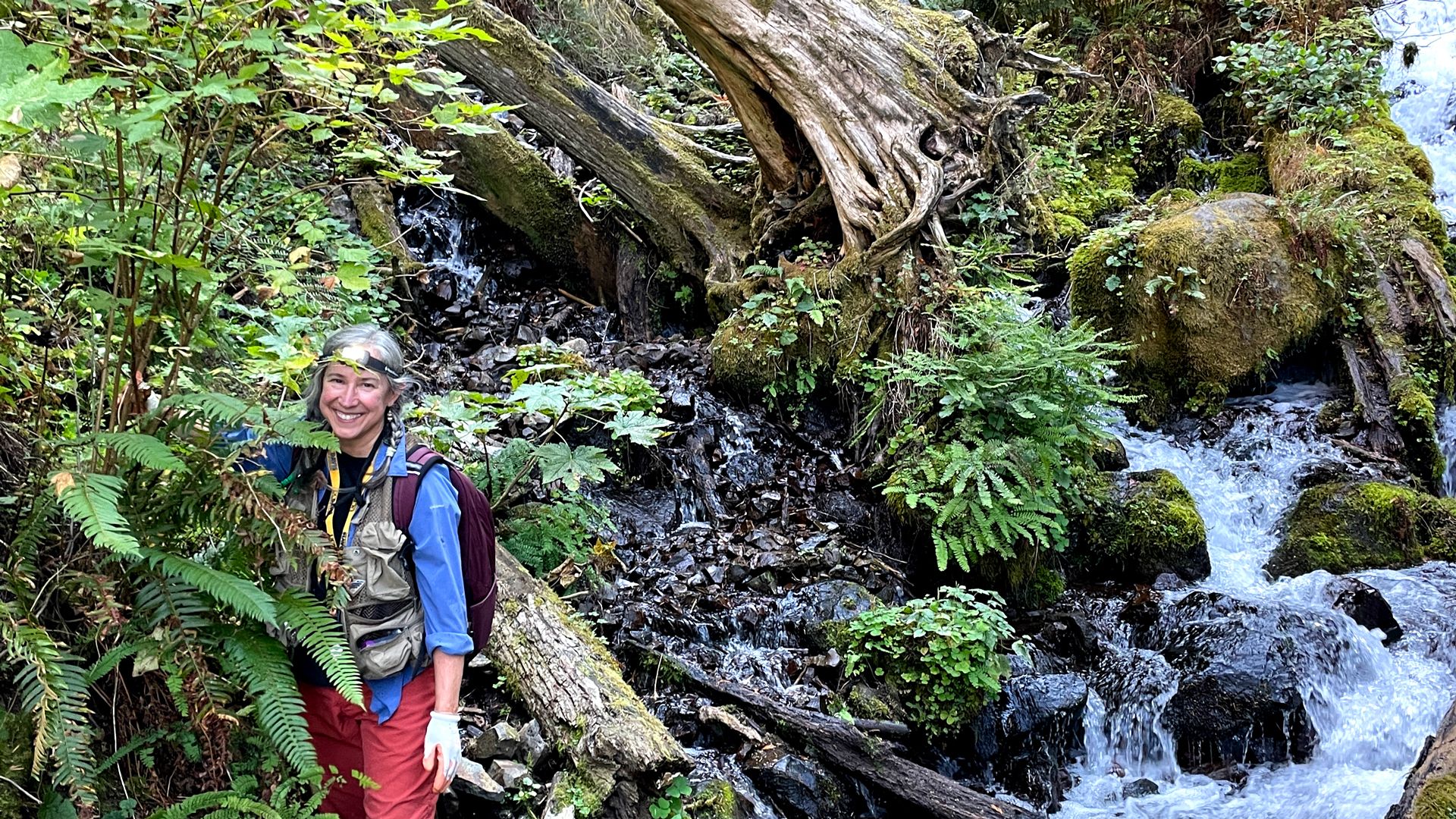 Greta Binford's superpower is spiders. The Lewis & Clark College biology professor has two spider species named for her, the Nesticus binfordae and the Austrarchaea binfordae, and she's currently documenting a new one she found in the Columbia River Gorge.
"To me it represents how humbling it is that we know so little about the diversity around us and that there are so many exciting discoveries to be made in our backyards," Binford told Axios in an email.
You may have seen Binford milk a spider, heard that she proved daddy long-leg venom won't hurt you or followed her search for the deadly recluse spider.
She graciously took a few minutes away from all that to share her perfect Portland day.
🌄 First thing: "I'll fling open windows and doors to let in the cool morning air, make myself a cup of coffee with New Seasons Hawthorne blend, eat a boiled egg and take myself and my border collie Jackson to Sellwood Riverfront Park for a morning walk along the river."
🐕‍ Together, they catch up with their dog and human friends, and Binford scouts for other animals (not just spiders).
"I use my Merlin Bird ID app to identify birds by their songs and upload a picture or two to iNaturalist of an animal or plant I hadn't noticed before."
🍑 Second breakfast: "When I get back I'll have fresh local peaches with ricotta, basil and salty almonds."
🌼 Time in the garden comes next, then some desk time for writing or data analysis. After, she takes an uphill bike ride through River View Cemetery to Lewis & Clark, where she keeps hundreds of venomous spiders.
🍳 For lunch — ideally, late brunch — Binford opts for a Benedict at Bertie Lou's Cafe.
😎 Afternoon is ideally sunny, and Binford is outside.
"If I stay in town I'll meet a friend at the Oaks Bottom Boathouse and go out for a paddle on my surf ski. We'll paddle down to the Ross Island Bridge through the Holgate Channel and I'll check in on the eagle's nest in the lagoon."
"If I have a little more time I'll go out to the Salmon River Trail in Welches and go for a hike. I love the easy access to [old-growth] forests and the walk along the beautiful river."
🍟 Dinner: "I'll go down to The Portland Bottle Shop and have a Mediterranean salad with truffle fries and a cool glass of whatever Italian or French white wine they are pouring."
🎶 Evening: "I go to my friend Sarah's house and casually play the guitar and belt out songs with awesome, forgiving friends."
More Portland stories
No stories could be found
Get a free daily digest of the most important news in your backyard with Axios Portland.