How Portlanders are curbing rampant car theft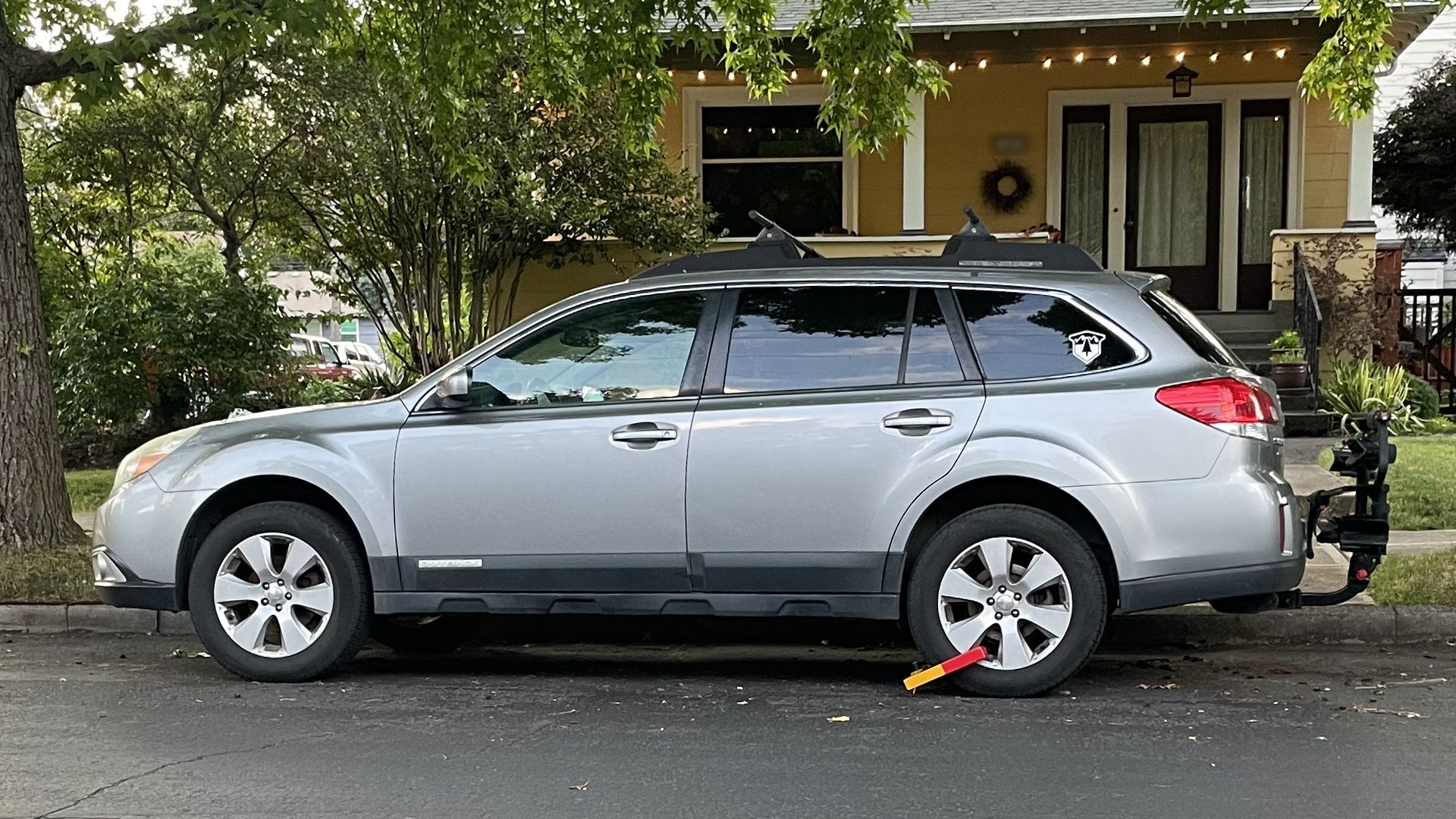 As the Portland Police Bureau teams up with Oregon Health & Science University to better analyze traffic stop data in the hope of catching more people in stolen cars, some Portlanders are taking vehicle theft protection into their own hands.
Why it matters: Car thefts in dozens of U.S. cities have skyrocketed so far this year, according to a new report on crime.
The midyear data, released last week by the Council on Criminal Justice, found motor vehicle thefts were up by roughly 34% from the same period last year, underscoring how crime patterns have evolved as the country emerges from the pandemic, Axios' Ivana Saric writes.
What's happening: Earlier this month, Axios Portland asked readers to reach out if they use wheel-locking devices on their own vehicles to prevent theft. Several readers responded, noting they've seen cars with boots across town, or that they boot their own.
What you're saying: Despite having a boot and a coupler lock on his trailer, Portland resident Chris Houghton said there have still been several attempts to steal it. "They cut the chain but the coupler lock seems to frustrate them and the boot is added security," he said.
In Woodstock, Chris Forsyth had wondered why so many RVs in his neighborhood were booted. "There's one just down the street and it took me a while to realize that the owner had booted it for security," he said.
Of note: In May, city officials, including Mayor Ted Wheeler and Multnomah County District Attorney Mike Schmidt, announced plans to create a task force to combat "persistent" auto theft by hiring extra prosecutors and investigators.
The numbers: In Portland, 10,745 cars were stolen from June 2022 to June 2023, a 6% decrease compared to the same period prior, according to PPB data. Last year, Portland had the highest number of vehicle thefts on record.
82% of the stolen vehicles last month were recovered within 30 days.
The vehicles most prone to theft, according to the data, are older Kia and Hyundai models, which lack electronic immobilizers used for security.
What they're saying: In some cases, PPB has given owners of recovered stolen vehicles steering wheel locks to prevent future theft, "but it's not a bureau-wide initiative," Terri Wallo Strauss, a spokesperson for the bureau, told Axois in an email.
"We frankly wouldn't have enough or the ability to do that with every vehicle recovered," she said.
The bottom line: While the department is exploring several methods to curb rampant vehicle theft, the onus remains largely on owners. Some have even mobilized in the form of a viral Facebook group to tackle the issue.
More Portland stories
No stories could be found
Get a free daily digest of the most important news in your backyard with Axios Portland.