Best Day Ever: "Wait, Wait" host Peter Sagal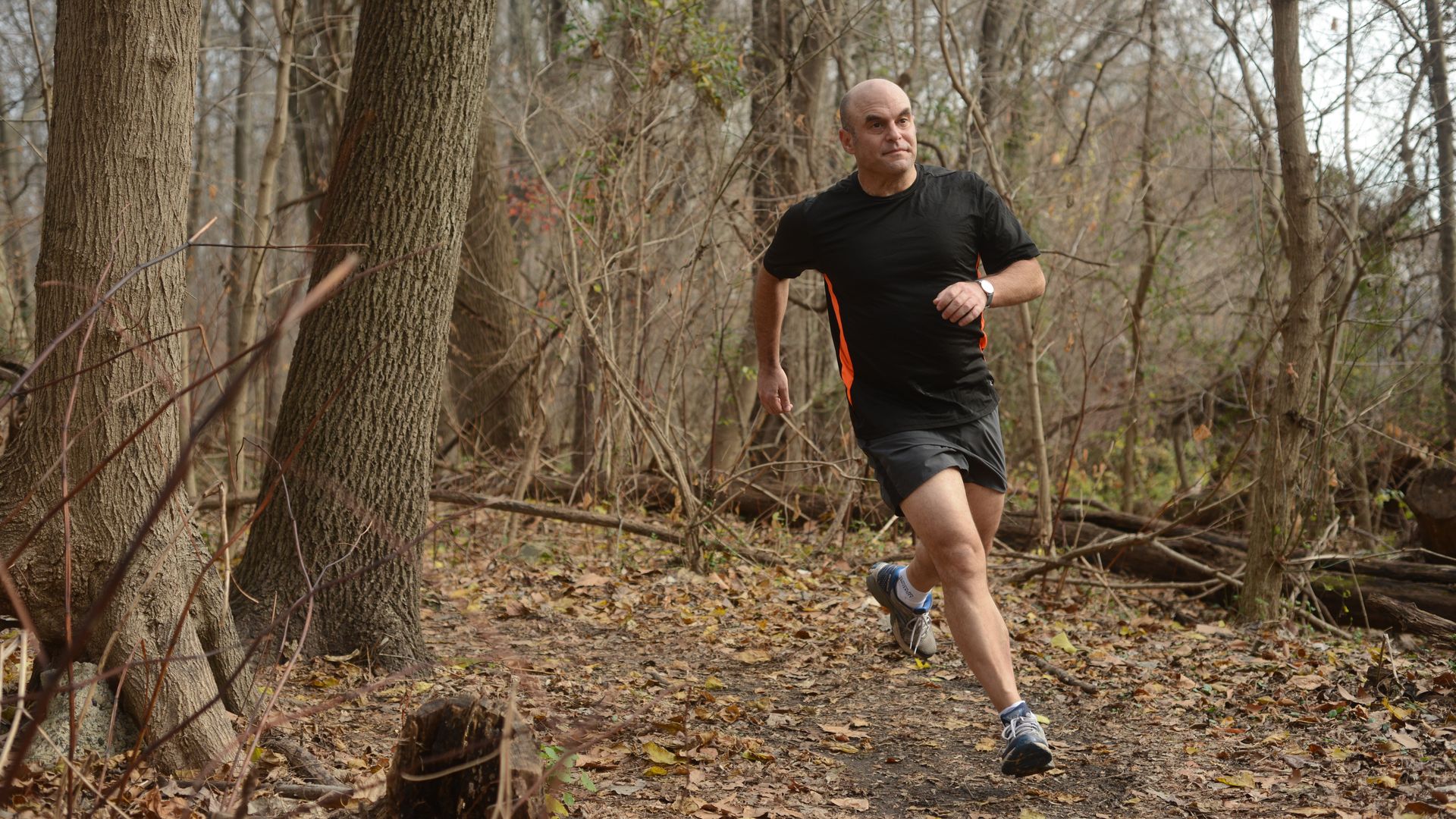 Keep your eye out for Peter Sagal — host of the NPR news quiz show "Wait, Wait … Don't Tell Me!" — running around Portland.
What's happening: He's in town for a sold-out show at the Schnitz Thursday, but he's definitely getting a run in.
Because Forest Park is his favorite place to run in any city in the world.
We caught up with Peter via email — although we'd like to think we could keep up with him on the trail — to find out what else he likes to do when he comes through Stumptown.
You can also see how Peter's best Portland day stacks up against his Best Day in Chicago, his hometown.
When in Portland, Peter's dream day looks like this:
👟 First thing: "The only downside to running in Forest Park, my single favorite urban running destination in the world, is that I don't get to run the bridge loops downtown — my fourth or fifth favorite urban run."
"It's been demoted from No. 2 because of all the scooters."
☕ Breakfast: "My one Portland apostasy is I'm not a fan of Voodoo Donuts, so I'd probably just get a coffee and watch the people in Pioneer Square."
"If it's Saturday, I'd go to the Saturday market, hopefully to find that person selling the delicious chocolate spread I bought there in 2011 that the TSA then seized when I tried to bring it on my flight home. A SPREAD IS NOT A LIQUID."
😋 Lunch: "Food trucks! Well, I wouldn't eat a food truck, I'd find one that seemed interesting, authentic or both and order something I've never had before."
"If it's my One Perfect Day, it's not raining, so I'm eating outside, maybe in front of the Art Museum in the South Park Blocks."
📚 Free time: "I believe it's a federal law that on every visit to Portland I have to spend a minimum of two hours and a hundred dollars at Powell's City of Books."
"It may not be, but I'd better do it anyway just to be on the safe side."
🍨 Dinner: "I'm still not over the fact that Pok Pok, purveyor of one of the single greatest meals I've ever had, is no more. And then I found out my OTHER favorite restaurant in Portland, the Country Cat, is now only at the airport. My God, people, what's happening here?"
"So, basically, I'm at a loss. However, wherever I end up dining, I'm going to Salt and Straw for dessert. Even though they've gone national."
🎟️ After the show: "[Most Interesting Man in the World Voice] I rarely go to strip clubs, but when I do, it's Mary's Club. Family owned! Craft beers! They provide health benefits to the dancers (or so I was once told by the hostess!)"
More Portland stories
No stories could be found
Get a free daily digest of the most important news in your backyard with Axios Portland.