Food Fight: Where to find the best ice cream in Portland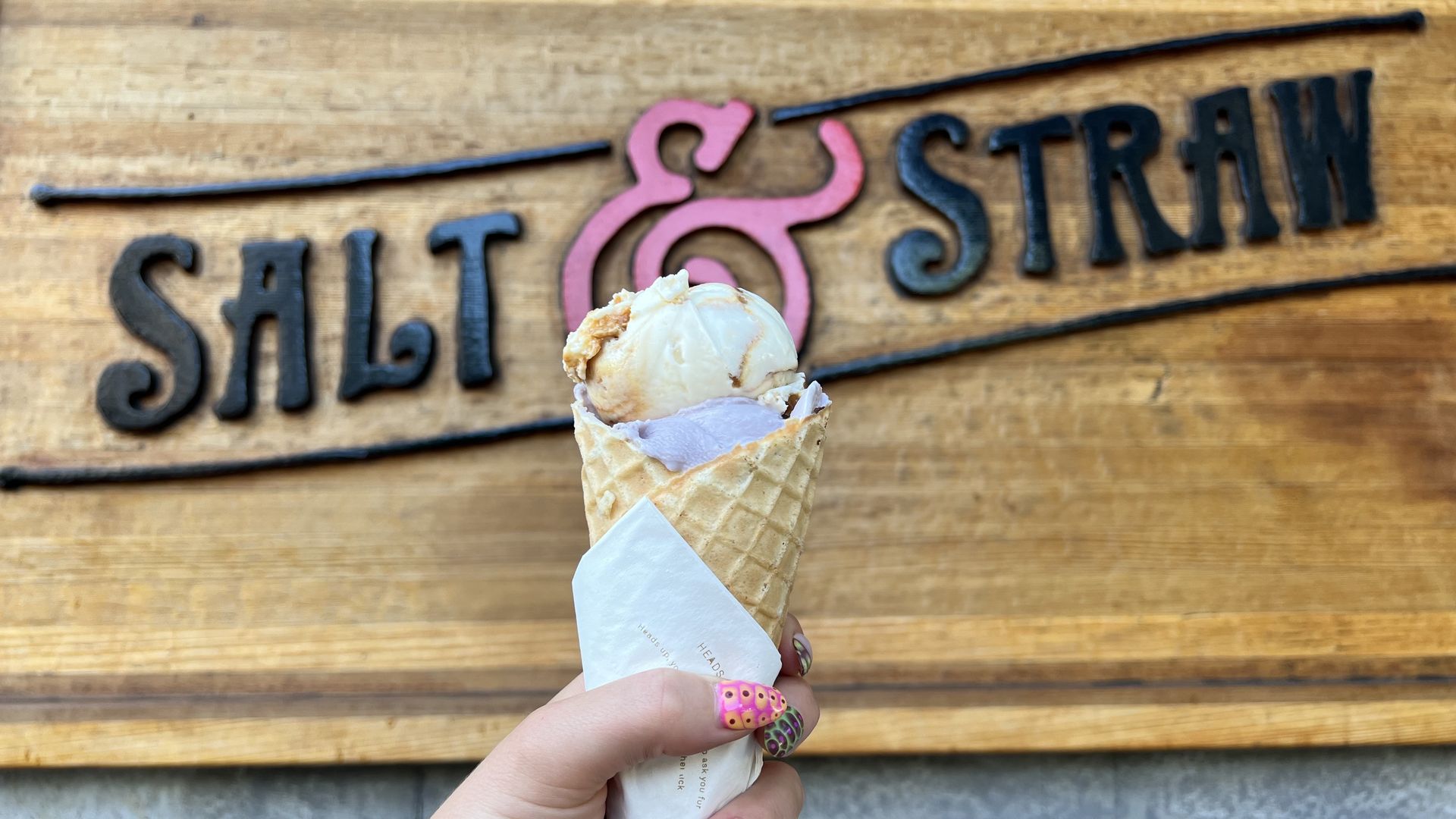 Summer means cold treats, served in a cup or cone or on a stick — and in Portland, there are many, many options, from gelato and sorbet to soft serve and shave ice.
Driving the news: Original, full-fat ice cream is the classic choice. We asked readers to weigh in with their favorites, and we're sharing our own too.
Meira's pick: In this town, there's nothing more reliable than Salt & Straw. Overrated? Maybe, but I've never been let down.
A scoop of the sea salt with caramel ribbons is the perfect blend of salty and sweet. Usually I buy this by the pint, but the first time I ever tasted it was after a meal at Caffe Mingo (two blocks east from the location on NW 23rd) shortly after I moved to Portland.
I paired it with a scoop of lavender honey as I walked down the street, marveling at my new hometown.
3707 NE Fremont St., Beaumont
Emily's pick: This challenge is bittersweet, because the best ice cream I've ever — ever — tasted, anywhere, disappeared with Portland's once-legendary Genoa on SE Belmont.
At the end of an extravagant, delightful prix fixe dinner I'd had to save money to try, the dessert course arrived: orange blossom ice cream flecked with bittersweet chocolate bits.
Yes, fancy ice cream was relatively new, and I was also new to fancy food.
But I can still close my eyes and inhale its heavenly sweet scent, savor the rich creaminess and relish the zing of pungent chocolate.
Today, my favorite is churro sabroso from Beaux Berry, a cart on NE Fremont.
It's sweet and cinnamony, and I particularly enjoy the texture. Specks of churro blended throughout spice up the smooth cream.
13539 NW Cornell Road, Cedar Mill
With over 100 flavors, including sorbets and ices, this ice cream parlor has been serving sundaes and shakes since 1945.
While there are locations across Oregon, you'll find the closest at the Sunset Mall.
Denise W. recommends the Red Skies at Night flavor. "The chocolate chunks are decadent, hidden in the rich raspberry ice cream."
4525 SE Woodstock Blvd., Woodstock
This Woodstock mainstay almost always has a line wrapping around the building outside, and for good reason: Flavors are crafted with regional ingredients in mind, as well as partnerships with local businesses.
The Oregon strawberry ice cream is made with Willamette Valley Fruit Company, and the Earl Grey blueberry is a partnership with the Jasmine Pearl Tea Company. Plus: There's a flavor inspired by every horoscope each month.
Derek B. is a fan of the bourbon vanilla.
3713 N Mississippi Ave., Boise
Vegans, rejoice! Kate's Ice Cream on N Mississippi makes ice cream that is gluten-free and plant-based, made using coconut milk.
Signature flavors include marionberry cobbler, orange creamsicle and cafe au lait, as well as rotating seasonal specialties.
Reader Vanessa M. says Kate's "will not disappoint!"
4110 NE Sandy Blvd., Hollywood
Another recommendation from Vanessa: This vegan donut hotspot also has ice cream year-round. The rotating seasonal menu includes maple coffee, made with Heart Roasters coffee, strawberry milk, chipped mint and birthday cake with bit of yellow cake swirled throughout.
More Portland stories
No stories could be found
Get a free daily digest of the most important news in your backyard with Axios Portland.